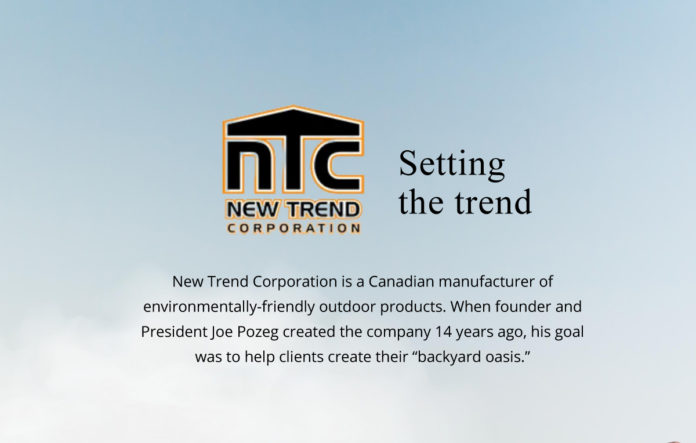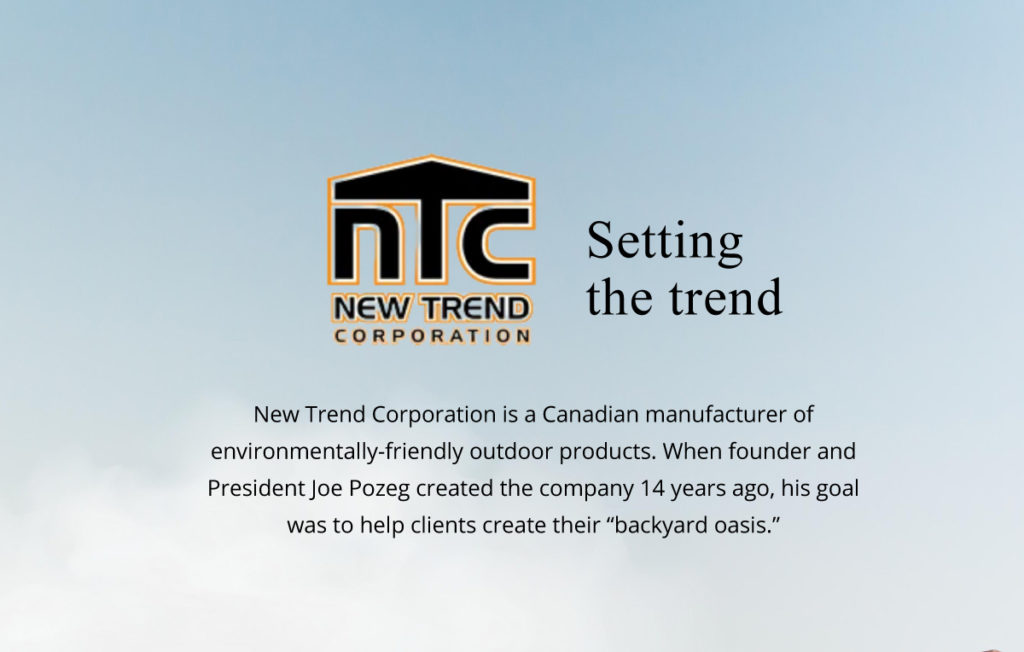 Click here to view the brochure.
Setting the trend
New Trend Corporation is a Canadian manufacturer of environmentally-friendly outdoor products. When founder and President Joe Pozeg created the company 14 years ago, his goal was to help clients create their "backyard oasis." It was with that goal in mind he first created the now-patented 'Fencert' – a maintenance-free steel ornamental insert for fencing, which provides homeowners the ability to create unique designs to accentuate the décor of their outdoor environment. In short order, that idea transformed the fencing industry and helped New Trend Corporation took flight. In the years since, New Trend has remained on the cutting edge of innovation, research, and development, and has continued to grow exponentially as a result.
Joe is a tool and die maker by trade and comes from a background in the automotive industry. After many years, however, he grew frustrated with the instability of that industry – some weeks he'd work 30 hours, some weeks he'd work 100 hours – and he desired to make a change. Following a family tragedy, he made a family coat of arms for his mother as a gift, and he realized that coat of arms would make an interesting fence panel. That led him to creating and patenting his 'Fencert' product, which was quickly picked up by Home Hardware at a home show. About two years later, New Trend was selling the Fencert product nationally.
Powered by Joe's determination, his trustworthiness, and his positive outlook, New Trend Corporation has grown and evolved significantly in the years since. Today, they offer not just the original Fencert product line, but a variety of outdoor options, including chain link fencing, vinyl fencing, composite decking, and more. Their reach now extends all across Canada, and they sell to a variety of client types, including national retailers, other wholesalers, contractors, and end-users.
Joe credits New Trend's exponential growth to his and his team's hard work, dedication, and resilience. Of course, he also credits the quality of New Trend's products. In turn, he credits that quality to his own creativity and his "artsy eye," which he says was fostered in him by his upbringing.
"I grew up doing a lot of things that were creative," he explains. "I just basically took that creativity and applied it to metal working."
When New Trend first started, Joe adds, "we had products that nobody had ever seen, and we had different ways of installing products that no one had ever tried."
"When we were up and coming, the fencing industry was basically just barn boards. A lot of wood fencing, when closed in, looked like a jail cell. But I always did a lot of hand-drawing and art, that's how I started out, and I applied that to fencing. I said 'Let's put a different spin on it. Let's try some geometric designs. Let's make some art.'"
Over the years, New Trend has sourced ideas from anywhere and everywhere. For example, Joe has been inspired by bath towels:
"One time I was shopping for towels at the Bay and I saw a pattern, and I thought 'That would work for a fence topper.'"
Throughout their history, New Trend has balanced that kind of creativity and inspiration with practicality. Because of his history in manufacturing, Joe knew how to produce his new ideas in ways that were cost-effective.
"That's a big key to this industry," Joe explains. "You have to make sure what you're coming up with is not going to be crazy expensive. You have to be able to produce it. That's a big part of what has always set us apart. We've been able to come up with different designs and patterns and we've been able to create different products that nobody else is doing, and we've also been able to make them cost-effective. That's where my manufacturing background has comes in."
Trying new things
In the early years, New Trend's creativity was unique in the fencing industry. Since then, like their company name suggests, they have inspired other businesses to expand their imaginations and introduce new product lines. New Trend continues to stay a step ahead, however, by investing heavily in research and development and by continuously asking themselves what they can do better.
"A lot of companies just want to do what everyone else is doing," Joe explains. "They want to do the same old same old. They don't try to reinvent products. They just stick to what's there."
"We believe you have to experiment," he says. "That's what we do at New Trend. We prototype, we try new things."
New Trend also provides a wide range of product types, as they want to be able to provide "variable solutions to people's problems," Joe says. That means selling everything from entry-level to mid-level to high-end products. Joe – who comes from a background in the automotive industry – says "we sell everything from an entry-level Hyundai to a Ferrari and everything in between."
In order to do that – in order to "cater to everybody," Joe says – New Trend has to constantly be innovating and introducing new products.
"We spend countless hours a year in research and development. Every year I would say we spend at least 500 hours. In the winter months especially, we do a lot of prototyping. We assess what's working and isn't working. We listen to what contractors are telling us. We look at where we have room for improvement – and then we figure out new solutions. We build new tooling. We do new injection moulds."
"In this business, I think a lot of companies stop being innovative," he continues. "I think copy-catting is a big thing. We don't want to be copy-cats. We want to be the company that others are copying. That's why we call the company New Trend. We want to be the company influencing the rest of the industry. We want to be the company setting the trend."
New Trend's constant invention and innovation has been recognized in a variety of ways. For example, the company has been featured regularly on the HGTV shows 'Decked Out' and 'Disaster Decks' with Paul Lafrance.
The company has also been recognized by their customers – Joe estimates that 95 per cent of New Trend's business comes from repeat clients, and he believes that's a testament to their innovation. (Of course, he also credits that loyalty to their customer service and the way they cater to their customer's needs.)
New Trend's innovation also keeps employees interested, Joe believes. He says the company has historically been very successful at retaining team members, and he believes the fact that the company is constantly doing new and interesting things helps with that retention.
New Trend also has some longstanding relationships with suppliers, who play a key role in facilitating the company's innovation.
One key supplier, for example, is Taiga Building Products – a leading independent wholesale distributor of building materials with distribution centres all across Canada and the United States. They are a longstanding company that dates back to 1973. Throughout their history, they have been committed to operating with integrity, to creating value for all their stakeholders, and to consistent innovation. Their vision is to be North America's most reliable and efficient distributor of building products – making them an ideal partner for a company like New Trend.
A huge opportunity
Moving forward, New Trend's goal is to continue innovative and improving, and continue growing as a result. In the short term, for example, they are investing heavily in web development. Their goal is to create a more accessible online store and make it easier for customers all over Canada to purchase their products.
In the longer term, Joe's goal is for New Trend to achieve $500 million in sales. He says he thinks about that goal daily. He also says that once they get there, he already knows what his next goal will be –$1 billion in sales.
"We're looking to purchase more locations, more equipment, and employ more people – and eventually, we're looking to purchase our competitors," Joe says. "I see this as being a global company at the end of the day. I don't think there's any reason we can't get there. I think there's a huge opportunity to grow."
"We know we have a great product line," he concludes. "We know that there's a big demand for what we do. We want to meet that demand. We want to become the Amazon of this industry."
For more on New Trend, their story, their range of products, and all that sets them apart – and to get in touch with Joe and his team today – visit https://newtrendfencing.com/