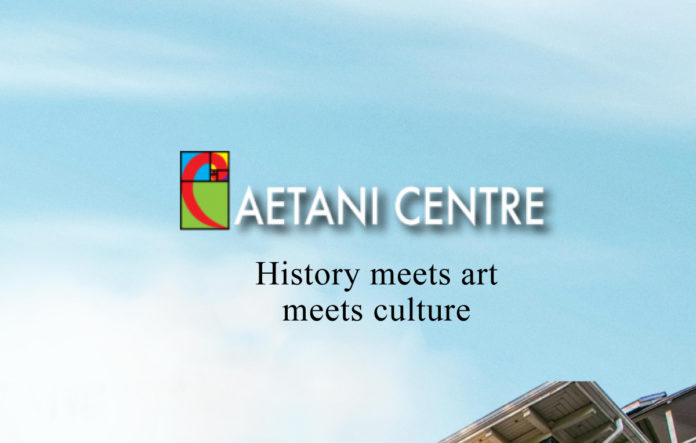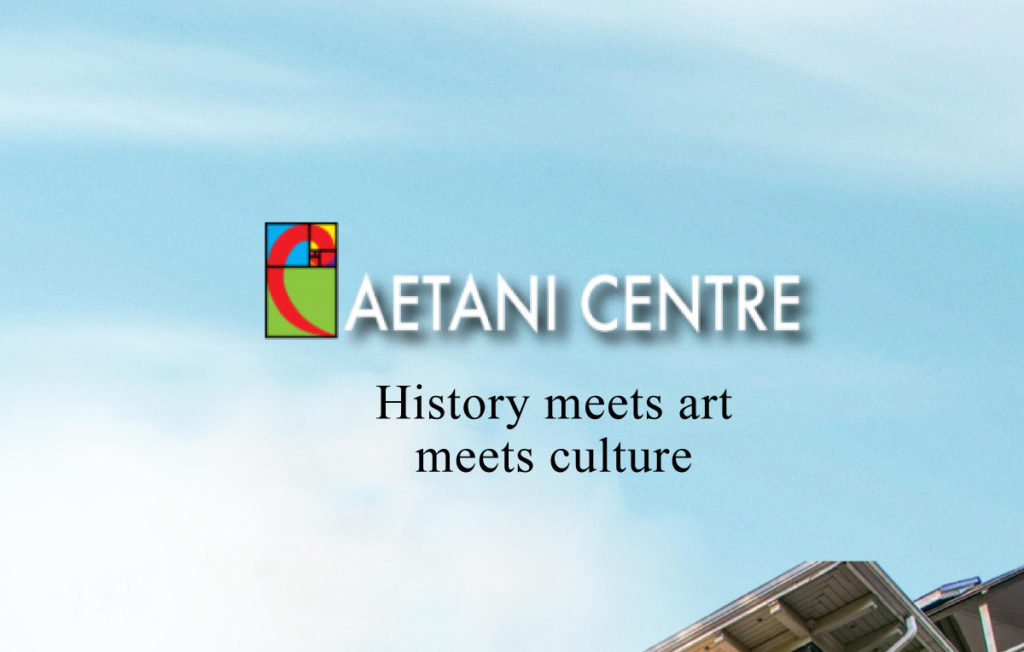 Click here to view the brochure.
 History meets art meets culture
The Caetani Centre, located in Vernon, BC, is a heritage house with over 125 years of mysterious and heartbreaking history behind it. The house is the former home of renowned artist, writer, mentor and teacher Sveva Caetani – locally known as 'the Countess,' due to her aristocratic background, the mystery shrouding her upbringing, and eventually her status as a visionary figure in the local community. When she passed in 1994, Sveva left her historic home and 1.3 acres of gardens to the community of Greater Vernon, with the express wish that it serve as a community cultural facility for artistic and critical exploration.  Today, Sveva's vision is being well-realized – her house is open to the public, it's available for both guided and self-guided tours, it's a frequent host to special events and festivals, and it serves as a venue and residence for visual artists and writers from across Canada.
Since 2008, the Caetani Centre has been operated by the Caetani Cultural Centre Society, a not-for-profit organization committed to helping visitors learn about the fascinating Caetani history and story. Since taking over the facility, they have worked diligently and invested heavily in order to serve Sveva's vision through a variety of creative and thought-provoking programming.
The story of the Caetani house – and the story of Sveva Caetani, in particular – is a remarkable and complex one. A more complete telling is available on the Caetani Centre's website – and Sveva's story is also told in the documentary 'Sveva Imprisoned,' written, produced and directed by local filmmaker Jim Elderton – but the main beats of the story are as follows:
The home itself was originally built in 1895 and was designed in the Late Victorian Vernacular Revival style. Though the home comprises about 6,000 square feet now, it was originally about a third of that size. The original family that lived there was the Somerville family, whose patriarch was a tax collector for the City of Vernon and a dance instructor. He owned the home until about 1913, when it was sold to a man named H.G. Muller, who was the mayor of Vernon and owner of the Coldstream Hotel. Muller did a major renovation, and that's how the house remained until the Caetani family arrived in 1921.
The Caetani family were a preeminent family from Italy back in the day, with a known history dating back to 950 A.D., and no less than two different popes sharing their bloodline. In 1921, Leone Caetani – a famed scholar, politician and historian, who boasted titles such as Duke of Sermoneta and Prince of Teano – moved from Italy to Vernon following the rise of fascism and the unofficial end of his marriage.
Leone's first wife was Vittoria Colonna Caetani, who was also from a famous Italian family. He later met Ofelia Fabiani, with whom he had an illegitimate daughter, Sveva. Leone immigrated to Canada in order to be with his new family. Some staff members – as well as 33 trunks of luggage, including family treasures – made the journey with him.
Leone moved to Vernon fully intending to live a more modest life than what he was used to in Italy, but his partner Ofelia likely didn't feel as comfortable in her new surroundings. She continued to dress in designer clothes, she didn't fully learn to speak English, and she rarely ventured outside her home. Throughout the 20s, the family made multiple trips back to Europe – not such an easy thing to do in those days – but those trips stopped after the stock market crash of 1929 and Leone lost a substantial share of his fortune.
In 1935, Leone passed away after developing throat cancer, and that's where the story takes a strange turn. Ofelia, due to her overwhelming grief and declining mental health, withdrew both herself and her daughter Sveva from society. For the remaining 25 years of her life, she never left the house. She only barely interacted with the outside world – when a doctor came to see her, she would only talk to him through the door, and Sveva had to translate as she barely spoke English.
Sveva also very rarely left the house. As she grew older, her mother kept her around through guilt and manipulation. She had a weak heart, for example, as she had rheumatic fever when she was young. Sveva once said about her mother: "She hung onto me – it's quite easy to persuade an 18-year-old that if she (Ofelia) does anything on her own, she will have a heart attack and die."
Ofelia and Sveva's seclusion prompted rumours about the Caetani house, as hardly anyone knew what was going on. One of the prominent rumours was that a countess lived in the house – thus prompting Sveva's later nickname. Other rumours were about witches living in the house, and kids would dare other kids to climb the fence that used to be at the front of the property and knock on the door. On Halloween, the gate would open and Sveva would hand out really good treats, which added to the house's mystery and fame.
Ofelia eventually died on New Year's Eve in 1960. Sveva was 43 years old at the time and had to find a way to re-enter society. Despite coming from nobility, she had few prospects, as she had not finished high school and had little money. During her isolation, however, she read a lot – and like her father, she was smart and gifted with languages – and she was recruited by a local monsignor, who gave her a job teaching French at the local Catholic school. A few years later, some friends eventually raised some money for her to get her teaching certification from the University of Victoria. After earning her credentials, she returned to Vernon and got another teaching job in a nearby small town, where she taught art and civilizations.
Sveva had been interested in art from a young age – on her family's trips back to Europe, she took lessons from a master painter – but after her father's death her mother didn't want her painting anymore. Back in the outside world, however, she started painting again and "some of the stuff coming out of her was pretty mind-blowing," according to Kristin Froneman, Tours and Communications Coordinator for the Caetani Centre. "I guess when you're in isolation for 25 years your mind goes in many different directions."
Today, one of the things Sveva Caetani is most known for is her 'Recapitulation' series, a series of 47 magnificent large watercolours loosely modelled after Dante's 'Divine Comedy,' which tell the story of her spiritual and artistic journey. Some of the paintings are polyptychs, which are paintings divided into multiple panels or sections. The largest of the Recapitulation paintings is about 20-feet long and comes in six panels.
"They are extremely detailed for watercolours," Kristin says about the series. "I've never seen any other watercolours as vibrant and as intense as Sveva's. This is due to the dry-brush technique that she developed."
Recapitulation took 11 years for Sveva to finish. When the series was nearing completion, she searched for someone to frame, mount and preserve them, but had a difficult time finding help in BC.
"No galleries were really interested as they didn't know who she was," Kristin says. "They didn't see her work, either. I think if they did, they might have changed their mind."
Fortunately, Sveva eventually was led to a curator in Edmonton, who offered to take all the works, frame and archive them properly, and even tour them for her. That's how they ended up in Edmonton, at the Alberta Foundation for the Arts. They remained there for many years.
Sveva passed away in 1994 and left her property to the City of Vernon. For many years, the Caetani Centre was managed by the Vernon Public Art Gallery, who primarily used the house as a residence for artists and the outside property for events. In 2008, the Caetani Cultural Centre Society was formed and took over operation of the house and property. They continued to offer the house as a residence for artists, while also establishing studios on the property for artists to rent and use as working spaces. They also transitioned into hosting more community events, such as art classes and workshops.
After many years of planning and preparation, the biggest transformation occurred in 2021, when the main floor of the house was opened as a museum. Displayed in that museum is a variety of Caetani artifacts, many of which the Caetani Centre only recently got back.
"In the years before she passed away, Sveva donated a lot of her family's belongings to various museums," Kristin explains. "She donated a large amount to the Museum and Archives of Greater Vernon. At least 48 of Ofelia's haute couture outfits, custom designed by the likes of Coco Chanel, Madeleine Vionet and Jeanne Lanvin, went to the Kelowna Museum. A costume museum in Manitoba also received a few things, such as custom designed travelling case by the Louis Vuitton factory. Some items also ended up in private collections."
"Most of those items have been returned to the house and are now available to see in our museum."
Before opening the museum, however, the Caetani Centre had to "completely overhaul" the house to make it safe for use by the public. They called that effort the 'Open House Project,' which was funded primarily through grants and took place over an approximate five-year period. As part of the process, they installed a full sprinkler system, a brand, new security system, and a ductless HVAC system. They also added insulation and fire-rated the walls.
"We did all kinds of things," Kristin says. "The house is now fully wired."
The Caetani Centre museum officially opened in the summer of 2021. According to Kristin, the response has been extremely positive. When they first opened the museum for tours, she says every single one was sold out.
"People were fascinated to see this place. They wanted to get inside."
"Since COVID regulations have been lifted, we've seen even more success. We've welcomed visitors from all over BC and other parts of the country. We have also conducted several tours to people who knew Sveva, such as her former students, as well to school groups, book clubs, members of the Kelowna-Canadian Italian Cultural Society, and so forth. We're generating a lot of interest."
Another successful development in 2021 was the reclaiming of the aforementioned 'Recapitulation' series. Kristin describes that as a "massive coup."
"Two members of our board wanted to see what shape the Recapitulation series was in, so they flew to Edmonton during the pandemic – fully masked up, of course," says Kristin. "The paintings were in incredible shape. When talking with the curator, they discussed repatriation and how it would be a benefit to the community and the house to bring the paintings back to where they were created."
"That conversation happened in 2020, and in March of 2021 every single painting was returned to the house," Kristin says.
Moving forward, the Caetani's Centre goal is to continue fostering that sense of excitement and interest in their programming. For Halloween of 2022, for instance, they hosted their second annual ghost tour, this time with actors playing the Caetani family.
"This place is supposedly haunted," Kristin says. "So we thought 'let's do something fun with that,' and we had these haunted tours guided by members of the family. That was a big draw. Every single tour was sold out."
Also moving forward, the Caetani Cultural Centre Society has plans for further restoration and rejuvenation. The home is over 125 years old, and "there are obviously things that need to be refreshed," Kristin explains.
"We'd love to restore it back to its original glory," she says, "not only on the inside of the structure, but the outside as well. We have an initiative called 'Friends of the Garden' that's all about restoring the property. We've had a lot of droughts and fire that killed off a lot of the grass and foliage and we want to bring all that back. We want to make the property healthy again."
"It's a beautiful property and we want to show it off," she continues. "Over the years, some of the outbuildings, now used as art studios, have been restored and a courtyard and beautiful stone pond have also been installed – but there's still a lot of work to be done."
As part of that work, the Caetani Cultural Centre Society wants to add more space for displays. Right now, for instance, the Recapitulation series is displayed in an 800 square foot gallery that used to be a carport. Some of the paintings in that series are very large, and the gallery is not big enough to exhibit them all at once, so they have to cycle through them.
"We want to build a better and more expansive home for that series," Kristin says. "It's a shame that right now we can't show more of the paintings at once. We want to remedy that, so we're doing a fundraiser called 'Bringing Sveva Home.' The goal of that fundraiser is to build a more practical gallery space on the property so we can show more paintings, so we can protect and preserve them for future generations. It is a significant body of work that really needs to be seen."
"Sveva should have been better known in her life, but she wasn't," Kristin concludes. "Our mission and mandate is to preserve her life story and her work. That's what we're focused on, and we welcome anyone who wants to help."
For more on the Caetani Centre, the Caetani story, and the facility's latest news and events – and to get in touch with the team at the centre today – visit https://www.caetani.org/