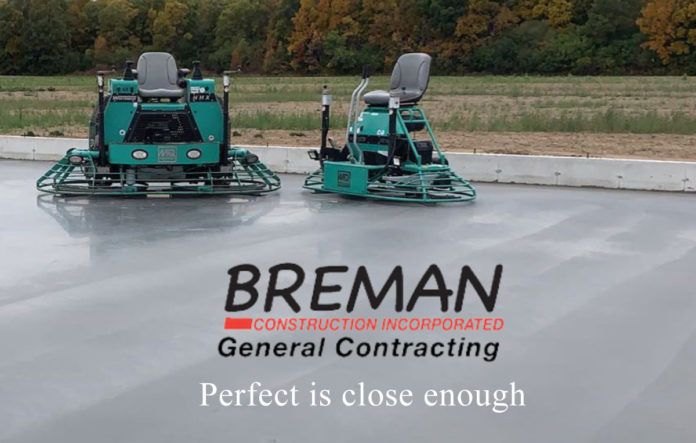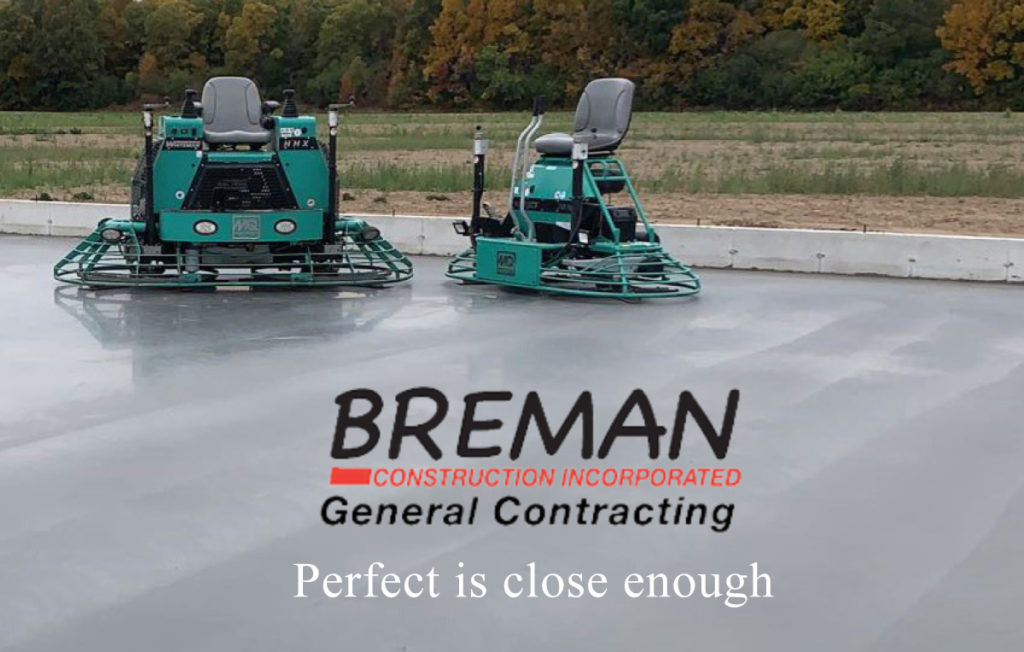 Click here to view the brochure.
Perfect is close enough
Breman Construction is a Southeastern Ontario concrete and construction company, founded with the goal to be a one-stop-shop for all agricultural or commercial construction needs. Located just outside Tillsonburg, in the heart of agriculture – and staffed by locals, who were born and raised in the surrounding area – they have an intimate understanding of the region and the industry, and they are well-equipped to handle all their clients' needs. Whether they are building a commercial space from the ground up or expanding their farming operations, the team at Breman can guide them through the entire process and turn their idea into a reality.
"Our team approaches every project, small or large, in a friendly, dedicated, and cost effective manner," says Henry Breman, the company's founder and owner. "Our quality and integrity is a standard displayed on each and every project."
Henry first started Breman Construction in 1999. From the start, the company has focused on agricultural construction, and they added concrete capabilities roughly five years in. Since then, the company has grown and evolved significantly, both in size and capacity. Size-wise, they have grown a "pick-up truck, a trailer and a guy," Henry recalls, to a consistent team of guys in-house plus a deep roster of regular sub-trades. In terms of their capabilities, they started off doing "doing whatever part of a job we could get," according to Henry, and now they "project manage everything from the ground-up and have full control every step of the way."
These days, Breman Construction does a wide variety of work, with projects ranging in value anywhere from $100,000 to $3 million. The majority of their business comes from repeat customers, with some customers going all the way back to the company's early days. Henry mainly credits that loyalty and longevity to his personally high standard of quality:
"I always say 'I'm not fussy, perfect is close enough.' That's the motto I pump into our guys."
Henry doesn't mean to imply he's solely responsible for the quality, however. He emphasizes that it's a true team effort:
"I've surrounded myself with good people," he says. "We have a great team in-house, we have a great team of subcontractors, and we have a great team of suppliers. And we're very loyal to our team. We have trades and suppliers we've been doing business with for 20 years. I think that's a big key to our success. We hold on to what we've got."
One example of a longstanding partner Southwest Excavation – a local provider of superior excavation services for residential, agricultural, and commercial projects. They are a company with an extensive history and a strong reputation for the quality of their work. They are also known for their commitment to health and safety – which is something Breman prioritizes in their subcontracting partners.
Within their partners, Breman also prioritizes customer service. In particular, they value it when the companies they work with can admit when they made a mistake:
"Our motto is 'perfect's close enough,'" Henry reiterates, "but we're not unrealistic about it. We understand that errors happen. The important thing is to communicate honestly and work through them."
In exchange for that honesty and quality, Henry says that Breman Construction stays loyal to their trades"
"You send us an invoice; we'll pay you within 30 days, no problem," Henry says. "And we'll pay you market value and more. We don't want anyone working for nothing. We'll pay fair market value plus a percentage. In return, we expect quality control."
Figuring it out
Something else that sets Breman Construction apart is their ability to tailor their building solutions to the specific and individual needs of their clients. They do that, firstly, by making it a point to get to know their client and understand what they do.
"We educate ourselves on the client's industry and how it works and we learn what they need to be successful," Henry explains. "And whatever it is they need, we'll figure it out and we'll get it for them. It doesn't matter to us what it is. We'll figure it out and we'll make it happen. That's what we're known for."
As a recent example, Henry cites their recent work on a VIP suite for the Ohsweken Speedway.
"In that case, the client basically told us, 'We want a suite to take care of all the big companies that come to our race nights.' We said, 'So what do you need?' He said, 'You figure it out.' And that's not a problem for us. That's what we do. We called a couple of their big sponsors and asked them, 'What do you want in your VIP suite?' They gave us a list."
"We designed and built this thing from start-to-finish," Henry continues. "It has 12 units; it has race-car facilities; it has lounges; it has porches; it has everything they wanted. We tailored it to what these guys wanted. And we kept everything within budget and we delivered it on time."
Henry says the client's reaction was extremely positive:
"When we were done, we gave him the keys, he walked in, and he said 'Wow.' It was everything they needed. The bathrooms; the kitchenettes; the lounges; the screens; the lighting; the flooring; the tool rooms to lock up specialty tools – everything was there and ready to go. All the client had to do was move in."
As that example demonstrates, Henry says that when it comes to what they can build, "the sky is the limit."
"We'll build whatever you need."
In that case, the client at first didn't even know what they needed, and Breman Construction helped them figure it out. Another case like that was a facility they built last year for growing flowers. In order to build that facility, they first needed to educate themselves on how to grow flowers. The client knew how to grow the flowers but didn't know exactly what to ask for when designing the facility. Breman helped them figure it out.
"We did the research," Henry says. "We learned how to grow this flower, and then we turned around and we built the client a facility that would work."
"At the end of the day, the client said that he never realized how much goes into making these flowers go. He said 'Now I understand why you needed me to walk you through how to grow them. This is exactly what I need.'"
Again, Breman also delivered that project on time and on budget, which the client also appreciated. Henry says the key to meeting those milestones is "good trades, good scheduling, and pushing through things."
"If you don't push through, nothing ever gets done," Henry says. "You need to set realistic timelines and you need to push to keep those timelines."
Henry also believes his personal involvement has something to do with it. To that end, he makes sure to personally visit every site every day.
"Right now we have about six or eight projects on the go," he says. "Every one of them I hit every single day. That makes it easier to maintain quality control and stay on schedule."
The next generation
Moving forward, Henry believes there's still a lot of room for Breman Construction to grow:
"You're never done growing," he says. "But to stay healthy, you have to grow at a speed that's manageable. That's what we're doing now."
Right now, there's also a second generation of Breman coming into the business, with potentially more of that generation coming soon:
"My oldest son is coming into the business now," Henry says. "I have four sons total, and they all show signs of wanting to be a part of this. So the business could be around for a really long time."
"As long as we can maintain our quality control, I think the sky is the limit," he concludes. "As long as we keep saying 'perfect is close enough,' we'll keep getting clients. That's what I'm teaching my boys. That's the standard we're going to uphold."
For more on Breman Construction and their past projects, and to get in touch with Henry and his team, visit http://www.bremanconstructioninc.com/