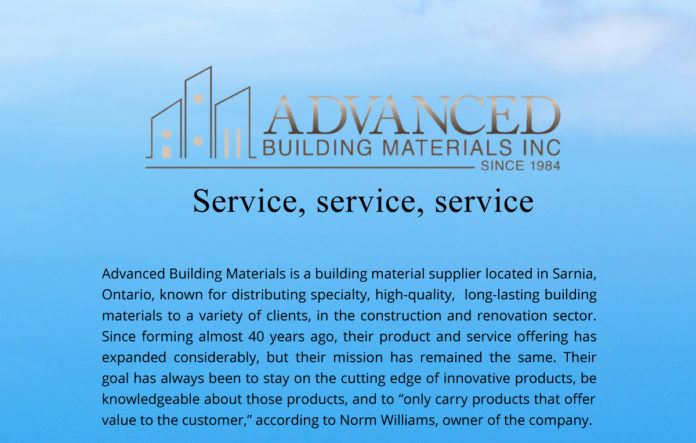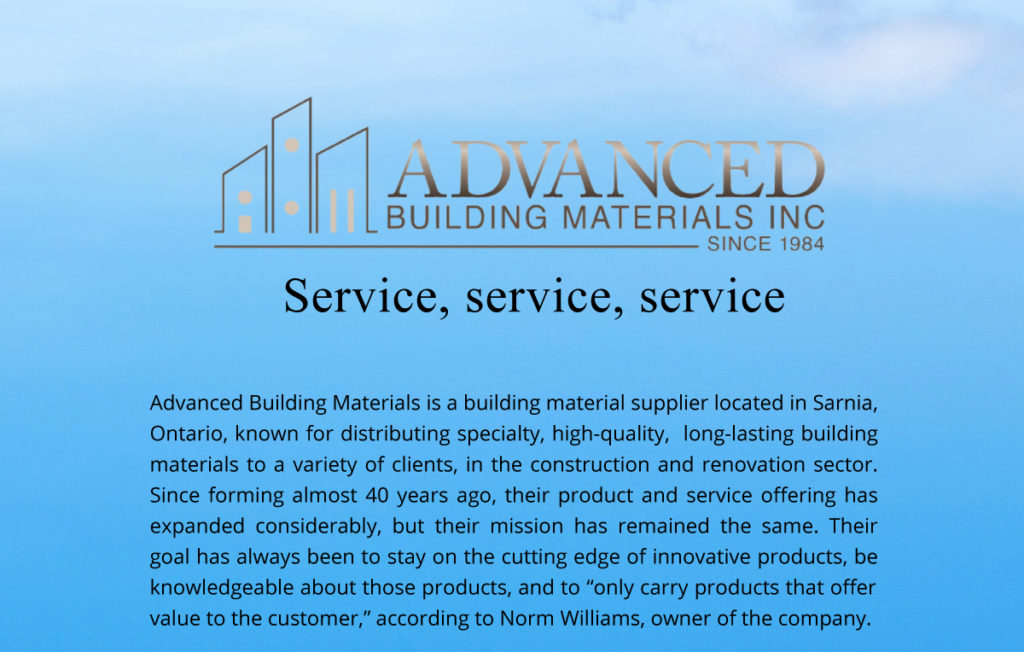 Click here to view the brochure.
 Service, service, service
Advanced Building Materials is a building material supplier located in Sarnia, Ontario, known for distributing specialty, high-quality,  long-lasting building materials to a variety of clients, in the construction and renovation sector. Since forming almost 40 years ago, their product and service offering has expanded considerably, but their mission has remained the same. Their goal has always been to stay on the cutting edge of innovative products, be knowledgeable about those products, and to "only carry products that offer value to the customer," according to Norm Williams, owner of the company.
"Our mission is to provide the best building materials available on the market today," Norm says. "We strive to be knowledgeable problem solvers, responsive and focused on our client's needs, while conducting ourselves in a friendly, respectful, and professional manner."
Advanced Building Materials was originally founded back in 1984. In 1988, Dave and Olga Williams bought into the company as Dave had previously worked for Sternson Ltd. as a sales representative for a company that Advanced Building Materials represented in Sarnia–Lambton. Over a span of three years Dave and Olga would become the sole owners of the company.
Norm, for his part, joined the company in 1991 after graduating from Mohawk College with a diploma in business administration. He was part of the company in 1995 when they joined the CID buying group, which would later be purchased by the TIMBER MART buying group. In 1996, Norm became part owner with Dan Chinnick and Gary Stewart, who were brought on board due to their strong ties to the geotextile and vinyl fencing and decking markets. In 2000, Norm was named president of the company, and eventually acquired all shares from the remaining partners to become sole owner of Advanced Building Materials in 2017.
In Norm's time with the business, Advanced Building Materials has evolved and expanded their product offering significantly in order to expand their client base. Today, they service a healthy mix of contractors and direct consumers, and their offering includes geotextile and erosion control products, vinyl fencing railings and decking, decorative columns, aluminum, and hybrid fencing, specialty exterior finishes and decorative accents for your home. For decorative concrete, they offer products such as stamped concrete sealers, concrete stains, concrete polishing accessories, concrete countertop accessories, forms, and even tin ceilings.
Over the years, Advanced Building Materials has also participated in several major regional projects. The list includes: CN Tunnel, Point Edward Casino, Hiawatha Horse Park, Bluewater Bridge, Nova Cor, Nova Cor AST 2, Dow Chemical, the 402 Expansion, Cineplex, Centennial Park, and many more. They have also been very involved in the design and stabilization of access roads leading to many wind turbine projects across Ontario.
These days, the company's projects can range greatly in size and value. According to Norm, there is "no project too big and no project too small."
No matter the size of their project, Norm believes that both contractors and homeowners choose Advanced Building Materials for the same reasons. Number one, he says, is "service, service, service –from the beginning of the project right through to the completion and follow-up."
Rachel Sheppard is the general manager of the company. She adds that they are "not like a big box store." Their customer service is much more personal.
"When you come in here, it is not uncommon for Norm to be dealing with our customers," she says. "We know most of our customers' names. We try to build relationships with them. We answer their questions, and if we don't know the answer to something, we make sure we search it out, we speak to the proper people and get the customer the information they need."
In addition to their personal customer service, Rachel believes that Advanced Building Materials is also set apart by their product selection:
"We strive to sell materials that you would not normally find at a big box store," she says. "We focus on product quality and ease of installation. We really care about what we're selling to our clients. We want to make sure the products we're selling are going to last and are going to meet the client's needs."
"We don't want to have to run around and look after quality issues down the line," Norm adds. "We don't have the time to do that so it's important for us to only sell really high-quality products. Maybe people pay a little bit more for that quality, but I think they are more aware of the importance of quality and value. I think people are wary of buying materials at the lowest price and getting substandard quality, because they know they're just going to have issues with it at a later point in time."
Furthermore, Norm and Rachel reiterate that they keep in touch with clients, and that their service extends beyond just making the initial sale:
"Even at the end of a job, we make sure we follow up and see if everything went well," Rachel says. "We think that really helps build a relationship, and building a relationship is what it's all about for us. We try to build a relationship with everyone who walks through our door."
Historically, Advanced Building Materials has been very successful in that aim, and they have built relationships that go back decades and even generations.
"We often have people coming come in here and tell us that their parents used to purchase from us," Rachel says. "We also have a lot of former professional clients who retired, and now they have some projects around the home that they want to do, and we're their first stop. I think that says a lot."
Revolutionary products
Recently, Advanced Building Materials became the Canadian distributor for ERTEC Environmental Systems. They are a manufacturer of "revolutionary" erosion, sediment, and wildlife control systems whose products, when compared to traditional solutions, offer "twice the performance, half the total cost, and zero waste," according to Norm.
Advanced Building Materials is particularly excited about the 'Species at Risk Exclusion Fence' – a patented, durable, and low-cost directional fencing system designed for projects in habitats where special status small vertebrates are present. The fence is designed to protect those species from active construction areas by allowing them to exit the site but not get back in. The fence barrier is made from a heavy rigid polymer matrix which is extruded for strength and durability. The extruded strands are designed not to separate, stretch, or entrap even persistent intruders. The fence will also not corrode and decay like metal hardware, cloths, or geotextile fabrics.
Additionally, ERTEC has a line of silt and sediment control products that Norm calls "revolutionary," as they "actually work, they are reusable, and at the end of their service life, they are fully recyclable," Norm says. He says Advanced Building Materials is excited to promote environmentally friendly products.
"Any time we can offer quality products that offer the added benefit of being green, we're eager to hop on board."
ERTEC is an example of a recently-formed relationship, but Advanced Building Materials also has some longer-standing relationships with other supply partners going back decades. For instance, they have been a distributor for Hilti Canada and Sika Canada for over 35 years.
"You cannot be successful without the support of your suppliers," Norm says. "For the most part, we are here today because of the suppliers that have stood behind us as their representative."
Rachel also credits the company's longevity to their team members – many of whom are similarly longstanding. In turn, she credits that retention to the three philosophies they operate by:
"One, an employee is never asked to do something that Norm or I would not do," she says. "Two, we treat employees as we would like to be treated. Three – our commitment to a safe working environment."
"We offer an environment for employees to work in that promotes responsibility and personal decision making. If our employees are successful, then we will be to. We do not micro manage people but rather advise and cultivate. We work through mistakes, correct them, and we move on, knowing we are constantly making things better."
Making a difference
Moving forward, Norm says that the vision for Advanced Building Materials is to "continue with our basic business philosophies. That means "constantly keeping our eye out for innovations in the construction industry" and "continuing to represent high quality manufacturers" – with a prime example being ERTEC Environmental Systems, whose products they are excited to continue promoting and distributing throughout Canada and the northern United States.
Looking to the future, Advanced Building Materials also intends to expand outside of Sarnia–Lambton. Norm says that's a necessity if they want to maintain and grow the business, as a lot of their clients historically have relied on the oil refining industry, and oil refining activity is coming under pressure.
"So we want to grow," he says, "but it's important that we make sure that we don't compromise our service and our beliefs and our culture by getting bigger. We're paying very close attention to that."
Rachel – who will be taking a more active leadership role in the company in the near future – echoes that sentiment:
"I'd like to see us expand and grow but without losing our small business family-run atmosphere. That's a big part of what makes us special."
No matter how much they grow, however, Norm and Rachel agree that they will continue giving back to the community they started in. For example, this past they donated about 5000 pounds of food to the local food bank. That kind of outreach has always been a priority for Norm and his family, and Rachel fully intends to continue their legacy:
"Being in Sarnia for so long, we've always tried to give back," Rachel says. "We've always tried to make a difference where we can. We definitely want to continue making a difference."