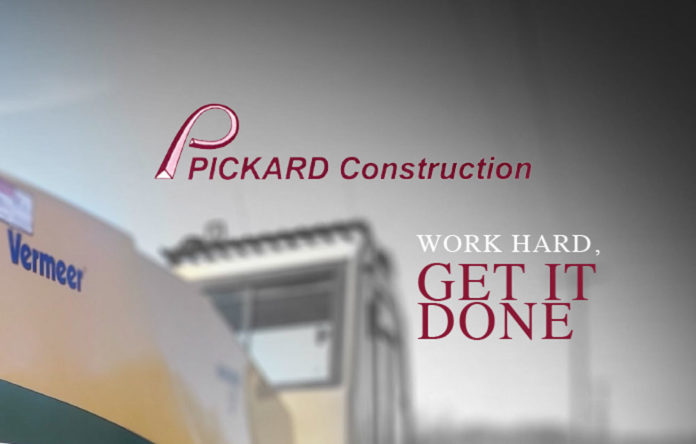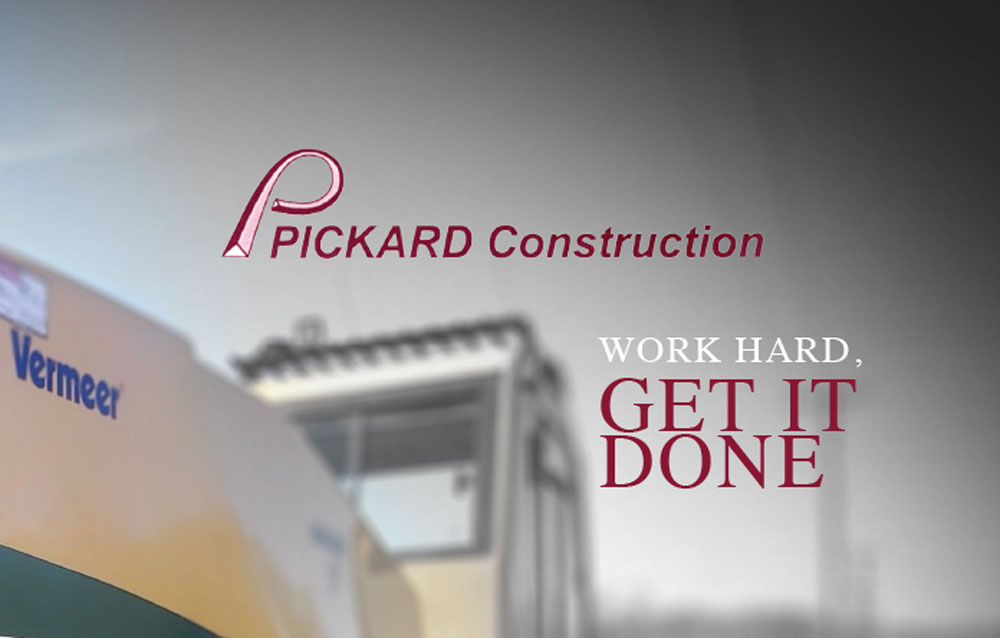 Work hard, get it done
Pickard Construction is a longstanding and industry-leading expert in all aspects of telecommunications-related new construction, repair, and maintenance. Since forming more than 40 years ago, the company has evolved from two employees in one location to over 100 employees in six permanent offices and yards across Ontario. Over the years, that continuous evolution has been driven by the company's core philosophy of "doing a job well, and doing it on time."
That philosophy was first conceived by company founders Maurice and Donna Pickard. They remain owners and operators to this day, and their philosophy continues to drive their success.
The couple initially started Pickard Construction in 1979 with just one backhoe. After three years of doing "odd jobs," they were awarded their first Bell Canada general contract. Their success on that project solidified the company's reputation, and the relationship they formed with Bell has led to almost four decades of continuous work.
"We've been working with Bell, in some form or another, since 1982," says Colin McEwan, General Manager. "That's a credit to Maurice himself, and to the company he's built. He has a 'work hard, get it done' attitude, and he's instilled that in everyone who works here. Clients like Bell appreciate that about us."
"They know if they ask us to do something, we'll figure out how to get it done," he continues. "If they have a problem, they know we're the ones that can help them solve it. We welcome a challenge. We have built a reputation for that. That's why our relationships have lasted so long."
Colin has been with Pickard Constructions since 1990, so he's observed much of the company's growth first-hand.
For example, Colin was there in in 1993, when the company was awarded Bell work between Wawa and Thunder Bay, and began their expansion northward. At that time, they purchased their first rock drill for the purpose of drilling holes for telephone and hydro poles – they have since amassed one of the largest fleets of rock drills in Ontario, and they have done drill work across the province for numerous different hydro utilities.
Back in 1997, the company was awarded Bell contracts in the Sudbury and Sault Saint Marie areas, and their expansion continued. Eight years after that, in 2005, they established an office in Huntsville, again spurred by their work with Bell. They were awarded additional major contracts in 2011 for North Bay, and 2015 for South Western Ontario.
In 2009, Pickard Construction started their first large scale fiber-to-the-home (FTTH) build in Mount Forest for Wightman Telecom. That represented a new frontier for the company. They since completed more than 20 small and large FTTH projects in towns and cities including: Palmerston, Drayton, Lucknow, Clinton, Bayfield, Owen Sound, Collingwood, Kincardine, and Chatham. Their customers have included: Bell Canada, Wightman Telecom, Tuckersmith Communication, Hurontel, Mornington Communications, and Bruce Telecom.
Another major customer of Pickard Construction has been Hydro One. In 2010, they created zone contracts for the province, and Pickard was awarded the contract for Zone 5, which roughly covers the areas from Owen Sound to Huntsville. In 2016, Pickard renewed that Zone 5 contract, while also picking up Zone 1, which goes from Owen Sound west to Windsor.
Those contracts and projects represent some of Pickard Construction's major milestones – but over the years, the company has worked with many other clients, large and small, on a variety of projects. Their approach has always been to "go where the work is and do the things a lot of companies don't want to do."
These days, Pickard Construction still very much maintains that approach. They place a lot of value in having a diverse array of work and clients, and their team takes a lot of pride in their ability to tackle any challenge.
Everybody benefits
Between their six branches, Pickard Construction can complete work all across Ontario. They take on contracts of all sizes, from projects that will take a couple of hours, to projects that can last multiple years. According to Colin, they have the team and equipment to handle virtually anything.
The company's fleet includes trucks, backhoes, large and small excavators, large and small direction drills, and large and small cable plows, and their staff typically numbers around 175 people. So no job is too large – but at the same time, no job is too small, and that's on purpose. Colin says that flexibility has been the key to the company's longevity.
"The thing that sets us apart from the rest is that we are small enough to be flexible when required," he explains. "That has got us through the good and bad times, and what will keep us moving forward for years to come."
The other thing that sets Pickard apart, Colin adds – and the other major factor behind their enduring success – is the relationships they form with clients.
"We work to create quality work relationships," he says. "We do that by listening to their needs and tailoring how we work with them on an individual basis. One size does not fit all. That approach has gained us many customers and created some very longstanding relationships."
"We also have a culture of being fair and honest, and we have a reputation for working hard and doing what we say we will," he adds. "Even when things get tough, we buckle down and do what we need to do to get things done."
Colin credits that reputation, and that ability to survive the tough times, to the hard work and dedication of the company's team. That team includes both their direct employees, as well as their roster of subcontractors and suppliers. Colin says the company does everything they can to make sure those relationships are just as strong as the relationships with clients.
With their direct employees, Pickard Construction attracts and retains people by offering competitive wages, benefits, and doing everything they can to ensure year-round employment – the diversity of their work helps with that, as when one sector is slow another might be busy. With their extended team of subcontractors and suppliers, they earn loyalty by paying on time and by treating those partners with the same honesty and respect they do customers and staff.
In return, Colin says that when workloads are high, subcontractors can be relied upon to deal with the overflow. Their equipment and parts suppliers, meanwhile, will "go out of their way to ensure we have all the things we need to get work done, and all the parts we need to fix things when they breakdown."
"They also go out of their way to help keep us up to date with new technology and to assist with training when required," he adds. "Without the support of our suppliers we would not be able to do anything."
An example of a supportive partner is Trenchless Utility Equipment (TUE) – like Pickard Construction, they have been servicing the Canadian utility industry for multiple decades, in their case 25 years. In all that time, they have remained on the cutting edge of technology and best practice, and they have always been committed to making job sites safer and more efficient.
"We try to create true partnerships with our suppliers," Colin says. "It's important to us that everybody benefits. Everybody should be on the winning team."
Never going away
Recently, Pickard Construction concluded FTTH projects in both Kitchener and Chatham, and they have just started an FTTH design-build project in Sarnia. They are also in the second year of a large project that involves placing fibre to help service under-serviced rural areas.
According to Colin, those are the kind of projects Pickard Construction will continue to pursue. In particular, they see a lot of opportunity in placing fibre in rural communities, like they are doing now. With more people working and learning from home than ever due to the pandemic, they expect there to be a continued push to get fibre to rural communities, and to narrow the divide between urban and rural broadband quality of service.
"Over the next five years, the need for high quality broadband will continue to grow," Colin predicts. "We will be here to help our customers bridge that gap."
Speaking of the pandemic, Colin explains that it slowed the company down only a little bit at the start, as they figured out new systems and processes to keep their employees safe. The majority of their clients were and are essential services, however, so Pickard Construction was deemed an essential service in turn. They have since slowly built back up, and have remained both safe and profitable.
Moving forward, Colin says, the goal is to continue down that path of safety and profitability – and continue to do the things, and practice the values, that started them on that path to begin with.
"We want continue to build the business and expand," he says, "and we want to that the same way we always have – by servicing the clients we have and continually looking for new opportunities that we can capitalize on. We know the communication business is never going away. The technology may come and go, but we'll continue to adapt, and continue to look for new ways for help."
"Our approach has worked well for 40 years, and we're looking forward to at least 40 more," he concludes.
For more on Pickard Construction and their services and capabilities – and for contact details of their many offices across Ontario – visit https://www.pickardconstruction.com/