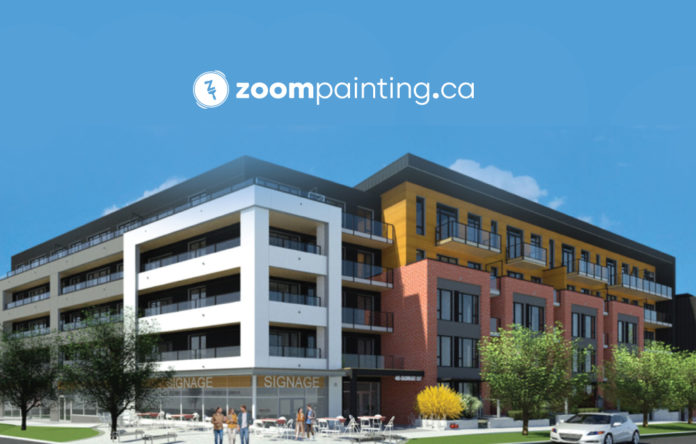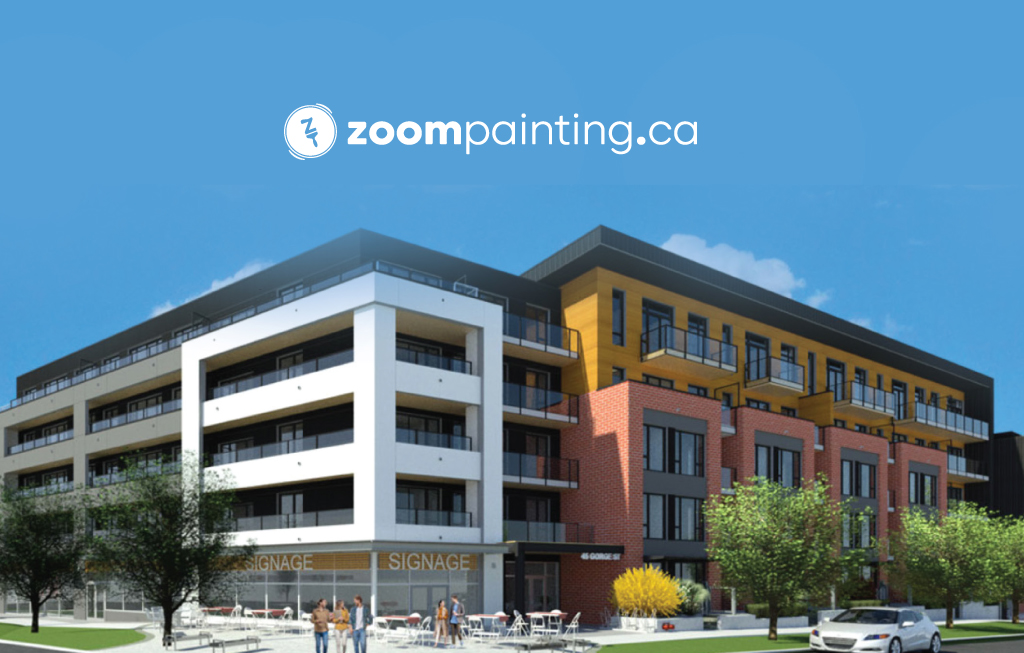 A painting powerhouse
Zoom Painting is Canada's only multi-city, urban-density-focused painting contractor. Since launching in 2012, they have provided competitive painting services for new residential construction, vertical multi-family projects, whole community developments, commercial podium levels, parkade levels, and industrial structures. Over the years, they have continuously refined their processes and steadily grown in size and capability, even amidst the challenges of the pandemic.
In recent years, especially, Zoom Painting's growth and evolution has been recognized and rewarded in multiple ways. The company has won multiple consumer choice awards, they have recurrently ranked on Canada Business' list of Canada's Fastest-Growing Companies, and they have earned repeat business from some of Canada's largest construction companies, developers, and general contractors.
"The company is at a really exciting stage," says Luc Comeau, Director of Business Development. "We're doing some really exciting projects and we're growing super-fast."
Luc credits that rapid growth to a variety of factors, including the company's embracing of modern technology and the efficiency of its systems and processes. From "sales, to estimating, to pre-planning, all the way through to execution," Luc says the company is highly-systemized – which ensures that the client's experience is seamless and their work is consistently delivered on time and on budget.
Luc adds, however, that the biggest driver of the company's success is its quality:
"In the feedback we have received from our big clients, they consistently emphasize the quality of our work," he says. "I think that comes from having a great team and from being so client-focused. Everyone here is really out to turn over an amazing final product for our clients."
Zoom Painting was founded in 2012 by CEO Kyle Friedman, originally under the name 'City in Colour Painting.' In 2017, the company was rebranded to 'Zoom Painting' in order to better promote their uniquely efficient approach, and to reflect the core values they had since established – values including 'innovative,' 'simplify,' and 'grow.'
In the early years, Zoom Painting specialized in single-family home painting and did a lot of their work with Brookfield Residential – a client they still service to this day. Over the years, however, they grew to focus more on mid-rise and high-rise projects, as well as other large-scale projects in the commercial and industrial sectors.
Today, Zoom Painting provides large-scale painting services to multiple cities – including Calgary, Edmonton, Vancouver, Victoria, and Kelowna. As previously mentioned, their clients include some of the biggest names in their industries. In addition to Brookfield Residential, they have worked with Ledcor Group, ITC Construction Group, RNDSQR, The Silver Group, Carlisle Group, BOSA Development, Anthem Properties, Clark Builders, BMP Construction Management, Chandos, Abstract Development, Campbell Construction, Excel Homes, Graham Construction, and more.
According to Luc, those kinds of industry leaders typically choose Zoom Painting "because we're able to do an immense amount of volume, and we're able to help them not only in one region but five different regions across Canada."
"A lot of our clients work in all of the regions we operate in," he explains. "So we're able to offer them a single-source painting solution."
"And we can grow with our clients," he adds. "Historically, that's how we've grown and expanded into new regions. We started working with a client in Calgary or Edmonton and then we started bidding with them in Vancouver and Victoria."
Luc reiterates that they also choose Zoom Painting for their quality – which, again, is evidenced by their repeat business and recurrent consumer choice awards. That quality, he reiterates, is a credit to the company's operational processes and quality control system.
That system is proprietary and unique to Zoom Painting, so Luc can't go into it in too much detail, but he will say that "it all comes down to holding ourselves accountable to a certain quality standard – and we hold ourselves to the same standard every time, on every project, for every client."
As a result of that unyielding commitment to quality, Zoom Painting has been able to build longstanding relationships with many of its clients. Luc says those repeat relationships have powered the company's growth and expansion.
"When we bid with clients, our goal is never to do one project for them and that's it," he explains. "Our goal is to build a relationship for the future."
Great people, great company
Zoom Painting not only builds longstanding relationships with clients but also employees. The size of their team fluctuates based on their workload, and they have a large base of subcontractors throughout western Canada that they rely on, but they still have many key staff members who have been with the company for a long time. As the business grows, they want to make sure they want to build on that retention.
In order to do that, Luc says they offer flexibility to work remotely, they actively reward and recognize team members who are performing well, and they employ a culture committee that plans events for employees in different regions and for the company as a whole.
"We're in the business of great people," Luc says. "We want to make we're promoting a good atmosphere and that we're recognizing our people when they're doing great work."
A big part of Zoom Painting's culture is also 'giving back,' which Luc believes their employees also appreciate. He says they like that the company strives to make a positive impact in the communities in which they work.
"It's our people that make our company great, and it's great people that help a company succeed," he reiterates. "We strive to continue to make our team proud of the company they work for."
In order to do that, Zoom Painting sets goals every year – goals that "will result in a better community and that will specifically help our city's youth." Every year they complete at least four projects that further those goals – that have an impact on youth, marginalized communities, and families in need, and with organizations that have a proven track record for making an impact in the lives of people in their city.
As an example, Luc cites a discussion they had in their office a few years back, when they realized that there was no permanent LBGTQ crosswalk in Calgary and that Calgary was one of the only cities in Canada that didn't have one.
"So we contacted Calgary Pride and we worked with the city and lobbied within our districts to push it through," he explains. "Along the way, Mount Royal University picked it up and let us donate a crosswalk, which we have maintained ever since. Then the city approved a crosswalk on Stephen Avenue downtown, which we have also maintained. We're proud of that."
"We look forward to doing more of that kind of work in all of our regions," he adds.
Zoom Painting is also looking forward to its continued growth. Over the last few years, and even throughout the pandemic, the company has grown and expanded rapidly. Thanks to their strong partnerships with suppliers like Sherwin-Williams, they haven't even experienced any significant disruptions in their supply chain. In the near term, Luc fully expects that growth to continue, and in the long term, he expects that expansion to follow.
"Our goal is to stabilize in the regions we're currently in," he explains. "We believe there's still a lot of market share within the regions we're in. Over the next two or three years, we want to capture that market share and get those regions up to a sustainable amount of revenue."
"If we can do that, then we'll look to continue our growth in the west," he adds. "We'll look at other areas in Canada, and even some areas in the United States. If it makes sense for us, we'll look at expanding."
Within that timeframe, Zoom Painting also wants to expand its product offering beyond just painting. Currently, for example, they are doing a lot of fireproof coating installation, and they believe there's room to provide a lot more coating-related services.
"We want to become the single source coating and painting service provider for our clients," Luc concludes.
For more on Zoom Painting, their services, their past projects, and their industry accolades – and to get in touch with their award-winning team – visit https://zoompainting.ca/