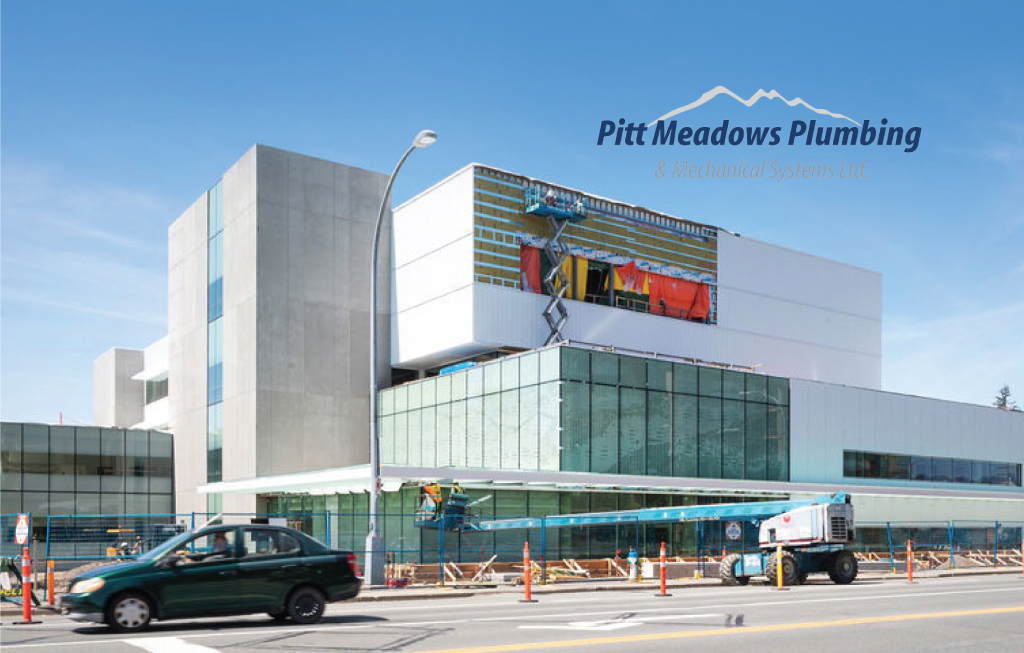 Pushing the boundaries of innovation
Pitt Meadows Plumbing & Mechanical Systems is a BC mechanical contractor with a passion for innovation. Using the latest technologies, tools, and processes, they seek to deliver their clients cutting-edge solutions while ensuring their environmental and budgetary goals are always achieved. Over the company's 40-plus-year history, they have completed a variety of projects, from residential and educational buildings, to high-rises, hospitals, prisons, and industrial warehouses. In recognition of their prolonged excellence, they have become well known for their quality, efficiency, and problem-solving ability, and they have won a long list of industry awards and accolades.
In recent years, in particular, the company has been repeatedly recognized by the Vancouver Regional Construction Association (VRCA) Awards. At the 2020 VRCA Awards, they won a Gold Award for 'Mechanical Contractors – Over $9 Million' for their work on the Penticton Regional Hospital Care Tower. At the 2021 VRCA Awards, they won a Silver award in the same category for the Abbotsford Law Courts project.
"We value and enjoy that recognition," says Sam Revel, Senior Pre-Fabrication Manager, "but what we really enjoy is the process of getting there. We like putting in the work and seeing our projects come to fruition and meet all of the clients' needs. To win an award at the end of the day is just icing on the cake."
Sam has personally been working with Pitt Meadows Plumbing since 2016, and he's been involved in a number of award-winning projects, including their latest two. In his time there, he's also seen the company evolve – since he joined, Pitt Meadows has grown to become one of the largest mechanical contractors in the province.
Sam credits that evolution to Pitt Meadows' constant commitment to innovation and continuous improvement:
"I think the main reason we've grown to the size we are is because we're constantly pushing the boundaries of what construction has to offer," he explains. "We're very heavy into 3D BIM modelling and we have a 55,000-square-foot offsite fabrication facility. So we're always pushing the limits of what's possible in construction and we're always innovating."
Today, Pitt Meadows Plumbing applies that innovative approach to a variety of projects spanning a range of industry sectors. In each sector, their projects tend to be on the higher-end of size and scope – their smaller projects tend to be valued around $1 million, while their larger projects can exceed $100 million in value.
Despite the size of their company and the scope of their work, however, Pitt Meadows Plumbing is a company powered by family values. Brothers Steve and Stewart Robinson founded the business in 1979 and remain involved today – Steve is President, and Stewart is Executive Vice President. The "next generation" has also gotten involved – Steve's son Matthew became a partner back in 2013, and other Robinson family members now fill key positions.
And it's not just the Robinsons – other families also have multiple members working in various areas of the company.
According to Sam, that "family feel" – when combined with the company's size, production capacity, and progressive approach to innovation – is what makes Pitt Meadows Plumbing unique.
At the same time, he says that another key point of difference for the company is their emphasis on collaboration. He says they have proven themselves to be such valuable collaborators that a lot of their clients – especially their developer clients in the multi-residential space – source them directly.
"Every project we have now is design-build, design-assist, or a public-private partnership," Sam explains. "So we're involved with projects from the very early days. We don't have to play in that bid-spec world. I really think that's a credit to our collaborative approach."
"It's also a credit to the advantages we provide in terms of our pre-planning, and a credit to our ability to really drive the construction schedule with our offsite fabrication," he adds.
"But mostly it's quality," he says. "We do a good job. We have a very solid crew of workers; they're all very engaged and very motivated. They all want to make sure our clients are happy. I think that's the biggest driver of our success."
That success is reflected not just in the company's growth, but in the manner the company has grown, which is through repeat work.
"We have relationships with some clients go back 25 years," Sam says. "They go back a lot longer than I've been around – but they keep coming back because they like the experience of working with us, and because they like quality of the product."
On the topic of quality, Sam can speak to the pre-fabrication part of it, as that's his responsibility. He says that Pitt Meadows runs an "extremely stringent" QA/QC procedure on every one of their five value streams through the shop. They have a set of standard operating procedures, and QA/QC standard procedures and documents that have to be completed before any product goes out. They also customize their procedures depending on the requirements of the project. This includes pressure testing, full dimensional checks and various levels of non-destructive testing by third party inspectors.
Sam explains how that stringency has paid off:
"Our defect rate, in terms of the shop, is less than half a percent on a month-to-month basis," he explains. "We think that's pretty amazing. We're very proud of that fact."
The quality control continues on-site. Shalana Morton, Senior Project Manager, can speak to that:
"We develop a project-specific QA/QC plan for each job, which outlines the quality control from rough-in to deliveries to commission," she explains. "We do pipe-testing, duct-testing; we verify that everything is installed as per the drawings. We make sure all our rough-in heights are correct. We make sure our start-up reports and commission reports are filled out properly. It's really all-inclusive."
"We take quality very, very seriously," Shalana says.
Learning and growing
A recent example of Pitt Meadows' quality is their award-winning work on the Penticton Regional Hospital Care Tower.
The intent behind that project was to significantly improve access to services and improve patient care through the consolidation of programs distributed throughout the Penticton Regional Hospital. Achieving that intent involved the design, construction, financing and maintenance of a new patient care tower – a tower that included an ambulatory care centre, surgical services centre, 84 medical/surgical inpatient beds in single patient rooms, a new medical device reprocessing unit, and space for the UBC Faculty of Medicine program. Altogether, the tower comprised approximately 287,500 square feet.
The general contractor on that project was EllisDon, who is now a longstanding partner of Pitt Meadows. They started working on the project together in 2015 and finished in 2018. It was Pitt Meadows' first large-scale healthcare P3 project, which Shalana calls "very exciting."
"That was where we really got to learn how those complex types of healthcare facilities really work," she says. "We've really been able to grow based on that lesson, which has been great."
"We also really got to solidify a long-term relationship with EllisDon," she adds, "and that has also been great. They're a really good general contractor and they make it easy to work with them."
Shalana believes that Pitt Meadows was the right choice for that project because of their previous experience. It may have been their first large-scale healthcare P3 project, but it was far from their first large-scale project in general, or even their first complex P3 project.
"Over the years, we had proven that we can execute on jobs of that size and that complexity," Shalana says. "We had even done a couple of other projects with EllisDon, like the PARQ Casino and the Emily Carr University of Art & Design, which were really large projects. We had also executed a couple P3 projects with other clients that were quite complex."
"So we hadn't done a hospital before, but we had definitely demonstrated that we could handle something that large and that complex," she adds, "and we already had that relationship set up. It just made a lot of sense."
Pitt Meadows Plumbing was ultimately responsible for the entire mechanical install on that project – they did all of the HVAC, plumbing, fire protection, and medical gas.
On the fabrication side, Sam describes that project as "their most advanced pre-fab project up until that point." He recalls that they had been prefabricating for about four years at the time and had done some pretty complex modular projects, but "Penticton was definitely a next step for us."
In this case, the complexity was a result of their decision to prefabricate structural steel multi-trade racks for the upper three floors. According to Sam, that involved a lot of collaboration and coordination between all of Pitt Meadows's sub-trades as well as the electrical contractor and fire protection subcontractor.
To start with, Sam explains that they would produce the structural steel in-house. "Then the sheet metal contractor would come in and finish their ducting. Then we would finish all of the piping. Then we'd mount all the VAV boxes and do all the piping into the VAV boxes. Then the electrician would come in and complete all of the cable trays and conduit runs."
"So we were essentially modularizing the entire corridor of a hospital," he says. "We produced 53 of those for Penticton Regional Hospital. We delivered them in phases and it really helped reduce the overall schedule."
"Obviously corridors in a hospital are extremely complex," he adds. "But we were able to fully model everything, fabricate everything off site, and deliver them and install them in a fraction of the time."
On that project, Pitt Meadows Plumbing also did a lot of in-wall assemblies, which they hadn't done a lot of before, but "we really cut our teeth on that project," Sam says.
"We were producing what we call 'easy sinks,'" he explains. "Those easy sinks essentially contain all the piping, electrical, and rough-in controls for all the different kinds of plumbing fixtures in the building. We would do hand sanitation sinks, janitors sinks, showers, toilets, eye-wash stations – all of those typical rough-in kits that it normally takes a lot of time to coordinate on site."
Instead of taking that time, however, Pitt Meadows "co-ordinated and designed them all off site, produced a light-gauge steel frame, then completed all of that fabrication in the shop, then positioned them on site ahead of the steel studs being installed."
Between the easy sinks and the multi-trade racks, Sam believes that Pitt Meadows "really demonstrated our innovation on the pre-fabrication side."
On the install side, meanwhile, Pitt Meadows not only installed those sinks and racks on the three patient floors, but they also worked on all the other floors and spaces that were too complex to reproduce off site. On top of that, they also got to work on a helipad, as well as two large mechanical rooms.
One of those mechanical rooms comprised over 30,000 square feet. In collaboration with the electrical contractor and controls contractor, Pitt Meadows produced well over 100 prefabricated pre-piped skids for that room – and they were able to do it all within their shop in Maple Ridge.
"Because we were able to do it in-house, that meant we were able to really leverage the Lower Mainland workforce that's available to us here," Sam says. "We didn't have to overtax the workforce there in Penticton in order to get that project over the line."
Instead, Pitt Meadows was not only able to get the project 'over the line,' they were able to get it over the line on time, and to the satisfaction of all stakeholders. Shalana, for her part, says she is proud of the award recognition, but she's more satisfied by that achievement.
"We hit every target we were supposed to hit," she says. "It was completed on time and on-spec. There were no major deficiencies. The client was happy. I think all of our sub-trades were happy. It was a good job."
Sam, meanwhile, is particularly proud of the innovation they displayed. He says that they were able "to take it to another level at Penticton," and that they've even carried that momentum into their next projects.
For example, from a prefabrication perspective, Pitt Meadows was able to apply a lot of their experience and their lessons learned to their work on the Abbotsford Law Courts project – which, as previously mentioned, won a VRCA award the next year in the same category.
In that case, Pitt Meadows worked with PCL Construction, another longstanding client and partner. Sam estimates the two companies have been working together for more than 20 years, and he says that Abbotsford Law Courts was their fourth P3 project together.
"So we came into it knowing the project team, and having a really good relationship to begin with," he says. "They were a great partner. They were extremely collaborative."
The Abbotsford Law Courts comprised 14 rooms, including three Supreme Court courtrooms, eight Provincial Court courtrooms, and three judicial conference rooms. The facility plans also incorporated justice programs like the BC Prosecution Service, Community Corrections, a Justice Access Centre, as well as a parkade to supplement parking requirements for the city. The new building is one of the key court facilities within the Lower Fraser Valley and will play a critical role in the administration of the justice system in this region.
Sam describes that project as "my baby – for lack of a better term," as it was the last project he managed on-site before moving onto his current role on the prefabrication side of the business.
"I'm extremely proud of how we executed on that project. It was very high-level execution. We had a really good site team and we got right down into the weeds on every little piece of the project. I think we took the prefabrication and the modelling to just as high a level as Penticton, if not higher."
"We definitely leveraged a lot of new innovations there," he continues. "We produced and installed multi-trade racks in the mechanical rooms. We started to prefabricate hangars for that project. We came up with a whole new set of designs for the in-wall assemblies. We did modular mechanical room skids as well."
They also had to contend with the burgeoning challenge of COVID on that project, as the pandemic hit when they were roughly three months from completion.
"But we were still able to complete it on time, on budget, and we were able to hand over the keys for the service commencement date that was set out when we first submitted our RFQ," Sam says. "So that job went very well, considering the circumstances."
"I think that was a result of our early planning," he explains. "I definitely think we were very ahead of the curve in terms of design, in terms of modelling, and in terms of prefabrication. We were essentially completing all of our rough-in works while the reshores still in place on-site. That shows how proactive we are. I think that's pretty rare."
Driving technology forward
Moving forward, Pitt Meadows' goal is to continue working with high-calibre contractors like EllisDon and PCL Construction – and, hopefully, to complete more award-winning projects together like the Penticton Regional Hospital Care Tower and the Abbotsford Law Courts.
At the same time, Pitt Meadows also wants to continue working with their high-calibre suppliers and subcontractors. One such partner is Victaulic – they are global producer of mechanical pipe joining, flow control, and fire protection solutions for the most complex piping applications. With over 13 major manufacturing facilities, 37 branches around the world, and a history of innovation dating back to 1919, they have a capacity and depth of knowledge that is unrivalled in their sector. For Victaulic, no challenge is too extreme and no project is too daunting.
Pitt Meadows is proud to have built a longstanding relationship with Victaulic, and their goal is to maintain that relationship – as well as their relationships with other partners like them. They believe those relationships are the key to their continued growth.
They also believe that those partnerships are necessary for innovation – which has always been a part of Pitt Meadows DNA, and Sam believes it always will be.
"Innovation is what we're really striving for," he says. "We really are pushing the limits of what mechanical contractors can do in North America. I think we're definitely ahead of the curve."
"For example, we're really treating our fabrication space as a manufacturing facility. We've worked very hard to tie in an electronic fabrication system in with automated tooling – so we have robotic welding machines, we have automated saws, we have robotic plasma cutting machines, and that's all tied directly with our Revit models at this point. We're really driving the technology forward."
Sam believes that Pitt Meadows' ability to move so fast and push technology so far is a credit to their relative youth. Even though the company is longstanding, and has some longstanding team members, Sam explains that 65 per cent of their team is below the age of 35 – and that includes him and Shalana, who are in senior positions.
"So it's definitely a young, innovative, fast-moving, quick-to-pivot place to work," he concludes, "and we're very proud of that fact."

For more on Pitt Meadows Plumbing, their team, their services, and their past projects – including more on the Penticton Regional Hospital Care Tower and the Abbotsford Law Courts – visit https://pittmeadows.net/