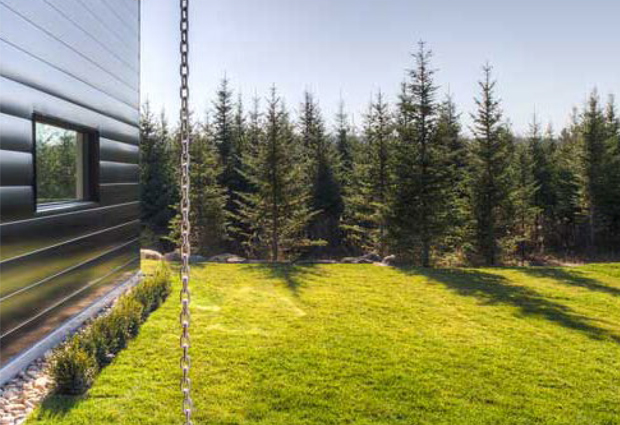 3 Stones Architecture + Design – Harmony in design
3stones architecture + design is a fully licensed architecture practice that provides full architectural, interior design, and landscape design services. From their office in Barrie, they service clients across the dynamic and diverse region of southern and central Ontario, collaborating with them to realize their vision and get the most out of their site. With each project, they strive to create designs that not only meet and exceed their client's expectations, but are also environmentally responsible and emotionally enriching.
"We make architecture that is engaging, distinctive, a celebration of craftsmanship, and a delight to the senses," says Sean O'Reilly, founder and principal behind 3stones.
Sean is a graduate of the University of Waterloo School of Architecture, and has been in the architecture realm for over 40 years. In that time, he has travelled across Canada and abroad, and he has worked for some of the most well-known and celebrated firms in the North America. In 2002, he left his last large office to form his own boutique practice, with the goal of doing a large variety of work and "keeping things interesting."
The name '3stones' was chosen as a reflection of Sean's design philosophy. He believes that the best designs achieve a harmonious balance between three worlds: the physical natural world, the cultural world of human inhabitation, and the spiritual wellbeing of humankind. That's why the company's designs are not only functional, but enjoyable spaces to move through.
As for the 'stone' part of the name, Sean explains that it is the simplest, oldest, and most enduring of all building materials. Whether pulled from the ground, or shaped and carves, the stone is a symbol of endurance and permanence.
"Our name speaks to a belief that the things we create have a life and an impact, which extends beyond ourselves," Sean says.
Over the years, Sean's experience has spanned a wide range of building types and sizes, from single family residential to multi-unit, high rise residential, small and large commercial and retail, and institutional projects including libraries and community centres.
Under the banner of 3stones architecture + design, Sean has continued to experience success across a wide variety of project types throughout southern and central Ontario. Currently, he says the company is working on basically "all types" of projects – everything from a private pool to an airport.
According to Sean, clients of all kinds choose 3stones either to their reputation in the industry, or their past performance. Most of the company's work comes from referrals, or from people who have simply driven by their finished projects and admired the design. They also have a significant number of repeat clients – including municipalities, commercial businesses, contractors and developers, and private individuals.
"The reason people come back to us is our approach," Sean says. "We design by focusing on our client's needs and the core activities of their project, and then we work hard to figure out a way to get them everything they need."
"We invest heavily in the design process," he continues. "We have a strong work ethic and a relentless attention to detail. We're not afraid to do multiple iterations of a design. There are a lot of offices that will bang up two or three different options, then the client has to pick one and off they go. But we don't stop the design process until the client is truly satisfied with what they want, and that carries through to the very end of the project."
3stones is also very accessible and collaborative. They make sure the client has an active role in the design process, which ensures their vision is being realized. It also serves to make the practice accountable.
"If we start sliding on our schedule, the client sees, because they know where we're supposed to be.
Sean explains. "That keeps us on our toes, it keeps us productive."
Exceeding expectations
As an example of 3stones' design philosophy in action, Sean cites the recent renovation Sandycove Acres, the largest adult lifestyle community in Southern Ontario.
Sandycove Acres is located on the picturesque shores of Lake Simcoe, in the growing rural community of Innisfil, just 10 minutes south of Barrie and 45 minutes north of Toronto. To meet the needs of that growing community, the owners of Sandycove Acres decided to build an addition which could take advantage of the service facilities in the existing building, but also give them smaller flexible community halls and provide wheelchair accessibility.
Sean is particularly proud of that project due to the challenges they had to overcome to get it done. The most significant of them was the existing building, which had a "very idiosyncratic form" – making it difficult to design an efficient building that would work in concert with it.
"We had to come up with a result that going to be fresh, exciting and engaging for the people who were going to be using it, while also relating it to the original building," Sean explains.
The client's objectives included a 50-to-100 year lifespan, inexpensive operation, and low maintenance. To achieve those aims, 3stones specified ICF (Insulated Concrete Forms) walls to provide high insulation values. They also included carefully-placed exterior windows, clerestory windows and skylights to contribute to daylight harvesting, as well as hollow-core slab floors to act as thermal heat sinks in winter and cooling agents in summer.
The addition consisted of two floors, with the lower floor providing a large space for a dance studio and fitness area, along with support amenities. The main feature of the project was a two-storey high stone clad Trombe wall, which also contributed to solar passivity.
Sandycove Acres is also a testament to the strong working relationships that 3stones forms with all their stakeholders, and Sean is proud of that as well. For example, it was the structural engineer who actually recommended them to the client. Later, once Sean sat down with them, he found their values to be complementary.
"They were very sophisticated in their design knowledge, and they knew what they wanted," Sean says. "They wanted a building that was going to last for a long time, they wanted it to be as maintenance-free as possible, and it had to perform incredibly well in terms of energy efficiency. There were a lot of big asks, but we achieved it all."
The result was so successful, in fact, that the clients commissioned 3stones to do a "complete refresh" on the original building as well.
The project was equally well-received by the end users of the community centre. The finished spaces were intended to be multi-purpose and available for use by various different clubs and organisations within the community. Once the project was complete, however, the groups were so enamored with the finished product that they wanted to claim them for themselves on a permanent basis.
"That was very complimentary to us," Sean says. "People liked it so much they wanted to own it."
"So it performed up to all of the client's expectations, and the people who are using it love it," he adds. "So how can we be anything but thrilled by that?"
A sustainable future
Moving forward, 3stones aims to continue achieving outcomes that are both client-pleasing and energy-efficient, just like they did at Sandycove Acres.
"Sustainable design is one of our guiding principles," Sean reiterates. "We know that buildings use more than 50 per cent of the energy that's produced, and we have to bring that number down. Were very concerned with how things are going, so anything that we can do to help reduce the energy requirements of a building, we're going to do it."
That effort will start with "low-tech," non-mechanical design solutions such as building orientation, natural heating and cooling, and natural vegetation. Once those opportunities are fully incorporated, they then look to introduce mechanical and electrical enhanced systems where appropriate. For example, the practice is currently working on a new home with solar panels, one that will have the capacity to go "completely off-grid" if the client chooses.
"We believe environmental responsibility is the future for all building types," Sean says. "We've seen clients start to look for it and demand it as well, and we hope that continues."
Moving forward, 3stones also hopes to grow – but in a slow and sustainable way, not all at once.
"I've seen firms become very popular very quickly, then they staff up, and then things slide a little bit and they have to let a bunch of people go," Sean says. "We don't want that to be us. We want to build carefully and thoughtfully."
To learn more about 3stones architecture + design, their guiding design principles, and their past projects – and to get in touch with Sean and his team – visit http://www.3stones.com/contact