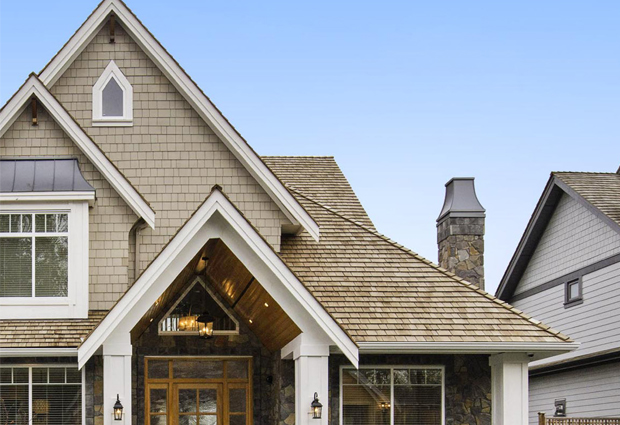 DVL Homes – Quality meets integrity
DVL Homes is a family building business dedicated to delivering quality in the Lower Mainland – not only quality of construction, but customer service as well. Since forming in 2004, they have made it their mission to provide families with a homebuilding process that exceeds all expectations. They have made sure the journey is rewarding and exciting, not stress-filled and complicated. They have helped clients every step of the way, from financing to design to construction and handover, and they have built exceptional quality and value-for-money into every stage.
As much as they build homes, DVL has built trust. Their accreditation and A+ Rating with the Better Business Bureau (BBB) – combined with their volume of industry accolades and customer testimonials –reflects how trusted they truly are.
"We've been doing this a long time, and we know what it takes to ensure a satisfied customer," says Nick Dosanjh, founder and owner. "Our experience has only strengthened our commitment. We want to create excellent homes, deliver the best possible quality and craftsmanship, and the best possible customer experience."
Today, DVL Homes works primarily on high-end single-family custom homes, but has a growing focus on commercial or multi-family projects as well. No matter the sector or client, however, Nick believes everyone is drawn to DVL for the same reasons:
"It's our quality, our service, our punctuality," he says. "I believe those are all large factors in our customers' decision-making."
DVL Homes ticks all those boxes, and customers have come to recognize that. As a local builder, Nick has built a strong reputation in the Lower Mainland of British Columbia. He is well known for being approachable and easy to work with, and for building good relationships with clients. He's also well recognized for the quality of his work – the company's award recognition and BBB rating backs that up.
As a result of Nick's reputation in the region, DVL Homes has rarely had to advertise in their 15 year history. The majority of their work has been generated by word of mouth and referrals. According to Nick, that's how he knows the company is doing the right thing – that's the proof that they are providing homes and experiences that satisfy.
Great value
For years, DVL Homes has grown their reputation by providing quality excellence without compromise to affordability and value. As a recent example of that combination, Nick cites a home they recently designed and built on spec in Morgan View Estates. He calls it a "truly remarkable home," one that "showcases over 5,330 square feet of quality craftsmanship and sophisticated design."
That home is not just excellent according to Nick – the industry at large agrees. At the 2019 Georgie Awards – which received a record number of submissions – the project was named a finalist for 'Best Custom Home Valued between $500,000 and $899,999.' It was also a finalist at the 2019 HAVAN Ovation Awards for Best Custom Home Under $1 million.
"That's great value," Nick says of the award recognition. "We're in categories with 300 to 400 applications, and they only nominate three or four finalists. It shows we're in the top one per cent in our sector. That says a lot about our product, it says a lot about the customer's buying our product, and it says a lot about the company as a whole."
The award-nominated Morgan View project was a custom-built home that Nick and his team designed with a growing family in mind. It has five bedrooms, five full bathrooms, and a finished basement. The basement features a media area, bar, home gym, and walkout access to the backyard, while the master suite features vaulted ceilings, a large walk-in closet, and an "amazing spa-like ensuite."
Nick says that his favorite room, if he had to pick just one, would be the kitchen. He says they designed it to include a large island for entertaining and integrated high-end appliances for "an improved cooking experience." They also included floor-to-ceiling cabinetry and a stunning custom range hood along with a separate spice kitchen.
Overall, Nick says the design was planned to create a "bright, open feeling, with plenty of space for entertaining and luxurious finishes throughout." It was also designed to evoke a "natural feeling," as it sits on a lot that backs on to some open green space with a flowing creek. The natural oak vintage hardwood flooring is an example.
As he does with all of the company's single-family homes, Nick personally reviewed and finalized the plans before going forward with construction. He made sure the design achieved all of the company's aesthetic objectives while still representing maximum value-for-money, just like he does when he's working with a client.
"I think we achieved everything we set out to do on that project," he says. "It turned out really well. I think the fact that we were nominated for two awards shows that."
Since completing the award-recognized Morgan View project, DVL Homes has been using it as a display while it remains on sale. Nick reports receiving "great feedback" from everyone they have walked through it.
"'Great color choices' is something we have heard a lot," he says. "We've gotten great feedback on the quality, the products we're using, the landscaping, the flow of the home, the furnishings we've used to bring out the accents of the home – the cleanliness of the construction, even."
"We have gotten some interest from lottery corporations, who want us to do a display for them," he adds. "The reception has been amazing."
Nick credits that reception to the high quality of both the design and the craftsmanship – which is another thing he personally ensures on every project. He does walkthroughs throughout the course of every build in order to ensure everything is progressing according to plan and schedule, and to potentially identify any issues, usually before they even arise. He also emphasizes attention to detail, and if any of the finishes fail to meet his standards, he makes sure they are corrected.
"I go through finishing details with an intense focus," he says. "I make sure the finished product is perfect. Nothing is left half-done or incomplete. When we hand over a job, it has to be ready for someone to move right into. Even if it's a spec home, like that one was."
Nick also praises the subcontractors and tradespeople who worked on that project – in fact; he says they deserve even more of the credit he does.
"Everybody did their job," he says. "They all deserve a pat on the back. They're all masters of their own trade, and they all came together, communicated, and got along very well."
Most of those team members have been working with Nick and DVL Homes ever since the company started in 2004. As a result of that longevity, they have grown to know and respect not just Nick, but each other as well. That mutual respect helps to resolve conflicts and helps ensure that every job progresses smoothly.
"They respect each other's work," Nick says. "They understand that if one person doesn't finish, the next person can't get in, and then there's a domino effect. So they all work together, they sit down and communicate, if there are issues they work through them. The chemistry is very high."
Continued success
In recent years, in addition to designing and building single family homes, DVL has also started developing some of their own multi-residential projects. They are currently in the process of building a six-storey condominium project, for example.
In the near future, however, Nick is particularly interested in exploring Vancouver's affordable and social housing market. The city has long had a deficit of those kinds of projects and has been offering incentives to build more. Moving forward, DVL Homes' goal is to take advantage of those incentives and do their part in addressing that problem.
At the same time, Nick says the company wants to maintain their hold on the single-family luxury home market. That's where DVL Homes has been enormously successful in the past, and Nick expects that success to continue.
"We want to maintain our space in the luxury home market," he says. "We also want to carve more space in the multi-family market, and build more high-rise condominiums."
"Along the way, we want to collect some properties to build commercial rentals on," he adds. "We want to build those, lease them out, and keep the cash flowing."
"We want to have lots of different avenues for growth," he says in summation
Currently, DVL Homes has a staff capable of taking on more projects and larger projects. As the company continues to grow, Nick says that the staff will grow along with it, but never to the point where he's not personally involved in everything they do.
"I want to stay hands-on," he says. "I have people on the ground that I trust, but when it comes to major decisions, when it comes to the choices that are really important – I will always want to have a look. I want to stay in the game."
For more on DVL Homes, their process, past projects, and to hear from past clients – and to get in touch with Nick and his team for yourself – visit http://dvlhomes.com/