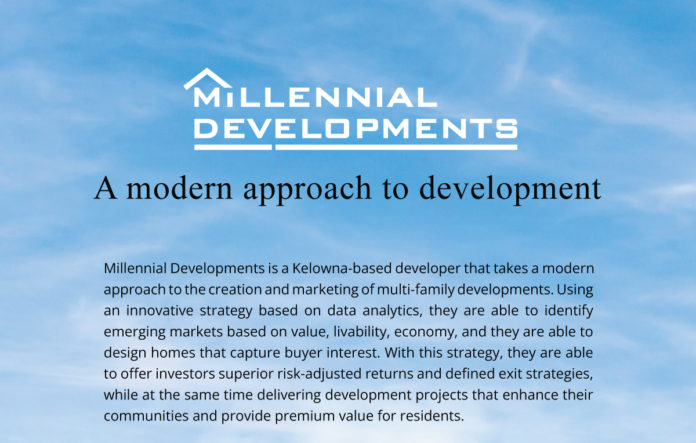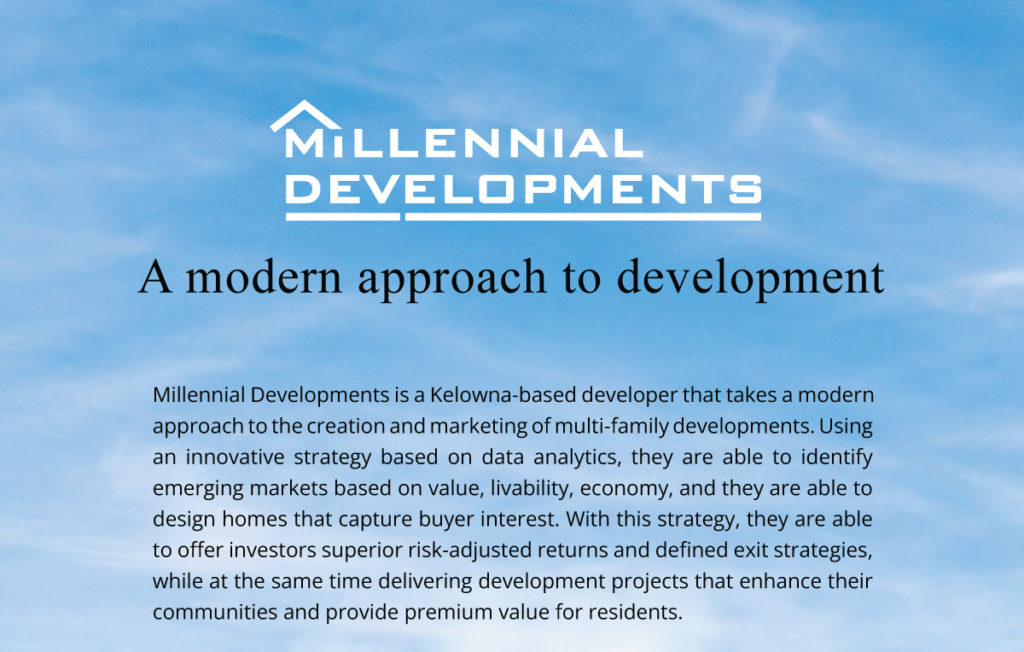 Click here to view the brochure.
A modern approach to development
Millennial Developments is a Kelowna-based developer that takes a modern approach to the creation and marketing of multi-family developments. Using an innovative strategy based on data analytics, they are able to identify emerging markets based on value, livability, economy, and they are able to design homes that capture buyer interest. With this strategy, they are able to offer investors superior risk-adjusted returns and defined exit strategies, while at the same time delivering development projects that enhance their communities and provide premium value for residents.
"With every development, we not only measure the benefit to investors, but the benefit to community and residents of our projects," says Ryan Tamblyn, founder and CEO. "Using cost-effective construction techniques and durable, quality building materials, every Millennial Development project is built to last, to enhance the local area, and foster pride of ownership for British Columbia homeowners."
Ryan was born and raised in the Okanagan, within the Kelowna area, and he has been involved in the local construction industry for over 20 years. He started off as a carpenter before going back to school for project management and data analytics. After returning to the workforce, he served in management positions with several other developers before eventually striking out on his own and founding Millennial Developments in 2016.
"I started Millennial Developments specifically with the goal of modernizing real estate development by utilizing data analytics to inform decision making," he recalls. "I really saw a gap in the market. I saw an opportunity to outperform the market by combining my skillsets in both construction management and data analytics."
Using those dual skillsets, Ryan believed he could optimally determine what neighborhoods to develop in and what the best housing type and unit mix was for that neighborhood. That founding belief has been proven correct. Over the past six years, Ryan says the company has done "exceedingly well" across four different projects.
The company's first project was called 'Camber Heights,' and was located in West Kelowna. It comprised 30 luxury townhouses situated atop West Kelowna's Shannon Lake Community. Each townhome featured premium appointed finishes and spectacular panoramic Okanagan views. It was fully delivered in 2018.
Today, Millennial Developments has two projects currently under construction – one called 'Five Crossings,' located in Kelowna's Landmark-Capri District, the other called 'The Nest at Findlay,' located in the city's revitalized Rutland district.
Five Crossings is a 207-unit community of studio, one and two-bedroom smart suites located in the heart of Kelowna. According to Ryan, Five Crossings "offers everything you need and nothing you don't," with space-efficient homes that "focus on what's important without distraction, allowing you to simplify your life without compromising on lifestyle." He describes the architectural design as "clever" and "flexible," featuring interiors that can transform to meet the needs of the tenant. He also boasts about the amenities – there's a gym, a rooftop patio, a private barbecue area, and a communal lounge, among many other communal spaces.
Five Crossings was "hugely successful," Ryan says. They launched sales in May, selling out over the course of a weekend.
The Nest at Findlay, meanwhile, includes 20 townhomes, centrally located and close to Rutland amenities, while at the same time is "nestled next to green spaces and marshlands." The townhomes are all three-storeys and all feature spacious three-bedroom layouts, ample storage, backyards, and private 2 car garages. Ryan describes the development as "offering the feeling of single-family home living but with convenient ease of ownership," allowing buyers "to put down roots" and "make it their own."
Looking forward, Millennial Developments also has another project upcoming that will be a 300-plus unit condo development in downtown Kelowna, in the same Landmark-Capri district as Five Crossings.
In between projects, Ryan and his team have also done some general contracting and construction management for other developers under the banner of 'Focus Kelowna Homes.' That same brand has also done all the building for Millennial Developments (and moving forward they intend to focus on Millennial projects full-time.)
That vertical integration and in-house control of the construction process has proven to be very beneficial. According to Ryan, that's one of the key-ways they ensure quality – and that quality represents one of Millennial Developments' main points of difference.
An even more significant point of difference for Millennial Developments is their reliance on data to inform their decision making. Again, Ryan explains that data allows the company to produce "the proper home types in the proper neighborhoods."
Then there's the company's focus on affordability – that's another important differentiator, Ryan adds. He says they are trying "to lower the barrier of entry for first time home buyers." They did that particularly successfully with Five Crossings, where most of the buyers were 20-to-34 years old.
Finally, Millennial Developments' embrace of technology sets them apart. For example, they partnered with a number of different technology providers to create what they consider to be "the first truly smart community of its kind in Western Canada," which is Five Crossings. That's why the subtitle of that project is "Smart Suites at Landmark."
"The reason we call them smart suites is because of the technology that we've integrated into the development," Ryan says. "An example of that is we have an intercom system that uses facial recognition to allow touchless entry into the building. Another example is our garage doors – they all feature automated RFID readers, which again allows for touchless entry."
There's also the intercom system, which has a lot of innovative and modern functions. For example, it enables residents to text smart keys to your guests with time limits that they can use to scan into the building. It will also scan parcels from major delivery companies, ensuring both security and convenience.
"So, a delivery driver can come up to the building and scan the parcel – and the system will only recognize parcels that are out for delivery, and they will only recognize them one time," Ryan explains. "The courier will get scanned into the building, he'll go to a bank of lockers with different sizes, he'll type in the information about the size of the parcel and who it's going to, and a door will automatically pop open. The courier will insert the parcel into that locker, he'll close the locker, and as soon as that locker is closed it will automatically inform the tenant that they have a parcel waiting for them. That tenant will bring their smartphone down, they will scan the barcode that they have been sent, and that same door will automatically pop open."
"Essentially everything in the entire building is controlled by an app on your smartphone," he adds. "You can use it to book amenity spaces. We have smart thermostats, door locks, and appliances. It can all be controlled by your phone."
Ryan credits the "overwhelming interest" that Five Crossings received, with more buyers submitting selection forms then available homes, partly to that technology offering. More generally, however, he credits Millennial Development's unique approach to development.
"We understood what the market needed in that specific location," he says. "We knew who our buyers were. We knew it was the 20-to-34-year-old demographic we were going for. We designed the entire building – including the technology and the amenities spaces – to accommodate what those buyers were looking for. We knew who were building for and we knew what to build for them, and I think that just created a huge buzz and a lot of excitement."
Currently, Five Crossings is under construction. They will be welcoming their first owners in the spring of 2024.
The Nest at Findlay is also currently under construction. Millennial Developments aim to welcome their first owners in the coming spring of 2023.
With that project, the company again had a very clear idea of the kind of buyers they were targeting. In that case, they wanted to provide an affordable option for young families. They wanted to create a product in the "missing middle" of the housing market, somewhere between an expensive single-family home and a unit in a tall, generic tower.
"We wanted to create something that was affordable and attainable for young families," he says. "We wanted to give them a chance to get in the market."
A clear vision
Moving forward, Millennial Developments' vision is "to be the most sought-after real estate development company for investors and real estate buyers in Western Canada."
When it comes to buyers, there's a long list of factors that sets Millennial Developments and their product apart – see above. For investors, meanwhile, the list is also extensive:
"What we've been able to do for our investors is provide confidence in their investment," Ryan explains. "We've done that by applying sound decision making in order to achieve success in all of our projects."
With investors, Ryan adds that they always "put transparency first." Their investment structure is based on real estate trust units, and prior to investing in trust units, potential investors will be provided an Offering Memorandum for their review – a full package which outlines a particular project including property photos, budgets, sales comparables, market feasibility studies, project timelines and milestones, MLS listings (if available), and a disposition strategy based on current market activity.
"We treat our investors' money like our own money," Ryan says. "Because of that we've been able to develop some ongoing long-term relationships."
Currently, Millennial Developments' main investment focus is the Collinson Rise Development Project, which will support their upcoming 300-plus unit development. Due to the response Five Crossings received, they are a confident that there's a demand for what they can build. They are looking to meet that demand with the Collinson Rise investment opportunity, which will not only allow more Canadians the ability to invest in real estate, but also provide much-needed affordable quality housing in Kelowna.
At the same time, the company is also looking to do something a little different with Collinson Rise. Ryan describes that development as a "type of master-planned community," as it will feature a diverse mix of unit types, including smaller suites like at Five Crossings, one-bedroom, two-bedroom, and three-bedroom units as well as some townhomes.
Looking even further into the future, Ryan says that Millennial Developments will continue to create innovate communities, like their new approach to master planned communities and technology enhanced buildings like Five Crossings. They will also continue to expand and look at projects beyond Kelowna.
No matter how large the company grows, however, and no matter how far they extend their reach, Ryan also says that some things will remain consistent. He reiterates that the company was founded with a clear vision, and they never want to stray from that vision.
"We want to continue to build innovative housing that meets the needs of the community with a focus on affordability and livability."
For more on Millennial Developments, their team, their process, and their past and present projects – and to receive their monthly update, which provides all the latest news on their company and the local real estate market – visit https://millennialdevelopments.ca/