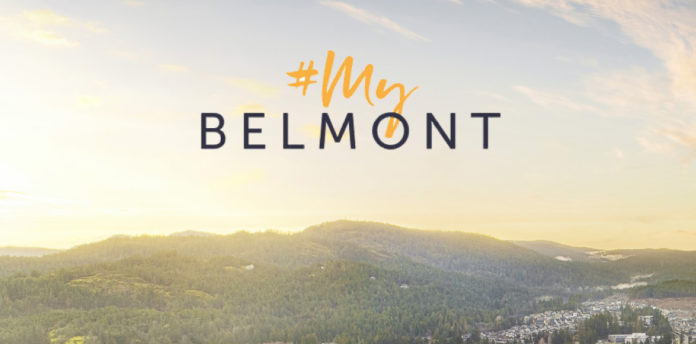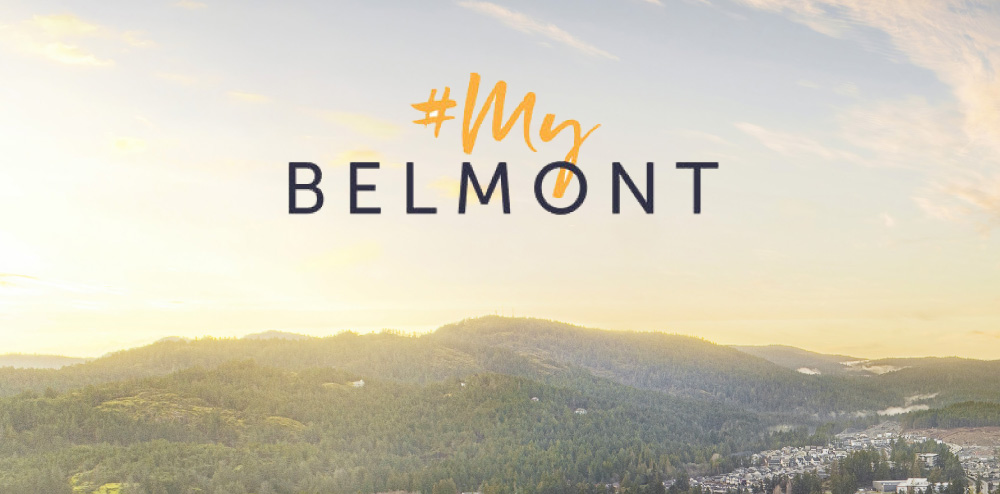 Urban meets suburban
#MyBelmont is a multi-award-winning, master-planned community in the heart of Langford, British Columbia. For those seeking to live, work, and play within their neighbourhood, it ticks all the boxes. It comprises a range of luxurious rental apartments and condominium homes perfect for working professionals, first-time buyers, and downsizers. The homes are located next to the Belmont Market, with 160,000 square feet of retail space, restaurants and the 53,000 square foot Thrifty Foods flagship store. And it is adjacent to the Galloping Goose Regional Trail and numerous parks, lakes, and outdoor spaces. 
The vision for #MyBelmont is to offer residents a healthy, "urban-meets-suburban" lifestyle. Since breaking ground just over three years ago, developer Ledcor Property Investments has fulfilled that vision – and they are continuing to realize it progressively, with over 520 homes brought to the community.
In the meantime, #MyBelmont has already been extremely well received, and not just from buyers and investors – since launching the sales centre, the public and industry accolades have continued to pour in. For example, at the 2019 Vancouver Island Building Excellence (VIBE) Awards, the community won 'Residential Community of the Year.' In 2020 at the Best of the West Shore Awards, Belmont Residences earned 'Best New Condo Development.' Most recently, at the 2021 Georgie Awards, they won 'Best Residential Community.'
Ian Asselstine is the Vice President of Development for Ledcor Property Investments. He says the company values that recognition very highly, as it proves the community is delivering something special to the region.
"We truly believe that #MyBelmont is, in fact, the best residential community," he says. "We believe it's a special place to call home. Those awards show that others agree."
Marcela Corzo, the company's Director of Development, credits the public and industry acclaim to Ledcor's consistency of quality and their record of delivering on their commitments.
"We have been able to fulfil what we promised, in record time, and that's given people confidence," she says.
"Our last couple of condominium phases sold very fast," she adds. "That shows that people here have welcomed what we done, and they trust us."
Scott Morrissey is Ledcor Property Investments' Director of Construction. For his part, he similarly credits #MyBelmont's success to the reputation Ledcor has built within the industry and the region. With good reason, he believes that reputation goes a long way with modern buyers.
"Our name gives buyers a lot of comfort," he says, "which is important, because purchasers are more educated than ever. They do their homework. They want to know who they're buying from."
People are the priority
Ledcor Property Investments is the development arm of Ledcor Group, an employee-owned and family-run construction company with a history dating back to 1947. Over their many decades in business, Ledcor has consistently grown and diversified. In 1997, they started silently investing in real estate developments with partners in the United States and Canada. Years later, when the recession hit, many of those partners became insolvent, and their projects ran into trouble. Ledcor was able to take over some, and that opportunity led to a "paradigm shift," according to Ian Asselstine.
"It gave us the opportunity to shift our focus," he recalls. "We were able to become development-minded."
Ledcor started putting themselves in the developer's role starting in 2008. Their first project was in Austin, Texas, fortuitously one of the first cities to emerge from recession. They started construction in 2010 and essentially haven't stopped since – Ledcor has now built over 3,500 units across North America, with more to come.
Ledcor Property Investments built on their success in Texas with further success across California, Hawaii, and Washington. With #MyBelmont, they have now turned their attention north, into British Columbia.
Across all regions, however, Ian credits Ledcor Property Investments' growth and success to their careful selection of locations. He says that every area they choose to develop has to offer three things: population growth, jobs, transportation, and quality of life.
"If you can hit those three benchmarks you typically have the makings of a successful project," he says.
With Langford, the company believes they found a location that more than meets all their criteria – and their belief is backed up by the data. Two censuses ago, it was determined that the city was the fastest growing in Canada. In the last census, it was deemed the fastest-growing community in British Columbia. Earlier this year, Ratesdot.ca ranked Langford the "Most Livable City" in Canada. Maclean's magazine ranked the city the top community in BC, and BC Business magazine awarded Langford the Most Resilient City in BC."
"Langford is a highly desirable place to live with a lot of potential," says Marcela Corzo. "It's our job to maximize that opportunity."
#MyBelmont is envisioned as a four-phase development. Three phases have been completed, with the third under construction now.
The first phase was called 'Crossing at Belmont,' and was completed in early winter 2019. It comprised a collection of 156 premium rental homes with designer interiors, smart features, and pet-friendly amenities. It was purchased by Killam Apartment REIT, a Halifax-based residential landlord, and is now fully leased. Marcela describes it as "very successful, both from the developer's perspective and the operators' perspective."
While 'Crossing' was being built, Ledcor also pre-sold and built out their first condominium development, called 'Belmont Residences West.' That phase comprised 80 units of one, two-bedroom, two-and den condos. It was 100 percent sold out and then completed in April 2020, in the midst of COVID.
"That was a great success," Marcela recalls. "The community really embraced it."
The third and ongoing phase is called 'Belmont Residences East,' a second condominium building, which will comprise 85 units of one-bedroom and two-bedroom condos. That building is 95 percent sold and has already exceeded Ledcor's presales targets.
"Again," Marcela says, "that's been very well received by the market."
This summer, Ledcor will fast forward the launch sales on the concluding release of #MyBelmont, which will include the most comprehensive offering yet. This development offers more to experience inside and outside the home with extensive amenity spaces unlike anything seen on Vancouver Island. The concluding development encompasses 185,000 square feet and will be situated at the corner of Reunion Avenue and Kelly Road.
"We're very excited about what's coming up. We're really taking the community to the next level," Marcela says.
As a company, Ledcor Property Investments credits the success of #MyBelmont so far to several factors. The location is a key one – as previously mentioned, Langford is highly liveable and fast-growing, and #MyBelmont is within walking distance of a large variety of the City's natural and commercial amenities.
Also, key is the quality of the building product – according to Scott Morrissey, Ledcor builds to a high standard, and customers recognize that.
"We've done a lot of projects in the past, we've learned a lot of lessons, and we've improved – and we're always improving," Scott says.
Ledcor's history has also enabled them to build some trusting and longstanding relationships with their construction partners. They hold those partners to very high standards – their quality control manual is eight inches thick and getting thicker all the time – and on #MyBelmont, Scott says standards have been consistently exceeded.
"That starts from day one, from our first construction start-up meeting," he explains. "Quality control is part of every conversation we have, along with safety, schedule, and cost. We don't react to quality control; we implement quality control. We have many processes and inspections that we enforce, and we don't compromise."
As a result of those strict standards, Scott believes that their work on #MyBelmont is among the highest quality in the Greater Victoria area.
"We've had a very successful run with our construction partners," he says. "We couldn't have done this without them."
One more thing buyers appreciate, Scott adds, is Ledcor's customer service. He says that #MyBelmont's sales and customer service team takes a very personal approach, as they understand "these are people's homes – they care about them a lot, and we take that seriously."
"We do anything and everything we can to make sure the relationship is personal," Scott explains. "We never treat a customer as just 'one of many.' We're hands-on. We know people's names. We make people the priority."
Moving forward, Ledcor's goal is to continue raising the bar when it comes to customer satisfaction, but also when it comes to quality. Continuous improvement has served the company well over the years, and they want to continue down that path.
As for #MyBelmont, the company is in the design process of its final phase, but Ian says that Ledcor's activity in the region at large is just getting started.
"The sky is the limit here," he concludes. "We're huge believers in the communities surrounding Victoria and South Vancouver Island. Our expectation is to grow our platform here. We're actively looking along the entire coast. We're going to be here a really long time."

For more on #MyBelmont, the location, the masterplan, and the latest news – and to get in touch with their sales team – visit https://mybelmontliving.com/