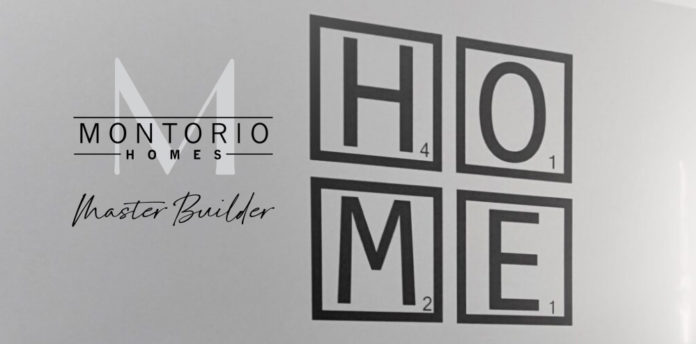 Affordable custom
Montorio Homes is an Edmonton-based custom home builder that focuses on consistent quality and collaboration. With every project they undertake, they strive to deliver not only a distinctive home, but a high-quality experience. Their goal is to take the stress out of the home building process, to ensure that all of the client's objectives are achieved, and to deliver a final product that meets or exceeds expectations.
The company has been consistently achieving those goals for over 30 years, ever since founder Vince Di Luigi immigrated to Canada and started building custom homes. Their success is evidenced by their history of great reviews, their volume of repeat customers, and their steady stream of referrals from happy clients.
According to Martino Di Luigi – Vince's son, and now the company's president – "that legacy of client satisfaction is the foundation on which the business has been built."
"We have grown based on referrals and word of mouth of past clients," Martino says. "It all comes down to how happy they were with their designs, with their finished homes, and with their experience with us. That's why we've been so successful for so long."
"We allow customers to customize their homes, we provide a quality constructed home, and we incorporate environmentally friendly building products and techniques," he adds. "With Montorio you receive a home with premier products for an affordable price."
Martino, like his father, is a veteran of the construction industry. He was introduced to the business as a teenager, and helped out as a field assistant during school breaks and weekends. From a young age, he says he has "loved the smell of lumber and concrete." Though he initially pursued a career as an electrical engineer in the petro-chemical industry, his passion for construction brought him back to the family business.
Martino officially joined Montorio Homes in 2003. In the years since, the company has evolved considerably. Not only have they grown in size and reputation, but they have become more sophisticated and systemized – under Martino's leadership, they have introduced new technology as it's become available, and they have implemented a formalized system of quality control to ensure the consistency of their workmanship and customer service.
"We've always been dedicated to delivering custom homes at a really high level," Martino explains, "but now we have the systems in place to make sure that everything we do is consistent. That gives our clients a lot of confidence."
Today, Montorio Homes focuses on building "affordable custom" homes. They believe that customers too often conflate "custom" with "expensive" – but with Montorio, that's not necessarily the case.
"We're an affordable custom builder," explains Anna Di Luigi, Marketing Manager. "That's what we want clients to know. They don't have to spend millions of dollars to afford a custom home."
Montorio's process is affordable largely because they have designers in-house, along with a range of pre-existing floor plans to help clients get started. Clients have an abundance of options when they start working with the company. Customers can come to them with a floor plan that they want to modify or use, they can choose one of Montorio's existing floor plans and modify it to suit their needs, or they can work with their team to design something from scratch. In all cases, Montorio is transparent about the costs and building practices, and they make sure that they are meeting the clients' needs within their budget.
According to Anna, that transparency is a major point of difference for the company. She says, "We are open and honest with our customers which we feel builds trust and comfort."
Other points of difference include the company's longevity, their reputation within the community, and their status as a master builder
"In order to qualify for that status, you need to have many years of experience in senior decision-making roles within the industry, as well as staying updated on industry specific education," Anne explains. "Master builders must also adhere to a strict code of ethics and conduct and have active membership status to various professional organizations within the province and Canada-wide. We ticked all those boxes."
In addition, Montorio has an A+ Rating with the Alberta Better Business Bureau, and is a member of the Canadian Home Builders Association and the Alberta New Home Warranty Program.
"The credibility is there," Anna says. "I think our customers see that and they appreciate that."
Customers also appreciate Montorio's approach to service. The company's sales team are more like building consultants than salespeople – they strive to guide clients through the purchasing and building process step-by-step and to make sure they are comfortable at every stage. They want to make sure that all the client's objectives – including their financial objectives – are being achieved.
"We figure out early what they need and what's important to them," explains Sam El-Sharkawi, Sales and Marketing Director. "Is the home a long term or a short-term investment? How important is resale value? We learn as much as we can and we do our best to advise them so they get the best value for their dollar."
"We try to make the process as pleasant as possible," he adds. "We know it's not easy purchasing a home. It can be a lot of hard work, there are countless steps to be taken and lots of research to be done. We try to take that stress away from them."
Over the years, that service approach has led to long-term relationships with clients, and – as previously mentioned – a lot of repeat business and referrals. Montorio Homes is careful not to maintain a type of coasting mentality. The company is always looking for ways to innovate, and to make their client's building experience and relationship even better. That is why, in recent years, they have partnered with Avid Ratings to conduct regular customer surveys.
"Each of our customers receives a survey at the framing stage, at the move-in stage, and one year later," Anna explains. "They give us feedback, both positive and negative, and our senior management regularly meets to discuss those findings, both the good and the bad. We're continually trying to improve our service level. We want to be really responsive to our customers' needs."
The credo of quality
Montorio Homes doesn't just form strong and lasting relationships with their customers – they do the same with their team members, subcontractors, and suppliers. According to Jorge Correia, Construction Director, the majority of the company's trades and supply partners go back many years. Some even date back to when he first joined the company.
"We work very hard with the trades and suppliers to make sure they understand what our requirements are," he explains. "If they stand behind their product and have a competitive price, we're not going to turn our back on them. We're going to stick with them. Relationships are very important to us."
Montorio's direct team members, meanwhile, are also largely longstanding, and they also understand the company's expectations. Of the site staff, most come from trade backgrounds, and in particular framing backgrounds – which Jorge believes is important for quality control.
"One of the most important components of a build is the framing," he explains. "It's the structure of the house. If you have good quality framing then you have the starting point of a good quality home."
"If the wall starts out crooked, then guess what? Then the drywall looks crooked, and then the painting looks crooked," he says. "It all starts with the framing."
"That's where our quality comes from – from people who have senior level experience and who have a deep-seated understanding of how to build things using the most carefully planned and most efficient and effective processes."
Moving forward, Jorge feels it is Montorio Homes' goal is to continue to build things correctly, and to hold on to the team members that know how. They also want to add team members with that knowledge, as their goal is to grow in size and take on more work. The pandemic has temporarily slowed that growth, but as Alberta recovers, their hope is to pick up steam in the coming years.
As they grow, however, Martino says the more important goal is consistency. To that end, they will maintain their thorough quality assurance checks, all throughout the build process.
"We have been in the business long enough to know what is needed to build a solid, quality home that a customer can be proud of, and that will most likely become a long term investment for him or her," Martino concludes.
"We want to provide a really unique and quality product every time. That is what we want to show people, that is how we want to distinguish ourselves – with our quality and consistency."
For more on Montorio Homes, their past and present projects, and more on their customer experience – and to get in touch with Martino and his team – visit https://montorio.ca/