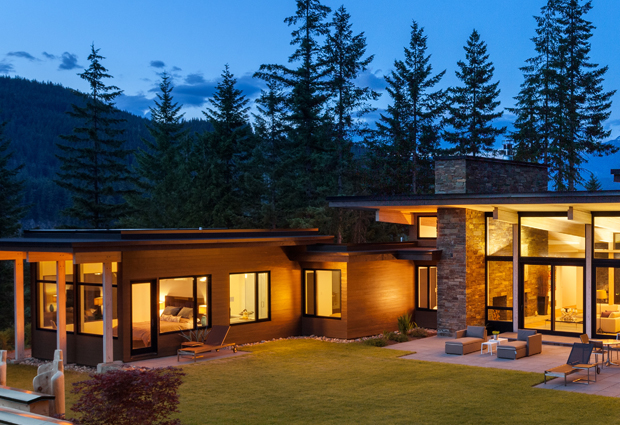 Vision Pacific Contracting – Passion and integrity
Vision Pacific is a home-building company among the elite in Whistler, British Columbia. Since incorporating almost 25 years ago, they have grown and flourished, steadily building built a portfolio of satisfied clients and award-winning homes. Today, they have the resources, expertise, and vision to deliver new homes and renovations of the absolute finest quality.
At the helm of the company is founder and owner Tim Regan, whose career in construction goes back to his time in university – when he purchased, renovated, and flipped his first home. He enjoyed the process so much that he made building his full time job, eventually commencing Vision Pacific in 1993. What set the company apart then are the same values that set the company apart now.
"We're very passionate about our community and our projects," Tim says. "From the inception, we've always operated with integrity, and with respect for our employees and clients. That's our ethos, and the company has always mirrored that."
What has changed, however, is the company's scope of work. Tim and his team started off doing modest custom builds and renovations. They built a reputation for quality that eventually allowed them to take their first steps in the higher end of the market, where they found immediate success.
"Our look was fresh, and our skillset separated us from the market at the time," Tim recalls. "We quickly became a dominant name in Whistler for building high end products. At one point, we had built seven of the Top 10 highest selling homes in Whistler."
Today, clients in that luxury home sector still gravitate towards Vision Pacific due to Tim's passion for building. He "sweats every detail," he says, and clients have come to recognise that. He also employs a team of similarly passionate project managers and site supervisors – many of whom are longstanding.
"We have a team philosophy," Tim says. "Everyone truly cares about their work, and that attitude is infectious on-site."
"We have a really great group of employees," says Jennifer Patterson, also an owner in the business. "Many of them have worked with us for a long time, which is rare in the construction community. People in the industry tend to bounce around – especially where we live, in Whistler, which is quite transient – but we have a very high level of retention."
"We have people who have shown great loyalty to our company," she continues. "In return, we make sure we treat them very well and respect their craftsmanship. We make sure everyone feels like part of the team, and we know everyone takes pride in the work they do."
The same is true of the company's roster of subcontractors and tradespeople. Jennifer says that they highly value those partners, and their treatment reflects that – they make sure everyone is paid on time, shown respect on site, and that the working conditions are pristine.
"We work hard to make sure everyone on the team is having a good experience, as well as a profitable one," she explains.
That team also includes the client on the project – no matter who they are, or what their budget is.
In recent years, in addition to their "ultra-high-end" work, Vision Pacific has transitioned into doing employee housing – as much or more than anyone else in the Whistler market, Tim estimates. The same competitive edges have applied.
"We understand everyone is working hard for their money," Tim says. "So no matter who our client is, we give them the same attention."
"That's what we're known for in the community. We really care about what we're building. It doesn't matter if this is your fourth property, or if it's your only property and you have a limited budget – we're providing the same attention to detail."
Doing work in the employee housing market, where budgets are lower, has also sharpened the company's ability to accurately budget a project. This has given Vision Pacific another point of difference at all levels of the industry.
"We've become market leaders in our ability to forecast expenses," Tim says. "We've adopted a lot of emerging technology, and we spend a great team of time learning all our subcontractors pricing formulas. We know exactly what things should cost."
"We communicate that cost to our clients right at the beginning," he adds. "We have all the hard conversations right away, so everyone knows what they're getting into. Then when we execute, we do what we say we're going to do."
That budgeting accuracy – and the transparency with clients that comes with it – has resulted in some very positive relationships. According to both Tim and Jennifer, the majority of their past clients remain personal friends today.
Never compromising
Over the years, Vision Pacific's passion has been consistently recognized not just by clients, but by the industry at large. As the company has grown, so has its profile, and so has its awards chest. Since 2002, the company has been highlighted in publications like Dream House and LuxuryRealEstate.com Magazine. They have also won a long list of awards from the Canadian Home Builders' Association (CHBA), including a number of Silver and Gold Georgie Awards – which are handed out annually by the CHBA's British Columbia branch, and are recognised nationally as an industry stamp of quality.
The Georgie categories Vision Pacific have won or been finalists in are numerous. They include: Excellence in Kitchen Design, Excellence in Master Suite Design, Best Single Family Detached Home, Best Estate Residence, Best Interior Design Custom Residence, Best Single Family over $2 million, Best Single Family over $5 million, and more.
Most recently, at the 2018 CHBA National Awards for Housing Excellence, Vision Pacific was a finalist in the category for 'Detached Homes – Custom | 2,500 to 3,500 square feet.' Those awards recognize the very best in Canadian homebuilding, and were narrowed down from hundreds of submissions from across the country.
"That's very flattering," Tim says of the recognition. "Our team works very, very hard, and it's always great when they are awarded for it."
This year, the home that earned the judges' attention was called the SK Residence, and was located in the residential area of White Gold.
Vision Pacific was referred to the client on that project by the architect, who they had worked with previously. As with all their projects, Tim and Jennifer made sure to sit down with all parties first and make sure everyone's expectations were aligned.
"When building a house together, you form a very long and often intense relationship," Tim explains. "A lot of decisions and emotions come into it. We make sure we vet our clients beforehand, and let our clients vet us. We make sure everyone knows what to expect in terms of cost, timing, and quality."
On that project, Tim says the fit was "very, very, good," and that they really enjoyed building that home. In particular, he was proud of how successfully every detail came together. He says the project team spent a lot of time beforehand making sure every element of the building lined up and performed optimally.
"We put in a lot of work making sure the details were right," he says, "and it was very, very successful in the end."
Moving forward, the company aims to replicate that success on every project to come – no matter the cost, and no matter the sector. They intend to consider their upcoming work very carefully, and only take on the projects where they feel their passion and integrity will be put to the greatest use.
Employee housing is one area where they feel like that's the case. According to Tim and Jennifer, those projects are among the most personally rewarding, and they hope to deliver more along the same lines.
"Being in the grocery store with my kids, and having people who were stressed with their living conditions come to up to us and be friendly and happy and appreciative – that means as much to me as any award," Tim says.
"It's a small town, and we see our customers all about town," Jennifer adds. "It's really great when we can make a difference in people's lives. We like doing that a lot."
The company also likes the size they are at. With the amount of work they currently have, they can ensure personal hands-on service and a high level of quality for every client – and those are not standards they will ever compromise on. They also value maintaining a life and work balance, as Tim and Jennifer both have families, and are both active volunteers in the Whistler community.
"We want to stick to the formula," Tim says. "We want to continue delivering great projects, and continue operating with passion and integrity."
"We want to do what we do," Jennifer agrees. "And we want to do it the best of our ability."