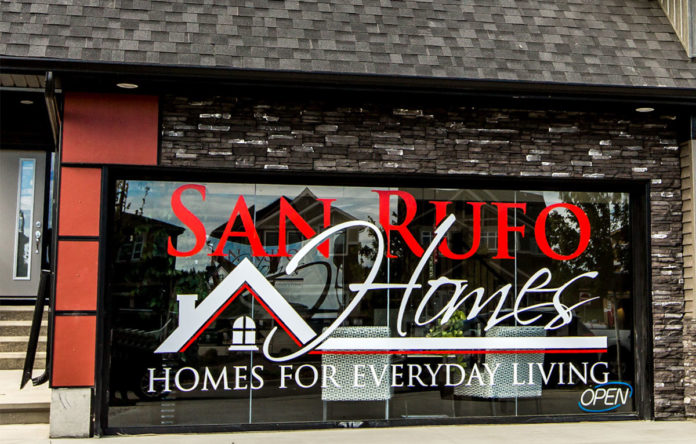 Quality homes, quality experiences
San Rufo Homes is an award-winning Edmonton builder that takes pride in the construction of unique, functional, and beautiful custom homes, all of them reflecting the needs and practicality of their clients. They also take pride in the experiences that clients have along the way. Their goal is to make those experiences as enjoyable and stress-free as possible. They achieve that by always being available to answer questions and concerns, keeping the client intimately involved throughout the entire design and building process, and providing incredible value for money every step of the way.
"We are proud to offer our clients a unique and customer-driven home buying experience," says John Stabile, President and CEO.
"We consider customers as part of our extended family," he explains. "Therefore, every customer's experience – from the first time in one of our show homes, through to possession and even beyond the warranty – is of utmost importance to us."
San Rufo Homes understands the importance of family. The name of the company is derived from the village in Italy where Giuseppe Stabile, John's father, was born. The business was officially formed in Edmonton in 2002, when the Stabile family accepted the offer of a small developer to open a show home in their new community. After operating there for several years, the quality of their product offering attracted a larger developer, who approached them with an opportunity in another community and momentum started to build. A year later, the same developer offered them another spot in yet another community, and the company really took-off.
Within a couple years of forming, San Rufo Homes grew to doing 10 to 15 homes per year. From there, their success continued, and persisted even through an economic downturn. Despite the challenges they have faced, the company has continued to rise up and grow because of their quality of their work. They have never really participated in marketing campaigns, as their products speak for themselves.
Last year, San Rufo Homes completed 52 homes. This year, they are projected to complete between 60 and 70. They now operate 10 show homes around the Greater Edmonton region, some of them duplex homes, some of them single family. They have become experts on all kinds of builds, and have developed roughly 40 customisable models that clients can review and choose from.
Those model plans are carefully researched and refined to ensure the best combination of design, efficiency and attention to detail. Each model is named after the children of the Stabile family as well as the staff. All of their models are adjustable, and allow clients to customize the floorplan and all the finishes, in order to make it truly home.
Alternatively, those plans can simply be used for inspiration and ideas. If San Rufo doesn't have the perfect plan, they will work in collaboration with the client to make one from scratch. That's how a lot of their new homes begin, in fact – with a brand new design specifically tailored to meet the client's individual needs.
"We offer a very boutique service," John says. "We help the clients design their own unique home – and not by just merely moving walls or picking colors. Instead, the clients tell us their dreams, and we turn those dreams into a reality."
When coming up with a new custom design, clients may use upwards of three or four of San Rufo's models as inspiration. They may also use anything else imaginable, including clippings from magazines and photos from the internet. The team at San Rufo Homes believes in taking whatever inspires the client, and turning that inspiration into a home design specifically tailored for them.
Once the process begins, clients receive access to San Rufo's established network of trusted industry partners and suppliers, who guide them through the design and selection process. Over the years, the company has developed and maintained solid relationships with a number of local home designers and architectural firms. They are pleased to set up interviews with the client and these firms to determine which will best suit their project's needs. From there, they work in a closely coordinated effort with the selected designer or architect, sharing their resources of knowledge and expertise.
As the plans are developed, the team also discusses the construction details with the actual tradespeople who will perform the work. These discussions help to create details that enhance the design, while also being practical and cost efficient to construct. The home buyer's price point is always kept a top priority.
Before construction starts, San Rufo goes on to present the actual working drawings to the client for review, approval, discussion; as well as offer any suggestions to suit the client's lifestyle. They make sure the client clearly understands what they are looking at, and that they fully know what they are buying. The goal is to confirm that everybody is on the same page, and that expectations are fully aligned. If the client is not getting exactly what they want or expected, that's a problem, and San Rufo makes it their mission to resolve that problem before construction begins.
"It's a very client-driven process," John says. "Our entire business model revolves around the client."
San Rufo's focus on customer satisfaction is the reason they have been so successful over the past 10 years. Their team devotes a lot of time and energy into building not just homes, but trust and accountability with the people they work with. As a result, they have developed a longstanding reputation for honesty and integrity. That integrity has been rewarded by clients in their ratings and reviews, as well as acknowledged by the industry at large.
Recently, for example, San Rufo's focus was recognized at the 15th Annual Avid Awards in 2018, and then again in 2019. There, they received an Avid Benchmark Award for being in the top 25 per cent of customer ratings nationwide, two years in a row!
The Avid Awards were created to honour builders in North America that provide extraordinary customer experiences. The winners are the builders that score the highest with their customers on home buying experience surveys, which are evaluated using Avid Ratings' award-winning, unbiased third-party survey platform. Every home buyer survey in the Avid database is meticulously analyzed, and the total scores are calculated using scores from the total home buying experience, the willingness to refer, and the actual number of recommendations a buyer has made.
In a statement announcing the awards, Tim Bailey, division president of Avid Ratings Canada, said that the winners "represent a list of builders that have all excelled in setting the bar of homebuilding and for customer service in Canada."
San Rufo Homes is to set that bar due to their internal mandate, which is to "guide and support the customer experience."
Truly, everything San Rufo does is about ensuring the customer experience is a positive one. Of course, that doesn't mean they don't make mistakes. It means that if they do, they will own up to them and make them right.
"We're not perfect all the time," John says. "Nobody is. There's going to be the odd situation where the client isn't satisfied with something we've done, but we'll be the first to say that when we're wrong, we're wrong, and we're going to do whatever we can to correct it. I don't think there's a client out there who can say that we didn't own up to an error."
The vast majority of the time, however, it doesn't come to that, as San Rufo Homes is also known for going to the extra mile to ensure utmost quality. They dedicate time for multiple inspections and walk-throughs on every project, making sure every home meets their standards of excellence in both workmanship and function.
"My whole team cares about what we do," John says. "We care about building a good home, and we care about our clients."
San Rufo's caring for clients does not end at the point of sale. Many in the construction industry consider that the "pinnacle of the process," but San Rufo Homes recognizes it as is just the beginning. They continue to support clients at every point from then on – all the way from to possession, through the warranty period, and long after. They are committed to supporting their client at all times.
The proof of that commitment is not just the ratings and awards. San Rufo's history of referrals is even more convincing evidence. From the start, the majority of the company's work has been generated by past clients, and their client's friends and business partners. San Rufo encourages that with a referral program, which includes a $2,500 cheque for when referred persons purchase a new home. With the way they take care of their clients, they expect to be handing out referral cheques well into the future.
Exceeding expectations
San Rufo Homes has not only been awarded for their customer service. The high quality of workmanship has also been recognized by industry peers. At the CHBA Albert and Edmonton Awards of Excellence, for example, their single-family and duplex homes have been winners and/or finalists in a number of categories over the years.
That standard of excellence is a credit to the company's team – especially their in-house team of superintendents, drafters, warranty personnel, managers and more.
"We're very selective in our staffing," John says. "We don't let anyone near our homes unless we trust them to do the right thing."
The same is true of the company's roster of suppliers and subcontractors. San Rufo Homes only works with contractors they trust, and who share the company's values of quality, integrity and accountability.
The company refuses to let price point dictate who they work with. Instead, they focus on the quality their partners can provide, as well as other key factors, such as their skillsets and organizational abilities. And while San Rufo has their own system of checks and balances when it comes to quality assurance, they ask their suppliers to have their own checklists and procedures in place as well.
"Those are the kinds of things we base our decisions on," John says. "It's not about price. We don't look for the cheapest guys. We don't even consider the cheapest guys. We look for the most proficient and skilled in their scope of work. We want people who take pride and ownership in the work they do, who aren't just going through the motions."
"At the end of the day, your homes are only as good as your trade base," he continues. "If you have a weak trade base, you can have all the checks and balances in the world, but you're not going to get the quality you want."
One of the companies that San Rufo Homes relies on to provide excellence is Durabuilt Windows & Doors. Durabuilt is an Edmonton-based company that shares a lot of values in common with San Rufo. They offer industry-leading service combined with expert-quality craftsmanship and design. They strive to be the best building partner on the market. And they take pride in making their partners look good, no matter the project or price point.
Another such company is Everest Exteriors. They are also Edmonton-based, and they also take pride in forming close partnerships with their clients. They work with a variety of exterior products, and spend a lot of time with clients and owners beforehand making sure they are achieving the desired look. Then, from start to finish, they work fast and efficiently. They make sure the project is completed on time and within budget, and make sure the work is done the right way, the first time.
Then there's Superior Cabinets – another longstanding company and industry leader, in Edmonton and beyond. They have been creating quality kitchens with beauty and functionality for more than 35 years. They have a long held and well-earned reputation for fine quality products, outstanding service, and dedicated employees. Like San Rufo, they believe in designing and building a truly custom product, one tailored specifically to the client and the way they live.
Over the years, San Rufo Homes has "weeded out" the subcontractors and suppliers that don't promote those kinds of values. The trades remaining – such as Durabuilt, Everest Exteriors, and Superior Cabinets – tend to be longstanding, and they enjoy extremely close relationships with the Stabile family and their team.
When that whole team comes together, they can achieve truly wonderful outcomes. A recent example is a show home San Rufo constructed called the 'Isaiah, is located in the company's latest community of Rocha in the Orchards. That project is a "show stopper," with four bedrooms, a bonus room, and upper floor laundry. John is a particularly big fan of the master bedroom and ensuite, as well as the mud room on the main floor.
The company is equally proud of their new 'Joseph II' show home, which they believe is another beautiful illustration of their team's exceptional craftsmanship. That home opened in Jesperdale earlier this year. The detailing on that home is stunning, and reviews have particularly commended what the company accomplished in the kitchen and great room.
Always improving
Looking to the future, San Rufo Homes aims to grow – but grow organically and sustainably, and not just for the sake of it. In the past, they have endured both ups and downs in the Alberta economy, and they have always been very deliberate about the rate of their expansion. In the boom times, they have even turned down opportunities to do more work when they thought their quality might suffer as a result.
Soon after the company commenced, for example, there was a boom in the Alberta housing market. San Rufo Homes could have potentially sold a lot more, but they were very mindful about taking on trades they had no history with. They had heard horror stories from other builders about working with unproven subcontractors, and they didn't want any part of that.
"We didn't deviate from our trade base," John recalls. "That may have meant we didn't make as much money as we could have, but it's not all about the money. It's about creating something that's lasting. Something with substance. Something our clients love to call 'home.'"
Moving forward, San Rufo Homes is abiding by the same principals. They anticipate that they will eventually grow to doing 80 or even 100 homes a year, but never much more than that. It's more important – they believe – that they continue to grow their reputation, and keep getting better at what they do.
"I think we build a great product, but I think we can build a better product," John says. "And when we do, I'll think we can still build a better product after that. There's always room for improvement. Always."
For more on San Rufo Homes, their process, home models, and awards – and to get in touch the San Rufo Homes team – visit https://sanrufohomes.com/