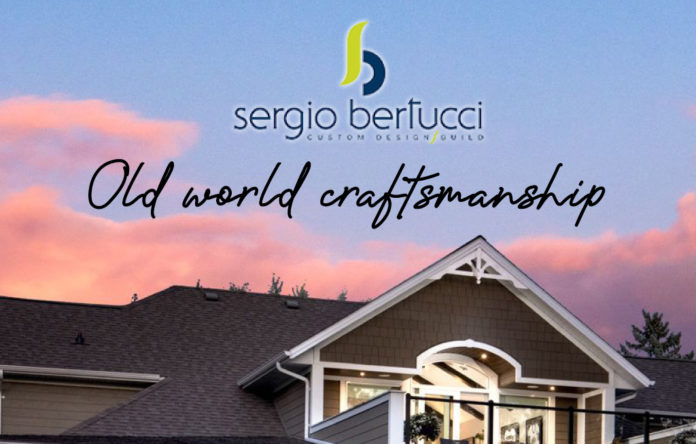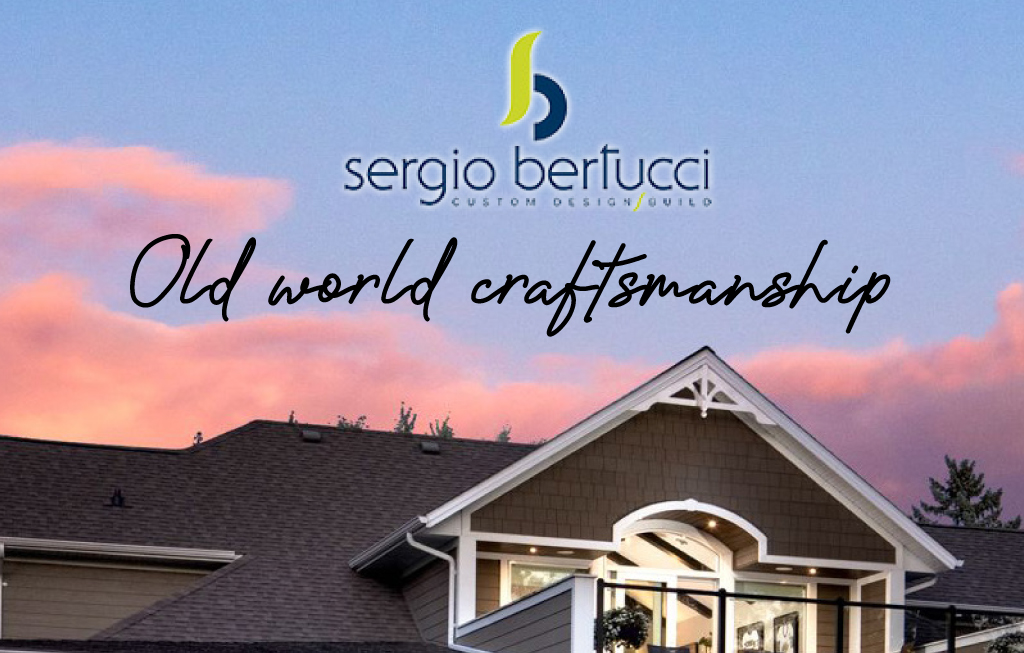 Old World Craftsmanship
Sergio Bertucci is a custom home design and build firm based in Windsor, Ontario. Led by the man in the title, the company combines old world craftsmanship with modern, eco-friendly designs. The company has been around for more than 30 years, and Sergio has been in the construction industry almost all his life, but he has never stopped looking for ways to get better. His mission has always been to build higher quality and more efficient homes, and to meet the needs and wants of the client every time.
"I'm very passionate about what I do," Sergio says, "and the same goes for my staff. I think that passion is reflected in our results."
Sergio inherited his passion for construction from his father, Rocco Bertucci, someone thought by many to be a "Renaissance man" of building. Before and after emigrating from Italy in the 50s, Rocco trained and worked tirelessly in a number of trades. Many times, he would take his five sons along to help with projects. Of those sons, Sergio developed a particular inclination for the industry, and he began coming along more often than the rest.
At only 14 years old, Sergio could cut roof rafters and help his father finish concrete. Throughout his high school years, he continued to hone his skills, while simultaneously studying architecture. For a time, he pursued his second passion, automotive machining, which led him into the industrial millwright trade. In 1983, he began working at Ford Motor Company as a millwright, but his passion for architecture and construction could not be denied; for six years, he worked construction by day and at Ford by night. Eventually, the demands of his growing family, and the growing success of the construction business, led him to pursue building full time.
From the beginning, Sergio Bertucci has focused on building custom-designed homes for clients that value creativity and quality. The scope of the company's work has grown over the years, but the individuality of every project has been a constant.
"I have a flair for design and I like to play with design, and I like to make sure each home is unique," Sergio says. "I'm not interested in reproducing the same home twice. I believe each home should be specific to the client and their wants and needs."
These days, Sergio Bertucci largely works on custom homes on the waterfront ranging in size from 2,500 square feet to 13,000 square feet, and valued anywhere from $650,000 to $5 million. The company also occasionally do higher-end commercial projects, still for clients that share their values. An example is the recent North 42 Degrees Estate Winery in Harrow – which features a unique design by Jerry Kavanaugh of ADA Architects, a frequent partner of Sergio and his company.
In both sectors, Sergio feels that clients choose him for his reputation, which he has carefully built and maintained for more than 30 years now. A big part of how he's managed that is by keeping personally involved in every project, as befits the company's name.
"I'll answer my phone seven days a week until 11 o'clock at night," he says. "I believe you have to make yourselves accessible when you do these custom projects."
"I hear many horror stories from clients who did other projects, and they say, 'I could never get a hold of the builder,' or 'It took them three days to call me back.' I don't ever want people telling those stories about me. I make sure I answer my phone and call people back."
"Even if there's a problem, I think it's important to be open and honest," he adds. "I think clients appreciate that."
Sergio's personal involvement also extends to the job site:
"I'm on the job all the time," he says. "On these jobs, I don't think you can just rely on sub-trades. I think you need someone who's hands-on. Myself and my crew, we're very hands-on. We really care about the projects and we're really invested in the project's success. We get in there, we get our hands dirty, and we make sure the job is done right."
"We pride ourselves on that involvement," he adds. "We don't show up on the job in dress-clothes and a brand-new spotless pick-up. All of our work trucks look the same – and at the end of the day, they're all in need of a clean-up."
In addition to caring a lot, Sergio and his direct team are also very knowledgeable. Sergio, for example, has a Master's degree in architecture, and he personally has three trade tickets. He has passed that training on to his project manager of six years, Greg Wood, and he also actively mentors his other full-time staffers.
"A lot of builders have very few full-time staffers," Sergio says. "They rely on sub-trades and they don't work themselves. I think that's why we're so sought after. We do the work ourselves, and we all have a passion for what we do."
All that said, where the company does work with subcontractors, they work with the very best – Sergio says that's another key point of difference.
"We have built some extremely strong relationships," he says. "That takes time. You have to foster those relationships. You have to develop them over time, and that's what we've done. We've built a lot of rapport and loyalty with our trades. We've been working with many of them for over 20 years."
"We've gotten to know them; they've gotten to know us, and they know what we expect."
And what the company expects, Sergio reiterates, is quality. The company's trades know that they cannot neglect the "little things." For example, they have to go the extra mile to make sure that every building element is future-proofed.
"We all pride ourselves on going the extra mile. We'll do the things we need to do to make sure the client never has to call us back. Even after 10 years, we don't want to get calls saying there's a problem. If possible, we want our clients to be able to stay in their house 100 years and never give us a call – unless they're calling to invite us to a party."
Room to Grow
Moving forward, Sergio Bertucci expects to continue doing the kind of high-end luxury-quality custom homes that they have become known for. The demand for their services is still high, even amidst the pandemic, so they have no plans of slowing down. If anything, they are growing – for example, they recently acquired specific shotcrete swimming pool building equipment in order to better accommodate their clients, many of whom prefer shotcrete marcite/tile pools over liner pools.
"We have room to grow," Sergio says. "I think we could safely double in volume and still maintain everything that makes us special. It's just a matter of finding the right people – people who are motivated and ambitious, and people who have a knack for building."
In addition to growing in size, the company also aims to continue improving the environmental performance of their homes. They already ensure the materials they select are as efficient as possible, Sergio says.
"We're well educated in that. We use the latest and greatest in building envelope protection. We're right on the cutting edge, and we want to stay there."
Also, while the company rarely pursues LEED certification because of the administration costs, Sergio is himself LEED-accredited, and he incorporates as many LEED elements as he can into every home. He wants to keep going down that path as long as he's building.
And when Sergio is done building, he wants the company to continue, and there's even a succession plan in place. When Sergio finished, he expects his Construction Manager, Greg Wood, to take over.
As previously mentioned, Greg has been with the business for more than six years now. Sergio met him while teaching at the local St. Clair College. Like Sergio, Greg now has a Master's in architecture, and Sergio says that since he's been with the company, his knowledge and skill has "grown exponentially." Sergio is confident that when Greg takes over, he will continue the company's streak of excellence and maintain their hard-earned reputation for quality and customer service.
For more on Sergio Bertucci – both the man and the company – their history, their capabilities, and their contact details, visit http://sergiobertucci.com/