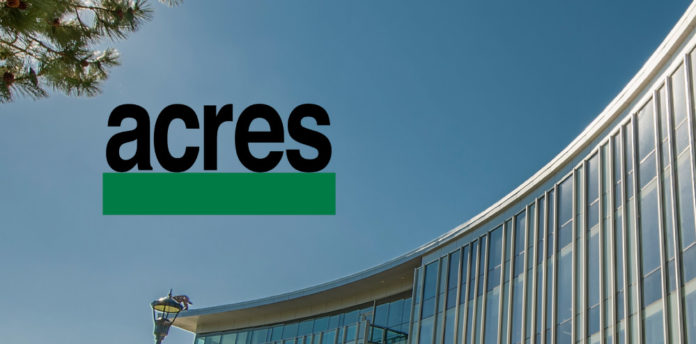 Innovate today, build tomorrow
Aces Enterprises is a civil, general, and industrial construction company with an over-40-year history of successfully managing complex, multimillion-dollar projects throughout British Columbia. Over the course of those years, they have brought together a wide range of experts under one roof, and they have developed and refined a true "concept-to-completion" delivery model. Under that model, they have built an impeccable track record of delivering projects on time, on budget, and at the highest quality.
For the last decade, the company has been led by owner and President Jason Paige – a veteran of both the industry, and Acres Enterprises specifically. He started with the company as a labourer, and then rose through the ranks, spending time as a superintendent, estimator, and project manager, before purchasing the business in 2012.
Under Jason's leadership, Acres has invested considerably in cutting-edge technology, including fully automated and GPS-controlled equipment, robotic total stations, and advanced drones for inspection and close mapping. As a result of that investment, the company has grown rapidly, and their relationships with clients, employees, and other stakeholders are stronger than ever.
"Our success starts with the direction of Jason, our owner, and then it's driven by our team," says Phillip Stagg-Tanner, Vice President of Operations. "We have an amazing group of highly qualified, diversified professionals who are all committed to delivering excellence at every step of a project."
Phillip is another veteran of the contracting industry – he started his career in the United Kingdom, and continued it in Canada after moving roughly 16 years ago. About a year-and-a-half back, Jason convinced him to join the Acres team. Since he came aboard and started working with the team, the company has grown considerably, even amidst the onset of the pandemic.
"When COVID hit, we got together as a senior group and we put together a plan," Phillip recalls. "We executed the plan really well, and because we're a technology-driven company, everyone was set up at their home literally overnight. The impact to the business and our clients was minimal."
These days, those clients include a diverse array of companies in the general, industrial and civil sectors, and their projects can range greatly in size and value. Acres can take on everything from tenant improvements valued from $50,000 to $100,000, all the way through to general construction to heavy industrial projects valued from $15 to $20 million.
According to Phillip, clients all throughout that spectrum tend to choose Acres for the same reasons. One of the main ones is their team's ability to self-perform much of their own work. At any time, the company directly employs between 80 and 120 people, they own and operate all their own civil contracting equipment, and they have their own carpentry and concrete teams in-house.
"That gives us a distinct advantage over our competitors in the area," Phillip says.
And clients do choose Acres – typically, they bring their projects straight to the company, as they understand the value that they can provide, and they trust them to meet or exceed all their needs. Phillip estimates that at least 75 per cent of Acres' work is sole source or select invite, as opposed to earned through bidding.
"That's a real testament to the team and the process we've developed over the years," he says.
As part of that process, Acres prefers to be involved in a project as early as possible, as the planning and engineering stage is when they can provide the most value. Because they have such an experienced and diverse team, they are committed to making suggestions that will save the client time and money.
Acres' process – which is facilitated by leading-edge software, both internal and external – also ensures that quality is controlled and assured at every stage of the project. Process and controls allow them the ability to track and monitor at each stage of the project.
The company's process also emphasises the health and safety of their staff. Acres Enterprises is committed to reducing workplace injuries and promoting the long-term wellness of their team members. That commitment is reflected in their rate of hours worked without a lost time incident, which is among the lowest in the industry.
Then there's the environment – Acres also strives to keep that safe. They believe in integrating environmental considerations in all their business decisions, while adopting green alternatives throughout their operations whenever possible.
"Maintaining the highest standards for health, safety and the environment is a key organizational focus for us," Phillip says. "We take a lot of pride in our sustainable approach."
Investing in success
In recent years, Acres Enterprises has received several awards and accolades from industry bodies including the Kamloops Chamber of Commerce and the Southern Interior Construction Association (SICA) for their innovative approach to the industry.
For example, at the 2019 SICA Industry Awards of Excellence, Acres Enterprises was awarded 'SICA Member of the Year,' which recognizes companies for their overall achievements in education, innovation, productivity and safety.
"We take a lot of pride in that," Phillip says. "It really showcases what we do as a business."
"For me personally, I sit on the board of SICA, so I understand everything that goes into the evaluation of those awards," he adds. "I know how thorough it is. I know there are hundreds of applicants. To go through that process and be recognized for what you do is very rewarding."
Again, Phillip credits the company's success to the calibre of their team, and to their strong corporate culture – which is evidenced by their unrivalled rates of retention. Last year, the company gave out 'long-term service awards,' and they found a number of employees had been with the company for 35 years, 30 years, and 25 years. For the most part, those employees started in junior positions and have grown into leadership roles.
"We believe in investing in our people," Phillip says. "Every year, one of our key objectives is training and development. We want to make sure our team feels valued for what they do, and we want to make sure they have the opportunity to grow and advance."
"We invest a lot of resources into furthering people within the company," agrees Francesca Lucia, Marketing & Communications Coordinator. "The company really sets its employees up for success."
"We have a strong support system, with 'supportive' being one of our core values at Acres," she adds. "We cheer for one another and we celebrate each other's achievements."
That support, combined with that investment in professional development, is a big part of what makes the company's culture so special. Another big part is their involvement in their local community. According to Phillip, Kamloops is a relatively small and tight-knit community, and Acres takes pride in projects that give back.
For example, the company recently worked with the non-profit Open Door Group on their Gardengate expansion.
Gardengate's focus is to provide a space of healing and recovery through horticulture activities for people living with mental-health conditions. Their previous space was roughly 700 square-feet, and was largely unusable during the winter months due to a lack of heat. Acres worked with them to design and construct a new facility, which more than tripled their space, allowing for more programming and participants, and providing both heating and air conditioning for the winter and summer months.
"They approached us late last year," Phillip recalls. "They said 'This is us; this is what we're about, and this is our budget. Do you think you can make something work?'"
"So we took their design, we pulled it apart, and we managed to find a solution that worked within their budget," he continues.
Employees appreciate being a part of projects like that – as does the company's roster of subcontractors and suppliers, many of whom are also locally-based.
From the beginning, Acres has recognized the value of those kinds of partners and strived to form strong and lasting relationships based on integrity and fairness. Over the years, they have been very successful in that aim – some of their partnerships go back decades
For example, they have regularly worked with K&M Contracting – a full-service construction firm known for providing superior quality workmanship, and for completing projects efficiently and affordably. They are an example of a company that provides the kind of value Acres expects from their industry partners.
"We only want to work with sub-trades and suppliers that align with our core values," Phillip explains. "They have to understand our end-goals. They have to understand the quality assurance that we expect, they have to understand the safety profiles we have put together."
"I'd like to think that if you came onto one of our sites and we were doing a large GC project, that you'd be hard-pressed to figure out who works for us and who's one of our sub-trades," he adds. "Everyone buys into what we're doing, and we all fit together very well."
Ahead of the curve
Moving forward, Acres Enterprises intends to continue down their path of growth and expansion. They have already grown considerably through the pandemic – last year was one of the company's top five years ever – and they are looking at a potentially record year coming up.
Geographically, too, the company is in the process of expanding. They are currently based in Kamloops, but they will be opening a new office in Kelowna in June, and they plan to open another in Prince George.
According to Phillip, the company's goal is to be just as involved in those new locations as they are in Kamloops – they want to earn seats on the boards of various associations and authorities, they want to contribute to the local economy, and they want to be involved in projects that give back to the community. That kind of outreach will always be an important emphasis for the company.
Also important is technology – Phillip says that Acres is committed to staying "ahead of the curve," and that they will continue to embrace new technology as it's introduced to the market.
As an example of how that commitment has already benefitted the company, Phillip cites their use of drones and GPS technology for surveying.
"We can fly a drone and very quickly give our clients a mapped-out landscape of their site," he explains. "From that, we can do our cut and fill calculations. Our equipment is GPS-linked, and they can be pre-programmed. We can drive the dozer along and the bucket will go up and down automatically based on the GPS locations to be cut and filled."
"It minimizes waste, and it allows us to be more efficient," he adds. "We don't need to have four or five surveyors wandering around site with sticks and field lights. It's all done with technology."
The company doesn't just use the latest technology in the field, however. According to Francesca, they also use cutting edge technology in the office.
"Right when you walk in, we actually have a virtual receptionist," she explains. "There's a sensor that triggers, and if you're looking for someone in particular, there's a touchscreen that allows you to call that individual."
"We're quite high tech," she adds. "That's helped us a lot with this new changing work landscape. When COVID started to really intensify last year, we were well positioned to adapt, because we had already gone fully digital. Technology has helped us greatly with this transition, which has allowed us to continue leading the industry, while delivering results to clients."
In the future, Acres Enterprises will continue to invest in that kind of technology, just like they invest in their people and processes. Phillip believes that investment will be the key to the company's continued success.
"Because we've made that investment, we feel comfortable in growing to the next level," he concludes. "We believe there's a lot of opportunity to come. It's a very exciting time."
For more on Acres Enterprises, their services, expertise, and past projects – and to get in touch with their team – visit https://acresenterprises.com/