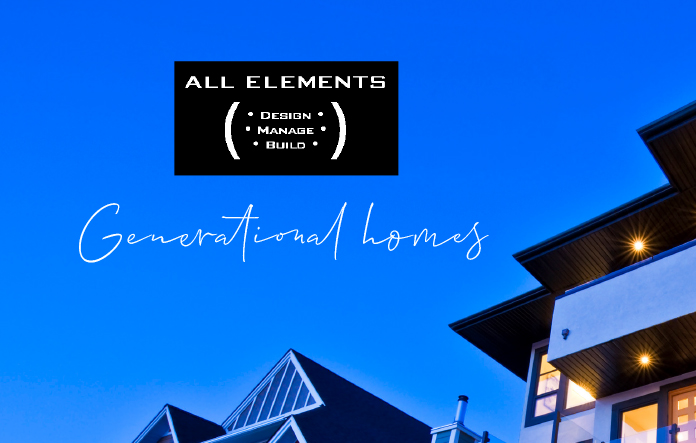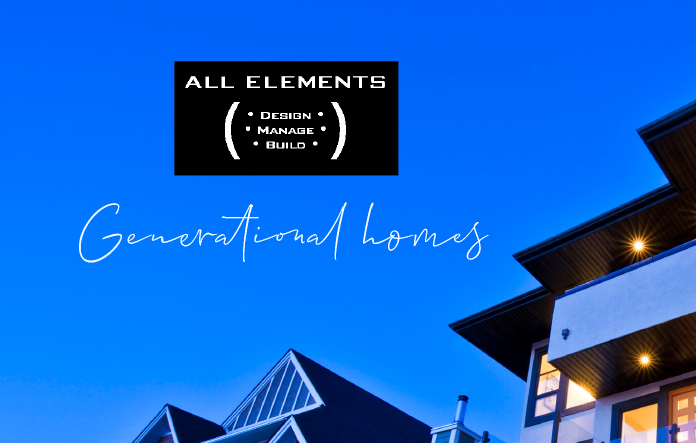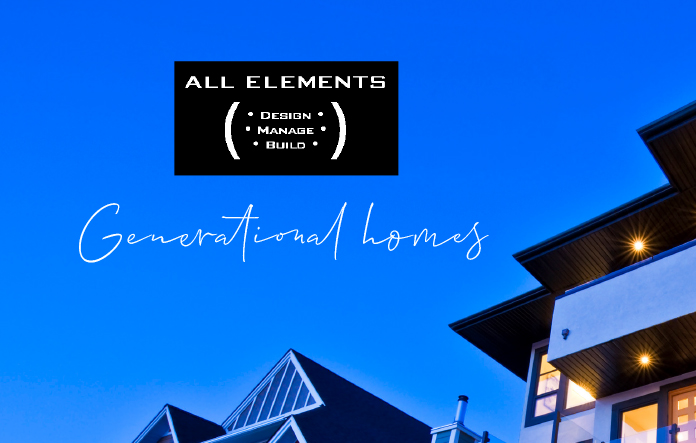 Generational homes
All Elements Design.Manage.Build is a Kelowna-based full service building company that is pushing the boundaries of environmental performance in the Okanagan. Director Kim Larson has been working in architecture and construction all her life, and since forming her own company in 2009, she built an unrivalled reputation for delivering high-end, high-performance homes for discerning clients in the Okanagan. In recent years, All Elements has committed to environmental sustainability as the main focus, and the company now works solely with likeminded clients on projects that are forward-thinking and energy-efficient.
"All of our builds are high performance," Kim says. "We won't build a building-code house anymore. Efficiency is really important to us. That's our brand. We're net-zero builders and Step Code builders. That's the way of the future, and we want to be leading the pack."
Kim has made this commitment both for ethical reasons but also commercial reasons. Commercially, she simply does not see a way forward for inefficient homes.
"We don't see the sense in building disposable houses," she explains. "A lot of the homes being built out here to basic minimum code will not survive the test of time. Their performance levels will be so low that, eventually, when they are being priced, they are going to suffer. They are not just going to be priced in association with their location and their materials and how high-end the appliances are, but also in association with their energy performance."
"We don't want to be building houses now that in five-to-10 years will be obsolete and difficult to sell," Kim continues. "Utility costs are going to be increasing nonstop and eventually those kinds of houses will be too expensive to maintain and live in on a monthly basis. It's better to spend the extra time and the extra money now to build a higher-performing house. That's going to save you in the long run and it's going to keep your value high."
Also, higher-performing homes last longer, so they don't need to be knocked down and rebuilt by future buyers or generations. That means less future waste in landfills, and less greenhouse gas emissions. That's important because housing and buildings account for an outsized percentage of emissions across the planet, and Kim wants to do her part in reducing that percentage.
"There's really no drawback," she says.
So All Elements only wants to build "generational homes" – homes which last for generations, which increase in value with every passing year, which are inexpensive to live in and operate. The company is not interested in taking on anything that doesn't tick those boxes, but at the same time, they don't want to slow their growth. In recent years, they have been able to strike that balance extremely successfully.
Between 2016 and 2020 in particular, All Elements has grown at a rapid pace, in terms of both staff size and revenue. In 2017, they tripled what they did the year before. In 2018, they grew by 30 per cent. In 2019, they grew by another 30 per cent. This year, they are on pace to match their 2019 performance, despite the effects of the pandemic.
According to Kim, that sustained growth is partly a result of the company's diverse offering. Designing and building luxury custom homes for clients remains their main function, but they also have established other revenue streams – they do their own land development and property management, they offer subdivision planning services, and they have created their own series of purpose-built rental properties.
On the custom home side, Kim further credits the company's continued success to their adaptability. That word means several things to the company, but one is that they are willing to take on projects of a wide range of sizes and values. She acknowledges the company has earned a reputation for designing and delivering high-end projects with substantial budgets – they are currently working on a project valued at $10 million, for example – but that doesn't mean they are opposed to working on a smaller scale.
"We're known as a luxury custom home builder, and for the most part that's why people come to us, but we don't want to alienate people with smaller budgets," she says. "We like to work with those clients as well. We want to be able to give them a really high quality of project, even if it's at a smaller scale."
All Elements is also adaptable when it comes to solving problems. As an example, Kim cites the way they handled the onset of the pandemic, which only slowed the company down a little.
"We were able to prep and purchase materials in advance just in case the supply chain was ever going to be an issue," she says. "We got ahead of that right away. We made sure we had as much lumber as we needed for projects to go on a few months; we cleared out our yard of rebar so we could continue on our foundations and keep our staff employed and our projects in production."
"We handled that part of it really well, and I'm proud of our staff, and our management, head of Construction and Technology Stepan Ams, and our Director of Operations Bob Drunkemolle. We were really on top of it early and we were able to work through it. We were able to keep things operating at a high level."
Kim is also proud of the way the company stayed in contact with clients, and made sure they were comfortable throughout the process, especially during the early days when the situation was most uncertain.
"We really tried to keep the communication strong with our clients. We would say 'Here's what we're doing next' and we would get their approval before going to the next phase of construction so they felt comfortable. That was very successful."
Leading the way
A recent example of All Elements' commitment to environmental performance – combined with their commitment to design and construction excellence – Kim cites a "really spectacular" project called 'Jagged Ridge,' a rammed-earth home they recently completed on a vineyard in Naramata.
That project comprises roughly 4,000 square feet and one level. It was named 'Jagged Ridge' after the shape of the clay banks, which can be viewed over the lake behind the home.
To build the home, Kim and her team worked closely with Landform Architecture, an architectural firm based in Penticton.
"They were such a wonderful outfit," Kim says. "We really enjoyed working with them. Their design is absolutely spectacular and it was a pleasure to bring it to life."
Features of the home include high-performance concrete flooring and exposed timber framing. All of the timber was sourced from Austria, but was manufactured in the Okanagan. In fact, the vast majority of the suppliers and tradesmen were locally-sourced. All Elements generally prefers to partner with local companies, both because they like to support the communities in which they work, and because it limits the carbon footprints of their projects.
The project lives up to the company's environmental commitment in other ways, as well – the wall construction was energy efficient, for example, and the overhangs on the south and west-facing sides were quite extreme in order to limit solar penetration. Also, the windows were of high U-Values, the building products were formaldehyde-free exterior insulation, and the HRV system cools the house with fresh air.
Kim says those features are all great, but that moving forward she wants to push the envelope even further in the direction of efficiency. She cites a more recent project as an example – a 10,000 square foot net-zero home that performs so well that on a day where it's 35 degrees outside, it's only 19 degrees inside, without the aid of any functioning mechanical system.
"We're using radiant floor heating to heat the floor in winter time, the windows are all passive-certified, the building is completely airtight and insulated with wood fibre insulation, and it produces as much energy as it takes from the grid."
In the future, Kim says that's the kind of result the company wants to achieve on as many jobs as possible. Fortunately, she says that clients are catching up to All Elements mindset, and they are starting to desire the same thing. The company's marketing team recently conducted a poll asking people that if the next home they built would be net-zero. Kim says that 63 per cent of people responded 'Yes.'
"Now, when they actually put their money where their mouth is, that percentage might change, but at least the understanding is there," she says. "When we started doing these homes, the understanding wasn't there. People didn't understand the benefits, they didn't see the value. Now they do. They see that it makes sense to go down this path."
All Elements, for their part, will continue to lead the way down that path, and they will continue to put their own money where their mouth is. For example, they currently partner with Tree Canada to plant 500 trees for every house that they build.
"That's to help replace what we take and because trees embody carbon for life," Kim concludes. "We want to give clients the most amazing luxury custom homes that they have ever seen, but we want to have a good conscience about it, and we want our clients to have a good conscience about it."
For more on All Elements, their pandemic response, and their vision for a greener homebuilding future – and to get in touch with Kim and her team – visit https://allelements.ca/