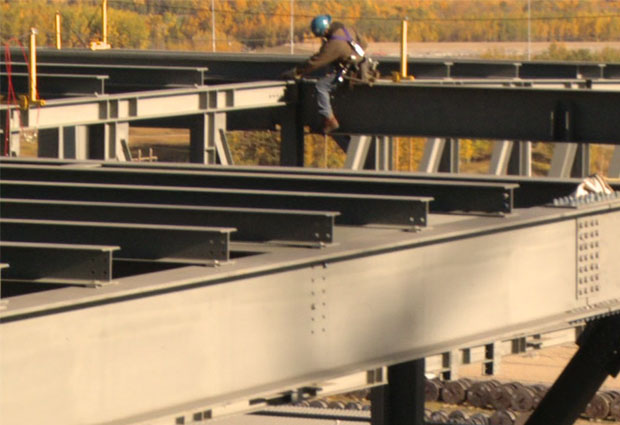 Waiward is one of Canada's largest and most longstanding names when it comes to steel fabrication and construction services. Founded over 40 years ago, they have become one of the leaders in the industry, have grown to service multiple sectors across Western Canada and around the world. They are known for their unwavering commitment to safety and quality, and for working with "the best clients on the best projects," says Donny McCue, Vice President of Operations.
One such project is the recently-completed Cutbank Ridge Program in Northeast British Columbia. Over three phases of that project, Waiward has detailed, supplied, fabricated, and delivered more than 17,000 tonnes of structural and miscellaneous steel.
According to Donny, Waiward earned that project – and many exciting projects like it, across a number of industry sectors – due to their "unmatched experience and expertise."
"We have worked on some of the most challenging sites in the world," he says. "We have decades of experience in structural steel fabrication, construction, engineering and drafting. That experience allows us to reduce or eliminate safety incidents, quality challenges, and schedule delays."
"We reduce risk for our clients," he adds. "We give them peace of mind. They can trust us to deliver exactly what they need, when they need it."
Donny first joined Waiward in the early '90s, but the company's history dates back all the way to 1972. It was then that founders Donald J. Oborowsky and Theodore Degner the company, at first as a miscellaneous steel fabricator in a facility in Edmonton's West End. In the decades since, they have invested heavily in state-of-the-art production technology, expanded their activities, and upgraded their facilities and workforce – all while remaining Edmonton-based. In 2015, the business was purchased by the Hillcore Group, a leading Canadian investment firm.
Over the years, Donny has witnessed first-hand Waiward's growth and evolution. He's seen the company's projects grow larger and more complex, and their reach expand from Alberta, to Western Canada, to overseas. A lot has changed over time, Donny says, but one thing that hasn't is the company's quality of work.
"I've worked for a lot of different companies, and erected a lot of steel from all over the world," he says. "Waiward steel was, and still is, the best."
"Waiward is looked at as a leader in the market, and not only in Alberta," he adds. "Anybody who knows the company in North America respects us for what we've done and can do. That's why I wanted to be part of the team in the first place, and why I'm very proud and happy to be in the position I'm in now."
Donny is not the only long-term Waiward team member, and the reasons for his loyalty are not unique. Many employees have been with the business for over a decade, with some as longstanding as 25 years, and they all share something in common.
"Our employees are proud of who they work for," Donny says. "We work hard to build a company culture that is all about team-building, and all about caring and respect."
As a result of that culture, Waiward has fostered one of Canada's largest and best-trained structural steel fabrication and construction crews. They have also acquired some of the most knowledgeable and meticulous engineers and draftsmen. They have retained these team members by giving them personalized training, educational opportunities, and empowering their professional development. Most importantly, they always look out for their safety.
"Getting our employees home safely, every single day, is our top priority," Donny says. "Nothing is more important – because we're nothing without our people."
Getting better every day
According to Donny, much of Waiward's longevity and success is a credit to the calibre of the company's workforce. He says their continuous improvements and achievements have allowed the company to deliver projects in progressively safer, timelier, and more effective ways.
"Our people are the biggest driver of our success," he says. "They set us apart."
Waiward's team is not all that sets the company apart, however. The company also stand outs due to their overwhelming capacity – their fabrication facility, located in east Edmonton, is one of the largest in the country, with 216,000 square feet of fabrication space on 16 acres of land. They also have a 36,000 square foot onsite blasting and painting operation that can handle any project coating requirements.
As a result of that capacity, Waiward can sustain fabrication production levels that few competitors can match.
On top of that, Waiward has considerable procurement power. Over time, they have developed strong strategic partnerships with a number of proven suppliers and subcontractors across Canada. This access means they are well equipped to meet challenging timelines, and they can adapt to changes in project scopes and schedules.
Then there's the company's multi-disciplinary approach. When called upon, Waiward can provide an "end-to-end service," spanning from the early stages of planning and design, to the procurement, fabrication, and installation of the steel. By providing this complete service, they can help reduce costs for the client by optimizing their design, mitigating delays along the way, and ultimately ensuring accuracy.
In addition – and as previously mentioned – Waiward is also set apart by their exceptional reputation for safety. In 2017, the company was even lauded in the Canada West Foundation report, in an article on the country's workplace safety issues and how Waiward was raising the bar in the industry for safety and competence. They have also won awards for safety from the Ironworker Management Progressive Action Cooperative Trust (IMPACT), and have racked up millions of working man hours Lost-Time Incident (LTI) free.
"We have established a culture of safety, and we're getting better every day," Donny reiterates.
Waiward has been recognised by other prestigious awards and publications as well. For example, they have been named one of Canada's Best Managed Companies 13 times, many times with platinum status. That awards program celebrates the top private businesses in Canada with revenue over $15 million. Nominees undergo a rigorous application process, and are evaluated in four key areas: strategy, capability, commitment, and financials. The winners are chosen from hundreds of applicants, and Waiward is proud of their history of recognition.
Building relationships
Over the years, Waiward has detailed, supplied, and installed steelwork for a long list of clients, on a wide variety of projects throughout Canada. Their portfolio has included: hydrogen plants, power plants, mining and extraction projects, conveyors and material handling systems, bridges, process structures, and more.
In the process structures market alone, Waiward has supplied hundreds of thousands of tons of steelwork to a number of high profile projects. Their involvement has encompassed everything from material procurement, to detailing, fabrication, shop painting, shop fireproofing, and erection. Project example include Suncor's 45,000 ton Millenium Project, Shell Canada's 29,000 ton Jackpine project, and – as previously mentioned – the three phases of Encana's 17,000 ton Cutbank Ridge Project.
The client on the Cutbank Ridge Project was Fluor, a global company that had been selected by the Cutbank Ridge Partnership to execute the engineering, procurement, and construction management for three similar sweet gas plant projects near Dawson Creek, British Columbia. In turn, Fluor contracted Waiward to provide the steel fabrication services for the three plants.
Donny is particularly proud of the company's work on that project because of the trust Fluor placed in Waiward, and because Waiward was able to reward that trust with an exceptional result.
"We have lots of competition, not just in Canada, but North America, and worldwide," he says. "For them to come to us for that fabrication – that says a lot about our company, in my opinion."
"Fortunately, we were very satisfied, and the client was very satisfied," he adds. "We've built a very strong relationship there."
As evidence of the strength of that relationship, Waiward has recently started fabrication on the first phase of a new project with Fluor, which will involve roughly 10,000 tonnes of steel. Once again, Donny is proud of the trust and confidence being placed in Waiward, over all their competition both domestically and overseas.
Moving forward, Waiward aims to continue earning that level of trust from clients, and to grow as a result. In particular, they aim to expand their construction division, and they are currently in the process of acquiring the certifications across Western Canada that will enable that expansion. They have also formed a partner company with a First Nations group with the goal of employing more Aboriginal Canadians, and acquiring more work in the northern parts of Western Canada.
"There are great opportunities there for Waiward and for the Aboriginal community," Donny says.
Most importantly, the company aims to continue raising their high standard of quality and efficiency, even as they get bigger. According to Donny, the team at Waiward will never rest on their laurels or accept "good enough" as a standard.
"You're only as good as your last job," he says. "We keep that in mind every day."
For more on Waiward, including their services, values, and vision – as well as more on their past and present projects – visit http://www.waiward.com/