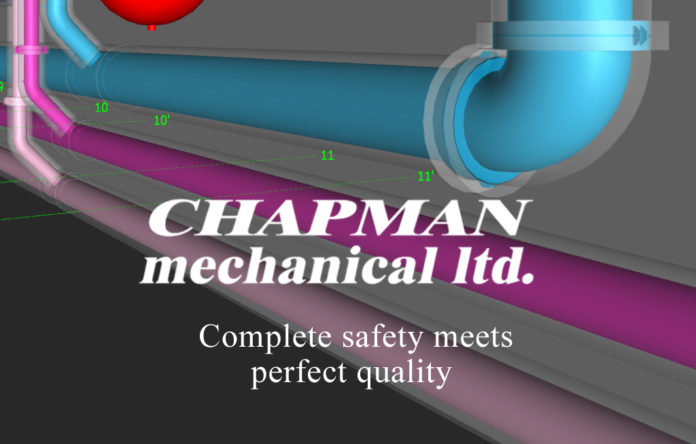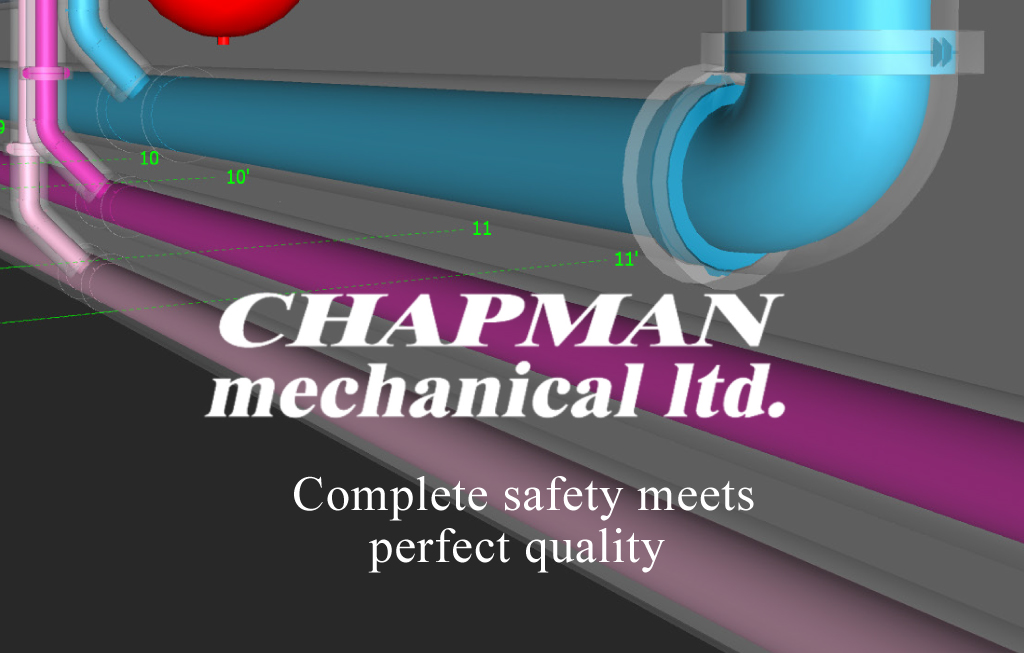 Complete safety meets perfect quality
Chapman Mechanical is a full service mechanical contracting firm based in Vernon, BC. Since forming over 40 years ago, they have made it their mission to lead their local industry in safety, innovation, quality workmanship, and efficiency. To achieve that mission, they have embraced new technology as it has become available, they have promoted the highest standards of safety at all levels (earning COR certification from the BC Construction Safety Alliance to show for it), and they have dedicated themselves to providing their clients with "perfection in design and installation."
"We strive for perfection," says Craig Chequis, General Manager. "We are always improving our processes ensuring the highest standards are achieved."
Craig says that dedication starts at the top of the company, with founders and partners Mark and Brad Chapman. He says it's their values that power the company, and it's their shared passion for innovation that has driven the company's growth and leadership in the market.
Mark Chapman, for his part, first started Chapman Mechanical from the basement of his house, originally as a sheet metal contractor doing small commercial projects. Brad – his brother, as well as a journeyman plumber – joined as partner shortly after, bringing plumbing to their service offering. By the mid-90s, the company again expanded their services to include fire suppression – making them the only full-service mechanical contractors in the Okanagan Valley.
Craig personally joined Chapman Mechanical in 2001, and worked his way through the ranks from apprentice, to journeyman, to site foreman, to estimator and project manager, to now general manager and partner. In his time with the business, he's seen it continually grow in size and capacity, and he has been given the opportunity to work on some of the largest and most complex projects in the Okanagan.
Today, those large-scale projects are Chapman Mechanical's specialty. Their work now includes a variety of commercial, industrial, institutional and multi-residential projects. In recent years, in particular, they have done a lot of schools, hospitals, chick hatcheries, grow facilities, and various processing facilities. One recent milestone project was for The Valens Company, on a one-of-a-kind 42,000 square-foot processing facility in Kelowna. Currently, they are working on multiple large-scale commercial and multi-residential projects – including a city-block-sized multi residential project called Mackenzie Village at Revelstoke, which is expected to be another milestone when complete.
That diversity of work is not an accident, Craig explains:
"There are a lot of companies in the valley that are known for one specific thing," he says. "You think of some companies and you think, 'Oh, they're the high-rise guys,' or 'they're the multi-res guys' or 'they do commercial buildings.'"
"Chapman Mechanical is not one of those companies," he continues. "We've always been known for our versatility. We respond to the needs of the market. If you go back to 2008, we were doing high-rises, and a lot of them. When we hit 2012, we landed nearly every single institutional building at UBCO. Two-to-three years later, when the market changed again, we switched gears back into multi-residential and commercial. Then the grow industry came along, and we got heavy into processing. Now we're doing a little bit of everything."
"We believe that diversity is our strength," he says. "We're proud of our versatility."
The company is also proud of their ability to get projects done on time and on budget, regardless of their size or complexity. Over the years, they have developed a proven track record for that ability, and as a result, they have formed some longstanding relationships with a variety of clients.
The company has also formed longstanding relationships with their other partners in industry, such as their suppliers and consultants. Those also go back many years, and Craig credits that longevity to Chapman Mechanical's stringent and honest approach to tendering and project management.
"We expect competitive pricing, we expect team commitment, and in return we make sure we deliver on any promises that we make to them," Craig explains. "We have a reputation in the industry for being above board and honest. It's important to us to maintain that reputation."
Once they identify suppliers and vendors they can trust, Chapman doesn't shop around. As long as their partner is delivering a quality product or service that "meets spec and meets compliance," the company will keep calling them. As a result, they have been working with some of the same of the same industry partners 40 years.
The company's team members in-house are also longstanding. Craig, for example, has personally been with the company for over 20 years. He estimates that there are at least 20 other employees who have been there for 15 years or longer. He says some employees have even been working with the company for over 30 years.
" We consider this a great place to work," he says. "We've seen a lot of guys work with us for 10 years, leave to go up north, and then as soon as they come back to the valley we're the first call they make."
"That shows that we have a really good community here. We're a big family. That's one of the big reasons that people stick around. We take the time to get to know our staff and their families."
Another 'big reason' people stay, Craig adds, is the company's drive to stay modern and up-to-date. He believes that keeps things interesting and keeps the work engaging. At the same time, it also helps the company win work and endears them to clients.
"We have a real drive here to be one step ahead of everyone else. That's not always the case. A lot has changed over the last 10-to-15 years, but the mechanical industry – and the construction industry in general – hasn't moved as fast as the rest of the world, especially when it comes to prefabrication."
Mark, Brad and Craig, however, have always taken "a big interest" in technology and prefabrication. They have consistently adopted the latest in BIM modelling and prefabrication technology. They have always strived to use that technology to get as much done as they can within the controlled environment of their shop. If possible, they use it to get work done before that work is even required on site.
As a result of that commitment, Chapman Mechanical is able to work extremely quickly and efficiently when they do get to the site. They have less field fabrication and, instead, they are arriving to the site with prefabricated systems that are fully skidded out and ready to go. According to Craig, that has given the company the opportunity to be involved in some major projects where the timelines are short:
"Historically, mechanical is usually trailing on those kinds of projects," he explains. "In these instances, however, we're usually first place. We're showing up with prefabricated systems and we're installing them on site in a matter of weeks, when it would otherwise take four-to-five months."
"That's really exciting to me, I think it's exciting to our staff, and it's definitely exciting to our clients," he says.
Craig personally believes that when it comes to technology, Chapman Mechanical is at least five years ahead of most of their competition. Again, he credits that largely to Mark and Brad's routes and his continued actions in the same direction:
"Most company owners, when they are in the later stages of their career are pretty set in their ways," he says. "They usually like to do things in the old school way. When technological advances come along, most mechanical contractors declare it 'a waste of time,' or a 'waste of money.' That's definitely not the case here."
"When new technology is brought to Mark, Brad or I, we honestly dive right in," he continues. "We want us to stay up-to-date, and we want our entire team to buy in."
That team buy-in is important, Craig believes, because it represents a significant point of difference for Chapman Mechanical. He says there are a few mechanical contractors around the Okanagan that have third parties working on 3D or BIM modeling and prefabrication – "but almost none of them have employees that are trained in house."
"A lot of them sub it out," Craig explains – and that can result in a lot of complications, as the subcontractor might not be an expert in mechanical systems, and the mechanical contractor's team won't have a strong understanding of what they're eventually looking at.
Chapman Mechanical, on the other hand, has an expert team that's "involved from the ground up."
"At the beginning of a project, when we're doing the 3D modelling, it's me, it's our 3D modeller, and it's our field foreman. We're sitting in a room, we're going over the mechanical system, and we're designing it around what we know is going to work for serviceability, construction and cost effectiveness, not necessarily what someone else is telling us is going to work."
"Our modeller had 25 years' experience in the industry before he got into 3D modelling," Craig adds. "As far as we're concerned, Ryan is the best in the industry. You won't find someone better than him at designing systems and understanding the way mechanical systems work. He has a mechanical aptitude that you don't get with a typical designer."
The biggest projects, the best teams
Currently, the majority of Chapman Mechanical's work is design-build and design-assist. They get those contracts, Craig says, because "we have a proven track record of making design-assists come in on time and on budget."
"All of the clients that we've worked with have been very satisfied with their final outcome," he says. "Now a lot of the projects we're doing are phase two's. The first phases went so well that those clients wanted to bring the same team back into the mix."
Moving forward, those are the kind of relationships that Chapman Mechanical aims to continue building. At the same time, they are not going to shy away from bid-spec jobs. They are adept at getting those, too, because their proposals are thorough, competitive, and they paint a picture of the team joining the project. That extra detail gives those prospective clients a "good understanding of what Chapman Mechanical has to offer," Craig says.
No matter how they get their work, however, Craig concludes that they want to keep doing a diverse array of work. He says that keeps things interesting – which is helpful for retaining staff – and it also keeps the company active.
"One of the biggest things for us is our versatility," he says. "We don't want to limit ourselves. We want to keep working. We want to do the biggest projects in British Columbia and we want to work with the best teams."
Lastly, of course, Chapman mechanical also wants to continue staying up-to-date. As technological advancements come along, Craig says they will keep embracing them.
"One of our more recent investments is in virtual reality equipment," he says. "We're integrating our 3D models and out BIM into virtual reality. Over the next couple months, we'll have a program set up where someone can put goggles on and walk into the mechanical room before the mechanical room is built, and they'll be able see it fully laid out in virtual reality."
For more on Chapman Mechanical, their wide range of services, their recent projects, and their commitment to safety – and to get in touch with their team today – visit https://www.chapmanmechanical.ca/