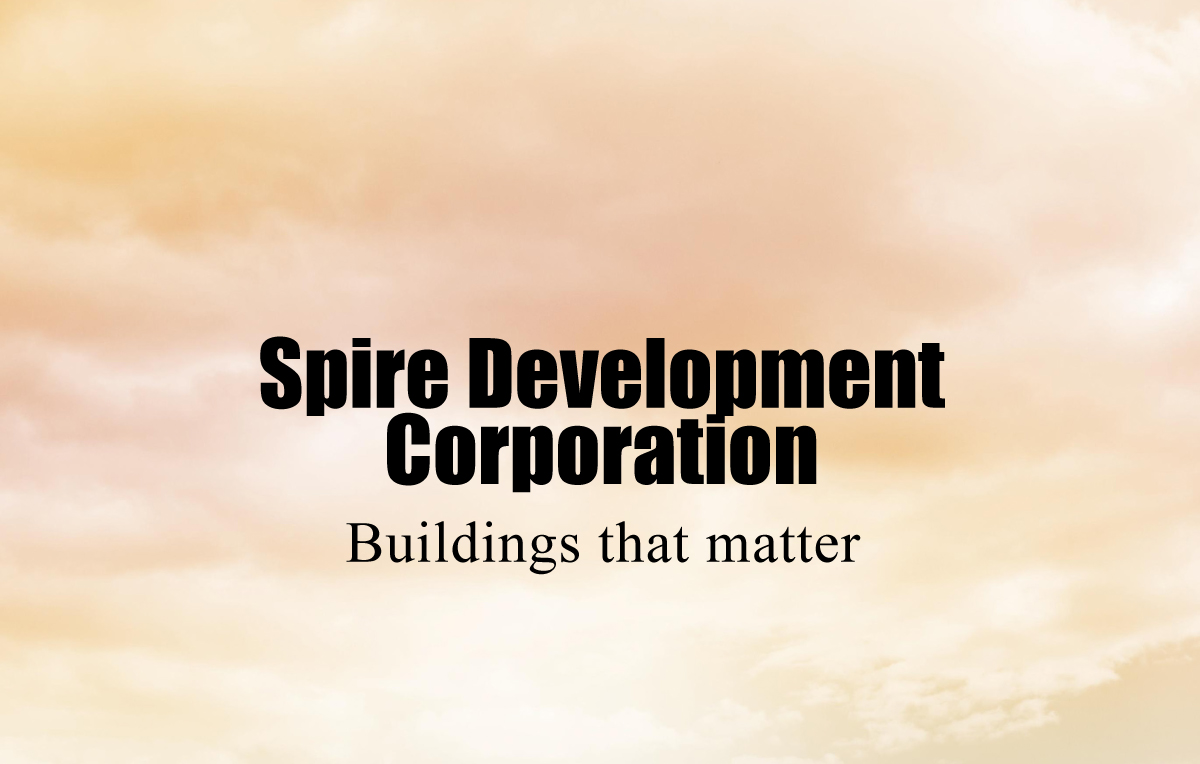 Click here to view the brochure.
 Buildings that matter
Spire Development Corporation is a fully-integrated real estate company offering a comprehensive package of services for residential, office, retail, and industrial projects. From their home base in Delta, BC, they specialize in design, construction, development, and marketing, and they leverage specialties for the benefit of both clients and their own developments. With their clients, they act as a single point of contact and collaborate closely with them, with the goal of "exceeding all their expectations," according to Pete Rackow, the company's co-founder and vice president. 
"Spire proudly partners with clients to deliver an end result that encompasses everyone's best interests," Pete says. "A vision is always realized beyond the expectations of the client, with quality and timeliness being of utmost importance."
"Real estate is our life and expertise," he continues. "As owners, investors, and operators, we are entrenched in every facet of the business – every day. We understand the functionality of buildings, and with this knowledge, we are able to tell clients exactly what will and won't work. We build for them exactly how we would build for ourselves."
With an assortment of services under their roof – including acquisition, financing, design, and construction – Spire also makes development a "seamless experience" for clients.
"We minimize risk by being a one-stop shop," Pete explains. "The entire design, project management, construction, and development stages are in-house at Spire. Every element is controlled by us, which leads to efficient communication, delegation, and execution, and mitigates any conflict."
When it comes to their own projects, meanwhile, Spire has historically focused on industrial and commercial, but they have also recently done some highly innovate multi-residential projects. A recent and prime example is Spire Landing – one of Canada's largest multi-unit Passive House projects, located at the corner of Fraser Street and 57th Avenue in Vancouver.
With Spire Landing, Pete says Spire Development is demonstrating their commitment to "building better, healthier, more comfortable, and sustainable." He says they are "proud to be bringing the Passive House standard of energy efficiency to beautiful British Columbia."
Pete co-founded Spire in 2007 with Lawrence Green, the company's president. Prior to that, both went to BCIT – Lawrence obtained a diploma in Marketing management specializing in real estate, and Pete underwent a carpentry apprenticeship. Since graduating, Lawrence has been in commercial real estate for more than two decades, earning experience on both the brokerage and development sides of the industry. Pete, meanwhile, has accumulated over 25 years of construction experience, primarily in commercial developments.
In the early days of Spire, Pete and Lawrence focused on providing third-party construction services for clients, and they mainly did industrial projects as car lots, warehouses, and storage spaces. Their vision was always to eventually develop their own projects, however, and after earning enough experience and capital they did just that. Some of their early in-house projects included a three-storey office building, a renovation and expansion of a mall in Chilliwack, and a self-storage facility that they owned and ran for several years.
These days, Spire Development does both – they develop and manage their own projects, and they provide third-party services for other developers, including construction services. According to Pete, their experience with the former helps them with the latter:
"Because we own and manage real estate ourselves, we're a lot different than a lot of other contractors," he says. "We're able to analyze a project from an owner's point of view rather than just a contractor's point of view. We understand all the issues that the owner is going to face."
Because they have that understand, Pete explains, they can offer advice. They can help the owner maximize their space, both in the short-term and the long-term. They can help them imagine other uses for their space, which will make the buildings easier to sell at a later date.
"We can put ourselves in their shoes and help them make really good decisions, both for now and the future," Pete says. "I believe that's one of our big value-adds."
As both a builder and developer, Pete also believes Spire is set apart by the quality and durability of their buildings. He credits that quality to the calibre of their team:
"One of things we always do is we try to surround ourselves with a good team," he says. "When we pick a subcontractor, we're not just going with the lowest price – and we're not having people bid at all if we don't want to give them the work."
"When it comes to our tender process, and the way we evaluate quotes, I think we do a really good job," he adds. "We work hard on our relationships with our subcontractors. We're very relationship-focused."
The company works similarly hard on their relationships with clients, and Pete says that hard work has paid off – he says the company gets most of their work from repeat clients, and that they have current clients that go all the way back to the beginning of the company or close to it.
Spire's relationships with team members and subcontractors also tend to be long-term, Pete says:
"I have some trades that I have 15-to-20 year relationships with. That kind of thing is really important to us. We really value having longstanding relationships."
Pioneers in sustainability
As mentioned earlier, Spire Development has focused on industrial developments throughout most of their history, but they have also successfully made the transition into developing multi-residential projects. Spire Landing in Vancouver is a recent and prime example of their growing capabilities in that sector.
The first phase of Spire Landing comprises 95 rental units – 71 one-bedroom; 24 two-bedroom – on six floors. The most notable element of that project is its energy efficiency, as the whole building was delivered to Passive House Standards – which means it consumes up to 90 per cent less heating and cooling energy than a conventional building, while providing "unprecedented thermal balance," "superior indoor air quality," and "excellent protection from moisture damage and mold growth," according to Pete.
From an owner and tenant's point of view, the greatest advantage of Passive House is the lower operational costs. Pete estimates that costs are about 25 per cent lower than a typical building.
"One of my sons lives in that building right now, and I think his hydro bill is only $10 or $15 a month," Pete says. "So clearly you don't need to spend much in the way of utilities."
Another advantage is the acoustic separation from the street, as Passive homes are extremely insulated. Despite being located on a busy street in Vancouver, Pete says that when you close the windows at Spire Landing "it's very quiet – you don't hear the traffic."
Beyond the energy efficiency and insulation, Spire Landing also boasts a long list of amenities and special features. On the roof, for example, there's a landscaped garden with a potting bench, a large kid's play area, dining and seating spaces, and an insulated garden workroom. Other features elsewhere in the building include: a multi-purpose lounge with wrap-around terrace for the exclusive use of residents; a fitness Centre; secured bike storage and workshop; car charging stations; tenant storage areas; secured key card access to the lobby and parkade; private patios and balconies with views on selective units; and in all units a front-loading washer and dryer, along with energy-efficient kitchen appliances.
Encouraged by the success of that project, Spire Development is now moving forward on a "phase two." Early this year, the company broke ground on what they are calling 'Spiral Landing 2,' which is located directly across the street. That building will be mixed-use – the first floor will be commercial, while the other floors will include 112 rental units, with 12 or 13 of those units being townhouses and the rest condos. Once again, all of the residential floors will be delivered to Passive House standards.
Reaching that high standard, Pete explains, will be easier this time out. When they built the first Spire Landing about four years ago, he explains that they had to break a lot of new ground. They had to some "pioneering," he says.
"It was a real challenge," he recalls. "Some of the materials weren't quite available yet. We had to source windows from Ireland. The way we had to build was a lot different from a traditional building. It was quite a project, and it was quite a feat to pull off. We had to put in a lot of work."
Today, Pete says that not only is Spire Development more experienced at building to Passive House standards, but the market has also somewhat caught up in the past four years. They can now source more of the materials they need domestically.
With this new phase of Spire Landing, Pete also says they are excited about doing some things better than last time:
"Now that we know what to expect, we think we can do an even better job this go-round," he says. "We changed a bunch of things during the design. There are some things we're doing differently. We're very excited to break ground and do it a little bit faster this time, a little bit better, a little bit smoother."
"Doing things better is one of the fun parts about what we do," he adds. "With every new project, whether we're developing for ourselves or working for clients, we're trying to get a little bit better and a little bit more efficient."
Moving forward, Spire Development will continue to pursue that kind of continuous improvement in every facet of their business. They will also continue to pursue growth in all sectors. When it comes to residential projects, their goal is do more work locally. When it comes to their industrial and office work, they see the most opportunity out of town, where they have been very active in recent years.
"We do quite a bit of out of town work," Pete says. "We recently finished one project in Dawson Creek, another in Edmonton, another in Calgary. We're working in Squamish right now. We've been in Kelowna before. We're going to continue to look at those outlying markets. We like going to those markets, and we have some key people who are willing to travel for us."
Pete envisions a future where local residential work makes up a third of Spire's portfolio at any given time, while industrial work and office work – "whichever the market needs from us" – makes up the rest.
Lastly, Pete also envisions slow-but-steady growth for the company's financial division, which does first and second mortgages. They call that division Spire Capital, they launched it last February, and Pete says "we're finding that it really complements our business."
"We're using our knowledge of construction and development to analyze these deals and decide whether we want to lend money on them or raise money from investors," Pete explains. "It's been a really interesting bolt-on piece for the business."
For more on Spire Development, their construction and development capabilities, their relationships with clients, and their past projects – and to contact their expert team today – visit https://spiredevelopment.ca/
For more on Spire Landing, in particular – including more on the building amenities, the suite amenities, and current availability – visit https://spirelanding.com/