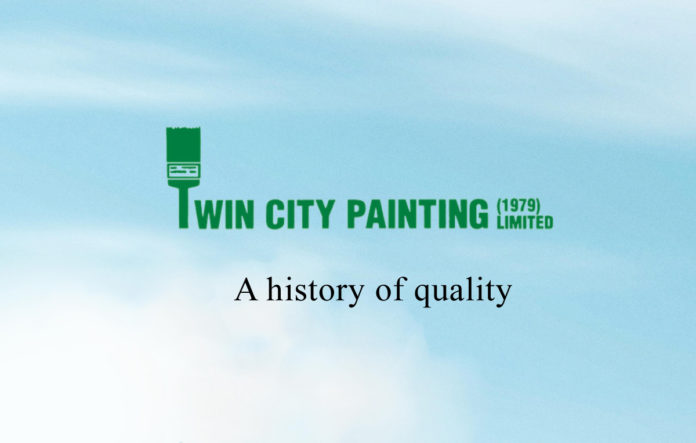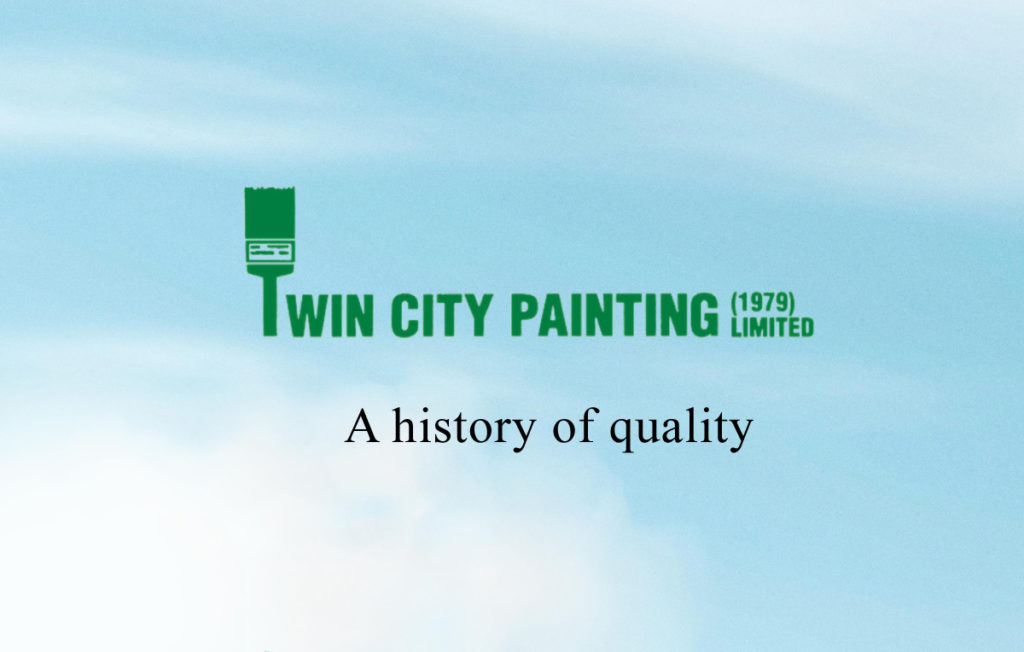 Click here to view the brochure.
A history of quality
Twin City Painting is an industry-leading provider of commercial and industrial paint and coating services in Nova Scotia and New Brunswick. Founded in 1979, they are a company with a long history in the Maritimes and with an unrivalled local reputation. Their team today – still led by founder Don Mason – is dedicated to maintaining and growing that reputation, and to continuing the company's legacy of attentive customer service and premier quality work.
"We're committed to keeping our clients happy," Don says. "We do that by providing quality workmanship, finishing on schedule, and by communicating with clients along the way."
Over the years, Twin City Painting has developed a diverse roster of longstanding repeat clients, including large national, regional, and local general contractors and owners. Some of their higher-profile repeat clients include PCL, EllisDon, Bird Construction, and Lindsay Construction.
According to Don, clients of that calibre choose Twin City Painting – and then stick with Twin City Painting – because of their history, their experience, and their proven reliability.
"We've been around for a little while," Don understates, "and our clients have faith in us. They know that we're going to be around to complete the work with them. They know we're not going anywhere. There's no chance of us getting halfway through and not being able to finish."
As Don mentioned, Twin City Painting is also known for keeping to timelines and finishing projects on schedule. Don partly credits that ability to their supervision. He or a senior staff member will personally visit job sites almost every day in order to monitor progress. If there's an issue, they will take the steps to resolve it. In many cases, that means bringing in more people to get the job done on time – and Twin City Painting has enough staff in-house to make that possible.
Of course, clients also tend to be satisfied with the high level of quality that Twin City Painting offers – they would hardly keep using them, otherwise. Again, Don partly credits that consistent quality to their supervision, but more than that he credits the skill and dedication of their team. Don says they work hard to keep that team engaged and motivated:
"We want our people to be happy," he says. "If they aren't happy, the workmanship isn't going to be good."
To keep employees happy, Don says they "try to be an easy company to work for." As part of that effort, they "treat everyone fairly," they "pay a little bit more money than most of the other companies," and they offer medical benefits. All of that has successfully translated into retention, as many team members have been working with Twin City Painting for over a decade. Several team members have been there 30 years. One team member has even been there 40 years.
Again, because they employ a large enough team in-house, Twin City Painting is able to perform almost all of their own work, and only rarely will they have to sub anything out. That self-reliance allows them to keep a tight control over quality and timelines.
When it comes to their suppliers and vendors, Twin City also tends to form productive and long-lasting relationships. Don says he's been in the industry so long that he basically knows everyone, and he gets along well with almost everyone.
"Our vendors know me very well, I know them very well, and we treat each other quite well," he says.
An example of such a vendor is Fully Promoted – a promotional product company with over 300 locations and 20-plus years of promotional product marketing experience. They offer clients a complete collection of branded products and promotional marketing solutions, and they can create customized campaigns including everything from corporate apparel and promotional products to printed marketing materials. Twin City has a trusted relationship with Fully Promoted's Halifax franchise that goes back many years.
Getting the job done
Project-wise, Twin City Painting is capable and willing to take on a wide spectrum of work, with values ranging anywhere from $2,000 to over $1 million. On the higher end of the spectrum, for example, they recently painted an IKEA in Dartmouth, Nova Scotia. That was an interesting project because of all the different room displays in the store had individual designs, which meant they had to do a variety of things all in one project.
Don believes Twin City Painting earned that project on the basis of their reputation. He says in the years leading up to it, they had done "larger and larger projects," which proved that they were capable of it. He also says the clients were looking for a company "that does good quality work" and who "they were sure could finish the job."
"I believe that's the main reason we got the job," he says. "It wasn't so much about the price; it was about our track record. We've proven ourselves to be reliable."
Currently, Twin City Painting is taking on a similar scale of project in Gagetown, New Brunswick, where they are doing an armed forces building. Across the Maritimes, they are also doing some other government buildings, some malls, and some university work. The company also recently got into the multi-residential sector and are they excited to take on some more apartments.
"We're doing the kind of work we want to be doing," Don says. "We're just excited to do more of it."
Twin City Painting is also excited to grow. The company is actively seeking to expand their team, and they are constantly on the lookout for people who are: self-motivated with a positive attitude; experienced with spray machines; experienced with epoxies and dry fall; experienced with health and safety; and generally experienced in construction.
"We definitely want to grow," Don says. "The economy here is growing and we want to grow with it."
No matter how big Twin City Painting gets, however, Don says they want some things to remain the same – mainly, they want to continue providing the same level of customer service and quality that their reputation is based on.
"We have such a strong reputation," Don concludes. "We get quite a few calls from clients, and we also get quite a few calls from people who want to work here. We're known for being fair and easy to work with and work for. That reputation is important to us. We never want to do anything to put that reputation at risk. That's very important to us."
For more on Twin City Painting, their past projects, and their many satisfied clients – and to get in touch with Don and his team today – visit https://twincitypainting.ca/