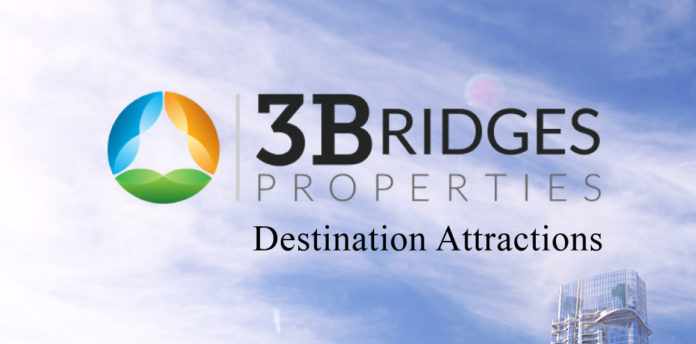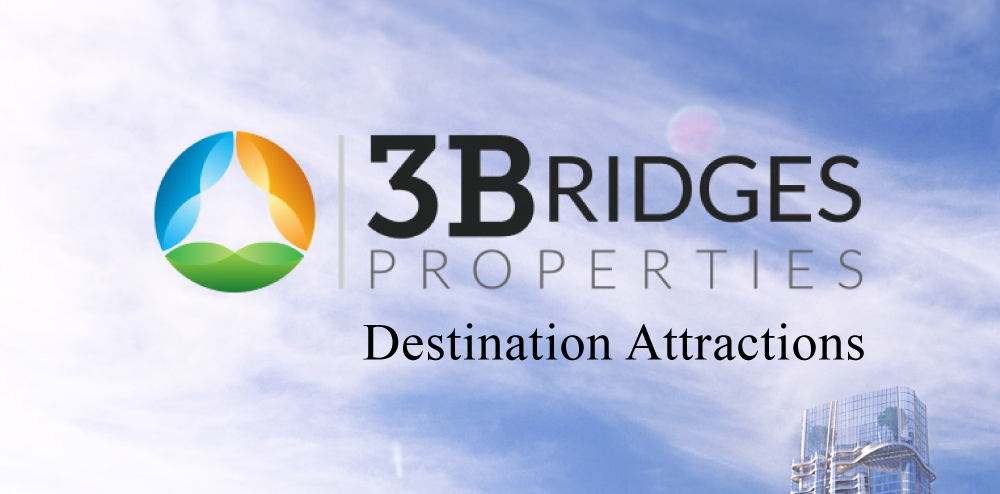 Destination Attractions
Three Bridges Properties (3Bridges) is a Vancouver-based development company focused on creating "destination attractions," according to Dan Zhang, Director and CEO. By combining local expertise with a global vision, they seek to create meaningful projects that will maximize rewards for both their stakeholders and the communities in which they work. The corporate vision is to build "three bridges," Dan says – "one of cultural diversity within multicultural cities, one of economic development within the local area, and one of friendship and understanding between Asia and North America."
With their first project – 'Gold House' in Metrotown, Burnaby – Dan feels they have successfully built those bridges. With their current project – 'The Great Falls' in Niagara Falls – 3Bridges aims to continue honouring their corporate vision. The response from the market would indicate they are on target, as Gold House almost sold out within two weeks and The Great Falls is one of the most anticipated projects of Eastern Canada.
Three Bridges Properties was founded in Vancouver in 2014 by a team of internationally-experienced developers. The company's first project was Gold House. A key asset of this project is the prime location of Metrotown – it's one of Metro Vancouver's main shopping hubs, and only a 20-minute SkyTrain ride to downtown Vancouver. To enhance that bustling community, two residential towers were built – one 41 storeys, the other 26 storeys, with 492 condo units between them, as well as some commercial offices and retail spaces located on the first few floors.
Dan remembers when they first started selling those units, during a time when the market wasn't as active as it is now. Gold House was amenity-rich with luxuriously-finished units, and so the prices were amongst the most expensive in the area.
"When we first put Gold House on the market, the market trends were not very clear," Dan recalls. "However, within two weeks, we sold over 70 percent of the units. The rest sold out very quickly after that."
Dan credits that quick commercial success to a "multitude of factors."
To start with, he again credits the location – it is very close to a shopping mall, it is easily accessible via public transportation, and it is in a well-populated and sought-after neighborhood.
He also credits the bold and innovative design of the project. For example, they feature Metro Vancouver's first four-storey-high residential lobby, as well as the first three-story-tall LED screen fitted on the building's exterior wall.
"This is rare in residential buildings," Dan comments. "Usually, it's only hotels that have tall, grand lobbies. Therefore, when one walks into Gold House, they are stunned by what they see."
Furthermore, Dan credits the sales success to the parties involved. 3Bridges collaborated with local companies that had over 20 years of proven experience in the development and construction fields, and together, carefully created a team of expert leaders and consultants. This ensured that the project was able to meet the demands and expectations of the local market.
The Great Falls
In 2019, Three Bridges Properties began their second project, called The Great Falls. This project takes place at one of the last Fallsview development sites in the city, on a 7.5-acre piece of land with over 2.2 million square feet of buildable space. The design and concept has gone through multiple iterations, but as of now consists of three towers – the Central Tower is 60 storeys high, the North Tower is 45 storeys, and the South Tower is 38 storeys. By the time the project is fully complete, it will comprise of 1,535 hotel and residential units, along with approximately 336,000 square feet of commercial retail space.
This project also has a strong cultural component. For example, there is a nunnery turned historic girl's school on the property that was built over 130 years ago. Early on, the decision was made to preserve and restore the historical building, and to incorporate it into the new development. When The Great Falls is fully complete, this old building (which is rich with culture), will become host to a museum, a private club, a wine tasting facility, and many more attractions.
In addition, there will be a podium connecting the bases of the three towers. Within this podium, 3Bridges anticipates putting in an entertainment complex, which will include boutique shopping outlets, highly-rated restaurants, exciting attractions, and venues for live entertainment. The podium will also encompass three sides of the historical building, protecting it and guests from the cold during winter.
Furthermore, the towers themselves will be rich with attractions that the public can visit. At the top of North Tower, for example, will be a rooftop tropical spa with direct views of the glorious Niagara Falls. 3Bridges expects this to be a particularly popular attraction during winter-time. The firm also envisions the natural backdrop of the falls to be a sought-after location for filming, and hopes to build a TV Studio at the top of Central Tower.
In general, 3Bridges expects The Great Falls to be in high demand from everyone, especially from future residents – and they have plenty of reasons to believe so. The road that this project is located on, for example, is already famous for being Niagara Falls' main commercial corridor.
"Lots of guests, both domestic and international, visit this area yearly," Dan explains. "That's why we are providing hotel units. During peak seasons, the hotels here are fully booked and there is a huge demand for more."
3Bridges also included residential units in the project plan because there are currently even less of these. According to Dan, this would be the only residential building with direct views of the grand waterfalls, that people from anywhere in the world can privately own.
"There's actually a very big demand for condos," he says. "In addition to students and local retirees, many professionals work in the area – for example, at the local universities, or in the hospital, or in the City Hall, or in the neighboring hotels. The corporate shift to remote work also means that more people are leaving the big cities in search of homes with beautiful views. The Great Falls has brilliant vistas and is in a convenient location, making it a very ideal place to live."
Currently, The Great Falls is still in the design and rezoning stage. Prior to choosing their architect, 3Bridges conducted a global search for a firm that not only understood their vision, but also possessed the skills to see it through from paper to reality. They ultimately chose Hariri Pontarini Architects (HPA), a Toronto-based firm with experience in designing mixed-use developments, as well as experience in restoring churches and historical buildings. HPA's history dates back to 1994 and they have a large portfolio of successful projects, which 3Bridges values immensely.
Late last year, the City of Niagara Falls held an open house for The Great Falls, which Dan describes as going "very well." 3Bridges hopes to conclude the rezoning and site plan approval processes by early 2022, and to bring the first phase of the project to the market later in the year.
Again, Dan credits the smooth development so far to the contribution of consultants such as HPA, and that of approximately 20 other experts of different fields. He reiterates that 3Bridges' operational strategy is to "work with the greatest," and provides the advice that "the key to success is not to know everything yourself, but to partner with those that have the requisite experience and expertise."
In this case, another such expert consultant is NPG Planning Solutions, a Niagara-based planning and development firm focused on designing vibrant and forward-thinking communities. NPG is a full-service firm that offers an extensive scope of integrated services, and they have a comprehensive understanding of both the internal dynamics of development companies like 3Bridges, and of the municipalities they work in. This understanding is crucial in communicating ideas that lead to successful project outcomes.
"The success of 3Bridges is not just ours," Dan states. "Our success is also the success of the people we collaborate with."
Building Bridges
Moving forward, Three Bridges Properties' main goal for the projects they take on is reflected in their name. With The Great Falls, and with every future development, they aim to build "three bridges" – the bridge of culture, the bridge of economic development, and the bridge of friendship and understanding.
According to Dan, the company facilitates connections for that third bridge in a variety of ways.
For example, prior to COVID-19, 3Bridges annually sponsored a musical concert in the Greater Toronto Area called 'East Meets West.' This concert typically takes place in early January, and features notable musicians and classic musical pieces. Every year, the concert is "highly anticipated," Dan shares, with tickets always selling out. The concert has been repeatedly recognized by Prime Minister Justin Trudeau, who has written multiple letters congratulating the organizers for bringing western and eastern cultures together, and for providing a special occasion to celebrate the friends and families of people of Asian descent. These letters are usually featured in the annual concert programs.
Since commencing work on The Great Falls, Three Bridges has also hosted several events in Niagara to connect with the local population. For example, in 2019, they brought together about 30 graduates from the 1969 class of the Loretto Academy – the historic girls' school that is being preserved as part of the project.
"Everyone was very excited to gather for the 50-year reunion and to see each other again," Dan remembers. "It was a very special event."
Part of what made it so special, he explains, was that the attendees were able to experience the historical building in a new way. The Loretto Academy was very prestigious, but also very strict –students were prohibited from entering via the front entrance. They were only allowed to enter from the sides.
"Fifty years later, when we hosted this event, they were allowed for the first time to walk through the front doors of the Academy," Dan says. "Everyone was very excited about that."
The graduates who attended that event called the reunion opportunity 'absolutely awesome' and 'a dream come true.' They praised 3Bridges for retaining and planning to restore the building, which they called 'hallowed' and 'sacred,' as many young women were educated there in the arts and sciences at a time when women were traditionally taught to be wives and mothers.
Dan says that he and his team were "delighted" by the opportunity to host the event. He says it reinforced their decision to make the historic building into a centerpiece of the new development.
"By honouring the Loretto Academy's past, we pave the way for this landmark to have a bright future," he says.
In the future, Dan hopes that The Great Falls as a whole will also be a known destination. This sentiment is shared by the rest of the company, as Hanson Zhang, Chief Marketing Officer of 3Bridges, adds that the intent is to "make [The Great Falls] into one of Canada's most significant and representative projects, like the Marina Bay Sands of Singapore, Burj Khalifa of Dubai, and Caesars Palace of Las Vegas."
"In addition to the 13 million visitors per year in city recorded traffic, many people dream of visiting Niagara Falls – it's a key bucket list item," Hanson says. "Our hope is that in the future, people will come to Niagara Falls because of our entertainment facilities, our exhibitions, our shopping boutiques, our observation decks, and our world-class hospitality. Just like how the Grand Canyon is one of the world's greatest natural wonders, but many people are drawn to the area for Las Vegas' famous Strip, our goal is to make the Great Falls into a well-known attraction of the Niagara Region, comparable to Vegas and the Grand Canyon. The attractions within the future development will generate significant interest from an entertainment angle, to complement the natural wonder of the Niagara Falls. This is why our vision for the project will not only change the dynamic of Niagara Falls' commercial corridor, but also majorly contribute to Canada's tourism industry on a global scale."
"The average visitor stays in Vegas for three-to-five days, with approximately 20 per cent of tourists staying longer than five days. However, at Niagara Falls, many come, take their pictures, and then leave, all within two hours, " Hanson concludes. "Our aim is very simple: to entice guests into staying for just a little longer. This way, we can help the City see double, or even triple, the annual tourism expenditure."
For more on Three Bridges Properties, their history, their team, and their projects to date – including Gold House and The Great Falls – visit https://3bridgesproperties.com/