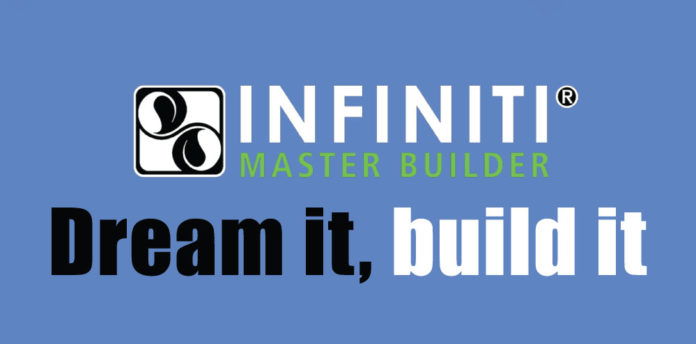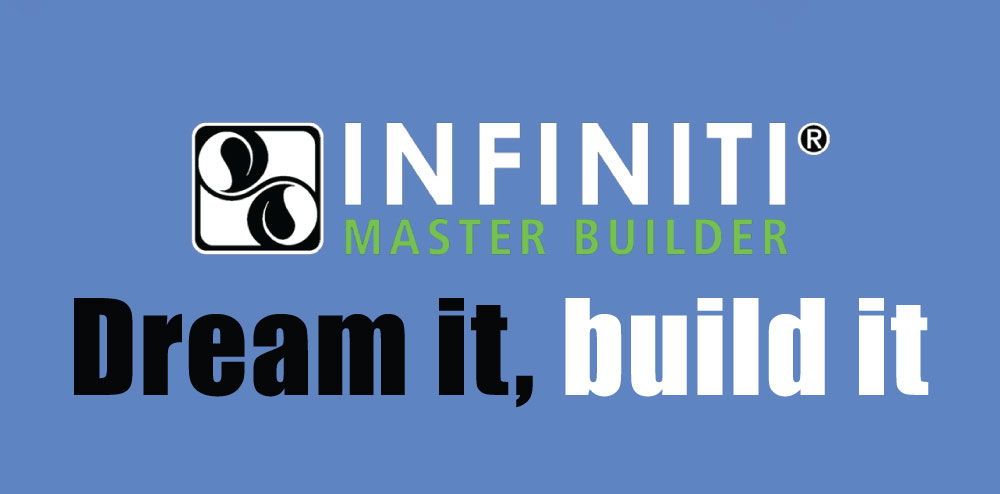 Dream it, build it
Infiniti Master Builder is an Edmonton-based company dedicated to designing and building highly-individual custom homes. They believe in forming collaborative partnerships with all clients, and in walking them through every stage of the design, building, and warranty process. They know that every homebuyer has a different lifestyle, different hobbies, and needs a different space. They consider it their mission to help those buyers achieve their dream spaces.
"We're passionate professionals who put our heart and soul into every home we build," says Greg Stearns, Principal of the company. "Our sole focus is helping clients achieve their dreams."
Greg is one of the two co-founders of Infiniti Master Builder. His interest in home building started in college, when he worked with a framing contractor during the summer. After seven years as a professional touring musician – he was in a band with his co-founder and fellow Principal James Dyer – he returned to home building as a construction technician with an Edmonton production builder. He quickly worked his way through the industry and started building custom homes.
Over the course of his career, Greg has supervised hundreds of homes, many of them award-nominated, several award-winning. He has also been accredited by the Professional Home Builders Institute as a Master Home Builder – as has James.
While working with their previous company, both Greg and James saw there was an opportunity in the local market for a luxury home builder that was "really customer-focused." They started Infiniti Master Builder in 2011 to fill that niche.
"We wanted to be more hands-on with the customer," Greg recalls. "We wanted to design homes that were exactly what the customer wanted. We didn't want them to have to pick from a set of pre-designed plans."
Infiniti Master Builder caught on fairly quickly, and over the past decade they have been consistently achieving their founding mission. The size of their company has not changed greatly – they limited the amount of homes they take on per year to what James and Greg can personally oversee. Nor has the size and scope of their work – their projects have always ranged from infill homes valued at $500,000 and over, to acreage and subdivision homes valued between $2 and $4 million.
What has evolved over the years, however, is the efficiency of the company's homes. The company has always taken pride in keeping up with the latest in building technology and innovation and implementing those advances when possible.
"Building science is always evolving," Greg says. "We've tried to keep up and make our houses as efficient as possible, while still staying competitive. That's always been a focus of ours. We want put as much technology as possible in home while still being competitive with the builders who don't know the science as well."
According to Greg, that commitment to efficiency and continuous improvement is one of the main factors that set Infiniti Master Builder apart.
Another main factor, Greg believes, is the company's hands-on custom service. Their method involves walking clients through every stage of the process, starting with lot selection.
"The process usually starts with finding the right lot," he explains. "There are a lot of things to consider when choosing the location of a new home. We ask clients a lot of questions and we help the select the perfect spot."
From there, Infiniti sits down with the client and helps them conceive a design that is tailored specifically to their lifestyle and their values. Again, they ask them a series of questions to find out what they need and want. They also use the website and application HOUZZ, which has hundreds of photos of every aspect of a home to help clients narrow down their options.
"We bring it all together in a seamless design that incorporates flow, functionality, and beauty," Greg says.
The first draft of the design is typically a black-line drawing of the layout of the house. Once the client is satisfied with that, they'll move on to the exterior of the home. Once again, that process is completely driven by the wants and needs of the customers. The trend in Edmonton is for homes to have a contemporary look, but Infiniti Master Builder doesn't place limits – if the clients something outside of the norm, Infiniti will make it happen.
Once the client signs off on a budget, Infiniti's team will escort them to meetings with all their trade partners and suppliers, so they can make all their selections. During this process, they provide advice and recommendations to help them bring their vision to life, but again, they do not offer any limitations.
"The sky is the limit," Greg says. "It only depends on what the customer wants to spend on their home. That's it."
While the client is making selections, Infiniti Master Builder is typically taking care of all the engineering and permitting. By the time the client is done, their home is often ready to be constructed – but that doesn't mean the client's involvement is concluded. Infiniti likes to take clients through their build at multiple stages, giving them ample opportunity to observe the progress of the home and ask questions.
During construction, if the client decides they want to make changes, Greg says that Infiniti is "more than willing" to work with them. As part of that willingness, they make sure that the costs are clearly explained and understood so that there are no surprises down the line. They believe that transparency is extremely important.
Again, the company also believes that efficiency is important. During the insulation stage, they perform rigorous air testing, and if there are any leaks, they make sure they are fixed before dry walling. Because of that diligence, most of their homes come in at well under one air change per hour. For the size of homes they build, that greatly exceeds industry standards.
Finally, once construction is concluded, the company's service continues. All of their homes are covered by an industry-leading warranty. They will visit twice in the first year to check on all the system performance and ensure everything is functioning properly. They offer additional coverage of two years for mechanical delivery systems, five years on the building envelope, and 10 years for structural components.
"Clients can rest comfortably knowing that if something goes wrong, we'll be there," Greg says.
"We can't promise that there are going to be no problems," he adds. "We just guarantee that they're going to be taken care of. Mistakes are going to be made, but we make sure we catch them and they're corrected. We make sure that, in the end, the client is going to be happy."
Working with the best
Infiniti Master Builder's method is tried-and-tested. Over the years, it has resulted in consistent industry acclaim, a long list of glowing client reviews and testimonials, and a steady history of repeat work and referrals.
Greg credits that history to the relationships the company has built – and not just the relationships with clients, but also the relationships with team members. That includes the company's small tight-knit team of direct team members, as well as their roster of subcontractors and suppliers.
When it comes to the latter group, Greg believes that over the course of their individual careers, he and James have dealt with "most of the trades and suppliers in the Edmonton area." For Infiniti, they hand-selected only the partners they believed to be the best.
"We know who does and doesn't do a good job," Greg says. "We've done the research. We only work with the people we know we can trust."
An example is YEG Masonry, a fully licensed and insured masonry company servicing the Edmonton Metro area. Infiniti has been working with them for many years – as they have the vast majority of their trade partners and suppliers. That loyalty is important to them.
"The Edmonton area has definitely had some ups and downs," he says. "There have been booms and busts. But we've tried to keep our relationships going throughout all of it. We've stayed with our trade partners even through tough times."
"There are builders that are constantly changing their trade partners based on a quote," he adds. "They go with whoever offers them the cheapest price. That's not us. We try to stick with our partners and make things work; because we believe they're the best."
Moving forward, Greg says that's an approach that Infiniti Master Builder will continue to adhere to. They want to continue working with the best partners, and continue delivering the best quality for clients.
As previously mentioned, they do not want to grow much larger. They are happy doing between five and 10 projects per year, because at that size Greg and James can be personally involved in every single one.
"We want to keep it that way," Greg says. "We enjoy the boutique feel of the company. It feels like a family-run company. James and I have been best friends for a long time. We're basically family. We feel like our clients become family. We want to hold on to that."
At the same time, Greg says there is room for some growth. To that end, they are looking to bring in some new people they can potentially hand off the business to in the long-run. They are also actively creating new show homes to prove their capabilities to the market.
The company's previous show home, located in Westpointe of Windermere, was opened last year – unfortunately, it was launched just prior to the onset of COVID, so it didn't receive a lot of in-person traffic. The home did sell, however, and Greg says the buyers are thrilled. Also, a virtual walkthrough can still be found on the front page of Infiniti's website.
Currently, the company is in the process of putting their next show home in the ground. The hope is that circumstances allow for more people to see it in person, so they can experience first-hand what Infiniti Master Builder is capable of.
For more on Infiniti Master Builder, their design and build services, their method, and their past projects – and to get in touch with Greg, James and their team – visit https://www.infinitimasterbuilder.com/