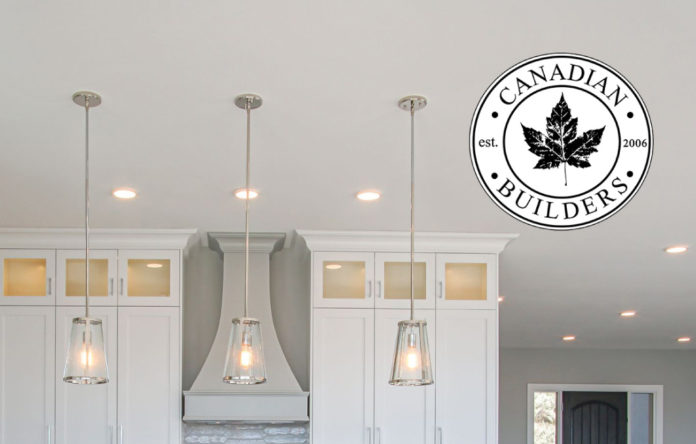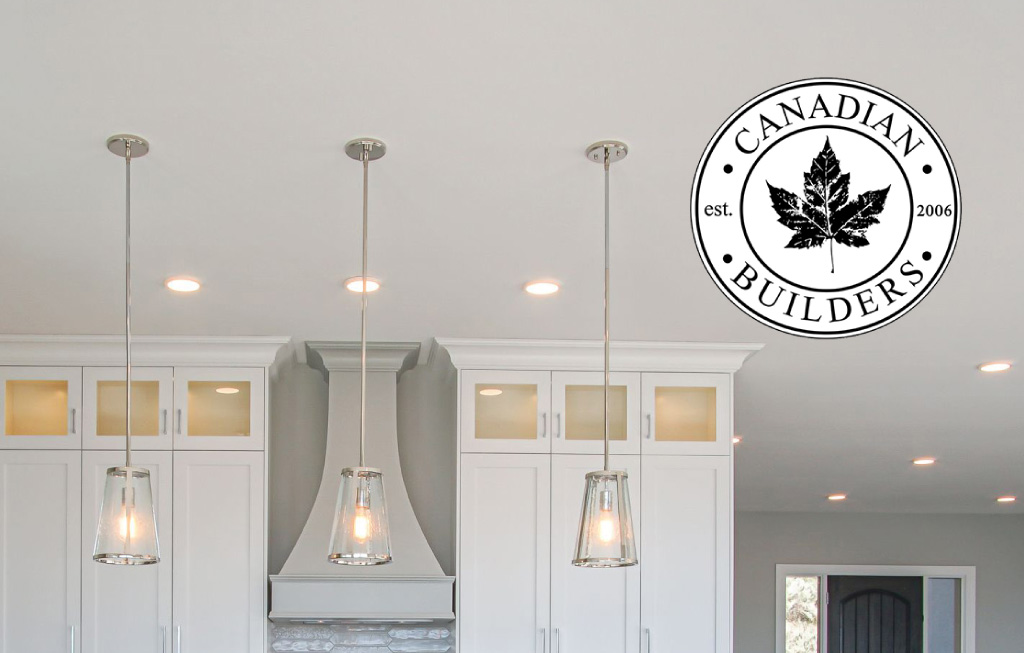 Locally Sourced, Family-Run, Energy Efficient
Canadian Builders Inc. is a family-focused construction company that aims to create the dream home that perfectly suits your needs. Based in Vernon, British Columbia, the company has constructed homes in both Alberta and the Okanagan Valley in B.C. Whether it is a family home, retirement home, or multi-family dwelling, Canadian Builders Inc. assures that their final product is of the highest quality.
Canadian Builders Inc. was established in 2006 by Jonathan and Rachael Ganson. They met in high school and were married in 2001. It is not surprising that they endeavoured to build a business together in construction since both come from entrepreneurial and construction families.
"We both had construction in our blood," says Rachael Ganson, "so we built our first house together when we were working other jobs. After we built our first house, we quit our jobs! We were so young we didn't have any fears. We started building small, single-family homes. We moved to British Columbia in 2005, where we incorporated Canadian Builders."
Jonathan and Rachael actively grew their clientele base in the Okanagan, and have continued to build their business for the last 15 years. In those 15 years, the business has grown significantly. While the company faced a recession, it recovered by staying true to what it does best—building single family homes.
"We've grown quite a bit. We incorporated in 2006. Under Canadian Builders Inc. we have done single-family dwellings and residential electrical (Jonathan is also a Master Electrician FSR B in BC) until the first recession hit in 2008. We branched off and did electrical work mostly, which got us through the housing downfall. We slowly crept back into the scene around 2012 to 2013. Things started really picking up."
Throughout their history, building single-family residential homes has always been Canadian Builders', but Rachael says company is ramping up to start some larger projects soon. She says they are able to do that because they have such a great team. They have the ability to do a lot of their work in-house, and for the work they cannot do, they have a trusted team of trade partners with whom they have strong and lasting relationships.
"We feel blessed to have a team of tradespeople that we use constantly," mentions Rachael. "We have mutual respect for one another. We look out for each other. We need and support each other in the industry."
The respect between team members and tradespeople also extend to the client. The team always strives to offer quality products and outstanding customer service. Jonathan and Rachael assure that each client stays informed throughout the entire process.
"You can always contact the actual builder. Jonathan and I have always made ourselves very accessible to clients. In many companies, it gets to a point where the client can't actually talk to the person that has seen the drywall go up. We have purposely put ourselves into a niche where we don't go beyond our limits so we can build the best product possible. We put ourselves in the client's shoes, recognizing that this is a huge investment. You can call or text at any point to talk to the person that saw and supervised the home being built from start to finish."
Canadian Builders also makes productive use of social media and digital software, especially an app called "Co-Construct." They have implemented the app in the past three years. The app allows clients to see exactly the work done on their house each day.
The client can watch the progress of the home, look at photos, send messages, and even upload images to show the builders the finishes desired. This all can be done from any phone, tablet, or computer. Truly, the progress on the home's construction is made as visible as possible to each client.
"We are proud to be very qualified tradespeople. We work with clients to see what makes them feel comfortable and invited in their own home. We are hands-on and actively in the middle of the process the whole time," notes Rachael.
Aside from caring about their clients, Canadian Builders also values their impact on the environment. They work closely with energy advisors and engineers to build homes that meet and exceed the code for energy efficiency criteria in the industry. Their energy advisors will model the home, calculate the energy efficiency and provide the cost to operate the home annually. The data also shows how well the home will perform when compared to standard built construction. Canadian Builders recognizes that clients may be concerned about the initial cost to construct the home, but don't often consider the long term cost to operate the home – which is similar to the considerations (i.e., fuel economy/maintenance) when purchasing a vehicle.
Keeping efficiency, design, and service in mind, Canadian Builders Inc. always offers high-quality products to its clients.
"We go above and beyond purposefully for quality. We do not take the best price point all the time, but rather focus on the best made material and/or product for the job" says Rachael. "We put ourselves in our customer's shoes. We have never been one to try to save a buck to compromise quality for our own bottom line. Our homes are definitely high standard, we build the quality we would want for ourselves."
Fortunately, Canadian Builders Inc. was not affected significantly by COVID. In fact, some of the uncertainty surrounding homes during and after COVID spurred some business.
Rachael notes, "We never really shut down at all. We went out and purchased huge amounts of disinfecting wipes and masks to put at the doors of each home, and added wash stations. We only allowed a certain number of showings to be booked. If anything, we've seen a huge amount of pent-up demand. We are just getting more and more people coming to look and offers on houses, long before they're completed. It's moving very well."
In the future, the company sees itself growing, while maintaining a commitment to high quality residential construction and branching out into multi-family housing. Canadian Builders feels blessed to have "awesome" employees and fantastic trade partner relationships.
The strength of those relationships stems from a pride in sourcing their products locally, and sometimes nationally. Some of their products are made in British Columbia, while other resources are from other parts of Canada.
"A lot of our wood is within miles of us," notes Rachael. "Some of our fireplaces for instance, are made right here in British Columbia. We focus as much as possible on Canadian product and locally-sourced Canadian product. This is an important aspect of our business."
From their very beginnings, Canadian Builders Inc. has been rooted in the idea of family and Canadian-built products that are Canadian-sourced. Whether it is a place to raise a growing family or a dream home for retirement, Jonathan and Rachael have a passion for working to present their clients with a high-quality home. They are dedicated to making sure every detail is what the client wants and building a timeless masterpiece that will allow families and clients to establish their own roots in beautiful, well built, comfortable homes.