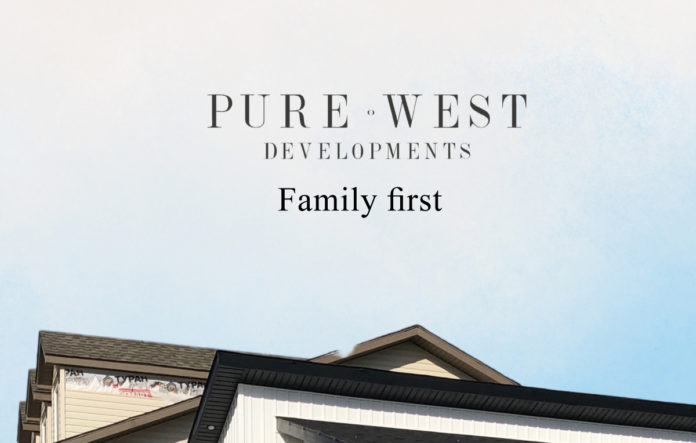 Click here to view the brochure.
Family first
Pure West Developments is a home building and development company based out of Lethbridge, Alberta. Founded and led by husband-and-wife duo Sarah Mckay and Corey Vienneau, they are a family company that puts family first. Their focus is on building quality homes at attainable prices for real people, and making the building experience, simple, enjoyable and stress-free along the way.
"We believe building your home should be fun, and we encourage our clients to think outside the box and enjoy the process along the way," says Sarah.
"We want to make our clients' building dreams come true," adds Corey. "We don't just want to build clients a house – we want to build them a home that they can cherish for years to come.
Sarah and Corey first met working in the home-building industry – Corey as a builder, and Sarah as the founder of Simply Spotless Cleaning Company, which was hired to clean Corey's houses. After forming a personal relationship, they realized their professional skills and experience were highly complementary. Sarah has a business management degree and is highly passionate about design, scheduling, and organizing. Corey, meanwhile, comes from a background in the trades, has been working in the construction industry for over a decade, and he loves working outside. The pair officially teamed up and formed Pure West Developments in 2017.
Today, Sarah serves as the company's office manager and design consultant, while Corey serves as site manager and warranty specialist. Together, their shared goal is to provide clients with "the best quality experience possible." In most cases, those clients are homeowners, with projects ranging in value from $400,000 to $2 million. Historically, the company has built somewhere between five-to-10 of those homes per year – though their goal is to increase that volume to 12-to-24 and average one or two starts per month.
The majority of Pure West's work consists of custom homes designed directly for clients. The company does have floor plans available for clients who are interested, but those are meant as starting points that the client can amend to best suit their specific wants and needs. The company also does the occasional spec home, but even those are all individually-designed, with Pure West never building the same product twice.
According to Sarah, clients looking for something unique tend to gravitate to Pure West for a variety of reasons, including their family-focus, their professionalism, and their emphasis on communication throughout the design-and-build process. She believes the main reason, however, is their craftsmanship:
"The number one comment we get when people come through our homes is 'Oh, we can feel the quality,'" Sarah says. "As soon as they walk in, that's the first comment we get."
Sarah credits that quality to the "countless walkthroughs" they do. She also credits the high standards to which they hold both themselves and their trades:
"If we find a flaw, however minor, we'll fix it," she says. "Even if we don't think anybody else will notice it but us."
Corey adds that the company's limited size and volume of work is helpful in that respect, because it means they can be very hands-on as owners. It also means they can hold themselves to a higher standard, because they don't have to pump out as much product.
"Bigger builders have lesser expectations," he explains. "A larger company might have a 'four-foot rule' when it comes to paint, where if you can't see the flaw from four feet away that's passable by their standards. That's not how it is with us. We're pretty much perfectionists."
"We do three different inspections at each phase," he adds. "We do one with our new home warranty provider, one with our in-house foreman and client rep, and one with the client. We try to get everything right by the second check. We take it as a challenge – can we get through the walkthrough with the client without anything being pointed out? And to be clear, we want them to look closely; we don't want them to miss anything. We just want to have already caught everything ourselves."
In order to meet that challenge, Pure West relies heavily on their trusted roster of subcontractors and tradespeople. Again, Sarah says that the company's size is beneficial when it comes to fostering those relationships:
"Right now we're at a size where we can have really close relationships with our trades," she says. "A lot of them are smaller, family-owned companies too, so we can relate to them in a lot of ways. Corey used to be a roofer, and I ran a cleaning company. We went through a lot of the same things that they are going through."
The majority of Pure West's subcontractors are longstanding, Corey adds. He says they have "weeded out a few" over the years, but "for the most part I'm still dealing with the same trades as when I first started."
"They have similar values as we have, so we haven't had to make a whole lot of changes," he explains. "They value transparency and integrity. They are accountable for their work. They appreciate quality and want people to see their quality. That goes a long way."
The best quality
As a recent example of their build quality in action, Sarah and Corey point to a unique home they built on Abitibi Road W, in Lethbridge. That was a Tudor-style home that earned them a lot of attention on social media, because from the outside "it more or less looked like a church."
"It was based on one of the architectural styles within that subdivision," Corey explains, "but we're always trying to push the envelope. Our goal wasn't necessarily to make it look like a church, but it did end up having that look due to its steep gable roofs. That made it stand out."
"We got a lot of exposure," he adds. "We got a lot of comments, both online and in person, and they were almost all positive."
Another client down the street even asked for the same house. Sarah and Corey convinced them to change a few things about the façade because they didn't want to do an exact replica, but they took the request as a huge compliment.
The buyers of the original home, coincidentally, ended up being quite religious, but Sarah says that's not even what drove their decision:
"They bought it based off the quality," she says. "They said they went through so many houses, and they said 'Hands down, this is the best quality we've seen.' They ended up buying all the furniture too. They just loved everything about it."
Corey also believes that those buyers – and all Pure West clients, for that matter – responded to the home's functionality and emphasis on comfort. Corey says they focus heavily on those things with every design:
"A lot homes have 36-to-42-inch hallways. Our minimum is 48 inches. We try to incorporate things like 42-inch front doors. We promote ease of movement. We take that kind of thing to heart. We try to build every single house as if we were going to move into the house, and what would we be comfortable with?"
Looking forward, Corey and Sarah's goal is to maintain that mentality even as the company grows – while being careful not to grow too big and risk compromising on their quality.
"I know from my experience with my cleaning company that once you get too big it stops being fun," Sarah says. "We want to keep it fun. We want to keep it personal. We want to stay a boutique builder."
"When you get too big, you start having to depend on people you don't even necessarily have a relationship with," Corey adds. "It gets really hard to keep tabs on everything and maintain quality. We never want to get to that point."
As previously mentioned, the company's vision is to ultimately get to 12-to-24 homes per year, with one or two starts per month. At that size, Corey and Sarah believe they can still form personal relationships with clients and still be personally involved in each and every project.
"Corey and I both love what we do," Sarah concludes. "We love design and we love building. We love making people's dreams come true. That's what we want to focus on."
For more on Pure West Developments, their values, their process, and their available floor plans – and to get in touch with Corey, Sarah, and their team – visit http://purewestdevelopments.ca/