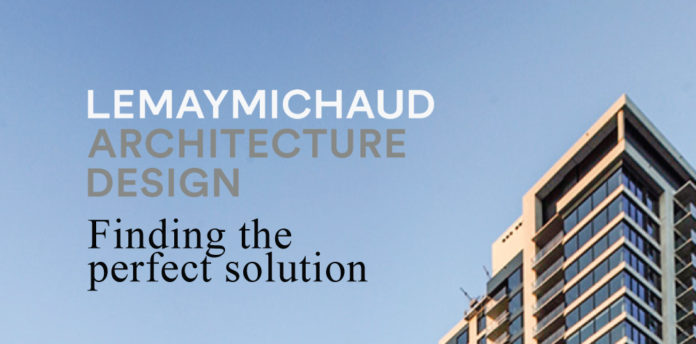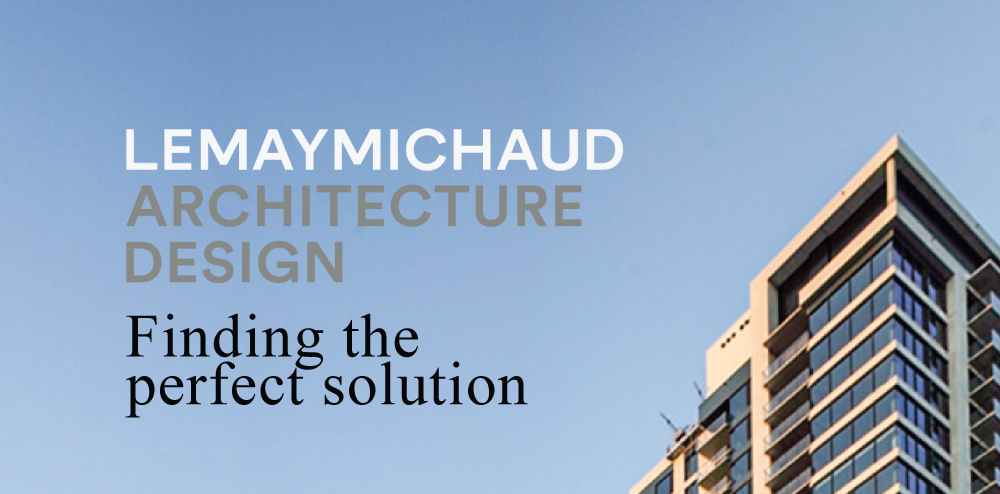 Finding the perfect solution
LEMAYMICHAUD is a Quebec-based design and architecture firm that has been operating in the province for over 40 years. Their team – made up of nearly 100 highly-experienced and inspired designers, architects, and technologists – work in a collective and collaborative spirit with clients, always with the goal of creating environments that are unique, aesthetically-pleasing, and that enhance the lives of the people using them.
Over their many years in business, their firm has been involved in a long list of high-profile, highly-impactful project – mostly in their home province, but also some in the rest of Canada and more recently, even some in United States. With their work, their intention is always to "leave a strong impression and touch people," according to Pierre Mierski, Senior Partner. They believe they have done that on almost every project, but they especially believe they have done it with their work on Montreal's Pointe-Nord Community.
Pointe-Nord is an urban and residential "mega project" that encompasses all of the northern point of IÎle-des-Soeurs. It's presently one of the largest residential developments in Quebec. It started with a multi-functional linear park surrounding the tip of the island, and continued to include a series of townhouses, single-family houses, and residential towers. Overall, it comprises over 5,000 residential units. It was envisioned and developed by Proment Corporation, a long-time partner of LEMAYMICHAUD, and LEMAYMICHAUD has been the architect behind many of its component projects.
Historically, one of LEMAYMICHAUD's specialties has been hospitality. They built such a strong reputation in the hotel sector over the years through their work with the Hotels Le Germain, the Marriott Residence Inn Calgary and the Dakota Dunes Resort. In fact, some of those hospitality clients started approaching the company hoping they could bring the same elegance and quality to their residential towers. Such was the case with Proment, who first approached LEMAYMICHAUD in the early 2000's, seeking their help creating a new lobby for their luxurious 'Les Sommets' high-rise project.
Pierre, personally, has been working with LEMAYMICHAUD for over 23 years, which is essentially his entire professional life. He was there when the relationship with Proment began, and he remembers the two companies getting off to a very strong start.
"Right away, the vibe was good," he recalls. "We started working with them on that project and we've never really stopped."
Proment and LEMAYMICHAUD have been working together on successive projects for over 15 years now. Pierre says the team at Proment is now "like family to me." He gives them a lot of credit for their dedication to getting their designs right.
"They really put the effort into finding the best design for a building possible," he says. "The people at Proment are so genuine. They take whatever time they need their time to develop a project to its potential. They'll re-do a design over and over again to make it the best it can be. They invest so much time, energy into finding the perfect solution."
"Working with this team has been a treat," he adds, "and I've learned a lot."
So that's why LEMAYMICHAUD likes working with Proment. On the other side of the coin, Pierre believes that Proment likes working with LEMAYMICHAUD because of their honesty and straightforwardness.
Pierre remembers an early conversation he had with Samuel Gewerz, President of Proment. There was another architect involved in the project they were working on, and Samuel called Pierre and asked him what he thought of the site plan.
"The easy answer would have been 'I like it. It's very good. Thank you for having us involved in it,'" Pierre says. "But I didn't give that answer. I knew that it was risky, but I told the truth. I told him that I thought there were things that weren't right about the plan, and I explained why. He said 'Thank you for your honesty, I respect that,' and he asked me to come up with another proposition."
"Ever since, that's been the basis of our relationship with Proment," Pierre continues. "We're very respectful of each other, and we're very honest and truthful with each other. I think that's been the key to our success together."
In Pointe-Nord, specifically, Proment and LEMAYMICHAUD have worked together from the beginning. LEMAYMICHAUD hasn't been the only architect there, but Pierre says what's been remarkable about the development is how collaborative it's been. LEMAYMICHAUD has been able to give their input on elements of the community they weren't in charge of, and they have also happily taken suggestions from other project stakeholders when it came to the parts they were.
"There are a lot of people involved, and the interesting thing is that everybody has a say on everything," Pierre says. "We as architects were very involved in the landscape design, and when the landscape architects had a good idea about a building we were doing, they would say it and we would listen to them. It's been a huge team effort. That's been very important."
The first thing LEMAYMICHAUD worked on in Pointe-Nord was the masterplan. Proment assembled an all-star team of urban planners to handle the bulk of the work, but LEMAYMICHAUD was able to contribute some models and give their input throughout the process. In particular, they helped decide where the residential towers should be positioned, as they wanted to make sure that every tower in every phase would be able to take advantage of the downtown view. They didn't want any future tower to impede the view of an existing one.
Once they settled on a plan that accomplished that objective, Pierre says that "Proment stuck to it very strongly." Again, he gives them a lot of credit for their dedication:
"They are very respectful developers," he says "They're very respectful to their clients. They wanted to make sure that people could buy their units knowing that their view was never going to be blocked. They wanted to make sure that would never happen."
Following the completion of the Pointe-Nord masterplan, LEMAYMICHAUD was involved in the design of every residential tower, with just one exception. Those towers shared the brand name 'Evolo.'
The first tower, called 'Evolo 1,' was a 30-storey building of 266 units, offering impressive views of the river and downtown Montreal. Amenities included an indoor pool, gym, sauna, lounge, magnificent gardens on the river, and guest suites. The building also included geothermal heating, a solar wall, and higher insulation – for its eco-friendliness, it was awarded 'Green Project of the Year' by APCHQ, as well a LEED Gold Certification from the Canadian Green Building Council.
The next tower, 'Evolo 2,' was another 30-storey building. It included condos ranging from 625 to over 2,000 square feet. It also boasted "spectacular views" and offered "innovative living spaces." Like Evolo 1, it was designed with energy-efficiency in mind, and it was similarly rewarded with a 'Green Project of the Year' prize aswell as a LEED Gold Certificate.
LEMAYMICHAUD also worked on 'Pavillon Evolo' – an intimate five-storey, 430 condominium building. That was the first waterfront mid-rise of Pointe-Nord. It's on a pedestrian plaza that leads to a huge waterfront park. An acclaimed restaurant is on the ground level of the building.
The most recent tower is called 'Evolo X'. That project is a 36-storey condo tower, which also includes a gym, an outdoor and indoor pool, and a spa, among other amenities. The interior design combines luxury materials and warm colors, and the huge floor-to-ceiling windows let in a lot of natural light. The design of the common areas was greatly inspired by the nearby river – different shades of blue, chic materials such as marble or metal symbolize the sun's reflection on the water. Once again, that building was designed to limit ecological impact – it includes high-energy-efficiency windows, low VOC emitting materials, energy efficient LED lighting, and more.
Each of the above projects was received very positively by the market. According to Pierre, sales have been strong, and feedback from buyers has been glowing. He credits that success, one more time, to Proment's commitment to never compromising on quality, no matter how much time or money they had to invest.
As an example, Pierre cites how much effort went into designing the pedestrian plaza between the towers:
"It took us two years to figure out the proper scale of that plaza," he says. "We had to consider everything extremely carefully. We had to take into account the proportions of the nearby buildings. We had to decide what should be in it. 'Should there be a fountain? Should there be a tree? Or should it be empty?'"
To find the answer, Proment travelled around Canada and the United States, visiting other plazas and studying what worked and what didn't and why. Their search brought them to Toronto, Vancouver, D.C., Seattle, and beyond.
"We went everywhere, and we studied everything in detail," Pierre says. "We made a lot of models. We don't usually do that here in Quebec, but in this case it paid off. The plaza really works. It's very lively. People love to gather there. There are a lot of shows there. It's a huge success."
Pierre also credits the project's success to their other project partners – especially Reliance Construction Group, who successfully delivered every 'Evolo' tower, from '1' to '2' to 'Pavillon' and 'X'. They are one of the larger privately-owned construction companies in North America, and their track record in Quebec is particularly strong. On Evolo, Pierre says they have lived up to their quality reputation.
Another contributor to the Evolo series was Candussi, the concrete floor contractor. They have been working with Reliance Construction Group for over 30 years, and their family has been serving the industry in Quebec for twice as long. They are a hands-on company that takes pride in delivering difficult projects and verifying every little detail, so they fit in seamlessly with the detail-obsessed teams at Proment, Reliance, and LEMAYMICHAUD.
Moving forward, Pierre hopes to continue collaborating with team members of that calibre as they complete the next and final phase of the Evolo series – a project called 'Evolo Nex,' which they are working on now.
Pierre is not looking forward to the finish line, however. He says the team at LEMAYMICHAUD is very proud of what they have accomplished on the Evolo series, to the point that they would love to keep working on them forever.
"They're such great buildings," he says. "They are really well thought out from the interiors to the exteriors and that's something we care for at LEMAYMICHAUD. We strive to create fully integrated projects, combining architecture, interior design and graphic design."
"On these Evolo projects, every single unit has to be liveable," he adds. "You have to make the most out of every bit of space."
"That can make it harder as a designer," he concludes. "That usually means you have less regularity on the façade than you'd have on any other tower. But I think that's the way towers should be. They should be designed from the inside to the outside. That's what I love about these Evolo projects, and that's what I love about working with Proment."
Of course, LEMAYMICHAUD doesn't only work with Proment, and they don't only work on residential projects. Over the years, the firm has also built a reputation for their work on corporate offices, spas, and retail spaces – for example, they have a relation with La Maison Simons that goes back four decades. Moving forward, LEMAYMICHAUD's goal is to continue building strong and lasting relationships like that, with clients in a variety of sectors. Their vision is to take on a diverse array of projects in Quebec and beyond, and to deliver them all to the same extremely high quality standards.

For more on LEMAYMICHAUD, their 40-year history, their team, and their many award-winning projects – including the Evolo towers – visit https://www.lemaymichaud.com/
For more on Evolo X in particular, visit https://evolox.ca/en/