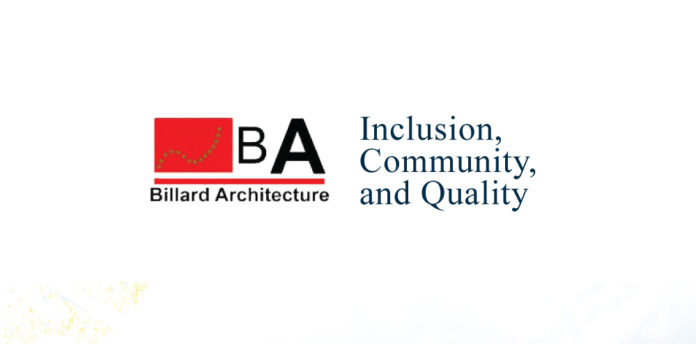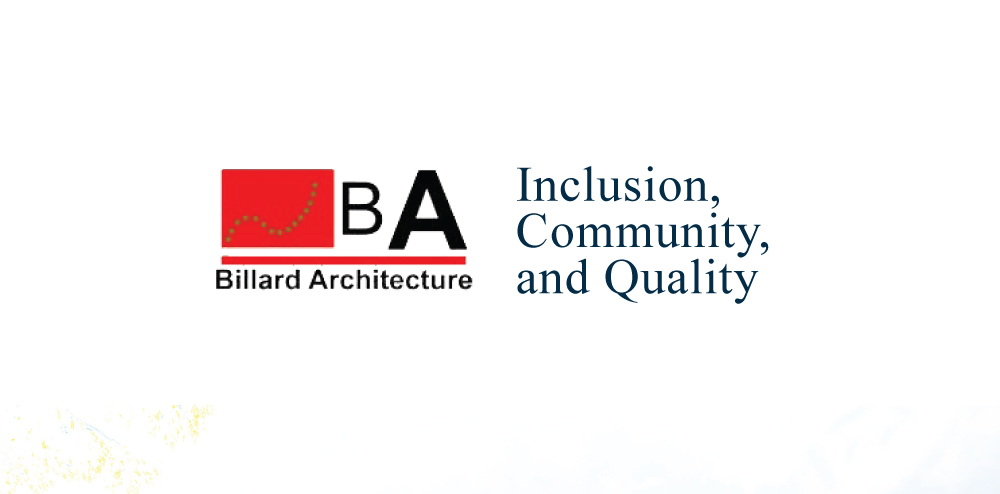 Inclusion, Community, and Quality
Billard Architecture Inc. is a full-service architectural firm situated in New Westminster. Billard Architecture always has a focus on the community and delivering projects that are both contemporary and relevant.
The company was founded by Robert Billard in 2010. Robert began his career in architecture, but he had a few career deviations in the past 36 years, such sailing tall ships, playing in a touring folk band, and working as a chef. These deviations also served as back-up income when architecture wasn't paying the rent.
"I set up Billard Architecture in December 2010, and it didn't go well until 2016," reflects Robert. "I spent the first five years making connections and getting my name out there and building relationships. I was calling every week and being intrusive. Then one project led to another project, and I ended up working with the right people."
Robert spent considerable time in his early career working on federal, provincial, and municipal projects. These projects included schools, airports, hospitals, recreational centers, and sewage treatment plants. He has worked on an estimated 700 projects in Nova Scotia, Prince Edward Island, Nunavut, Northwest Territories, The Yukon, Alberta, and, since 2004, British Columbia. This experience allowed Robert to establish the culture and vision of his company.
"One of the things I learned over the years in working with other firms is that I wasn't happy with how the business of architecture is done. I don't look like or talk like an architect, and our clients seem to like that. From our billing structure to how we make decisions, we're based on deliverables and deadlines. We don't charge for all the little things. We don't waste time on additional meetings," outlines Robert.
Part of working efficiently is fostering a culture that celebrates teamwork. Billard Architecture boasts a team-centered staff who can adapt to any project. Teamwork allows the company to communicate and collaborate on projects to deliver quality products within expected timelines. Rochelle Potter, Project Coordinator at Billard, notes the value of the team's efforts.
"We work as a team. Everybody is involved in some aspect of the project, which makes us flexible. In turn, we are able to shift accordingly to those deadlines and ever-changing priorities. We are not left with big gaps. I get a sense that our clients know who everyone in the firm is. It is more holistic that way as well," says Rochelle.
Having a human- and team-centered approach reinforces the core values of Billard Architecture—which is to promote positive communities through inclusion, diversity, and accessibility. They note that their firm is situated on the stolen and occupied land of the Halq̓eméylem and Hən̓q̓əmin̓əm̓ speaking people.. The firm is also proud of its diverse and inclusive staff.
"We have a moral base. We support diversity and inclusion in our office. We work hard to create a good work environment. Nobody works more than their eight hours a day. Nobody works on weekends. I think that it is important so when people come to work, they get things done. That is why we are able to meet our deadlines," states Robert.
This kind of care and honesty extends to the architecture and design undertaken and delivered by the company. Robert describes a kind of architecture that is relevant in that it reflects a concern for both aesthetics and finances.
"From a design perspective, we try to be contemporary and relevant from an aesthetic perspective," describes Robert. "We have no illusions or desires to be Frank Gehry or Daniel Libeskind. There is no point to that form of architecture and there is no point in spending that kind of money on architecture. You can make things architecturally relevant, but within the budget you have."
The kind of honesty that Billard Architecture strives to achieve in design they also strive to achieve with clients – and they hope to receive honesty in return. This kind of mutual respect through honesty and communication allows for projects to be successful.
"We don't take every job," notes Robert. "The clients we like to work with are ones that are clear and honest in their objectives. Most are smaller developers or developers on the rise. They are getting there by being straightforward and knowing what they need."
Robert's ability to pair vision with need is made clear across the firm's portfolio. The AVA, which is a multi-family residential building, is one project that stands as a testament to the firm's dedication to inclusivity and contextuality.
The 35 homes at The AVA replaced three single-family homes. In replacing those homes, Billard Architecture managed to increase density in the neighborhood. The amenity spaces are age-friendly, and the location is within ten minutes of major retails, healthcare offices, and community service centers. It is also easily accessible to public transportation.
"It is right across the street from Langara College and a brand-new addition to the college across the street. I like those kinds of contextual responses. It was a very contemporary building across the street. It is a corner location, so it is pretty prominent. The AVA is also taking up where three single family houses are. It's not obliterating a whole block or creating a wall on the street. It's creating 'surgical density'—where you create lots of quality homes where very few were before," says Robert.
While the firm deeply considered the larger architectural context in which the building is situated, they did not forget the needs and comforts of its habitants. The AVA includes multiple roof decks and a children's play area. Rochelle stresses the importance of the outdoor amenities.
"Outdoor spaces foster community wellness," adds Rochelle. "They provide opportunity for residents to interact with one another. During the pandemic outdoor spaces became really important and highlighted the need for your own personal outdoor space. This project is mindful of outdoor spaces. It is an opportunity for neighbors to talk and get together in a casual setting."
With each project, Billard Architecture tries to design for the community in a way that is moral, inclusive, considerate, and honest. Their focus on multifamily residential buildings works towards more equitable options and inclusionary housing for all.
When looking towards the future, Robert projects that the company will grow to respond to needs in communities.
"I don't think we have a prescribed goal," says Robert. "We like to respond to what needs are. We grow based on work, so we are looking for people now. We grow to meet a need."
As needs change, Billard Architecture Inc. will be sure to meet those needs with realistic expectations and honest communication in a way which always demonstrates their goals of inclusivity and diversity. 
For more on Billard Architecture, their team, and their past and present projects, visit – https://billardarchitectureinc.com/