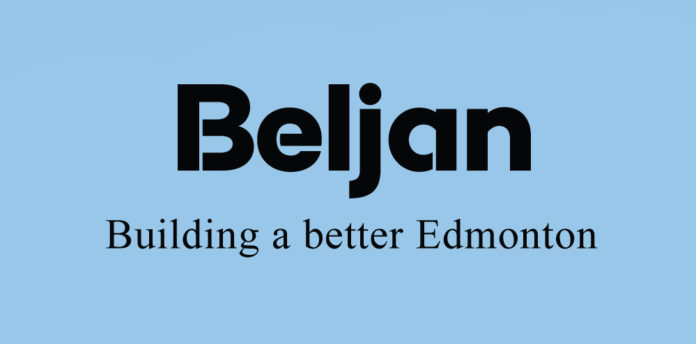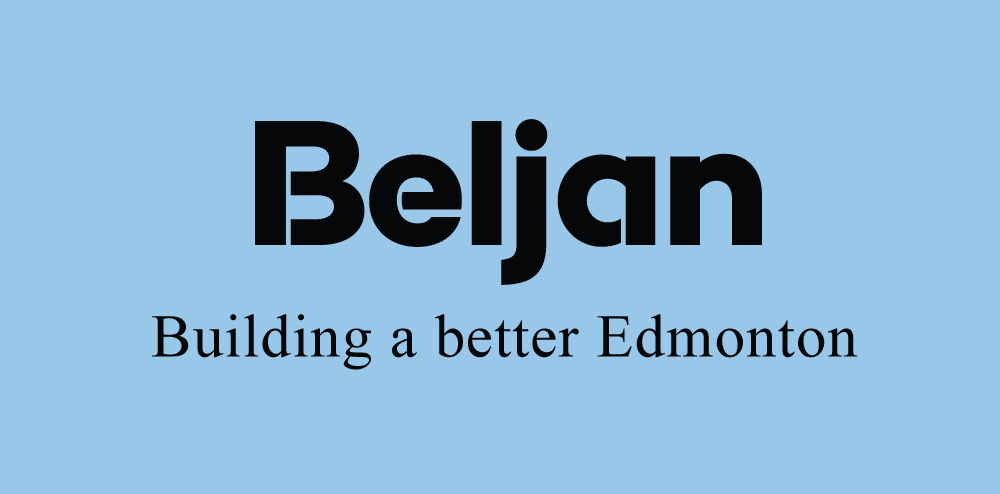 Building a better Edmonton
Beljan Developments is a development company that is passionate about the city of Edmonton, and dedicated to making it better. Over the years, they have developed projects of various shapes and sizes, with a primary focus on infill development and the adaptive re-use of underutilized buildings. They target neighborhoods that are on the verge of change, and they seek out buildings or sites that others have overlooked.
Beljan's goal is to deliver projects that "breathe new life" into those places – that means projects that "connect people, homes and businesses," and that help make communities "lively, social, and walkable," according to Chris Dulaba, Placemaker.
"At Beljan we strive to build architecturally prominent buildings that highlight the best of Edmonton, buildings that are creatively designed while still holding true the fabric of the communities they are a part of," Chris says.
"We believe that buildings should interact with the built environment and that streets lined with cafés, shops and galleries create a valuable social experience that contributes greatly to a city's identity and culture."
Chris is a veteran of Edmonton's development industry – for many years, he has been directly involved in the acquisition, planning, design, and development of various projects from small-scale mixed-use developments to the adaptive reuse of existing buildings. He joined Beljan Developments almost 10 years ago, not long after the company was founded by 'visioneer' Ivan Beljan.
Ivan is also an experienced developer, with nearly twenty years' experience in project and development management. He started Beljan Developments with the intention of "reimagining an Edmonton that is something greater than it is today."
"Our company's always taken an unconventional approach," Chris says. "We gravitate towards heritage buildings and the adaptive reuse of those buildings. We try to find interesting buildings, buildings that have a story to them, in neighborhoods and areas that had some really strong fundamentals. We look for diamonds in the rough,' so to speak, and we've tried to turn them into special places for people to live, shop, entertain and socialize."
"That's why Ivan started Beljan," Chris continues. "He felt that Edmonton was a city that lacked development of that type. He wanted to do projects that would have a meaningful impact on the community. And he didn't think it was necessary to build large 30-plus storey buildings to have that impact."
Chris agreed with Ivan's vision, and that's what drew him to Beljan Developments in those early days. He stuck around because the company started living up to their ideals almost immediately – they started delivering modestly-scaled but highly-impactful projects, and they quickly built a reputation in the city.
Dave Hennessey, Asset Management, is a more recent addition to the Beljan team. He used to work for one of Canada's largest publicly traded REITs, and he recalls witnessing the rise of the company as an outsider:
"Living in Edmonton, I started to notice the quality of development that the Beljan team was doing," Dave recalls. "They were going deep into urban communities, finding underutilized buildings, and repositioning them. They were working with some of the coolest and most unique restaurants, coffee shops, and retailers. They were working in spaces that were one-tenth the size of what the big REITs were working with, and I would argue that they were making more of a cultural impact."
"I was a fan first," he adds. "I watched as Beljan went from one to three to five projects. Each step of the way, I was always really impressed with the creativity and innovation they brought to the table. When the opportunity came up to join the team, I jumped on it. I'm thrilled to be a part of it."
Over the last decade, Beljan has delivered a variety of boutique projects; each of them in line with the company's founding vision. Chris says that the Beljan team has invested a lot of time and energy into every one of them – and they have all required that investment, he explains, because "they are usually very difficult projects to take on," and "the margins are usually tight."
"There's not a lot of room for error," he says. "That's because we want to make sure that the end product we're delivering is meaningful and really executes the vision that we originally set out when we acquired the property. We don't want to stray from the vision because of budget constraints or for the sake of improving the margins."
Beljan Developments can stay so committed, Chris says, because their investors are likeminded. They recognize that the company is trying to do something different. That's what they signed on for.
"Our partners that invest with us, they come in with the same mindset," Chris says. "They understand that we're not about creating high-velocity, high-return projects. They are more meaningful projects. In the words of some our investors, they're 'legacy projects.'"
"Our investors understand that if they wanted to make the big margins, they'd be doing something different," he continues. "They'd be investing in suburban strip malls, and projects that are relatively lower risk. There are plenty of those projects out there and there's nothing wrong with them – but what we try to deliver is something different."
All that said, Beljan's projects do provide value and generate revenue. Chris credits that commercial success to the buy-in of their whole team, both internally and externally:
"That includes our architects, our contractors, all the designers, our leasing agents – you name it," he explains. "A good project doesn't stop and start with a couple people in our board room. It really starts with collaboration. It starts with getting everyone on the team to buy in to the vision."
Again, Chris says, Beljan tends to work with people and companies who have the same motivations and goals.
"Our partners share our vision," he says. "They also want to improve the city."
Even the company's tenants tend to buy in, Chris says. That buy-in enables Beljan to charge the rates they need to make their projects viable, even if they are a little higher than comparably-scaled projects.
"We have tenants who understand that what we offer is not just a space for leasing. We're offering them the chance to be a part of something that's contributing to the identity and culture of the neighborhood, of the block, of the city. That's what we're able to do. That's our brand."
Building a brand
Over the years, Beljan has developed an exceptionally strong reputation in Edmonton. According to Dave, the company has even gotten to a point where communities are reaching out to them.
"They are seeking us out to say 'Hey, we'd love to see one of your projects in our community here. Can we have a conversation?' I've never really seen anything like that before. That's been fun to be a part of," Dave says.
Chris, meanwhile, credits that reputation to Beljan's history of "execution" – of "walking the walk, not just talking the talk."
"I remember early on, Ivan saying that the only way we're going to be able to get any type of recognition is through execution," Chris recalls. "It didn't matter how many pretty pictures and renderings we came up with. All that mattered was our ability to actually develop these projects. So that's what we did. We actually developed projects."
With every project they have successfully delivered, Beljan Developments has added to their credibility and elevated their brand. In particular, Chris says two projects have been especially impactful:
"These two in particular, I think, really solidified our reputation," he says. "They showed that we're the real deal. They showed that we could take an underperforming building, one that has real significance to the city, and give it new life."
'Oliver Exchange' is the first example – that was the redevelopment of the historic West End Telephone Exchange building on into a collaborative mixed-use office, retail and workshop hub. There, Beljan Developments incorporate modern aesthetics and amenities into the new development while still preserving historical elements. Their goal was to highlight the character of the century old building and safeguard its prominence in the neighborhood, while at the same time promoting inter-business activity and commerce in the district.
"The community hub that we created there really took us to the next level," Chris says.
Another project that solidified Beljan's reputation, Chris believes, was 'The Strathcona' – which took the Edmonton Hotel building on Whyte Avenue, originally built in 1891, and reimagined it as cutting-edge retail and office space.
The Strathcona includes four unique levels. On the first level, through the front entrance, there's a staggered open concept café and bar area, where natural light follows in through the skylight of the annex, and offers views of the upper-level businesses. Up the elevator, or the stairs, there are collaborative office spaces, beauty salons, and specialty boutiques. On the next level, there are wellness-based businesses and an outdoor patio and bar.
Beljan is particularly proud of what they accomplished there, Chris says, because of the significance the original building had to the city – the Strathcona Hotel is one of the oldest buildings in the province of Alberta and had been a well-known landmark for over 100 years.
"To take that on, reposition it, and give it hopefully another 100 years of life, that's a big achievement for us," Chris says.
Adding to the achievement was the fact that they had to navigate a serious fire over the course of the development.
"For so many years, that building has operated as a dive bar and a low budget motel, and it never burned down," Chris recalls. "I thought that was so amazing. I'll never forget the day I went walking through there prior to purchasing it, I kept saying to myself 'I'm surprised this is still standing.' After many years of people probably drinking too much at the bar on the main floor, coming up to their room, passing out cigarette in their hands – I was just absolutely shocked that it hadn't been burned down."
"So we acquired it and we were in the process of renovating it, and I'll be damned if a fire didn't start under our watch," he says.
Despite the fire – and despite some cynical comments on social media – Beljan continued their restoration of the historic Edmonton landmark, and ensured that the legacy of one of the oldest buildings in the province lived on.
One of the Beljan's most recent projects is called 'Substation.' Chris says that project has only just started operating, but he expects it to be just as impactful as the previous examples.
"That's an exciting project, and we hope it will become this great little community hub for the district," he says. "We hope it will raise the stature of the street."
On that project, Beljan is significantly transforming the historic electrical Substation #600 building on 124 Street. They are restoring and retaining the existing two-storey building for commercial use while developing a three-storey addition at the back of the site. Both buildings are connected by a pedestrian walkway on the second floor.
There, Chris says, Beljan has once again cultivated investment partners that "believe in the vision, and that want to do something unique and different."
"They could put their money anywhere, but they chose to invest their dollars with us because they want to be part of something," Chris says. "It's humbling to receive that kind of attention from the investment community. That keeps us motivated to keep going."
To 'keep going,' Dave adds, means continuing to find identify and acquire interesting buildings communities on the verge of revitalization. Like they did with Oliver Exchange, The Strathcona, and most recently Substation, Beljan continues to reposition buildings and transform them into community hubs.
In the long term, Beljan is also interested in doing larger projects. The company has historically focused on small-to-medium sized developments, and they firmly believe that projects of that size can have large impacts, but they also believe they can apply the "Beljan touch" to a larger property – stay tuned.
"The company is well positioned for growth, and we intend to approach that growth very strategically," Dave says. "We're going to get bigger and better while still maintaining the attention to detail that the market has come to expect from us. We're pretty excited for the next few years here."
For more on Beljan Developments, their vision, their team, and their projects-to-date, visit https://beljandevelopment.com/