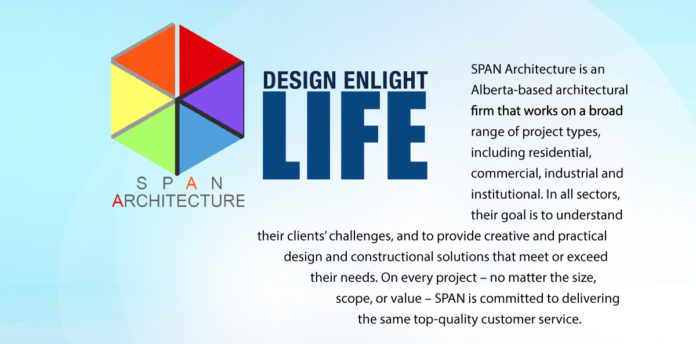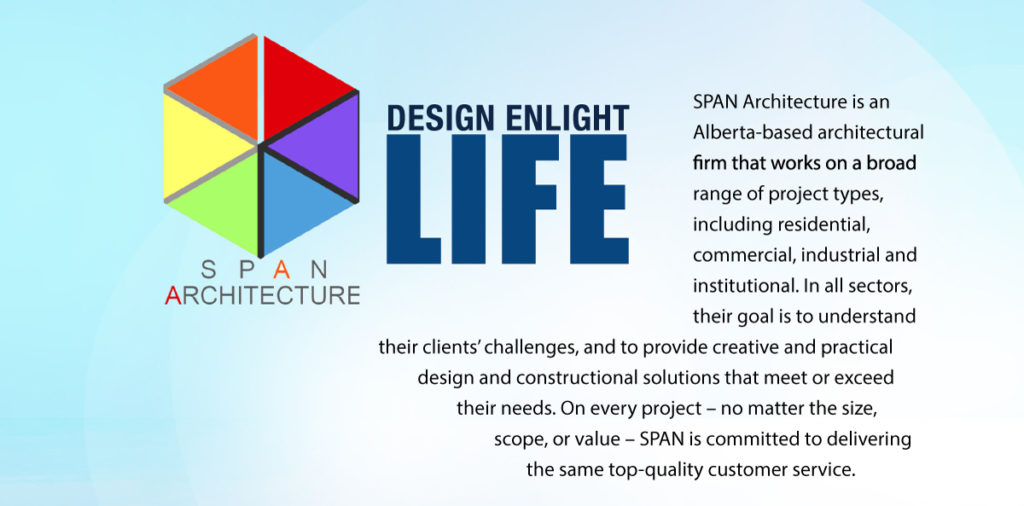 Design enlight life
SPAN Architecture is an Alberta-based architectural firm that works on a broad range of project types, including residential, commercial, industrial and institutional. In all sectors, their goal is to understand their clients' challenges, and to provide creative and practical design and constructional solutions that meet or exceed their needs. On every project – no matter the size, scope, or value – SPAN is committed to delivering the same top-quality customer service.
"We always believe our clients come first," says Songlin Pan, Principal. "We believe in providing a good service every time."
"That's what our clients say they like about us," he says. "They like that we listen. They like that we respond quickly. They like that they're dealing with the leaders of the company at every stage of the process. Those may sound like simple things, but from what we've heard from clients, those they don't always happen with other firms."
Songlin began his career in architecture in Beijing, China, where he graduated from Tsinghua University – one of the most prestigious universities in the world, and the number one university in China, according to the Times Higher Education World University Rankings. He worked as an architect in China for approximately eight years, before moving to Canada in 2003. Over the following decade, he worked as a designer and architectural technologist, first in Toronto, and then in Alberta. In 2013, he acquired his license and decided to start his own firm.
From the start, Songlin's vision for SPAN Architecture was to design a diverse array of projects, like he had throughout his career, both in China and Canada.
"I've never had any particular preference when it came to projects," he explains. "I've always done all kinds – commercial, industrial, residential, you name it."
These days, SPAN Architecture continues to take on a variety of work, in a variety of sizes. They will happily take on 1,000-square-foot restaurants, cafes, and retail establishments – and they will just as happily do projects up to 200,000 square feet. The value of their projects can range from $50,000 to over $10 million.
SPAN's projects can also vary greatly in location. The majority of the firm's work takes place near their home base in Edmonton, but they have done jobs all over Alberta, and they have also worked in British Columbia, Ontario, Quebec, and Nova Scotia.
According to Songlin, clients of all kinds choose SPAN for their aforementioned personal service. In particular, they like that they get to deal with him personally from beginning to end.
"I hear from clients who've worked with bigger firms, and they tell me that they'll talk to the person in charge at the beginning, but after they sign a contract they are passed off to a junior architect who then handles their project."
"That doesn't happen here," Songlin says. "I'm involved with every client and every project, and I stay with the project from beginning to end."
Songlin has also heard a lot of horror stories from clients about other architects who fail to complete their work on time. SPAN Architecture, meanwhile, takes a lot of pride in their ability to offer realistic timelines, and once they set a deadline, they take pride in meeting it. That pride seriously sets the company apart.
"That's an important reason clients choose us," Songlin says. "When we set a deadline, we always meet it. We've always taken that very seriously."
Then there's the firm's competitive pricing – Songlin says that SPAN almost always charges lesser fees than their larger competitors, while still providing high quality services.
"We can provide that value because we're a small firm," Songlin explains. "We don't have a lot of overhead. We're not spending money on in-house accounting or marketing. We only charge the client our design fee. That also sets us apart. That's another big reason clients choose us."
Over the years, SPAN has relied on those points of difference to generate business, and that strategy has worked. The company has virtually never advertised. Almost all of their work has come from repeat business and referrals.
"I think that's the best indicator possible that we're meeting the needs of our clients," Songlin says. "That's what we do. That's what it means to provide good service – it means meeting your clients' needs."
Always about service
In recent years, SPAN Architecture has been particularly active in the apartment space. Currently, they are working on a number of both large and small-scale apartment buildings across Edmonton and Alberta. Several of the larger projects are pretty high-profile – for example, they are now working a building near Commonwealth Stadium, which will be six-storeys and include about 78 units.
Another high profile example is the 'Altitude Condo,' a two-tower building in Southwest Edmonton. That project includes 140 residential apartment units, 20 commercial units on the main floor, and roughly 190 underground parking spaces. Songlin is particularly excited about that project due to its size and diversity.
"It's the biggest project we've done in the last couple years," he explains. "That's one reason I'm excited. The other reason is the mix of unit types. We have residential and we have commercial, and the commercial is very diverse. We have a daycare, we have a lawyer's office, we have a nail salon, we have a massage parlor – it's a very interesting variety."
Songlin is also excited by the client, and how committed they are to making the project great:
"They're not the kind of client that just wants to get the cost as low as possible," Songlin says. "They want to spend some money to make the project unique and attractive. They want to make a really positive impact on the neighborhood. That's always exciting for an architect."
Construction on the Altitude Condo was originally intended to commence in February last year, but was interrupted by the onset of COVID-19. Fortunately, sales have recently resumed, and construction is on track to begin again by the end of the year. Songlin is excited to see the project finally come to fruition.
Moving forward, Songlin is also excited to take on more large-scale projects like Altitude, and to continue growing his company – though he doesn't yet know how big he wants to get.
The firm's current plan is to launch a new office in Northwest Edmonton later this year, and they are actively looking to add members to their team to fill that space. Songlin believes the firm has lots of room to grow, but that's dependant on finding the right people. Those people have to hard-working, reliable, and they have to dedicate themselves to servicing clients the right way – otherwise, Songlin says, growing is not worth it.
"For us, it'll always be about the client and about the service we provide," he concludes. "That's not going to change."
For more on SPAN Architecture and their services, and to get in touch with Songlin and his team, visit http://www.spanarch.ca/