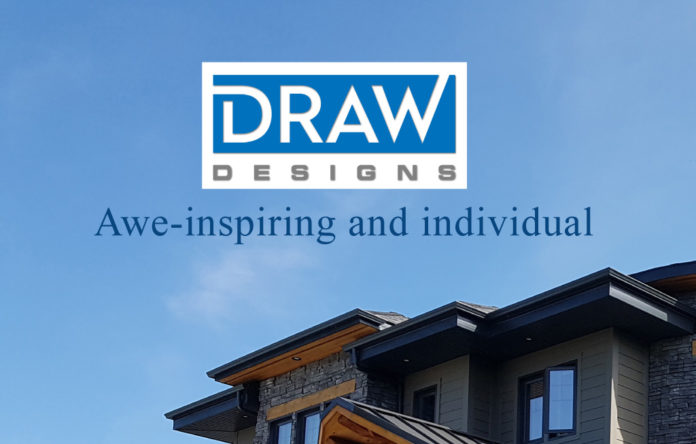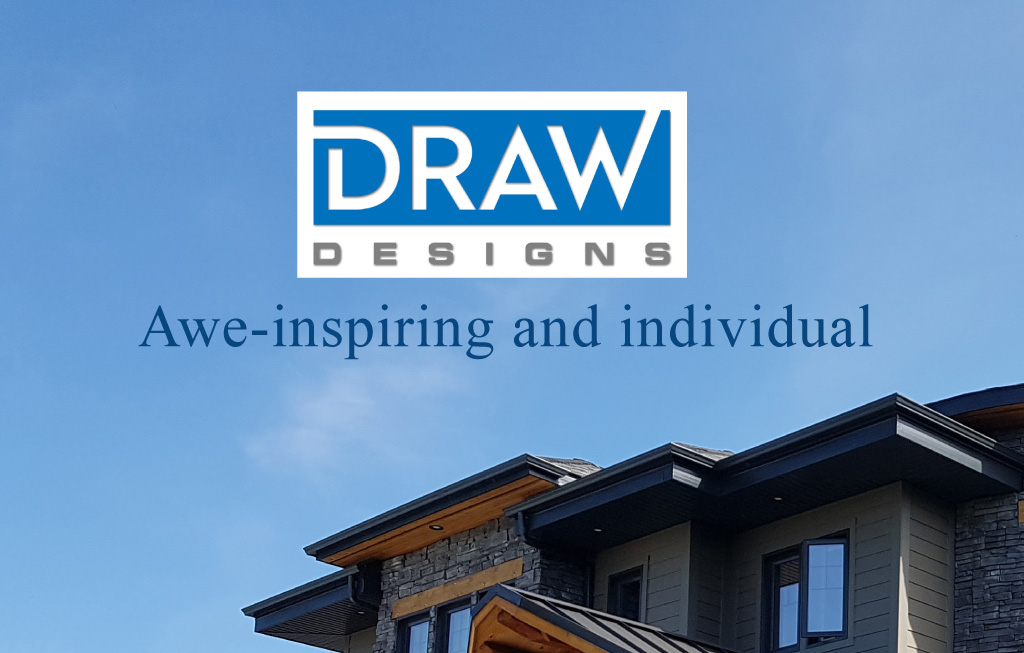 Awe-inspiring and individual
DRAW Designs is the designer behind some of Alberta's most luxurious and unique custom homes. With every design and draft, their mission is to create a place that is both "individual" and "awe-inspiring." They achieve that by taking the time to listen to their clients, to their stories and goals, They then translate those stories into a high-quality, buildable design that they will fall in love with. 
"We like to say that we don't just design homes, we bring visions to life," says Dan Wildeboer, the founder and creative mind behind the firm.
Over the course of his career, Dan has contributed to the design of over 16,000 homes in Edmonton and abroad. Prior to forming his own company, he worked as a designer and design manager with several production homebuilders, where he honed and refined his construction knowledge. He founded DRAW Designs from his home office in 2006, after being approached by an industry contact that admired his work and wanted him to design a series of more custom products.
In 2009, after the birth of his first child, Dan moved into a stand-alone office. A year later, he hired his first employee, who remains with the business today. Since then, the company has progressed considerably – they have moved into several new premises as they have grown, they have added six architectural technologists to their team, and they have developed a first-rate reputation in their region.
According to Dan, the reputation they have developed is for delivering "luxury" to their clients. However, as a firm, they do not believe that luxury is determined by a specific size, style, or fixture – rather, they believe "luxury is unique to each person."
"Our designers work closely with clients to customize every detail to their request," Dan explains. "Whether we're working on a 30,000 square foot mansion or a compact tiny home, we want the client to feel like they're coming home to luxury – whatever luxury means to them."
These days, DRAW Designs' projects are mainly residential, and they can range greatly in size, value, and type. The firm does everything from tiny homes, to shipping container homes, in-fills, estates, duplexes, town-homes, row-houses, and more. Their largest job to date was a 28,000 square foot home in Fort McMurray, which was a rebuild following the wildfire of 2016.
The company enjoys doing residential work, Dan says, because that's where they can have the greatest impact on their customer's lives.
"We're a big part of people's lives," he says. "We form personal relationships, and we help people achieve their dreams. It's a very rewarding thing to do."
The key to forming those relationships, Dan believes, is "listening." He says that's one of the "biggest things we do, right from the beginning."
"We make sure we understand how they are going to use the house, how they live," he explains.
"And we always keep in mind that it's not our house, it's the client's house," he says. "We're here to lead and guide them, but we're not here to dictate to them. We have to make the house work for them, not us."
"I know other architects who will refuse to do something because they don't think it will look good," he adds. "We don't believe that's our decision to make. If it's important to the client, we believe our job is to find a way to make it work."
'Making things work' is another thing DRAW Designs takes a lot pride in. Due to the experience of their staff, they are very skilled at finding solutions to building problems. They also enjoy the challenge of learning new things and adopting new materials and technologies. They believe that 'just because we haven't done something in the past, that doesn't mean it can't be done.'
Then there's the quality of their drawings and renderings – the company also takes pride in that that.
"We often take over drawings form our competitors," Dan says. "Customers get frustrated with the process that they've gone through, they've spent a bunch of money and they haven't gotten anything, so they come to us."
"Sometimes, when we take over, we can't even re-draw the product," he adds. "If we can't even re-draw it, how are builders going to build it? So we definitely push readability, buildability, efficiency in our drawings. Those kinds of things set us apart."
Again, Dan's experience working with homebuilders makes him an expert in that arena. He knows how builders are going to react and respond to what's on the page. He knows how to deliver a plan that they will understand and they will know how to execute on. Few other architects have that same depth of knowledge and experience.
At the same time, the company balances that technical expertise with a passion for creativity. According to Dan, every single member of their team has that mix. It's what he looks for when recruiting.
"It's hard to find that balance," he admits. "A lot of drafting people are really good technically but they can't think outside the box, they can't envision something that's not already laid out for them. You have to have that creativity, also. That's what makes our team special. We have both."
Making it work
As a result of their combined technical experience, creativity, and client-first approach, DRAW Designs has been able to form extremely strong relationships with their past customers. Those strong relationships have very frequently translated into more business. That's especially the case with their builder clients. According to Dan, many of those partners have been working with DRAW Designs essentially from the start:
"Some of them we started with in 2007," he says. "They have consistently come back."
One builder client, he says, tried bringing a draftsman in-house. That lasted four months, but after a series of problems in the field, they returned to DRAW Designs.
DRAW's individual homeowner clients, meanwhile, don't usually need more than one house designed, but they frequently refer their family and friends. Dan says they have one particular "tree of referrals" that goes eight families deep.
"We had one client come to us, then her assistant came to us, then the assistant's cousins came our way, and somehow we got connected with their uncle, and he owned a barber-shop in East Edmonton," he recalls. "We did his house, and then we did all his drawings for his barber-shop."
While the firm mainly focuses on residential work, they do take on the occasional commercial job like that barber-shop. Dan says those jobs are almost always similarly generated.
"We've done somewhere between 15 to 20 vet clinics in Edmonton and the surrounding areas," Dan explains. "We've recently done eight cannabis shops. We've also done a lot of physiotherapy clinics. Those are all through referrals. We do one vet, or one cannabis shop, and then they pass our name on to the next guy."
Referrals and word-of-mouth is also how DRAW Designs has come to do so much work in Fort McMurray since the wildfire. Dan estimates that they have designed and drawn over 100 houses in the area since, including their largest home to date.
That large home – which came in at roughly 28,000 square feet – is actually a strong example of all of the firm's points of difference in action. There, they showcased their ability to draw and design something beautiful, buildable, and personal in a short timeframe, after picking up from another designer who could not tick all those boxes.
"Those clients previously had about a 9,000 square foot house," Dan recalls. "The fire came through and burned it to the ground, and they decided to rebuild something bigger and better."
"They actually started working with a different design firm who couldn't fulfil their wishes and goals," he adds. "They were referred to us, and we were able to meet their timeline, which was important. Their insurance had a timeframe they had to have permits by, so were under the gun because the other company had taken a lot of time and hadn't gotten anywhere. But we were excited to take on the challenge, and we made it work."
Dan particularly credits that achievement to team member Jenn Coltman. After four months of working late nights and early mornings, he says Jenn was able to call the clients and tell them the approvals had been granted – that their brand new dream home was going forward, and that they hadn't made any sacrifices in the home's design in order to meet the timeline.
Since then, the home has been more than halfway completed. Dan says the feedback on the product itself has been consistently positive.
"It's just a fantastic house," he says. "So many people have commented and complimented us on it."
Moving forward, DRAW Designs hopes to have more opportunity to work on similarly expansive and luxurious homes. They don't want to abandon starter homes – which Dan considers his roots – but they do want to get into the larger, higher-end corner of the market.
At the same time, the company also wants to do more homes, if only because they believe more clients could benefit from their approach.
"We want to grow, but we don't want to grow for the sake of growing," Dan says. "We want to grow because we want to give more people the opportunity to have quality drawings. We want to grow strategically and keep an eye on our quality and level of service."
For more on DRAW Designs, their service, their process, and their past projects – and to get in touch with their expert team, including Dan – visit http://www.drawdesigns.ca/