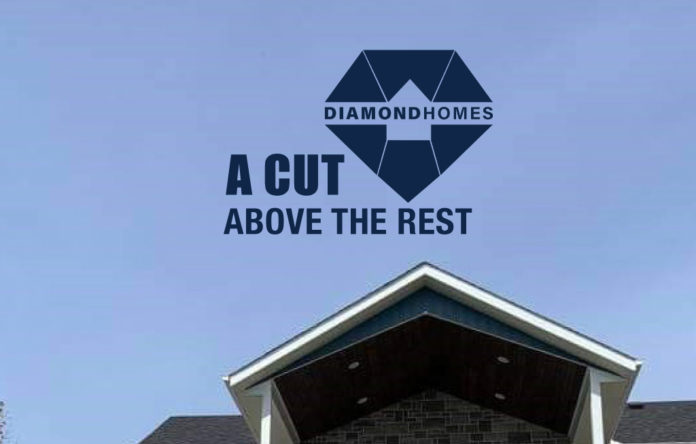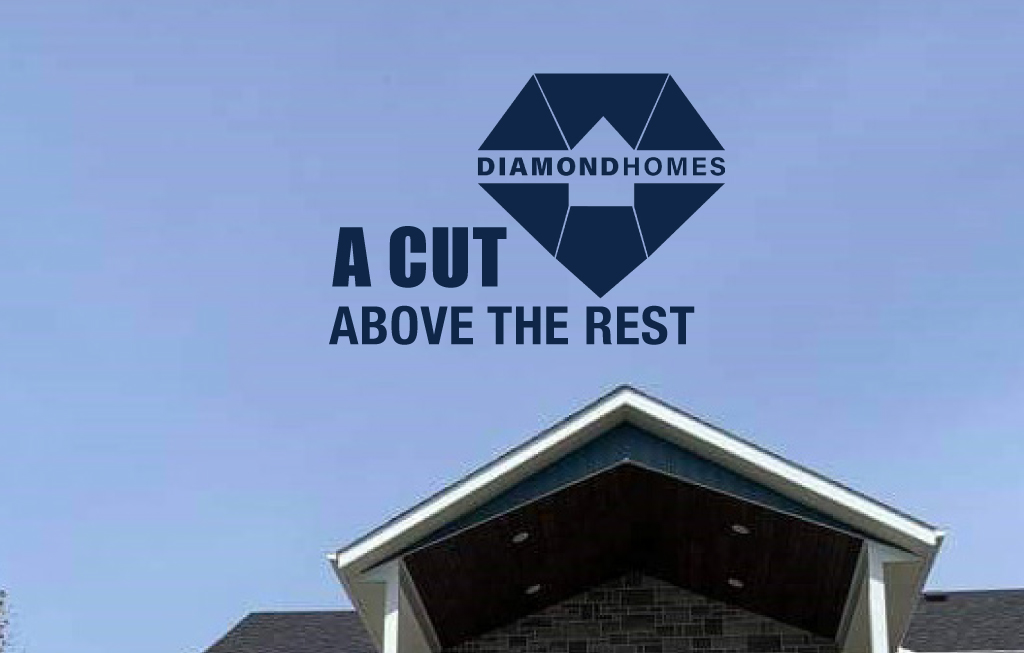 A cut above the rest
Diamond Homes by Davis is a multi-award-winning homebuilding company committed to living up to their name. Just like a diamond, they aim for quality, clarity, and flawlessness. They want to deliver quality products that exceed their client's expectations, and they want their clients to feel informed and at ease every step of the way. They want to ensure that the client's home, and their experience, is a "cut above the rest."
"We strive to provide our customers with the best quality service imaginable," says Catrina Davis. "From the beginning of the home building process, we provide the one-on-one attention they deserve."
Diamond Homes was founded in 1996 John Davis, Catrina's father. Prior to working in construction, John worked for Hydro One, but he eventually decided he wanted to venture into something new where he could be more hands-on and see the end result of his labour. He always had a passion for building and fixing things, so new home construction was a natural fit. He began his career working for another builder, before venturing out on his own several years later.
Today, Diamond Homes focuses on building custom homes in towns within Quinte West – which is where John was born and raised, and where he and his wife have raised their family over the last 30 years.
"We want to help build our community and welcome people to the lovely place that we have called home for so long," Catrina says.
The company can take on any size project. They have experience with town homes, subdivisions ranging in size from 1,300 to 1,900 square feet, all the way to multi-million dollar projects on the Bay of Quinte. They also have experience building many styles – they have built side splits, back splits, bungalows, two-storeys, country homes, modern homes, craftsman style homes, and "everything in between."
"We love when customers have their own unique style and want to do something a little different," Catrina says.
Catrina believes that those kinds of discerning customers choose Diamond Homes due to their uniquely personal approach. That starts with John, who is intensely involved in every single project the company undertakes. He makes himself available to all customers, and customers can find him working on the job sites every day of the week.
John's family also works within the business. Catrina, his daughter, and Cathy, his wife, manage the office, and also interface with clients on a regular basis. Collectively, they treat every single home they are building as if it was their own – in fact; they have previously resided in two of the company's past developments.
"People love that we are a family business," Catrina says. "My mother and I man the office; John is on site and is an extremely hands-on owner. When new clients meet with us to discuss purchasing a new home, they usually get to meet the whole gang, or at least two out of three of us."
All of Diamond Homes' clients also get the chance to work with the company's in-house interior decorator, Rachel, to make all of the selections for their home. She starts her job before even meeting them, asking them to send any Pinterest boards, vision boards or pictures they have to represent their style or ideas, and then she gets to work pulling samples that match their vision.
"She helps customers pick the perfect colour combinations," Catrina says. "From the prep work she does before even meeting our clients, to the time and passion she expresses during the process, she is one of a kind."
Catrina believes that kind of hands-on personal service, starting from the top, is how Diamond Homes by Davis has earned the trust of their customers.
And Diamond Homes has definitely earned that trust – it's reflected in their reviews, testimonials, and also the awards they receive on platforms such as Houzz. From 2017 on, the company has earned a 'Best of Houzz, Service' award every year. The company has also been recognized by the Canadian Business Awards, who awarded them 'Home Builder of Year– Hastings Country' in 2019 and 2021, as well as the Build Sustainable Building Awards, who recently awarded them 'Best Custom Home Company.'
That trust is also evidenced by their repeat work. According to Catrina, there are some clients they have worked with three times. That kind of the loyalty is the very best indicator of customer satisfaction.
In a testimonial, one repeat client praised the company for making the whole process "seem so effortless."
"As a 'hands-on' builder, you were remarkably accessible," the client said. "You took the time to answer my many questions and to explain the process to me. That meant so much. I don't know a lot about construction, but I have two very good friends, both builders, who have been to my home. Both of them said that the quality of your construction is excellent. I got exactly the house I wanted, and closing was ahead of schedule. It can't get better than that!"
"The fact that this is my second home build by 'Diamond Homes' speaks for itself!" she added.
Most of the company's work, however, is generated not from repeat clients, but from referrals – another undeniable indicator of satisfaction.
One pair of clients, for example, was responsible for multiple referrals. In their similarly enthused testimonial, they wrote that "John Davis and his team took the time to ensure all of our questions were answered which made the experience stress free."
"John worked with us to select a floor plan which met the needs of our growing family," they said. "John even took the time to help us select flooring, paint, cabinets and lighting, explaining the difference between the many options. The end result was a home that we love."
"I can't say enough good things about my experiences with John Davis and Diamond Homes," they concluded. "I have referred friends who have purchased with Diamond Homes and they share the same sentiments."
Those clients also praised the company for their after-sales service – which is another common theme in the company's feedback. Past clients frequently mention how John followed up after the sale, how he was always a phone call away – and if problems arose, they commended the company's swift response.
"One example of this great customer service happened when we had a flood in our basement (entirely my fault)," the above clients wrote. "John and his team quickly helped us with clean up and provided a little friendly education regarding flood avoidance."
Catrina reiterates that is why customers enjoy working with Diamond Homes. They are a family company that provides "the one-on-one attention they deserve," from the beginning of the process to the end, and even beyond.
Part of the family
Diamond Homes' customer service is only one of the main reasons Diamond Homes has been able to build such loyal relationships. The other main reason is the quality of their work. Catrina credits that quality, again, to John's personal involvement and 25 years of experience – but she also credits their "top notch" material selection, as well as the lifetime warranty on several of the fixtures in their finished homes.
Most importantly, however, Catrina credits the company's trades and vendors. She calls them "incredible," and says they have been working with some for upwards of 24 years.
Examples of trusted partners include Ontario Truss & Wall and C&L Landscaping. The former is a company even more longstanding than Diamond Homes, with a history dating back to 1982 in Foxboro. The latter is a newer company, but is family-owned-and-operated like Diamond Homes, and takes similar pride in that fact. Both share a passion for providing service that clients can count on, and quality that is second-to-none.
Over the years, Diamond Homes has consistently found success at finding and retaining those sorts of partners. Again, Catrina says that comes back at least partly to John's extreme personal involvement. He's out there on the tools, interacting with subcontractors every single day, setting an example and forming personal ties on site.
In addition, the company puts an emphasis on efficient and effective scheduling. Catrina believes that emphasis plays an equally important role in their success with subcontractors.
"From the moment a roof goes on a home and the shingles are laid, we schedule out every single trade that will step foot in the home and the length of time each of them will be in it," she says. "We pride ourselves on our scheduled organization and our trades really appreciate it, as it keeps things running as smoothly as possible."
"We couldn't do what we do without our trades," she adds. "We have the best of the best and that's exactly what it takes to build a great quality home. We have had 24 years to find the best out there and the crew that we have now is top-notch. Some have been with us since the beginning because they have proven themselves to be the best on the market and have become part of our family, while others have joined us over the last few years and have been an integral part of the team and the finished product."
Looking forward
Recently, Diamond Homes by Davis completed one of their projects they are most proud of to date, which Catrina calls "our first real modern house." The customers there had them build spiralling bricked columns at the front, which were "really interesting and different than anything we had done before." They also did a full grid ceiling in the living room.
"It turned out just incredible," Catrina says.
In the near future, the company expects to do two more similarly exciting projects. One is a complete renovation of a large older home on the Bay of Quinte, "with beautiful views and an amazing waterfront." Diamond Homes is going to completely gut the home and reconfigure the layout, including changing the number of rooms.
"We're really just re-designing the whole home," Catrina says. "We're excited to get started."
The other upcoming project they are excited about will be in Frankford – John's hometown, where they can't wait to build. It will be a larger development of strictly town-homes available for purchase. The company hopes to deliver them by fall 2021.
"They will be great for retirees looking to downsize and for first time home buyers looking to get into the market at a slightly lower price point," Catrina says.
Developing and their projects is something Diamond Homes by Davis has been doing for a while now. Currently, for example, they are still working on a Quinte West subdivision called Orchard Lane – "an urban, residential subdivision that has a true country feel," Catrina says. They have delivered roughly 140 homes there to date, and they still have lots and house plans to choose from. They also have a model home that interested customers can book appointments to see.
Moving forward, the company aims to continue down that development path. They have several new developments coming in the next few years they are excited to share. Not only will they be developing a new subdivision in Frankford, but they are working with a developer to bring another subdivision to Quinte West in the coming years.
"COVID-19 makes the future is uncertain for everyone, but aside from COVID-19 our goals for the next five years are simple," Catrina concludes. "Maintain our quality of work – that's our number one priority – and continue to grow the business. We have drastically grown the business over the last five years, and we plan to continue to do so over the next five years."
For more on Diamond Homes by Davis, and to get in touch with John and his team, visit https://diamondhomesbydavis.com/