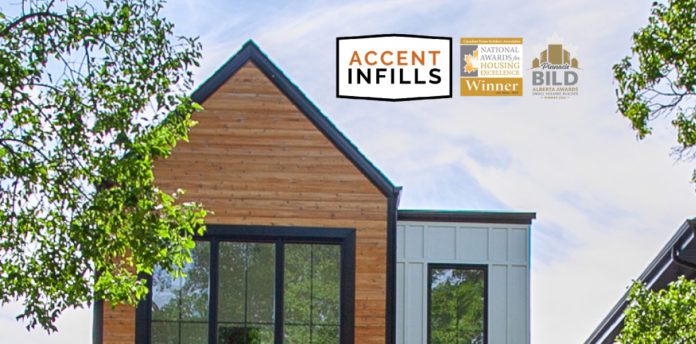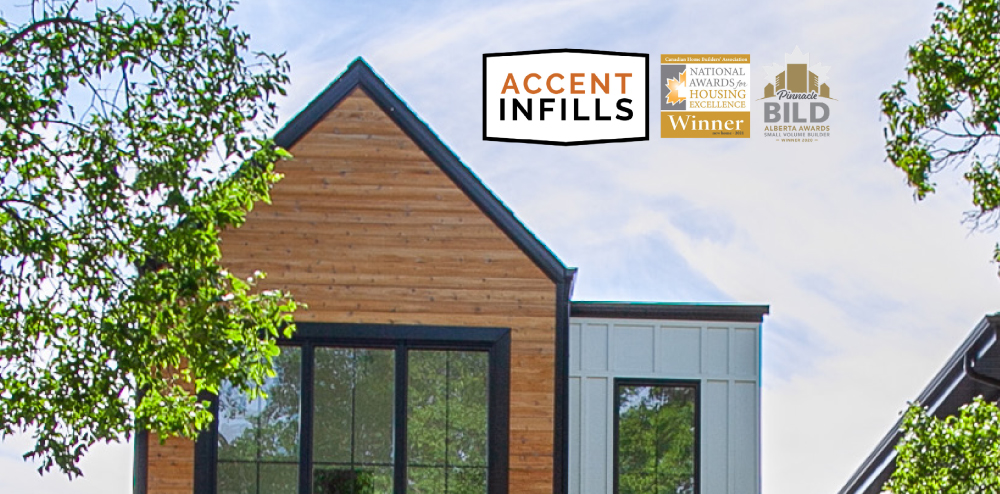 Building thoughtfully
Accent Infills is Edmonton's leading infill home builder. They are a company founded with the vision of revitalizing older areas in the city, and helping more people enjoy the lifestyle that mature communities have to offer. Since starting in 2013, their small but passionate team has built close to a hundred infill homes in Edmonton's favourite neighbourhoods, and they have won a long list of industry awards and accolades to show for their efforts.
At the 2021 Canadian Home Builders' Association (CHBA) National Awards for Housing Excellence, for example, their company was a finalist seven times over, and not just for one product – they were nominated for six different homes, and one virtual tour experience.
"That recognition means a lot to us," says Jeff Knowlton, President & General Manager. "The only thing better than being recognized by your peers in the industry is being recognized by your clients – and fortunately, that happens a lot for us too."
This year, Accent Infills earned national CHBA recognition in seven categories. Those nods included: 'Best Attached Home – Low-Rise 1,500 square feet and over,' for a project called 'The Stewart'; 'Best Detached Production Home | Under 1,800 square feet,' for a home called 'The Dawson'; 'Best Detached Production Home | 1,800 to 2,100 square feet,' where they were nominated twice, for homes called 'The Beverly' and 'The Windsor'; and 'Best Virtual Tour Experience,' for a video tour they made titled 'This Is How We Really Feel.'
Lastly, Accent Infills was nominated for 'Best Detached Production Home | 2,101 to 2,400 square feet.' Again, they proved the consistency of their quality by being recognized for two separate projects: 'The Capital,' and 'The Winford.' At the awards ceremony held in May, the company went on to be announced as the winner in that category for their work on 'The Capital.'
Jeff credits that volume of recognition to the dedication of Accent Infills' team. Their direct team, he says, is small but tight-knit. They are always thinking about Accent Infills and their projects, "even at night and on the weekends."
Jeff also credits the thoughtfulness of their designs. They ensure that every home they design is not only beautiful, but also functional and comfortable, and they make sure it takes full advantage of everything the lot and the neighbourhood has to offer.
"Our houses have the right features based on the amenities around them and the views around them," he explains. "We consider the little things. We consider how people are going to live in our homes. Our goal is always to enhance the owner's lifestyle."
As an example of that thoughtfulness, Jeff cites one of their finalist designs, 'The Stewart' – which is one of their smaller products, "but when you walk into it, you wouldn't know that."
"It's a very well thought out plan," Jeff says. "It feels grand. It's wide open. There's lots of space, lots of windows, lots of natural light. There's lots of storage space. It's super functional. There's no wasted space. It has everything that anybody would ever need in a home, in a smaller footprint. It doesn't feel like a duplex. It feels like a single family home."
Another commercially successful and award-nominated design is 'The Winford' – which is Accent Infill's largest plan, typically coming in between 2,200 and 2,300 square feet. That model is also "wide open," with "lots of windows, lots of natural light," but it's set apart by the den / office space on the main floor. Especially in these pandemic times, clients n that space to work from home.
"That's one of our newer plans, but it's been going very well so far," Jeff reports. "We're pretty excited about how that's being received."
Then there's 'The Capital,' which was the design that won the category at the recent awards. Again, that's a larger project, with a usual square footage around 2,400 square feet. Accent Infills built an example of it in Pleasantview, which they sold last year to a very satisfied client.
They also made a video tour of that home, which was nominated for 'Best Virtual Tour Experience.' The video depicts a local comedian, Caroline Stokes, dancing through the house dressed like Tom Cruise in 'Risky Business.'
"I think we market in a fun, exciting, engaging way, and that video is an example of that," Jeff says. "We thought that was a really neat way of showing the house. We like keeping things fun and light."
A fun brand
Jeff has personally been involved in the housing industry in Edmonton for about 14 years now. He didn't found Accent Infills, but he'd long been an admirer of what they did and a supporter of building in mature neighbourhoods. About a year back, when the opportunity arose to be a part of the company, he jumped at the chance.
"The infill movement is super exciting," he says. "It's a space where you're allowed to express yourself, to try new things, and be creative, all while helping revitalize mature areas. I've always wanted to be a part of it."
When he came aboard, however, it was during an uncertain time. Fortunately, he says that Accent Infills adapted to the challenges of pandemic pretty quickly. For example, they introduced remote access to the homes they were selling, so they could unlock the doors from their phones, and allow prospective buyers to browse them at their leisure. That proved successful at keeping both their clients and their team safe, and Jeff says that business hardly slowed.
These days, Accent Infills is known for building "skinny homes," which they were the first to introduce to the Edmonton market. Those typically originate with the company purchasing a 50-foot wide lot in a mature neighbourhood, splitting in two, and delivering two 17-foot wide single-family homes.
The designs of those homes can be based on models from the company's standard line-up, or they can be fully customized, depending on the client and their needs. Most often they are built on lots that Accent Infills has purchased and developed, but the company will also work with customers who own their own lots in mature neighbourhoods and are looking to re-develop their houses.
The size of the company's homes can also vary. As evidenced by their range of awards and nominations, their products can range from as small as 1,500 square feet to as large as 2,400 square feet. In terms of price, they go from $500,000 to well over $1 million. Again, Jeff says, it all depends on the wants and needs of the client.
No matter who the client is, however, Jeff believes they choose Accent Infills for the same reasons. Near the top of that list is the strength of their brand.
"I think our brand is fun," he explains. "It's exciting, it's trendy, and it's on point with what clients want. We get a lot of comments from people about how much they like our designs. We also get a lot of comments from people all over the country, who wish we built in their city."
In addition, there's the company's personal service. Accent Infills has a small but dedicated team – they only employ three people directly – and they give every client a lot of personal attention.
"We get to know all of our clients on an intimate basis, and vice versa," he says. "We build really close relationships. I believe that has a lot to do with our success. Most of our business comes from referrals and word of mouth."
"It's about constant communication and listening. We really get to know our customers, we understand what their wants and needs are, and we incorporate that into their house. We understand that people are spending a lot of money. Usually, we're building their dream house or forever home. We have to respect that. We have to make sure we're paying attention and that we're really dialled in."
Of course, the quality of the company's product is also differentiator – and their volume of industry recognition is proof that they are delivering that quality. Again, Jeff credits that consistency to the dedication of their staff.
"Everyone that works here lives, eats, and sleeps Accent Infills," he says. "You couldn't ask for a better or more committed team."
"We treat every house as if it was our own," adds Heather Stirling, project co-ordinator. "We take the time to plan what out we're going to do in terms of finishes. If we need to make tweaks to the plan to make it more functional, we'll do that. Every project is a special project. It's very important to us that we approach it that way."
Accent Infills' extended team of subcontractors and tradespeople are also important. Heather says they hold those partners to very high standards, and those standards are consistently met. She also says the company's relationships with those partners are mostly longstanding, with most subcontractors dating back to the company's very beginning.
"We are definitely loyal to our trade partners," she says. "In return, they're loyal to us."
Future success
Recently, Accent Infills completed construction of 'The Provincial,' which is a brand new model of theirs. At roughly 2,300 square feet, it includes a finished basement, "a beautiful kitchen," "a unique and creative stairwell," and a "really beautiful yard," among other features.
"We're super excited about that," Jeff says. "We're very proud of that design and that build, and we're eager to see how the market responds."
In the near future, Accent Infills will also be commencing work on their first multi-family project.
"That will be our first kick at the can in that sector, and hopefully that will open the door for some future successes," Jeff says.
The company also recently purchased a lot in Edmonton's McKernan subdivision. The plan there is to do build another large high-end custom home, which they will start construction on in the fall.
So again, Jeff sums up, "it's an exciting time."
"We're building really great homes and we're satisfying our clients," he concludes. "The opportunity is there to grow, to explore new neighbourhoods potentially, and to introduce new product lines – but for now, we're happy. We're doing what we love to do."
For more on Accent Infills, their models, their homes for sale, and awards success – and to get in touch with their team – visit https://www.accentinfills.ca/
To watch their award-winning Virtual Tour Experience, 'This Is How We Really Feel,' visit https://www.youtube.com/watch?v=9f8LEffzXQ4