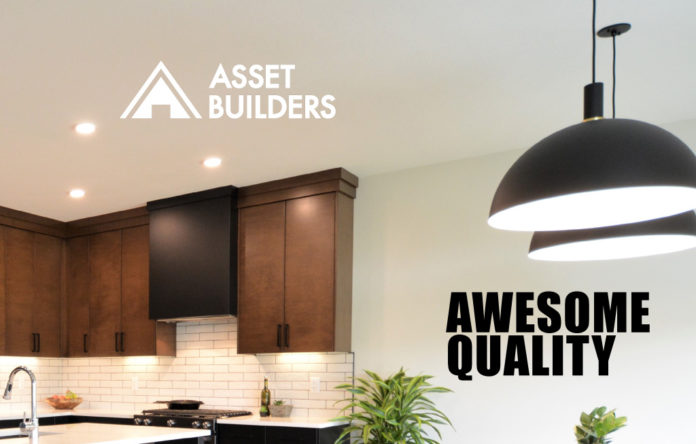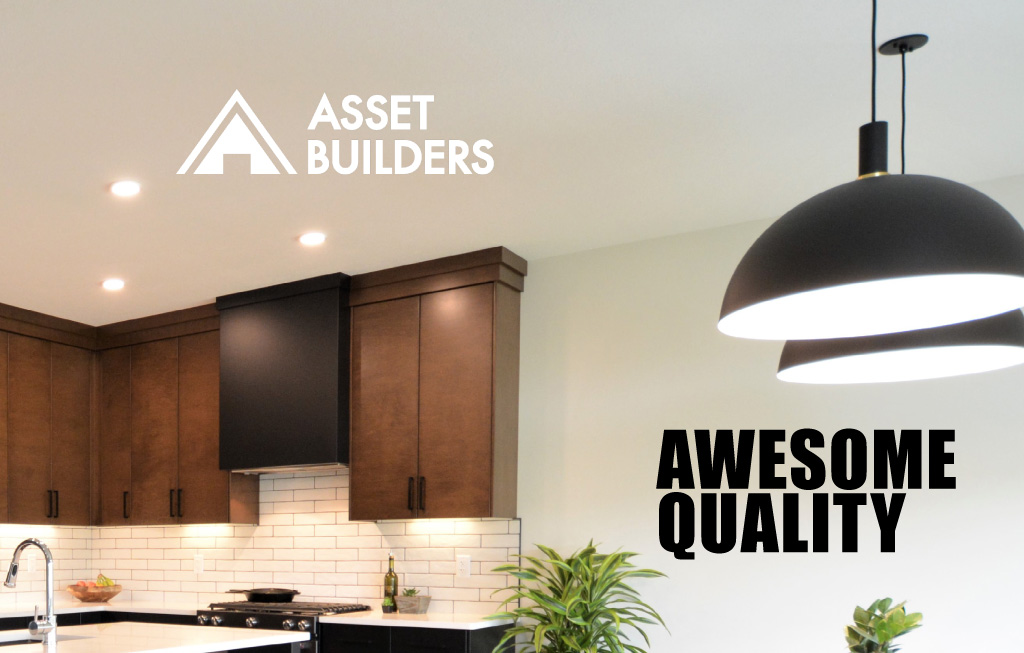 Awesome quality
Asset Builders is an acclaimed builder of new homes and renovations, and a mainstay of central Alberta for  two decades. As a company, they have strived to bring the unique visions of their customers to life, while guiding them through the building process every step of the way. Over the years, their approach has consistently earned them trust and loyalty, as well as a list of industry awards and accolades, for both their customer service and the quality of their workmanship.
Most recently, at the 2020 Building Industry and Land Development Association (BILD) Central Alberta Awards of Excellence, Asset Builders' was awarded wins in three categories. According to Taylor Kalinchuk, president of the company, that recognition is a credit to the dedication of the company's team.
"Our people are fiercely dedicated," Taylor says. "Everyone here knows good work when they see it, and they won't accept anything else."
That starts from the top, with Taylor himself. He has personally been working in the construction industry for more than 17 years. In that time he has continued to raise his standards, and has guarded against ever letting them slip.
Taylor began his career with Asset Builders as an employee, later purchasing the company in 2015 along with his brother Scott Kalinchuk. He decided to take over Asset because of the company's strong reputation, which he wanted to maintain – also, because he knew homebuilding was his passion, and he couldn't see himself doing anything else.
"I've always found building homes to be very exciting," he says. "The day to day progression has never gotten old for me. When you start, there's nothing there. Then you dig a hole, and the next thing you know there's a structure, and that structure becomes a home. I have always enjoyed that process."
Scott, meanwhile, came from a background in finance. Taylor knew if he was going to lead a larger company like Asset Builders, he'd need someone with that expertise who he could trust. Scott agreed to come on board, and together they have led Asset Builders through six years of continued success, even in the midst of the oil and gas recession.
Over the course of those six years, much has stayed the same – the company is as dedicated to quality as they have ever been, and their commitment to client satisfaction has been constant – but there have been differences. These days, for example, Asset Builders focuses more on building custom homes directly for clients, while the previous version of the company worked more on spec.
"Going more custom is something we always wanted to do," Taylor explains. "That's what I'm passionate about. I love working with clients and figuring out how to make their dream come true."
This year, the company is on pace to do over 35 homes. The size and value of those homes will fluctuate, as Taylor says "We don't say no to much." They have done projects ranging from 1,500 square feet to 8,000 square feet, at values spanning $300,000 to $2 million. Their average product, however, weighs in at around 2,000 square feet and $700,000.
Taylor believes that clients in that niche choose Asset Builders because of their personal touch, especially for a builder their size.
"We're very personal, compared to most of our competitors," he says. "We've had clients say they have built with other builders and they didn't even meet the owners."
Asset Builders, on the other hand, as a "small, tight-knit team," all of whom are involved in every project the company undertakes. That includes Taylor and Scott, who make it a point to form personal relationships with each and every customer.
"I know everybody we're building for," Taylor says. "I meet everybody, I talk to everybody, and I know what I'm talking about because I manage the construction of their homes."
As a result of that approach, he says he has formed some "pretty awesome relationships" with "some pretty awesome people." That opinion is obviously reciprocated, too, as the company earns most of their work through referrals and word of mouth.
"Our customers have always been our biggest advocates," Taylor says.
Industry recognized
The efficacy of Asset Builders' approach has not only been recognized by their clients, but by industry bodies as well. Over the years, the company has won several awards for outstanding customer service. In recent years especially, they have also been rewarded for their quality of craftsmanship, from industry associations such as BILD.
At the 2020 BILD Central Alberta Awards of Excellence, for example, the company won the categories for 'Best New Home between $750,000 to $849,999,' 'Best New Home: Multi Family Townhouse/Duplex Style under $249,999,' and 'Best Renovation over $300,000.'
According to Taylor, that industry recognition means a lot to the company and their team.
"We know we have some really fierce competition here in Central Alberta," he says. "Central Alberta has been such a huge place for growth for so long that there are lots of builders, and lots of really good builders. The competition makes us all better, I think. And when you get recognized in that group for being one of the best, it speaks volumes."
He credits that recognition, in large part, to the quality of the company's team – including their team of tradespeople and subcontractors, some of whom have been working with the company for up to 20 years.
"First of all, we have awesome trades," he says. "We've been working with them for a long time. They understand our expectations. They know we won't accept poor workmanship, that we won't let the bar slide on that."
"We work together on a daily basis," he adds. "They work with us to solve problems. They really step up. They're professionals in their industry and we lean on them a lot for their knowledge. They know their business in-and-out. When you have people like that, building is so much easier."
Asset Builders won the 'Best New Home between $750,000 to $849,999' category for a project called 'Lofton Modern Lakehouse,' located on a canal in Meridian Beach, on Gull Lake. That was a show-home they built for themselves, which Taylor says they designed to "showcase what we could do."
"We did that," he says. "We went above and beyond in design. We incorporated so many little upgrades, so much creativity. It all paid off. It turned out to be such a beautiful home."
"We wanted it to be a dream home," he adds, "and that's what we heard from the people who went through it. They kept saying 'It would be a dream to live here.'"
Asset Builders won 'Best New Home: Multi Family Townhouse/Duplex Style under $249,999,' meanwhile, for a project they called the 'Vista Townhome.' With that project, they delivered a series of single-storey townhouses that effectively utilized their walk-out basements, instead of leaving them unfinished like most townhouse projects. The kitchen, dining and living rooms were actually in the basements, while the bedrooms were on the main floor.
"It was a new design, nobody had ever really seen it before," Taylor says. "I'm sure if you looked around Canada you might find something like it, but it was a new thing for us. Everybody that came through was wowed. When they heard about it, they admitted they weren't sure if it would be good or not, but once they had toured it, it really made sense to a lot of people."
The company built 16 units for that project – some of which they sold and some of which they are now renting out. According to Taylor, the units have been highly sought after.
"Whenever we have one come up for rent, it gets snatched up," he says. "The reviews have been great. People have been really enjoying them; they say the space works quite well. I think it was clearly a successful plan."
Lastly, the company won 'Best Renovation over $300,000,' for a job they call 'Carstairs Reno.' That was a large bungalow project that Taylor and his team "essentially gutted," in some areas taking it down to the studs and insulation. They then rebuilt the entire house, changing flooring, cabinets, walls, windows – "everything," Taylor says.
The rear of that home backed out onto a canal and featured a lot of beautiful trees. The purpose of the renovation was to optimize light in the home while taking advantage of the views. According to Taylor, that objective was definitely achieved.
"We opened the walls and basically put windows all across the back of the house," he explains. "Now, when you're sitting in the living room it feels like you're sitting on the deck. The trees feel like they're right here. It's just beautiful."
"I love it," he adds, "because I almost can't believe how much better it is. We changed the house completely. The before and after pictures are dramatic, to say the least. That's why we entered it in the awards."
Taylor says the owners – an older couple, who now frequently entertain their children and grandchildren on the property – feel the same way.
"They couldn't be happier. They absolutely love it and they're glad they did it."
Taylor says that's the kind of reaction Asset Builders aims for every time. His goal is to continue earning those positive reviews, and building those lasting relationships, even as the company evolves.
In the past, Asset Builders delivered up to 75 homes per year, and Taylor hopes to get closer to that number again. Specifically, he'd like the company to do between 50 and 60. As part of that goal, he is expanding their presence in British Columbia, where they recently became an approved builder.
"We're very excited about that," he says. "It's beautiful in BC, and building there has been a great learning experience. Building is a little bit different there, which has been a challenge, but it's been fun. We look forward to doing it more."
"We're doing what we want to be doing," he concludes. "We just want to get better at it, and we want to keep doing it."
For more on Asset Builders, their process, and their past projects – and to get in touch with Taylor and his team – visit https://assetbuilders.ca/