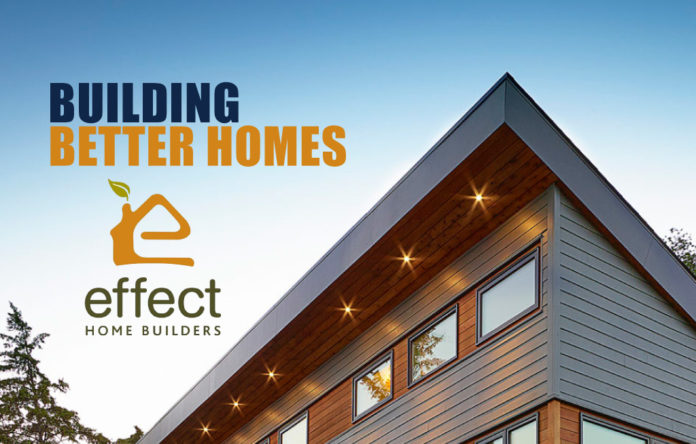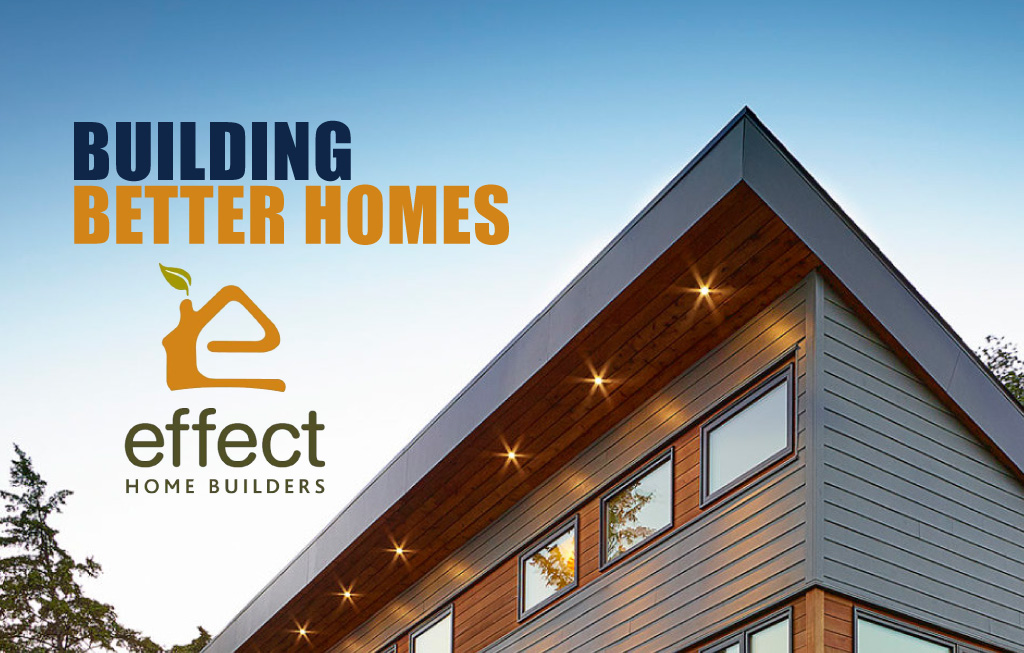 Building better homes
Effect Home Builders is an Edmonton-based provider of award-winning, energy efficient custom houses. Led by founder Dale Rott, they are a company that takes pride in delivering homes that are unique, that push the boundaries of environmental performance, and that achieve the highest possible quality standards.
As a company, Effect also understands that their homes are often the biggest purchases their customers will ever make, so they believe the final product should be exactly what they want. They believe every project they undertake should meet or exceed all the client's expectations, and every home should stand the test of time. They'll go the extra mile to make sure that happens.
"You're making a big investment when you build a home," says Les Wold, Sales & Marketing Manager. "Our goal is to make sure that investment lasts for generations."
Effect Home Builders was formed in 2001, initially in rural Alberta. From the start, Dale's vision was to "build better homes" – which meant better materials, better insulation, better airtightness.
"He wanted to be more environmentally conscious and he wanted to improve on the way buildings were built," Les recalls. "That's exactly what he did."
Effect's reputation grew quickly on the strength of Dale's high quality workmanship, fairness, and attention to detail. When he moved the company to the city, he abided by the same principles, and that growth continued. That's when he joined forces with Les and Dave Bravelle, who were attracted by the company's mission, and by the opportunity "to really change people's lives."
"It's very fulfilling to make a difference, which is what we do," Les says. "It can be challenging, but it's always worth it. There are a lot of rewards in the end."
Since coming to Edmonton, Effect Home builders has grown considerably in size, staff, and number of projects. The evolution has mainly been powered by their consistent stream of positive reviews, glowing testimonials, and customer referrals. The company has also won a long list of industry awards, and been featured in numerous industry publications – that exposure has also helped the company to grow.
Les credits the company's ongoing success to the dedication of their team. He says each member has fully bought in to the company's ethos and mission, just like he and Dave did when the business came to Edmonton.
"Everybody on our team really cares about what they do," Les says. "We have four really simple core values, and that's number one. It all starts there."
Effect's other values include 'being excellent problem solvers,' 'having a collaborative team,' and 'striving for continuous improvement,' Les says. He believes that the team's sincere commitment to those values, from the ownership on down, is a big part of what sets the company apart.
"We don't pretend we're perfect," he explains, "but we truly care and we always want to get better."
"If we make a mistake, we communicate with the client, and we deal with it. We make it right. We do everything we possibly can to make sure that in the end, the client gets the dream home that they always wanted
These days, Effect mainly focuses on new homes, though they occasionally take on major renovations and additions. Their projects can vary greatly in size and value, anywhere from $500,000 to $5 million. According to Les, the company has grown to the point where they can be somewhat selective about what they take on, and the price of the project is truly not their main concern.
"Our focus is on working with good people on good projects," he says. "The size doesn't matter to us. It's about the quality of the construction. It's about making sure the home not only looks good, but that the bones behind the building are strong, that it will last for generations. That's what we care about. That's what we look for in our projects."
They also look for clients that share the company's passion, he adds. They want clients who want to live in a healthy home, and who are at least open to the company's ideas about energy efficiency and environmental sustainability. If a client doesn't care how efficient their home is, or how much energy it takes to operate, they are likely not the best fit.
At the same time, the company also welcomes clients who have their own ideas. In fact, they encourage clients to be vocal and opinionated, as they enjoy building homes that are "very personal, and very specific to the client and their lifestyle." Their team likes the challenge of sitting down with a client, learning about their wants, needs, and priorities, and turning that knowledge into a building product that will achieve all their dreams.
"One of the most rewarding aspects of our work is when a client shares what is important to them and we make it happen," Les says.
"If someone walks through the door and is just looking to do a flip – to build something as quickly and inexpensively as possible for a quick resell – that does not align with what we're good at and what we're set up to do. We're here to build dream homes. We want to make people's dreams come true."
Solving problems
Over the years, Effect Home Builders' quality and customer service has been recognized numerous times, both by clients and industry experts.
On the client side, the company has been repeatedly rated a top-three homebuilder by 'BestInEdmonton.com,' they have won 'Best of Houzz' awards five years running, and they have won multiple 'Top Choice Awards' – all of which measure customer satisfaction, in one way or the other.
When it comes to their peers in the industry, meanwhile, Effect Home Builders has also earned consistent acclaim. The company has been a frequent finalist and winner at the Canadian Home Builders Association (CHBA) Awards for Edmonton and Alberta and even at the national level, and has also netted prizes from the Building Industry Land Development Association (BILD), the American Concrete Institute, and the Alberta Emerald Foundation.
The company's list of awards and accolades is lengthy, starting from their first victory in 2008 and continuing to this day. In 2021, they have already been named a 'Top Choice Home Builder in Edmonton' by the Top Choice Awards, and they were a finalist in two categories at the CHBA Edmonton Awards.
Last year, in 2020, the company was even more lauded. In addition to accolades from Houzz, the Top Choice Awards, and BestInEdmonton.com, Effect Home builders won an 'Energy Efficiency Award' from BILD Alberta, and 'Best Infill over 400 square feet' from CHBA Edmonton.
The latter award was for a project called the 'Garneau Home,' which Les says is notable for its list of "daring design features you won't find anywhere else." That list includes a suspended glass bridge, a vertical garden for growing fresh herbs year 'round, a high-performance multi-layered wall system, and an underground corridor connecting the garage to the house.
"It was such a fun project," Les says. "There were some challenging tasks put forward on that project, some things we'd never done before, but we were able to be quite creative and come up with solutions."
The underground corridor is a great demonstration of that problem-solving capacity. The client had asked their garage be attached so they wouldn't have to walk outside, but city bylaws did not allow for that. The team came up with the idea to build an underground corridor. To ensure the homeowner would be dry and comfortable, they took special care on the waterproofing and ventilation. And in the rare event of exhaust fumes entering from the garage, they installed a carbon monoxide detection and exhaust system in the buried concrete.
"So it's completely safe, and it's incredibly convenient," Les says. "In the winter, the owners don't have to step out into the cold after they pull into the garage. They can go right into their house. It's exactly what the home owner was looking for."
In addition to demonstrating their problem-solving, the Garneau Home also demonstrated the company's commitment to environmental sustainability. According to Les, the finished product is at least 40 per cent more efficient than a standard house of the same size.
Since being completed, that project has been acclaimed in multiple ways. In addition to winning the CHBA Award, it also earned media attention, with features in the 'Edmonton Journal' and 'Best Home Magazine.' Even more importantly, it received a glowing review from the client:
"They were ecstatic," Les says. "They absolutely loved it. It really captured all the needs of their lifestyle. It was really fun to see their reaction."
Les credits the success of that project – and the success of all Effect projects, really – to their attention to detail. He says that begins right at the start of a project and continues through to handover and beyond.
"It starts with really thinking through the design," he says. "Then, from the moment we pick up a hammer, we do all the little things."
For example, he cites their basement slabs – before they pour them, they always put insulation underneath, which prevents the cold of the earth from infiltrating into the basement floor. That ultimately makes the home more comfortable to live in and also as more energy-efficient.
"That's something you'll never see after he house is built," Les says, "but it's always there working for the home."
According to Les, Effect has also built relationships with some of Edmonton's most trusted and reliable subcontractors and trades. He says they are similarly committed to getting the details right.
"We have very strong, long-term relationships with some really highly skilled teams. They know that we always have a very high expectation of quality, but they also know that we're a good company to work with, because we're very organized and efficient. They complete the work, we inspect it, and they're paid in a timely manner."
Building their reputation
Moving forward, Effect Home Builders aims to keep making the case for environmental sustainability in home building.
Several of their recent projects already push those boundaries. For example, their 2020 BILD Alberta award-winning home was 'net-zero,' producing all the energy needed for the home, while also powering two electric cars.
Effect's own office, meanwhile, is completely disconnected from the electrical grid. They produce all their own heat and electricity on site using solar batteries and co-gen units to supplement when there is not enough solar. Those are the kind of results they want to deliver for clients.
As far as the size of their company is concerned, Les says that they want to grow "incrementally," and mostly within the space they already operate. They love working closely with clients to design and build unique, energy-efficient, long-lasting custom homes. They want to keep doing what they love.
"We we're fortunate to have such a strong reputation," Les says. "We're known for building better homes and for being there for our clients. Our plan is to continue to build on that."
For more on Effect Home Builders, their sustainable approach to building, their past projects, and their many awards – and to get in touch with their team – visit https://effecthomes.ca/