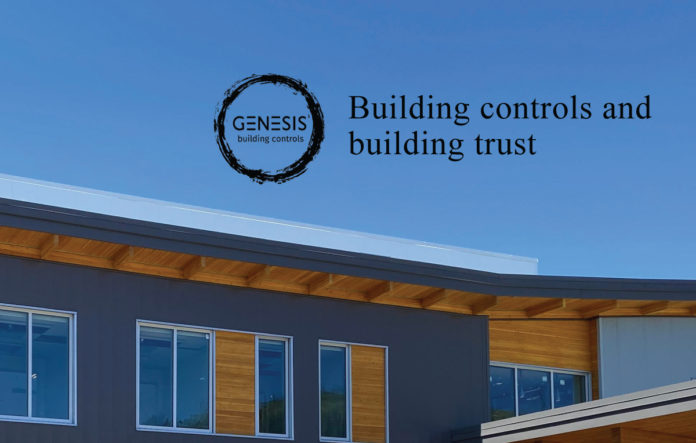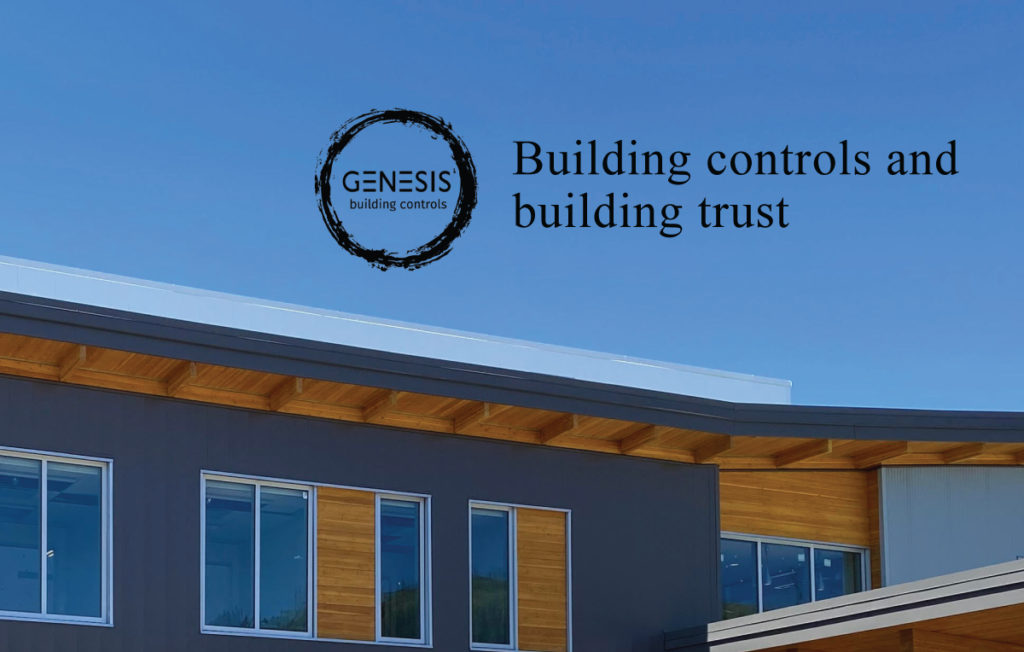 Click here to view the brochure.
Building controls and building trust
Genesis Controls is a Kelowna-based company with the knowledge, expertise, and technology to meet any building mechanical control requirement, from the simplest house to a complex integrated high rise building. Armed with that capacity – and backed by over 20 years' experience in the controls trade – they have developed a portfolio of successful projects, they have built loyal relationships with contractors, and they have quickly grown into one of the largest and most trusted controls companies in the BC interior.
Genesis Controls' history dates back to 2013, when Trent Novakowski was brought on as a partner of one of the largest electrical contracting companies in the Okanagan. Trent was recruited with the intent of starting a controls division, and over the following years he built that division up. In 2017, however, the company sold to new owners who only wanted to acquire the electrical component. Trent sold his shares in that company and branched off on his own, forming Genesis Controls as its own entity – as "a turnkey business," he says.
In the five years since, Genesis Controls has grown rapidly. When they started, they already had several projects ongoing, but Trent didn't want to get complacent – he immediately got to estimating and winning new work, and the company quickly earned an industry-leading reputation under their new name. A few years later, the company was ready to expand into the Lower Mainland, and in June 2020 they officially started a second office in Surrey. Since then, they have built that office up, and they are now looking to build it up even more.
"We chose the right time to start this business," Trent says. "This is a huge and growing industry. The construction world has been going berserk lately, and it just seems like there's been no slowdown. It's been good timing."
Today, between their two offices, Genesis works all over BC. To date, they have worked as far north as Prince George, and as far south as the border. They have bid jobs even further afield, and they have also taken on some small service jobs in Ontario and in the United States.
No matter where they are working, Genesis' service offering includes: full automation of a buildings' mechanical and HVAC systems; thorough and accurate gas detection, from indoor air quality sensing, hydroponic environments, to hazardous environmental control; seamless web-based smartphone integration, even of old technologies; smart building set-up and programming; winery and brewery controls of everything from one or two tanks to an entire processing plant; and much more.
When it comes to the buildings they work in, Genesis has mostly done commercial buildings, horticulture facilities, and residential towers. They have worked in both existing buildings, where they do a lot of integrating their technology into older systems, and new buildings, where they are typically involved early on and contribute in between multiple phases of the build.
As an example of what Genesis Controls is capable of, Trent cites their recent work in the Landmark District in Kelowna.
Located in the center of the city, the Landmark District has always been known for its professional business atmosphere – but it's now undergoing "an evolutionary expansion" into a walkable pedestrian village with an emphasis on convenience, the environment, and both indoor and outdoor amenities. As part of that expansion, they recently sought to revitalize six existing office towers within the district. Genesis Controls was part of that effort.
Within the six towers, Trent says there were four different control systems, all communicating on different protocols.
"We were able to put in one new server, and then through quite a bit of programming, we were able to bring all of those points into our server, create new site graphics, and give them one graphical user interface for their facilities manager to log into."
"Before they had two computers set up with different remote desktop applications, with different programs and software running on them, some had different locks and passwords and usernames – so for them to hire a new facility manager, it was two months' worth of training just so that they understood how to get into each of the systems."
"Now that we've done this integration, they have easy access to all their systems in all their buildings," Trent continues. "There's just one simple user interface, and there's one username and one password for each individual user. They can access everything from their phones, their tablets, or any web browser, basically. That makes things a lot easier for them."
The feedback from those clients, Trent says, has been extremely positive:
"They've gone from banging their heads on the wall to asking 'How did we go so long without this?'" he says. "They love how much more streamlined we've made their systems. They definitely see the value."
According to Trent, clients like those choose Genesis in the first place because of their reputation. Within the Interior and the Lower Mainland, especially, he says they have become a trustworthy name in controls.
"I think I've done a really good job building trust with our clients," he says. "I've always been a person that believes that if you do a good job for your client, and if you're honest and you're fair, then word will get around. I think that's what's happened for us. We've earned a lot of word of mouth. We've become known for doing a good job and for doing what we say we're going to do."
"There are a lot of companies that will send out a price for a job, and then halfway through the project they've got their hand out and they're looking for more," he further explains. "Whereas when we bid a project, we make sure we really sit down first and uncover what it is the client wants at the end of the day and what it's going to cost. We cover our bases at the beginning. That way we don't get surprised along the way."
Bigger and better
In addition to building longstanding and loyal relationships with clients, Genesis Controls also strives to foster loyalty and longevity in-house. They currently have about 16 employees total, and Trent has been working with many of them since near the start of the company – and some of them he's been working with even longer, since before Genesis branched off and became its own entity.
That retention is important, Trent says, because so much of Genesis' quality comes down to the knowledge and expertise of their people. He credits that retention to the culture he's strived to build there.
"I know it sounds cliché but I truly live by the open door policy," he explains. "I've had the fortune of always having great employers going through my career, and I've tried to pass on what I've learned. I've tried to create the kind of work environment that I've been fortunate to enjoy."
"I think I've been successful," he says. "Every time I do reviews with the guys, they're telling me that they appreciate the environment we have here. They're very happy to be working here and working with the team we have put together."
Moving forward, Trent's goal is to continue treating employees well and to continue fostering that happiness, especially as the company grows and adds more people. And the company is definitely growing, Trent says. They have grown quickly over the last five years, they have opened and staffed a second office in Surrey, and "we have no plans of slowing down."
As they grow, they also want to get better, Trent adds. They are currently taking a hard look at their processes and looking for ways to be more efficient, and to make their work in the field a little more streamlined. The company recently hired a couple more people in the office specifically to work on that, freeing Trent up to personally focus more on business development.
On the topic of business development, Trent sees a lot of future opportunity on the service side of the business:
"There seems to be a big demand there," he says. "There are a lot of existing buildings with control systems that need to be monitored or improved. There is also a huge opportunity to look at energy efficiency and how we can make existing systems operate better."
"A lot of time what will happen is a controls company that comes in, they'll do the project, then once they've done their final check they wipe their hands and they walk away. But there's almost always room for improvement. There are always different sequences of operations and different programming strategies that can increase efficiencies or help lower the building's energy consumption."
"We're doing a lot of that now," Trent concludes. "We're using the skills we have in our team to help our clients save money. We think there's room to do a lot more, and we're excited about the opportunity."
For more on Genesis Controls, what they do, their past projects, and to get in touch with Trent and his team, visit https://genesiscontrols.ca/