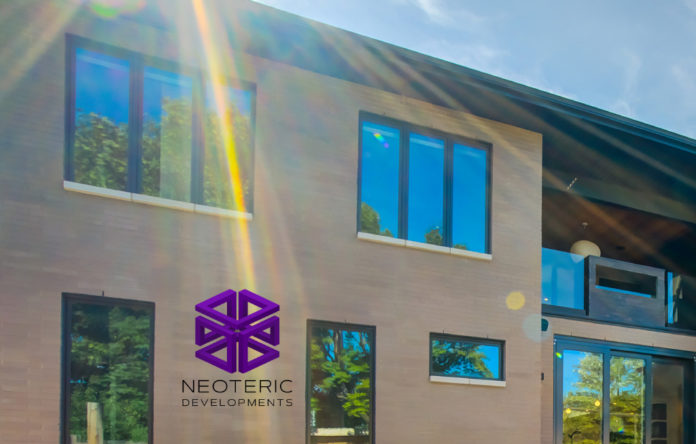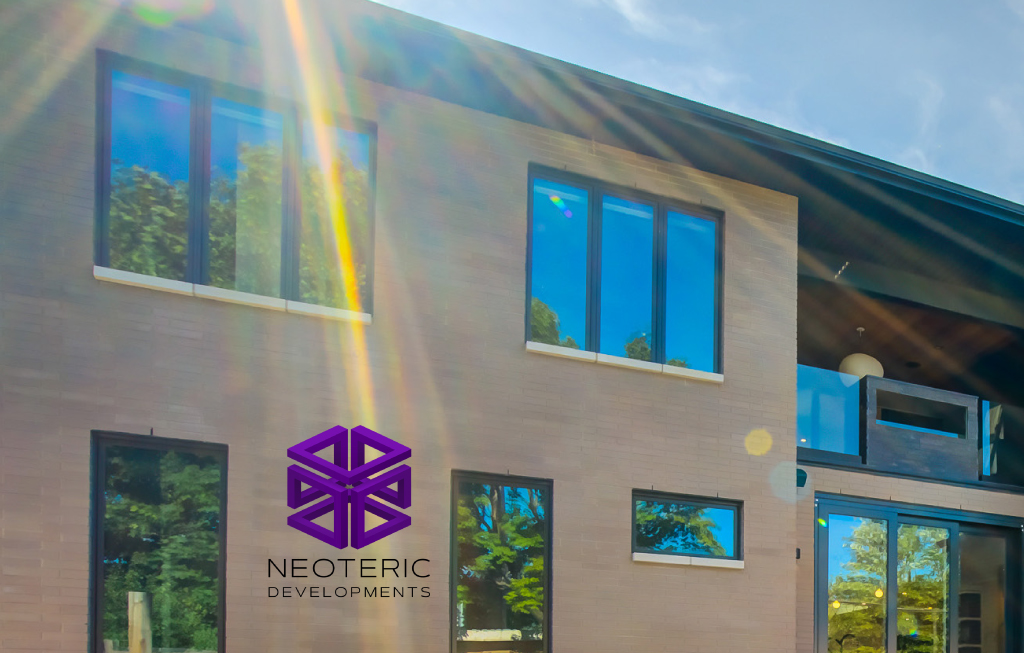 Building outside the box
NEOTERIC DEVELOPMENTS (ND) is an acclaimed builder of commercial and residential projects, backed by the experience required in both sectors to manage complex projects from conception to completion. Their goal is to exhibit innovation, quality, and attention to detail with every job they take on. Their commitment to those values – combined with their proven track record of successful project implementation – has earned them a growing reputation throughout the Greater Ottawa Region.
Shneur Bielak is the president and owner of NEOTERIC DEVELOPMENTS. He says that everything his company builds is "unique, stylish, and exudes character."
"My team and I design and develop paradigm examples of building outside the box," Shneur says.
Shneur's interest in building and development was sparked when he completed a renovation of his own home. Friends and family were blown away by the result. He recalls that "everyone kept telling me they loved what I did and that I should consider doing this for a living." After a decade spent in his previous career – he was a professional singer in the clergy – he decided to take the advice.
Early on in his new career, Shneur realized that he needed help. He needed someone with a background in construction management, experience working with trades, and expertise in engineering. A mutual acquaintance put him in touch with Marco Manconi, a professional engineer and an experienced construction manager with the City of Ottawa. For several years, he leaned on Marco for advice and assistance. Eventually, he invited him to join NEOTERIC DEVELOPMENTS full time.
Marco, for his part, had worked with the city for 18 years, and been involved in a number of large scale and iconic projects, many valued at well over $100 million. For example, he was the construction lead on the massive Lansdowne Park Redevelopment for almost four years, and the project lead on the Ottawa Art Gallery Expansion and Arts Court Redevelopment for almost three.
"I'm used to doing big things, big projects for what I consider to be the best city on the planet," Marco says. "I love Ottawa, and I loved my time at the city. We were really transforming a pretty amazing city and making it even better."
With NEOTERIC DEVELOPMENTS, Shneur's vision was to do the same thing – to make the city better, but from the private sector, where there is more flexibility, and companies can act faster on their ideas. That vision appealed to Marco.
"Shneur was pretty inspiring in terms of what he wanted to do," Marco says. "There are a lot of home builders here, but he wanted to be more than that. He wants to improve the city with every NEOTERIC project. He wanted to build homes people want in their neighbourhoods. I think it's working: we've won some awards, we've worked for some pretty high profile clients, and we've made an impact."
According to Shneur, he and Marco make a good team because they share those values, but they're also very different.
"We are yin and yang, and together we make the best product," Shneur says. "That's what people who meet us tend to say. That's inspiring to us."
"I have an eye for design, creativity, for literally building outside the box – but Marco has the expertise and the pedigree to achieve our lofty visions. It's not enough to come up with an idea. You have to execute it well and Marco is the person who makes the vision a reality."
Together, Shneur and Marco have delivered a variety of impactful projects, particularly in the custom home sector. That list starts with Shneur's previous home, which recently sold for over $3 million, and for which Marco was a key advisor. The home won several awards from the Greater Ottawa Home Builders' Association (GOHBA) – including the coveted Ottawa Citizen's People's Choice Award, which is voted on by the public. This "flagship" NEOTERIC development helped the company build their reputation for quality and innovation.
"Our focus from the get-go was to establish ourselves as a high quality, prestigious builder," Marco says. "If you want a well-built home that has some unique features and you're willing to be at least a little bit bold, then we are your builder."
Over the past several years, ND has already earned repeat business from several clients who fit that bill. They have also earned a large volume of work from referrals and word of mouth. Shneur credits that recognition to the way he pushes the envelope, but without ever losing sight of the client's individual wants and needs.
"We want to create things that people haven't seen before," he says, "but we also want to create things they're going to enjoy."
"It's about finding out what people are passionate about and then giving them that unique space so they love their home."
As an example, Shneur cites a home he designed and built that is now owned by a player for the Ottawa Senators. The home is over 6,800 square feet and includes a plethora of innovative and interesting features. Shneur's favourite part is the four-car, double-sided garage – which has heated polished concrete floors, an HVAC system, hot and cold water, and "virtually everything else you could possibly want, including a big screen TV."
"You could live in that garage," he says. "It's a pretty special space."
That's an example of a high-end home, but Marco is quick to clarify that for ND, "luxury" doesn't have to mean "expensive."
"We love working with people that want good quality and unique finishes, it doesn't matter how much they have to spend," Marco says. "I don't think there's anybody in the business that's better at doing it than NEOTERIC."
Shaping the city
NEOTERIC DEVELOPMENTS may be experts in designing and delivering luxury custom homes, but that's not all they do.
ND is also taking on larger scale developments, and most recently launched 'Limestones on Fifth' – a four-lot development in the aspirational Ottawa neighbourhood known as 'The Glebe.'
Centred on Bank Street between highway 417 and Queen Elizabeth Drive, The Glebe is described by Ottawa Tourism as "leafy and historic," featuring "welcoming independently-owned businesses mixed with fun entertainment." The neighbourhood includes a diverse range of culinary options, an array of unique and locally-owned shops, as well as an outdoor park space, a sports arena, and a number of historic buildings that attract events and festivals every year.
As most of the neighbourhood will be heritage listed, there will be fewer opportunities in the future to purchase new, custom-built single-family homes in the heart of the Glebe. NEOTERIC's 'Limestones on Fifth' development offers this rare chance for interested buyers to do so.
Shneur designed a manor-style model home for those lots that encompasses more than 3,000 square feet, and includes three storeys, four bedrooms, five bathrooms, an elevator, single car garage and a roof-top patio. Limestone is a key feature. Buyers can choose to build that model exactly, or they can modify the design to incorporate their own unique stylistic preferences and choices.
"I truly believe that this will be a really amazing project for the city," Marco says. "We've spent the past six months meeting with the community association, the neighbours, and the city. We came up with a design that really fits well with the neighbourhood."
Moving forward, ND is looking to continue to deliver unique and interesting developments like 'Limestones on Fifth," in addition to building luxury custom homes, both on spec and directly for clients.
The young company will also continue to "think outside the box" and innovate when it comes to their product offering. They are currently working with multiple municipalities on an affordable housing product made from shipping containers. Those products will be pre-fabricated, economical to build, and easy to assemble. They will also exhibit the quality and attention to detail that has come to define NEOTERIC DEVELOPMENTS.
They expect that shipping container product – called 'The Hangar' – to become a growing focus.
"We've designed a really strong product," Marco says. "We believe that once people see what can be done with shipping containers in Canada, and in Ottawa specially, it's going to spark a new industry for us."
On the custom home side, the company also believes there's a growing need for homes conducive to multi-generational living – a need that has only been amplified by the pandemic, with the toll it has taken on nursing and retirement homes. With several of their recent projects, ND has helped meet that demand, and their goal is to continue down that track.
The company's vision for the future also includes giving back to the community. Shneur says that philanthropy is one of his most important values. For several years, that meant sponsoring the Ottawa Symphony Orchestra. Currently, it means supporting 'Crafting for a Cure,' a charity for children in hospitals. They are a gold level sponsor for the charity, they have been a huge contributor to their annual 'High Tea and Ballet' event, and their team has visited the Children's Hospital of Eastern Ontario to lead the crafting.
"We find lots of ways to be active in helping the community," Shneur says. "When the company is successful, we want to make sure we're paying it forward."
In the longer-term, ND is interested in expanding to the commercial and industrial sectors. Large and complex projects demand innovation, quality, attention to detail – and they require skill, experience and expertise to lead them. Shneur and Marco believe the foundational values of ND and the background and experience of their team will help their clients achieve practical, functional and aesthetically appealing results.
"There isn't enough passion in creating large structures," Shneur says. "We want to provide that passion."
Whatever the initiative – luxury, custom-built homes, large scale developments, municipal infrastructure, or a commercial project – you can be certain that NEOTERIC DEVELOPMENTS will continue to shape Ottawa in the years to come.
For more on NEOTERIC DEVELOPMENTS, their services, their past projects, and their history of awards and happy clients – and to get in touch with Shneur, Marco, and the rest of the ND team – visit http://neotericdevelopments.io/