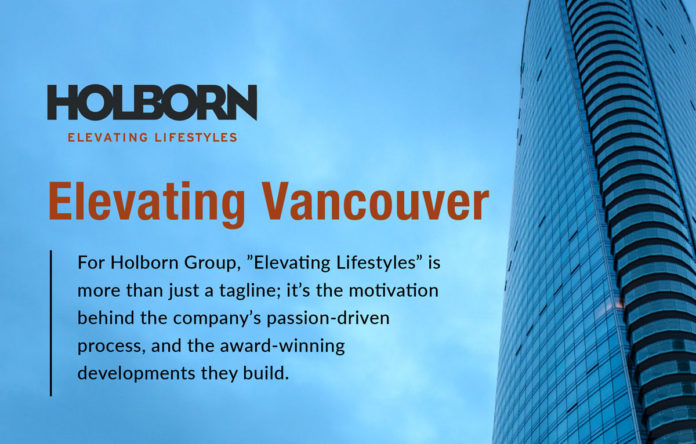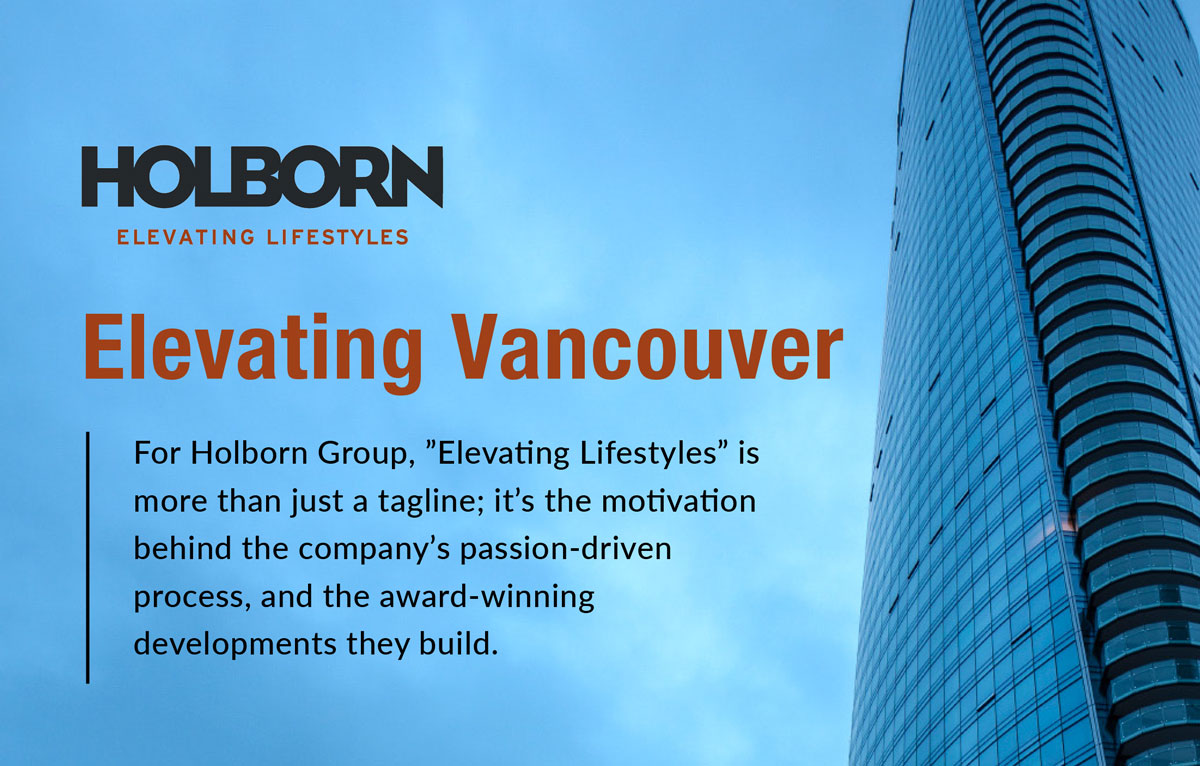 For Holborn Group, "Elevating Lifestyles" is more than just a tagline; it's the motivation behind the company's passion-driven process, and the award-winning developments they build. Since commencing its Vancouver-based operations, Holborn Group has developed a diverse portfolio of retail, residential, hotel, and office properties throughout British Columbia. While every project has its unique design and function, they each start with the same goal in mind: exceed the expectations of the people who live, work, and stay there.
At the helm of Holborn's corporate vision is the company's principal, Joo Kim Tiah. Under his leadership, the company has completed multiple projects in Vancouver, including the $360 million Trump International Hotel & Tower – an internationally recognized landmark located in the city's downtown core. With several new developments currently underway, Holborn Group aims to continue thinking "outside the box" when it comes to creating properties that innovate the built environment and elevate the lives of their end-users.
"We help build communities; we help shape the skyline; we help facilitate people's memories and experiences," Joo Kim says. "That's why we do what we do – what gets us excited. We love our work, and we believe that love translates into our product."
Joo Kim is also the CEO of TA Global Berhad, a subsidiary of investment holding company TA Enterprise, and one of the largest real estate conglomerates in Malaysia. TA Global has assets in Malaysia, Singapore, Thailand, China, Australia and Canada, including high-rise residential properties and upscale, mixed-use commercial projects.
Before entering the real estate industry, Joo Kim earned a Bachelor of Science (Management) from Oral Roberts University in Tulsa, Oklahoma, and a Master's Degree in International Business from Macquarie University in Sydney, Australia. However, he believes his most valuable learning happened outside the classroom through on-the-job experiences. He says he honed his instincts, and developed his passion for elegant design during his first few years as CEO of Holborn and then TA Global.
Holborn, a privately held company, was created in the early-2000s and has set its sights on bringing a global perspective in real estate development to Canada. Holborn's start in the Canadian real estate market was a pragmatic and gradual expansion. While TA Enterprise focused more on the finance and retail stockbroking sector, Holborn began making a name for itself in hotels and residential developments. Not interested in pursuing a future in the finance, Joo Kim used his passion for design and real estate to build the company's development portfolio when he took over Holborn's leadership in its early days.
"My parents came more from a financial background, but I didn't want to follow in their footsteps," he recalls. "I needed something more than numbers to keep me motivated, to get me excited to wake up in the morning."
"I was given a chance to work in real estate at a young age, and thank God because I developed a real passion for it. I absolutely fell in love with the design process. I love the fact that I'm working toward something more than just making money. I'm building memories; I'm impacting the way people live and experience their daily life."
"Don't get me wrong," he adds, "we work hard to be successful; to make a profit so we can support our staff; continue to move forward and give back to the community. But at the end of the day, what makes me truly satisfied is knowing that I've done those things, but at the same time, I've created something special. Something that exceeds expectations, sets a new benchmark, something that people look at and say 'Wow!'"
When it comes to exceeding the expectations of their end-users, Holborn does not limit itself to one development sector or property type. Joo Kim says their goal is to keep pushing themselves to be continually improving. "We always want to be growing, learning, and taking on new challenges."
Whether it's residential towers, mixed-use and commercial buildings, hotels or master-planned communities, the commonality between all Holborn projects is quality – especially when it comes to design.
"That's in our DNA," Joo Kim says. "We love design. We believe it's very important to have the best designs possible." However, he's quick to clarify that having the best designs doesn't necessarily mean having the most expensive ones. According to Joo Kim, the best kind of designs are the most thoughtful ones where "every nook and cranny" is carefully considered, where each space has a purpose, and every detail has a reason for being where it is.
In addition to having a thoughtful design approach, Holborn projects must also be innovative. Joo Kim has no interest in creating buildings that are ordinary or tried-and-true.
"We don't want to do things the way they've been done before," he says. "We believe there is always a better way, and we want to find it."
Always growing, always getting better
A project that exemplifies Holborn's approach to innovative development and design is the Trump International Hotel & Tower in downtown Vancouver. The tower is among Vancouver's premier luxury mixed-use properties, with both residential and hotel suites. Its amenities include a lavish day spa, a pool bar nightclub, and an array of high-end hospitality services, including Hong Kong's renowned Michelin Star restaurant, Mott 32.
The structure of the tower is itself iconic – with a twisting design conceived by famed Canadian architect Arthur Erickson, it stands at 616 feet and 69 stories, making it the second tallest building in the city.
Joo Kim is especially proud of the project since Holborn shepherded it from concept to completion, overcoming numerous challenges along the way. Despite the obstacles they faced while moving the project across the finish line, he believes their hard work and dedication paid off. The tower received several international awards and recognition for its contribution to Vancouver's skyline.
"The Trump International Hotel & Tower is the most beautiful, graceful, and iconic tower in Vancouver," he says. "So obviously, I'm very proud of it."
Another project Joo Kim takes a lot of pride in is Holborn University Heights, a master-planned community located in Squamish, BC., and designed in partnership with Fritz de Vries Architects. Phase II of that project recently received high praise at the 26th International Property Awards, winning three coveted 5-Star Awards for architecture and interior design, plus two awards for kitchen and bathroom design.
"The level of architectural design and custom interior details in our homes are things you don't typically find in master-planned communities anywhere," said Joo Kim, in a statement celebrating the award victories. "We wanted to raise the bar for multi-family developments by being the first to offer [that level of custom design] at an attainable price."
Moving forward, Joo Kim says that he plans to keep raising the bar for projects of all types. His vision for the company's future is to "continue to deliver exciting projects in multiple sectors, continue to shape communities, and continue to shape [Vancouver's] skyline."
Continuous improvement is at the core of Holborn's process; it's what Joo Kim says he's most passionate about, and he strongly believes that passion is what makes Holborn successful.
"I always encourage a culture [in the company] of growth, of continuing to progress," he says. "That means being passionate about always getting better at what we do. It means always thinking about how we can make the product better, how we can market better, how can we sell better, and how can we communicate better with all our stakeholders – it all matters."
According to Joo Kim, having a growth mindset is essential to the company's success; it's what drives their momentum, and ensures their position as an industry leader.
"When you lose your hunger, that's when you lose sight of the bigger picture," he says. "The world is always changing. Having that desire to grow and progress is absolutely necessary to make an impact in this world and this industry."
For more on Holborn Group, their vision and principles, and their long list of present and future lifestyle-elevating projects – including the Trump International Hotel & Tower and Holborn University Heights – visit http://www.holborn.ca/