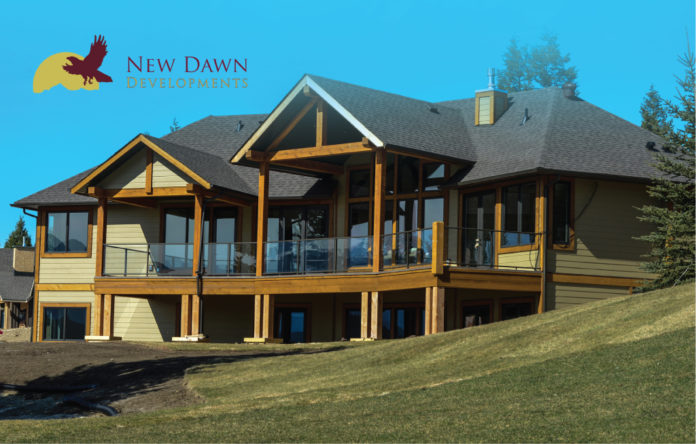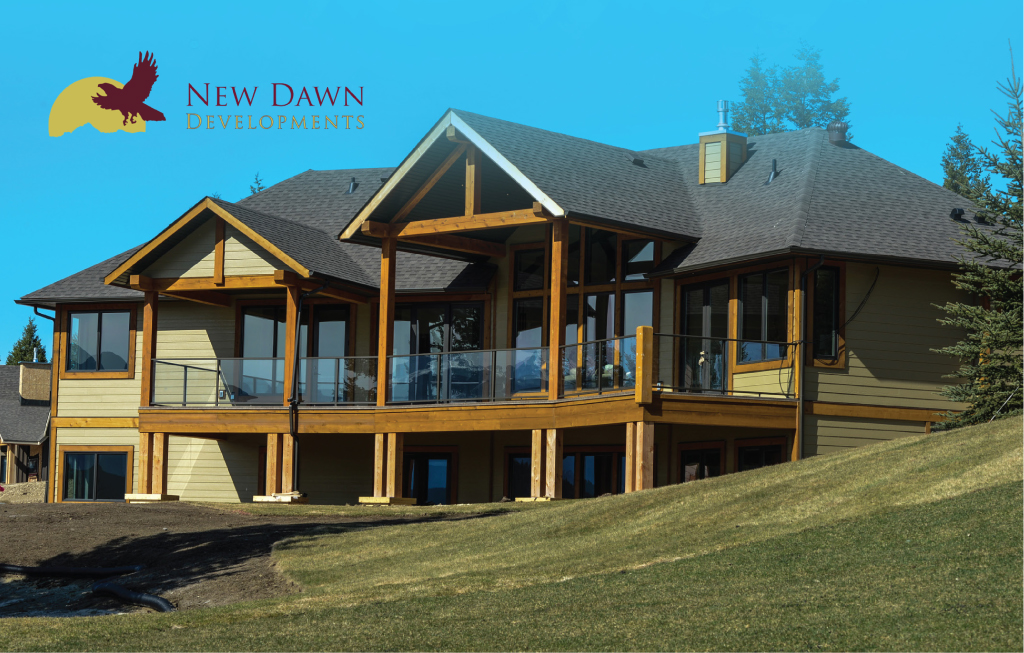 The Kootenays' most experienced builder
Based in Cranbrook, BC, New Dawn Developments is one of the Kootenays' most award-winning and longest-standing construction companies. Since forming in 1978, they have completed a very long list of residential and commercial projects throughout the Kootenays and in Alberta. Over the course of those 40-plus years, they have built – and more importantly, maintained – a reputation for exceptional customer service and superior workmanship. Throughout their history, they have also remained a family company, powered by family values – founder Rick Jensen is still on board as Chairman and CFO, his son Chad Jensen serves as President and CEO, and his daughter Leanne Jensen serves as CAO.
"I'm proud to have my son and daughter as business partners," says Rick Jensen. "Chad and Leanne will continue to grow New Dawn to greater heights."
"I am fortunate to be able to work with my son, daughter, and highly talented staff," he adds. "We could not have achieved the growth we have without our highly talented staff and quality trades, some of whom have been with us from the start. I am inspired by Chad and Leanne's knowledge, work ethic and ability to lead our teams. As I was a mentor to Leanne and Chad, they will be mentors to the next generation."
Rick, personally, has been a mainstay of the Cranbrook community for over 40 years. Since coming to the city, he has contributed to its economic developments as a builder and developer, as an owner of the local Dairy Queen franchise, and as president of the Panorama Mountain Village ski resort – and he even served as Mayor for three terms, from 1983 to 1990.
Over the years, however, Rick has continually returned to his first passion, which is building. In his previous home of Thompson, Manitoba, he co-owned a company called Woodland Builders for four years. After moving to Cranbrook, he quickly got into development. He first managed a company called Koocanusa Developments before founding New Dawn in 1978.
New Dawn's first projects were a couple joint venture townhouse projects with two other builders. Soon after, the company extended their reach, developing land throughout the East Kootenay. During the recession of the early 1980s, the construction and development industry went through a downturn – which is when Rick purchased the Dairy Queen franchise in Cranbrook – but since the economic recovery, New Dawn has continued to grow and evolve at a steady rate.
Chad Jensen, for his part, grew up around the family business, and officially joined in 1996 after graduating from university. Leanne Jensen has also had long term involvement including taking over New Dawn's sister renovation company in 2012. Since then, Rick has passed on the reins of the development business to his children, but he has no current plans to retire – "I'm having too much fun," he says.
Josh Lowden, meanwhile, is the COO of New Dawn Developments and has been working with the Jensen family for almost seven years. He rounds out the executive team, but he says he is one of many key staff members who have facilitated the company's ongoing growth. Other key contributors include Ivan Colten, their production manager, and Tom Hong, manager of their estimating team.
"A big part of what's made us so successful is our team," Josh says. "Everybody here has played a critical role in the company's growth."
And New Dawn Developments has grown, Josh explains. In his time there alone, they have tripled the amount of work they do. Their growth was not even slowed by the pandemic, or the resulting supply chain challenges and pricing increases.
"Our CEO, Chad Jensen has been a visionary with regard to operating over the last two years," he says. "Supply chain issues and the pandemic led to some challenging situations that were quickly and efficiently resolved by our president, leading to some of the most productive years we have experienced."
"We've been working hard at increasing our staff and getting more subcontractors in place so we can continue growing. We've been very happy with our trajectory of growth."
Josh credits that growth to a number of factors. Near the top of the list, however, is the company's reputation in the region. According to Josh, the 'New Dawn' name is known throughout the region for being trustworthy and reliable, and that's how they generate a majority of their business.
Josh credits that reputation, in turn, to their guaranteed pricing.
"We're a fixed-price builder," he says. "We don't build on a cost-plus basis, which is becoming more popular in some of the markets we operate in. But in my mind, fixed-price is the only way to go. It provides the client with certainty. We give them a price and that price doesn't change unless they change it – unless they want to add something to the home or take something away."
"The risk is on us," he adds. "That just gives so much confidence to the client. It also makes it so much easier for them to work with financial institutions for mortgage approvals."
"That's how we market ourselves – we're 'the most experienced fixed-price builder in the East Kootenays.' We've been doing it the longest. We've built the most homes. We're the largest builder by far in this area. That's the premise we're operating from."
Customers are also drawn to New Dawn by their thorough sales and design processes – which "can't be touched by our competition in this area," Josh says.
"We're the only builder that has both a show home and a state-of-the-art design center here in our office," he explains. "The whole lower floor of our office is set up as a design center where we can go through selections with clients. We have 40 different styles of cabinet doors, we have a large variety of interior doors, we have samples of virtually everything."
"A client can come here and pick every single thing they want for their house without having to go shopping around at specific flooring or cabinet centers. Of course, they have the option to go look elsewhere if they can't find something they like here, but that doesn't happen often because we make it so easy."
New Dawn also employs five designers in-house – which, again, Josh believes is pretty unique.
"I don't know how many other local builders have their own designers on staff," he says. "I'm sure there are some, but it's probably not a lot. With us, clients get to work one-on-one with a designer when they are making their selections – that's part of our fixed price."
Lastly, Rick Jensen adds that New Dawn is set apart by their quality of their work. Over the years, he says the company has built some long-lasting relationships with clients and earned a lot of work through referrals and word-of-mouth – and that wouldn't be possible if their end-product didn't meet expectations.
"And we don't just meet expectations, we exceed them," Rick says. "We perform at a higher level than people expect. When customers see the quality of our finishes, they're usually blown away."
To ensure their finished product is delivered to such a high standard, New Dawn relies on their highly-experienced and highly-talented site staff. That includes their site superintendents and labourers, as well as their extended roster of subcontractors and trades.
On the subcontractor side, Rick says that New Dawn has been working with some of their partners for almost 30 years. Many they have been working with for over a decade.
One key partner, for example, is Archdesign Cabinetry – a locally-based company that offers full-service residential and commercial cabinetry capabilities, from design and engineering to project management and custom cabinetry installation. Over the years, they have delivered a wide variety of jobs in the Kootenays, and they have become known for the precision and high quality of their product. New Dawn relies on them to meet their custom cabinetry needs.
"We look for trades that can deliver quality and that can handle volume," Rick explains. "When we find those trades, we stick with them. We help them grow. We support them. We pay them on time. Because we do that, we have developed a really solid, loyal trade base."
First of its kind
Today, New Dawn Developments works throughout the East Kootenay region. They can work on any lot their client brings them, but in recent years an increasingly large percentage of the company's projects take place in their own communities, which they develop themselves. The latest and most successful example of such a community is 'Legacy Lookout at Wildstone.'
Legacy Lookout is an innovative "prefurbia" neighborhood, according to Josh. That means it's a neighborhood that has been designed and planned to produce a "preferred quality of life," with lower environmental impact, more varied streetscapes, more public space, and better pedestrian connectivity – all at significantly less cost than a traditional neighborhood.
In the case of Legacy Lookout, the features include: meandering roadways; generous green space; and homes that are set further back from the street, with every home boasting a view of the nearby Rocky Mountains.
The location is also a feature – the community is located in a "serene, park-like setting, with all shopping and city amenities just five minutes away," Josh says.
Legacy Lookout comprises 61 single-family lots, as well as a condo building with 23 units. There is also room to potentially add a couple more condo buildings in the future, or alternatively a series of townhomes.
New Dawn started the project in 2018, when the community was just "raw land." Today, they have only a handful of lots left. Josh predicts the project will be both fully sold-out and fully delivered within the next two years.
"It's been a very successful development," he says. "In three years, we've built almost 50 homes in Legacy Lookout, plus the 23-unit condo building. We've come a long way."
The 50-odd homes in Legacy Lookout include a mixture of spec homes, custom homes that were individually designed and built for clients, and three show-homes that they used as sales centres – which is not something that developers typically do in the East Kootenays.
Josh partly credits the success of that project to the show homes, which served as a first-hand demonstration of the kind of quality that prospective buyers could expect. He also credits the uniqueness of the design concept and planning:
"We really created a tight-knit community there," he explains. "That's just not common in our area. In my opinion, it's the first development in Cranbrook of its kind."
Room to grow
Moving forward, New Dawn Developments' goal is to continue growing. To do that, however, they will need to add to their team.
"We have room to grow, and we want to grow," Josh says. "Our focus is going to be on attracting new team members and growing our list of subcontractors and suppliers. We need to make sure we have enough people in place to keep growing, and we need to make sure they're the right people."
"We never want to bite off more than we can chew," he adds. "We have a lot of interest and a lot of demand from customers, but we don't want to sign contracts just because we can. We don't want to end up with unhappy clients if it turns out we can't build their home in a timely manner, or if it turns out the quality of their home is not up to our standards. That's something we never want to happen."
Provided they can find the right team members, however – team members that are trustworthy, reliable, and that can deliver to their standards – Josh says the possibilities are endless.
"There is still a lot more market share out there," he says. "When we look at the Regional District of East Kootenay, at all of the areas outside Cranbrook, Fernie, and Invermere, we see there's a lot of opportunity there. And once we feel like we've gained enough of that market share, when we feel like we can't push those numbers much higher, then we'll start to look at other markets."
For example, New Dawn helped with the rebuild in Fort McMurray after the 2016 wildfire. At that time, they explored the possibility of opening a satellite office. There's a good chance that will still end up being the company's next step in other areas.
"There's a chance we expand into southern Alberta," Josh says, "and there's a chance we expand into West Kootenay and the Okanagan area. We're centrally located here, so we have options. We're looking at those now."
At the same time, New Dawn is also looking at future development opportunities along the lines of Legacy Lookout. They are currently analyzing a "number of opportunities," Josh says – some on the higher-end, some more affordable.
"The options are limitless," he says. "It's just about finding the right area and finding the right land. We're looking at a handful of those opportunities now and we expect to be pursuing those in the next year. We're going to stay busy."
Lastly, New Dawn will also keep giving back to the communities in which they work. For Rick Jensen, that's always been one of his biggest priorities. To that end, over the years, the company has volunteered a lot of time and contributed a lot of funds to a long list of locally-based charities. Rick expects that streak to continue for as long as New Dawn remains in business.
"This is where we live," Rick concludes. "This region has been very good to us, and we want to reciprocate. That's always been a part of the culture of our organization."
For more on New Dawn Developments, their history, their services, and the homes and condos they have for sale, visit https://www.newdawndevelopments.com/
For more on Legacy Lookout specifically, visit https://www.legacylookout.ca/