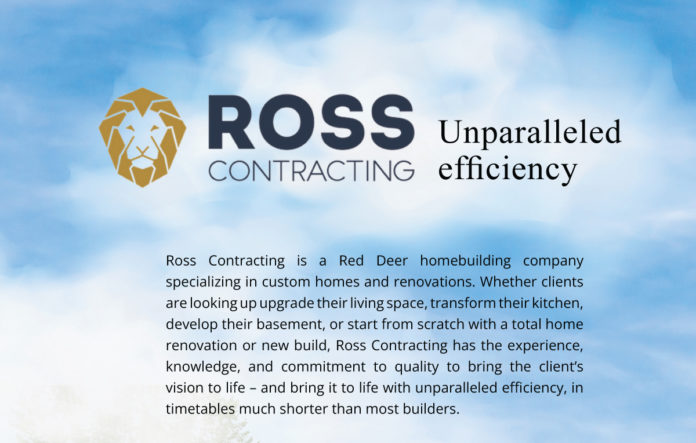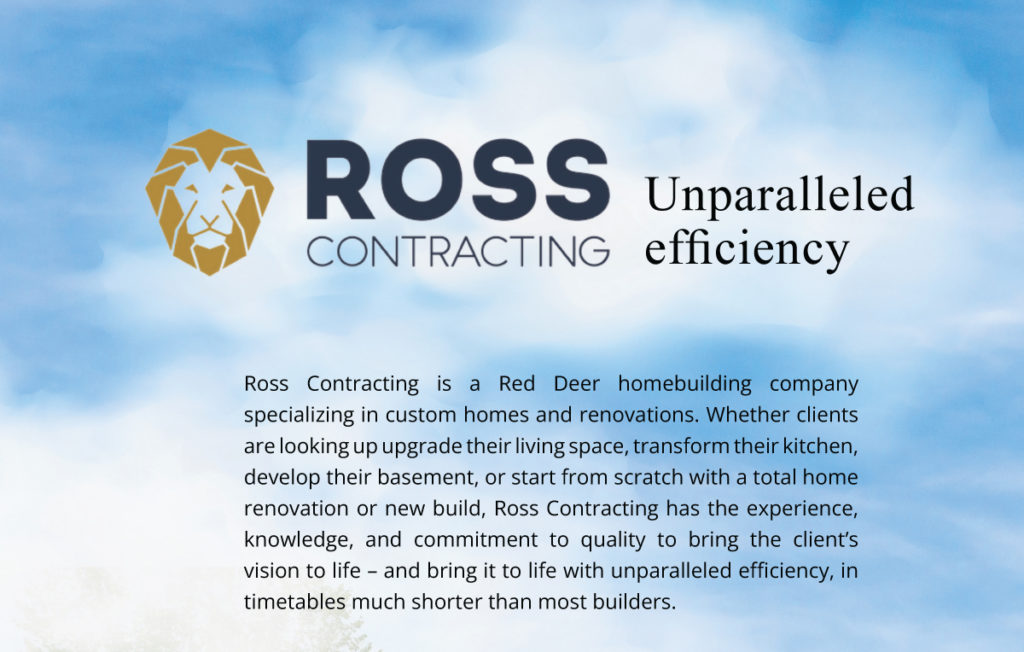 Click here to view the brochure.
Unparalleled efficiency
Ross Contracting is a Red Deer homebuilding company specializing in custom homes and renovations. Whether clients are looking up upgrade their living space, transform their kitchen, develop their basement, or start from scratch with a total home renovation or new build, Ross Contracting has the experience, knowledge, and commitment to quality to bring the client's vision to life – and bring it to life with unparalleled efficiency, in timetables much shorter than most builders. 
And not only does Ross Contracting build quality homes in record time, they also build quality relationships with their customers along the way – "relationships rooted in honesty, integrity, and in ensuring every project is completed on time and on budget," according to Jeff Ross, founder and owner of the company.
Jeff has personally been in the construction industry since he was 16 years old. Over the course of his 25-year-plus career, he's earned experience in a number of different roles, and he's been involved in a very long list of successful renovations, residential builds, and commercial builds.
In his native province, Jeff had his own renovation company and a well-established reputation for quality and customer service. After arriving in Alberta, he had to start from scratch. Despite the challenges, he recalls it being "a super great experience."
"I started again right from the bottom," he remembers. "I started as a sub trade. I learned the building code. I loved what I was doing."
About a year-and-half in, Jeff and his wife sold their remaining property in their previous province and used the proceeds to build their own custom home in Red Deer – "a beautiful two-storey walkout," Jeff describes. The initial goal was to turn that home around quickly, but as soon they finished the oil crash happened, the market suffered, "and I wasn't willing to just give my house away," Jeff says. So he pivoted back to doing renovations, and he quickly built up another strong local reputation that persists to this day.
These days, Ross Contracting does the occasional new build custom home, and they plan to do more, but their "bread and butter" remains large-scale home renovations. Most of those renovations are valued between $200,000 and $500,000. They will also do some smaller jobs once in a while when it's quiet, or if they are requested by past clients, but the majority of their jobs are "big makeovers."
According to Jeff, the main thing that sets Ross Contracting apart in that niche is their speediness and efficiency – which he says comes from performing the majority of their labour in-house.
"We create a really tight calendar, which we can stick to because we do most of the work ourselves," he explains. "We don't have to rely on other people's schedules. We can be there all the time."
"We can do a $300,000 renovation in three or four months. We can do a $400,000 to $500,000 renovation in less than six months. When we tell people that, they are usually amazed. Some people don't believe it's possible. They've had big renovations done and it's taken a year. I tell them 'If it took a year, that's because for six months there was nobody at your house.'"
Ross Contracting's team is also multi-disciplined and equipped with a wide array of knowledge, so if for some reason a subcontractor doesn't show up, they have a crew that can step in and do the work – "so we don't have to lose a day, a week, or a month," Jeff explains. That's a big part of how they stay on schedule.
All that said, though Ross Contracting strives to do as much work as possible with their own team, they still have relationships with a trusted roster of subcontractors. According to Jeff, those relationships are "very, very strong" and "built on mutual respect."
"When we're looking for subs, we don't look for numbers," he says. "We look for quality and customer service. If they serve me well, if they're respectful, and if they do a good job, then I'm very happy to turn around and pay them well and pay them quickly. We'll always send them a cheque within 30 days."
Again, fostering those kinds of relationships – with both subcontractors and in-house team members – is a key part of how Ross Contracting achieves efficiency and meets aggressive timetables. That efficiency, in turn, is one of their major points of difference.
It's not the company's only point of difference, however. Jeff believes that another thing that sets them apart is the guidance they provide clients, particularly their willingness and readiness to tell clients when they don't think something is a good idea.
"We'll be respectful about it, but if we think something is a bad idea, we'll let the client know," Jeff explains. "We don't want them to burn money. We don't want them to spend money where they shouldn't be spending money. If it doesn't make sense to me, or if I wouldn't do it for myself, I'll talk to them about it. I'll explain my thinking. Ultimately it's their decision, but I want to help them make the best decision possible."
"No matter what, we try to guide clients as best we can," he adds. "We'll use our knowledge and resources to help with the permitting and the drafting. We'll do whatever we can to make sure it's a smooth ride."
The biggest thing they can do, Jeff says, is prepare – and prepare as far ahead of time as possible. That's what they encourage their clients to do every time.
"With COVID, especially, you have to prepare twice as much," he says. "You need to have everything pre-ordered. You need to pre-purchase everything. You should only start when the material is there, you shouldn't just trust your provider when they say 'Oh yeah, it'll be there in two months.' When it comes to renovations, so much of the success comes from managing the calendar. You have to be smart about it pre-plan and prepare as much as possible."
Furthermore, there's Jeff's experience, and the experience of his team – their cumulative knowledge and expertise is yet one more differentiating factor for Ross Contracting.
"I've been doing this for the last 25 years," Jeff says. "I've always been on the tools myself. I don't just say I have the knowledge, I have the knowledge. I know what I'm doing. I know what quality looks like and I know how to deliver it."
"That's not always the case in this industry, unfortunately," he adds. "Sometimes the people leading the show don't know what they are talking about. That's not the case here."
Jeff also has personally high standards, and he holds his employees to those standards:
"My guys know that if I see something that I wouldn't accept for myself they are going to have to redo it," Jeff explains. "It doesn't matter if the customer would accept it. I follow my own personal standard every time. I deliver the same quality whether it's a $1 million house or $10,000 bathroom. The standard never changes. My guys understand that."
All about the preperation
Although Ross Contracting specializes in renovations and remodels, they are interested in doing more new homes in the future. Jeff has personally worked on a lot of luxurious custom homes in the past, and he wants to leverage that experience and ability more in Red Deer moving forward.
To prove their capability, Ross Contracting recently completed a $1 million show home in Sylvan Lake. As with their renovations, they delivered that project very quickly relative to other builders – they started in January and finished it a little less than six months later, to the astonishment of a lot of their partners.
"Even my insurance company was telling me 'You can't just have six months of insurance to build that house,'" Jeff recalls. "I said 'Yes, I can.'"
Again, he credits that speediness and efficiency to their pre-planning and preparation.
"We took the time to design it, to draw everything up, to schedule it, and then we pulled the trigger," he explains. "It's all about the preparation. We made sure everything was 100 per cent organized before we moved forward."
"A lot of people will make the mistake of starting a project and intend to wing it as they go," he adds. "That winging it means the home's going to take eight months, or 10 months, or 12 months, or more."
Jeff's goal in designing and building that house was not just to deliver it quickly and efficiently, however – though that ability was something they definitely wanted to prove. He also wanted to create a home with "a lot of character," like he was used to seeing in his early career, but hadn't seen too much in Alberta.
"Where I came from, homes have a lot of style and character. There are high steeped roofs, there is lot of brick, a lot of concrete, a lot of wood," Jeff says. "In Alberta, it's carpet and vinyl and go-go-go. Maybe that's not the case with really big custom homes, but in the regular market that's what you see a lot."
Jeff didn't just want to build a home from a difference province in Alberta, however. He wanted to draw on his experience in both provinces and create something that combined the best of both worlds.
"With this show home, I wanted to show that I had different ideas. I've seen different things. I wanted to prove I could create a good blend using everything I learned back east and what I learned here. I wanted to take the best of both worlds and put them together. That was my goal."
"I'm confident that we achieved that goal," he adds, "because once the home hit the market, it was sold less than 48 hours later."
Moving forward, as previously mentioned, Jeff hopes to get the chance to do some more new homes of that scale – but at the same time, he doesn't intend to leave the renovation market behind any time soon. His vision is for the company to keep doing what they are doing, just on a slightly larger scale, depending on if they can find the right team members to grow with.
"I've been bigger in the past and I've ended up scaling back," he explains. "I'm open to growing more again, but it has to be with the right people. I want to grow, but not if it means compromising on quality control. I've seen a lot of companies grow too big too fast and lose control. I'm not willing to do that."
"I'm a believer," he adds, "and I'm doing this to honour my God first. At the end of the day, I have to be able to put my head on my pillow and feel good about what I did that day. That's non-negotiable. I have to stay true to my values."
For more on Ross Contracting, their range of services, examples of past projects, and to hear from past clients – and to get in touch with Jeff and his team today – visit https://www.rosscontracting.ca/