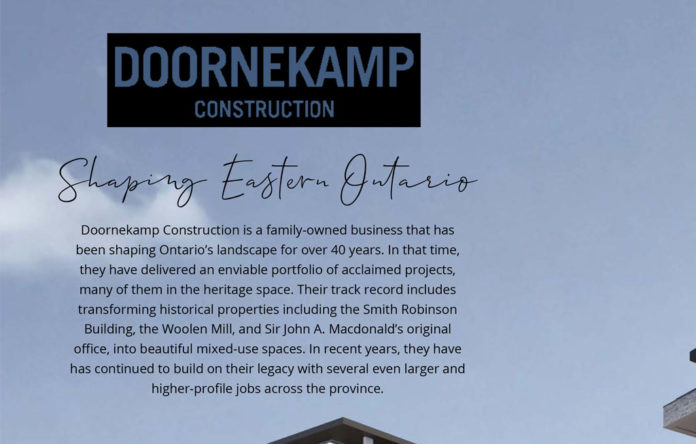 Shaping Eastern Ontario
Doornekamp Construction is a family-owned business that has been shaping Ontario's landscape for over 40 years. In that time, they have delivered an enviable portfolio of acclaimed projects, many of them in the heritage space. Their track record includes transforming historical properties including the Smith Robinson Building, the Woolen Mill, and Sir John A. Macdonald's original office, into beautiful mixed-use spaces. In recent years, they have has continued to build on their legacy with several even larger and higher-profile jobs across the province.  
In Picton, for example, the company has invested millions in the redevelopment of the Picton Terminals deep water port – which the Doornekamp family also owns and operates. And in Napanee, they are bringing their expertise to the residential market with Gibbard District, a highly-anticipated waterfront community – which is being developed by ABNA Investments, also a Doornekamp company.
In the case of the Gibbard District, the company is transforming an old furniture factory – which has been there for over 180 years, and is an iconic landmark of the town – into a brand new community, one that honours the history of the site while utilising the property to the best result of the property owners. The development will include condo suites and garden villas, private kayak docks, as well as commercial space for potential coffee shops and restaurants.
According to Director Ben Doornekamp, the goal of Gibbard District is to create a "vibrant and sustainable community hub, where family, friends and neighbours can share the moments that make lasting memories."
The goal is also, Ben reiterates, to honour the site's cherished history. The Gibbard Furniture Factory was founded in 1835, and Gibbard furniture not only decorated family homes, but Canadian embassies and consulates around the world. The factory's employees were also integral parts of the community, and took pride in giving back, just like the community took pride in the factory.
In recognition of that cultural importance, the new Gibbard District has been designed to "uniquely capture the legacy of the factory," says Nate Doornekamp, also a Director.
"From the vibrant hub at the centre of the district to the thoughtfully designed floor plans named after well-crafted Gibbard products, the development reflects the quality and spirit of community for which the factory was known," Nate says.
Nate reports that former Gibbard co-owner Bruce McPherson was "blown away" when he saw sketches of the district. He also said it meant a lot to him that parts of the factory, including its names and sectors of its façade, are being preserved and incorporated into the community.
"To him, it couldn't be a better example of harnessing a successful past to build for the future," Nate says.
On the topic of building for the future, Gibbard District was also designed to be environmentally sustainable and to promote environmentally-friendly living – that is another key goal of the development, as Napanee's natural beauty is as cherished as its history. To achieve that sustainability, the community features vast green spaces, livable parks, and large plantable areas in place of expansive asphalt surfaces. It also reduces energy usage by incorporating a geothermal loop to heat and cool the property efficiently.
According to Ben and Nate, this geothermal energy will have "many benefits for the buyer, community, and planet." For example, it will take the equivalent of 64 cars off the road each year and save 1.25 million litres of fresh water by eliminating cooling towers. Also, given that the costs for buyers are fixed for 30 years, it will provide "secure, affordable, and reliable energy for decades."
So the Gibbard District is a special project, one that will respectfully transform an historic institution into a vibrant and active space for the future. According to Ben and Nate, the same things can be said of the Picton Terminals redevelopment.
The Doornekamp family purchased the Picton Terminals property in 2015, with the aim of revitalizing the existing defunct port – which had been originally built in 1955 – into a modern deep-water facility.
At Picton Terminals, the company's goal was to "resurrect and update the existing infrastructure and add new infrastructure to provider better important and export services to the regional economy." They also wanted to expand the existing facilities to allow for better, more efficient shipping, and they wanted to equip them to receive a larger variety of products.
Over the past five years, the company has come a long way to realizing those goals. Their work is ongoing, but has been extensive to date. So far, their scope has included: renovation of existing offices and shop areas, refurbishment of existing ship loading conveyor systems, the design-build of a new heavy road to handle high frequency heavy haul trucks, the design-build of a new ship-side dock to allow large crane operations discharging vessels; and a whole lot more.
High quality people
Ben and Nate are the second generation directors of Doornekamp Construction, and have been around the construction industry their whole life. They officially joined the family business after graduating university, in 2005 and 2008 respectively. Since then, they have seen the business grow and diversify tremendously. They have pursued a wider range of projects, they have invested in new technologies, and they have started more companies in order to conquer more sectors.
Today, the Doornekamp family owns multiple businesses, including Doornekamp Construction, Hendriks Aggregates, ABNA Investments, and now Picton Terminals. Between the four companies, they employ between 60 and 100 people across Eastern Ontario.
On the construction side, the company now mainly focuses on their own projects. They still occasionally tender and submit for external jobs, but Ben says they have become "very picky." They only want to work for clients that care about quality as much as they do, the kind that are willing to invest the time and resources into doing a job right. Over their many years in business they have built a strong base of clients who fit that bill, and who always call Doornekamp Construction first.
Ben credits that loyalty to the company's aforementioned people. He says they put a lot of time and effort into identifying and hiring staff members who share the company's values, and then they put just as much energy into retaining them. As a result, they have a core group of staff members that have been with the company for well over 20 years.
"High quality people doing high quality work," he says. "That's what Doornekamp is all about."
The company also forms equally strong relationships with their consultants and project partners. As examples, Ben and Nate cite the relationships they have built on Gibbard District, with team members Silvercreek Communities and Studio JCI.
Doornekamp had not worked with either of those companies prior to that project, but Ben and Nate say they admired and respected their previous projects, and they believe that respect was mutual. When they decided they could use a consultant more experienced in residential development, they brought Silvercreek to the table, and Silvercreek brought JCI. Nate says "the relationships have been great – we're very thankful for them."
Nate adds that they are just as thankful for their other partnerships, which typically go back a lot longer. Many predate even Ben and Nate's involvement with the business.
"We've used the same concrete company for 30 years, the same tire company for 30 years," he says. When we really like you, and you like us, we really stick with you. We're not the type to chop and change and use different people on every project."
"Over the years, we've developed an incredible team," he explains. "We communicate really well, we're transparent with each other, and we trust each other. And when we do have an issue, everyone is comfortable to pick up the phone and ask questions, and then listen to the answers. It doesn't always have to be a fight."
Always growing
Recently, Doornekamp Construction started their foundation work on the Gibbard District. They are also still hard at work at the redevelopment of Picton Terminals. The company sees the latter project as potentially always ongoing, as they are always learning more about port operations, and they believe there will always be opportunity for modernization and improvement.
"We're always going to be tweaking," Ben says. "There's always going to be ways to get better."
The next major step, he explains, will be going live in April 2021 with a weekly container service from Halifax to Picton. He says there has been a lot of demand for such a service, and they want to be the ones to meet it.
On the construction side, meanwhile, the vision for Doornekamp Construction is to continue to support ABNA Investments and Picton Terminals. That's where the family sees most of their future growth.
"We want to continue to diversify and expand," Ben concludes. "That's our main focus. We want to head into markets that aren't as flooded as construction is right now, and we want to continue making our mark on Ontario."
For more on Doornekamp Constructions and their capabilities and past projects – and to get in touch with Ben, Nate and their team – visit https://doornekamp.ca/
For more on Gibbard District specifically, including the beauty of the area, and the residential and commercial opportunities within, visit https://gibbarddistrict.ca/
And for more on Picton Terminals, the ongoing redevelopment, and their current and future services, visit https://www.pictonterminals.ca/