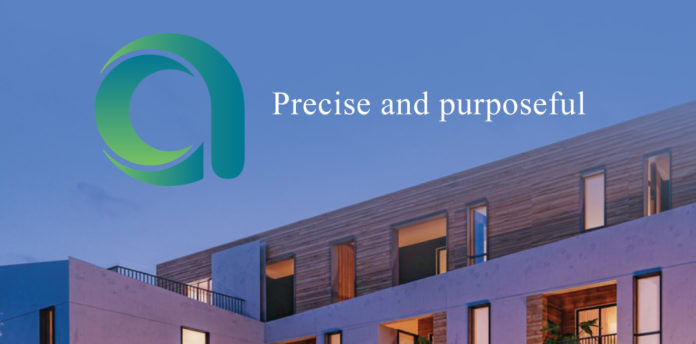 Precise and purposeful
Anxin Projects is a Lower Mainland developer focused on building projects that positively contribute to their environment. According to Director Kelvin Pan, with every project they undertake, their goal is to deliver "exceptional quality and craftsmanship" and to "build life-long friendships with our clients." They achieve those goals by bringing together a curated team of collaborators from local development partners to internationally-acclaimed architects and interior designers. Together, they take a "precise and purposeful approach" to all aspects of their work, and they deliver projects that match quality with affordability.
The company's latest project, Aegean Homes in downtown Squamish, is a prime example of that approach in action. Located at 1360 Victoria Street, in the city's "exciting and intimate core," it comprises 32 condo units over six levels, ranging in price from $399,998 to over $752,220. There are also six commercial units on the bottom two levels. The development as a whole includes a number of sought-after amenities, and each unit has been designed and crafted for a "life of effortless style and enduring elegance."
The inspiration for the Aegean Homes happened several years ago, Kelvin recalls, when he and the Anxin team first set their sights on Squamish.
"It's a very unique, very fast-growing city," Kelvin says. "The population has a lot of people between 22 and 45, and the city has a lot to offer that age range. It doesn't matter whether it's summer or winter – there are all sorts of activities."
Anxin Projects originally purchased land in downtown Squamish with the belief that Squamish's growth was about to speed up. At the time, the majority of the downtown buildings were old and dated, and they saw an opportunity to provide a newer building that would appeal to the growing population.
Anxin's belief was proven correct – Aegean Homes was pre-sold very quickly. Kelvin credits that success to the contemporary quality of the design, as well as all the high-end features they were able to offer for such competitive prices.
The units at Aegean Homes boast a long list of enviable features, he explains. Each home includes: a spacious and contemporary interior; high quality windows with an abundance of natural light; stunning views on all sides; large, efficient floor-plates; generous nine-inch high ceilings; airy, open plan kitchens; high-quality faucets, shower systems, and hardware; and a lot more.
Aegean Homes is also amenity-rich. It includes outdoor lavish green terraces; secure floor-by-floor fob-controlled access; fully-loaded fitness and weight rooms; indoor/outdoor yoga and stretching zones; a social lounge with table games and fireside seating; and breakout workspaces.
Outside the doors of Aegean Homes, residents also have access to a wide range of recreational opportunities – the development was envisioned as a "unique and vibrant gateway to all-season mountain recreation," Kelvin explains. There are nearby opportunities for world-class mountain biking, kiteboarding, running, climbing, and hiking. There is also "fantastic dining and great shops."
"The project was inspired by the outdoors," Kelvin reiterates. "The best of the mountains and the best of the city is all within easy reach."
Construction on Aegean Homes has recently begun, and the project is scheduled to be fully completed by early 2023.
Meeting a need
Anxin Projects was officially established about six years ago. From the start, the vision for the company was to focus on low-to-mid-rise apartments and condos, and to provide the market with more affordable housing options. They decided to pursue that niche because they saw there was a need:
"Over the past few years, the economy hasn't been stable, and inflation has been going up," Kelvin says. "We're seeing that housing isn't affordable for young families, especially young couples, and families with single moms or single dads. We wanted to address that need."
"We didn't want to focus on luxury condominiums and high-rises," he adds. "We believe that market has been covered. We wanted to provide something for working families and low-income families. We wanted to provide them with more living options in the Lower Mainland."
Currently, Anxin Projects has four projects on the go – all of which were conceived to fill that gap in the market. All of them began with the purchase of single-family properties in coveted downtown locations, after which Anxin worked with the local district or municipality to rezone. In all cases, they managed to increase the density by at least 35 per cent.
Aegean Homes is one of those projects. Another is a big project in Cloverdale, Surrey, where they are working on three apartment buildings. Between the three buildings, they are providing 144 units meant for sale and 52 units meant for long-term rental.
"Those are for retirees, small families, and workers in the neighborhood," Kelvin explains. "So far, the feedback we've gotten from those demographics has been amazing."
Anxin Projects is also about to start construction at 207 Street in Langley. There, they will be delivering 68 condo units. Originally, that site had only been approved for 44 units, but Anxin's design concept swayed local authorities and they were allowed to add that density.
"We've had strong support from a lot of people on that one," Kelvin says. "The community is pretty happy with what we're doing there. For that reason, we already feel pretty successful."
In general, Anxin Projects aims to form strong relationships with all the communities they work in. Their goal is to always deliver projects that their communities need.
The company also strives to build strong relationships with their other project stakeholders, including their architects and builders. On Aegean Homes, for example, they are working with AKA Architects. On another downtown Squamish project, they are working with Station One Architects.
"We've had a very, very good experience with those firms," Kelvin says. "We love that they have paid attention to all the little details, and we love how organized they are. They've totally met our expectations. That's what we look for in our partners. Those are the kind of designers we want to work with in the future."
Anxin Projects looks for similar qualities in their builders, Kelvin adds. They also look for experience in low-rise and mid-rise building.
"We prefer companies with a longer history," he says. "We're a relatively new company to the Lower Mainland, so we rely on the experience of our building partners. They help us avoid the mistakes that new companies tend to make."
Anxin also looks for "good communicators" and "problem-solvers." If a builder can tick all those boxes, Kelvin says, Anxin would be honoured to work with them over-and-over again.
Lastly, Anxin Projects strives to form strong and lasting relationships with their buyers. They do that by providing the "best customer service possible," according to Kelvin.
"Again, we're a relatively new company to the industry, so our reputation is very important to us," he says. "We know that it takes a lot to build a good reputation, we're putting in the time and effort to do that."
To ensure their buyers have a good experience, Anxin Projects has put together a whole "Customer Care" department who are solely dedicated to taking care of clients throughout the entire process.
"From concept and design, to when they move in, through the warranty period – our Customer Care team is there to deliver an exceptional product and an unmatched service experience," Kelvin says.
Moving forward, Anxin Projects' goal is to maintain that "unmatched service," even as they grow. In fact, Kelvin says they will only grow so long as that service remains unmatched.
"We want to grow and do more projects," he says, "but we also want to keep providing the best service, and the best quality. As long as we can do that, we'll keep growing and doing as much as we can – but if the quality or service is ever compromised, we'll have to slow down. Our reputation is too important to us."
As far as the type of work they want to be doing, Kelvin says they are already doing it. He reiterates that there are a lot of other companies catering to the luxury high-rise market, but Anxin Projects is still one of the few doing more affordable low-to-mid-rise projects.
"I think if we look ahead five-to-10 years, we see ourselves still focusing on this strategy," he concludes. "We want to be providing more density and more units that are affordable for families. That's our goal. We don't see ourselves staying far from that goal."
For more on Anxin Projects, including the latest news on their latest developments, visit https://www.anxincanada.com/
For more on Aegean Homes specifically – including more on the location, features, and floorplans – visit https://aegeanhomes.ca/