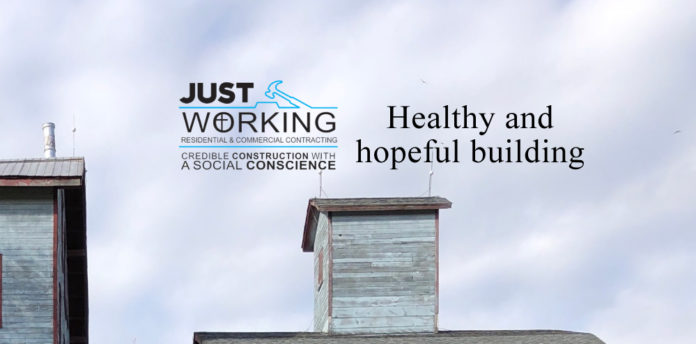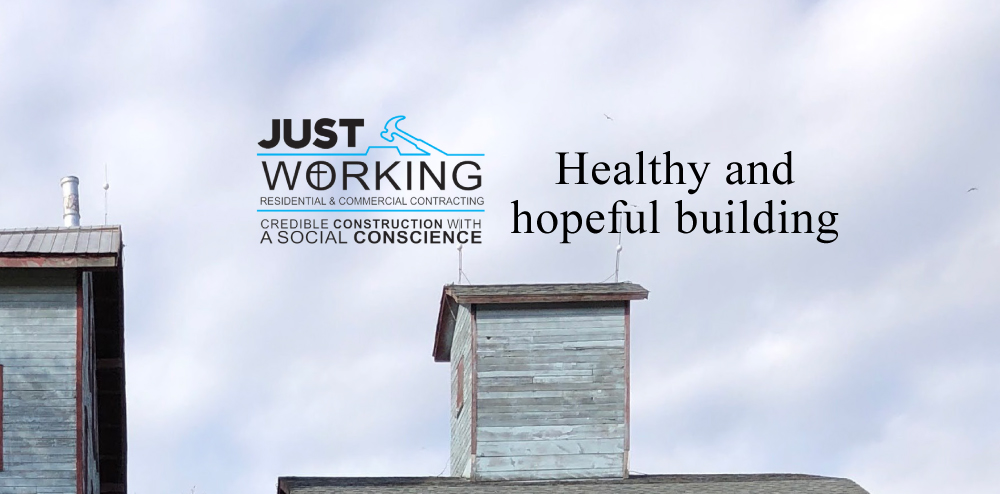 Healthy and hopeful building
Just Working Construction is an Ontario construction management company that offers "credible construction with a social conscience," according to Jeff Van Gyssel, founder and owner. He and his wife Natalie founded the company in 2015 with the goal of combining their two of their biggest passions – designing and building beautiful projects, and making a difference in their community.
"Our true values in life are that this life is not our own, but belongs to our creator," Jeff explains. "That's why our business model has always been centered around our motto: 'Love God, love your neighbour and work hard towards the goal of building better communities.'"
Jeff has been a licensed carpenter for almost 20 years, and he has long dreamed about owning his own company. About seven years, he decided to make the leap and form Just Working Construction. From the start, he and his wife had four main objectives:
Firstly, they wanted to provide a "safe, healthy environment" where new immigrants to Canada could be trained in the trades while earning fair wages to support their families. They wanted to help people achieve their goal of "building a better and more hopeful future for themselves and their families."
Second, the company was created with the goal of being "good stewards to the Earth" by building to the most energy-efficient standards.
Third, Jeff and Natalie wanted to do their part in "solving the affordable housing crisis." To do that, they immediately sought other like-minded organizations, such as Indwell and the Working Centre – organizations that also believe in the valuable task of creating affordable housing communities in order to help and support people seeking health, wellness, and belonging.
The company's fourth main goal, lastly, has always been to "build people up by focusing on creating wellness, health, and sharing our faith."
Today, in order to achieve those founding goals, Just Working offers a variety of construction management services in both the residential and commercial sectors. In both sectors, they like to focus on "building healthy, hopeful places." On the residential side, that includes affordable housing projects, passive homes, net-zero homes, and generational homes. Most of those projects are based locally, in the Region of Waterloo, so as to best support their community and their local roster of trades.
In terms of value, Just Working's projects can range from $20,000 to $20 million. According to Jeff, the company enjoys working at both extremes:
"I love the small projects because of all the amazing people I get to meet along the way," he says, "and I love the big projects because that's what I was trained in, and because they can have the greatest impact on our community."
No matter the size or scope of the project, Jeff believes clients choose Just Working Construction for similar reasons. One of the main reasons is their aforementioned values – customers who share those values tend to seek them out, work with them on a repeat basis, and refer their friends and family.
Jeff says repeat business and word-of-mouth is how the company has survived and grown. He recalls when they first started out, they were doing decks and basement renovations – but within a year, "people noticed our quality and our passion and how much we cared," he says.
"We quickly formed connections with our clients and grew," he says. "People appreciated what we were doing and what we were about. A lot of clients came because of that – they liked the impact we were making in the community, and they wanted to be a part of it."
Of course, Jeff also believes that customers appreciated the company's quality of work. He says they are now known for their consistency and their high standards, and he partly credits that reputation to the systems they have put in place. For example, they use CoConstruct project management software to track their projects and keep clients up-to-date.
"We share daily logs, we share daily pictures, and we share all the financials – and the financials are updated almost daily," Jeff says. "So the client is very much a part of the entire process."
Jeff also credits the quality control to his team of supervisors – "All guys who align well with the overall vision for the company," he says. "We don't just hire anyone. We wait for right fit. They have to have the same passion and the same goals."
The same goes for the company's roster of suppliers and subcontractors, almost all of whom are locally-based and longstanding.
"We try to support local as much as we possibly can," Jeff says. "We also thrive on loyalty. We believe the best way to get the best quality is to keep our circle small and grow together."
One such local-and-loyal partner is Vetta Building Technologies – a Stratford-based windows and doors company operating on the leading edge of energy-efficiency. Much like Just Working, they are owned by a husband-and-wife team who are passionate about high-performance buildings. With the environmental issues the world is facing, they want to offer superior products to Canadians to help them achieve lower heating bills and more comfort in their homes.
The relationships Just Working has formed with partners like Vetta tend to go back to the company's inception.
Generational building
As an example of Just Working Construction's capabilities, Jeff points to a net-zero "generational home" they built last year in New Hamburg. That project was Jeff and Natalie's own house, which they personally conceived, designed, and delivered. It started as basically a proof-of-concept. Their goal was to show that a "middle-class family could do a large energy-efficient renovation to their home and not go bankrupt."
"So we dreamed up a generational house," Jeff recalls. "We took our 1,100 square foot three-bedroom bungalow and added a second-storey, adding a one-bedroom and two-bedroom apartment. We also finished our basement, adding two more rooms and two more bathrooms."
"This will allow me and my wife to age in place and let one of our kids take over the main living area in the future," he explains. "In the meantime we are using it to help solve the housing shortage in our community by renting out the two apartments and paying down the mortgage for the next 10 years as our children grow."
The existing house was made from a pre-cast product called Durisol, which has been manufactured in Ontario since 1953. Jeff calls that an "energy-efficient product that was before its time," as it uses recycled wood fibers as its base and thermal mass as its insulating factor. As part of the renovation, Just Working retained that material, but also added a complete air vapor barrier using INTELLO X and a fluid-applied air shield from WR Meadows. They also added a nine-and-a-half-inch I-Joist frame around the house and dense-packed it with recycled cellulose. After that, they installed their EIFS system. In total, they achieved an effective R-Value of R40-plus and R100 in the ceilings.
To add to the environmental efficiency, they also utilized high-performance Vetta windows. They also removed gas power from the house, they added solar panels, and they installed an energy-efficient fresh air exchange system that tempers the air before entering the house using a built-in heat pump. The result is "a home that has been performing extremely well," Jeff says, and is "net-zero ready" – all they need to do to get there is install the next round of solar panels.
The home is environmentally-conscious in other ways, as well. Most of the materials were locally-sourced, for example, and many of the materials are recycled. Take the flooring – it's all recycled ash from a local timber mill.
"There are a lot of ash trees in Southern Ontario that are coming down, so we use that in most of our builds right now," Jeff explains.
The home is also very comfortable to live in, Jeff adds. He and his family are the residents, and he says "we absolutely love it."
Moving forward, now that they have proven what they are capable of achieving within a budget, Jeff says his goal is to help clients achieve similar results within their own homes.
At the same time, Just Working also hopes to continue delivering other kind of projects that support their community and their environment. Fortunately, the jobs they have lined up largely fit that bill. Some of their upcoming projects include: an 18-unit affordable housing renovation in a historic building in downtown Kitchener; a new 2,500 square foot passive house on a "beautiful country property surrounded by the owner's food forest"; and a 42-unit affordable housing renovation and addition within an existing church.
Currently, the company is also building a tiny home, while also working on a 150-year-old mill renovation. So their output is diverse, but it's all centred on the company's founding motto: 'Love God, love your neighbour and work hard towards the goal of building better communities.'
"We want to keep growing in line with those values," Jeff says. "We want to be leaders in the green energy and affordable housing market. And we want to focus on community-strong projects like sustainable pocket communities and tiny home villages."
"We also want to be able to hire and help as many newcomers to Canada as we can," he concludes. "There's a massive shortage of skilled trades in Canada, and likely across the world. We believe investing in newcomers is not only what's right, but what's needed."
For more on Just Working Construction, their mission, their faith-based values, and their past projects – and to get in touch with Jeff and Natalie – visit http://justworking.ca/