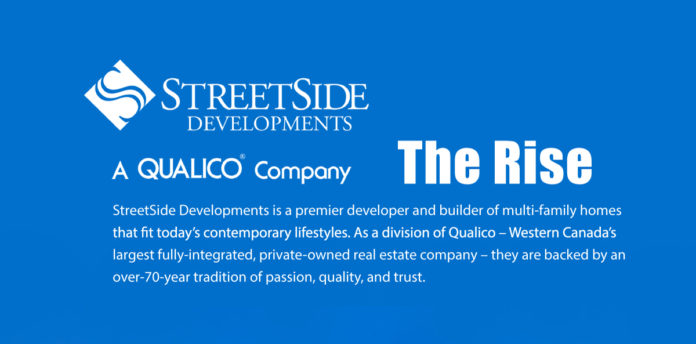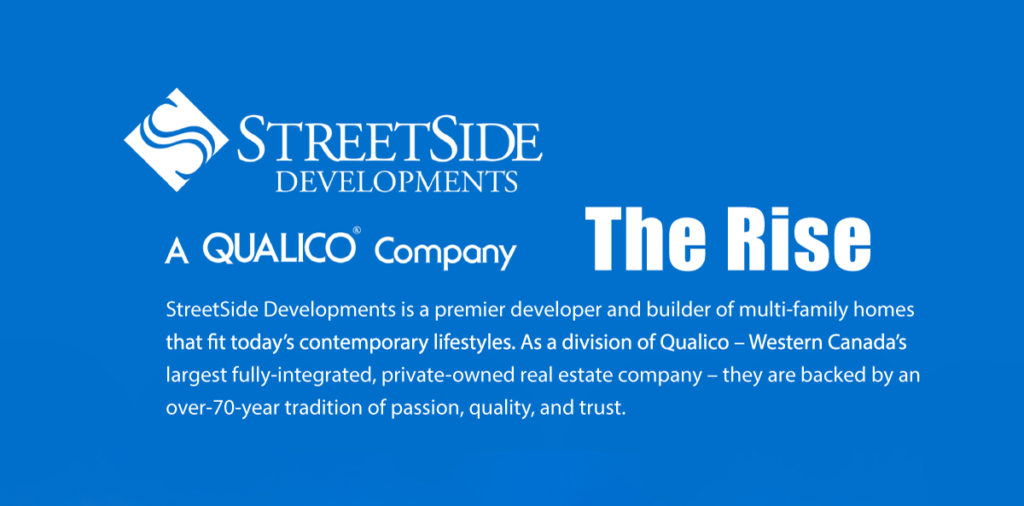 The Rise
StreetSide Developments is a premier developer and builder of multi-family homes that fit today's contemporary lifestyles. As a division of Qualico – Western Canada's largest fully-integrated, private-owned real estate company – they are backed by an over-70-year tradition of passion, quality, and trust. Over their own 30-plus year history, StreetSide has consistently brought Qualico's strength and expertise to the multi-family sector. In Winnipeg, especially, they have earned a reputation as one of the city's leading condominium developers, and they have set themselves apart with a long line of successful projects.
Currently, StreetSide is adding to their legacy in Winnipeg with 'The Rise' – a modern collection of concrete-constructed apartment-style condominiums set in the centre of the city's south neighborhood of Bridgwater.
At seven storeys high, The Rise is the highest peak in the community. It will ultimately consist of two seven-storey buildings with underground parking, a total of 204 suites, two amenity rooms, two fitness centres, and an outdoor pool and tanning deck.
One of the major appeals of the project is the energy efficiency – The Rise exceeds Manitoba Hydro PowerSmart requirements, making it a high-performing building that reduces energy bills and operating costs, extends equipment life, and reduces greenhouse gas emissions. It also includes WaterSense-certified fixtures, 100 per cent LED lighting, and environmentally-friendly low-VOC paint in all units.
According to Paul Gray, Project Manager, The Rise was "designed with sustainability and energy efficiency in mind from the start."
"Most of the decisions made about the construction – from lighting and appliances, to the overall structure – reflect the goal of creating a sustainable and energy-efficient development," he says.
Another major appeal of The Rise is the community – Bridgwater is the fastest-growing neighborhood in Winnipeg and, once completed, will have a population of more than 20,000 residents. It will also be stocked with an array of exciting amenities, including boutiques, retailers and restaurants. The Altea Active fitness facility, located directly across from The Rise, is already complete and features 80,000 square feet of cardio and conditioning equipment, dedicated family friendly areas with saltwater pools, and a focus on holistic health – it's the first fitness facility of its kind in Winnipeg.
Bridgwater also features nature in abundance, with neighborhoods designed to showcase the beauty of nature year-round. The community is filled with stunning lakes, mature forests, and green spaces, along with kilometres of walking paths and pedestrian bridges. That connection to nature is another significant selling point.
StreetSide was attracted to Bridgwater for all those reasons, but it also helped that they were familiar with the area. They had previously turned over hundreds of condominium units in the surrounding Bridgwater Forest, so they are understand the market, as well as the product type that works well there.
"Bridgwater Centre is well on its way to be a vibrant commercial, residential, civic, entertainment and community-oriented development that builds on the traditions of successful downtowns and other town centres," Paul says. "We knew early on that we wanted to be a part of it."
The Rise offers more than just its address, however – Paul describes the condos within as both "luxurious" and "high-value." Each one-to-three bedroom suite features modern interiors, high ceilings, and contemporary kitchens with black stainless steel appliances, spacious living spaces, and large windows. At the same time, the price point is competitive due to the cost-effective, sustainable design features baked into the development.
"Providing well thought out energy-efficient design features means lower energy bills for common areas and suites as well as lower greenhouse gas emissions, which is good for the environment and something that is high on many of our customers' expectation lists," Paul says.
Doing the right thing
Paul personally comes from a background in commercial construction, and has been working with StreetSide for roughly 10 years. He was drawn to the company due to their proven history and their reputation in the Winnipeg market.
Qualico – known as Quality Construction, at the time – first entered the Winnipeg market in 1951 with seven homes. Since then, it has grown into one of Canada's most successful integrated real estate companies. Activities today span the entire real estate spectrum and include residential land acquisition and development, single and multi-family home divisions, commercial and industrial development, property management and building supply and manufacturing divisions.
"70 years ago when you bought a Quality Construction home, you were buying into affordable luxury, and not much has changed in that regard," Paul says. "Today, a home built by StreetSide – or any Qualico builder for that matter – promises to achieve better value for your money."
"We are heavily focused on staying one step ahead of market changes, building codes, and providing products that suit our customer's modern lifestyles. A better value home means improved energy efficiency and an improved lifestyle. The technology to achieve this has certainly changed, but the grounding principles have remained true for over 70 years which I believe is why this company has been able to achieve the success it has. I'm happy to be a part of it."
In order to deliver the high quality, high value homes they are known for, StreetSide has always relied heavily on their trusted network of subcontractors and suppliers. Over the past 30 years, they have built exceptionally strong relationships with those partners. In each subcontracting discipline, they have found companies they know to be like-minded in their commitment to quality.
"We operate under an invite-only tender process," Paul explains. "We select bidders of each discipline who we know are qualified, who have proven themselves, and who share our values. We look for people who will do the right thing and stand behind their work."
The majority of StreetSide's consultants, trades, vendors and suppliers are also longstanding – many of them have been working with the company even longer than Paul has.
"We are very fortunate to have many mutually beneficial, long standing relationships in place," Paul says. "We're able to draw on each other's strengths."
StreetSide also draws on the strength of their sister companies, including: Building Products and Concrete Supply LP, Gypsum Drywall Interiors Ltd, STAR Building, STAR Truss and The FloorShow. All are part of the Qualico group of companies. Paul says that being able to benefit from their specific expertise and experience is "a major advantage" for StreetSide.
An honour and a privilege
Currently, the first building of The Rise is complete and occupied, with a few move-in ready suites available for purchase. Building two is now pre-selling, with the pre-cast concrete superstructure installation nearing. Construction is scheduled to be completed in the third quarter of 2022.
According to Paul, sales so far have been very strong, and the reviews from residents have been equally positive. He says that people are proud to live at The Rise – just like he is personally proud of his role in delivering it.
"It's been a pleasure to be a part of this project throughout the complete development lifecycle from land acquisition, design development, construction and turnover," he says. "Winnipeg is such a great city and I'm honoured and privileged to be a part of providing its residents with this affordable luxury condominium development."
For more on The Rise, more on Bridgwater Centre, and for the latest news on the project, visit www.therisecondos.ca For more on StreetSide Developments and their other projects in Winnipeg, visit https://streetsidewinnipeg.com/