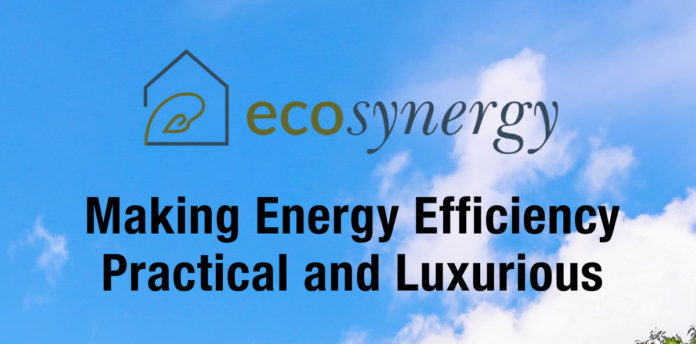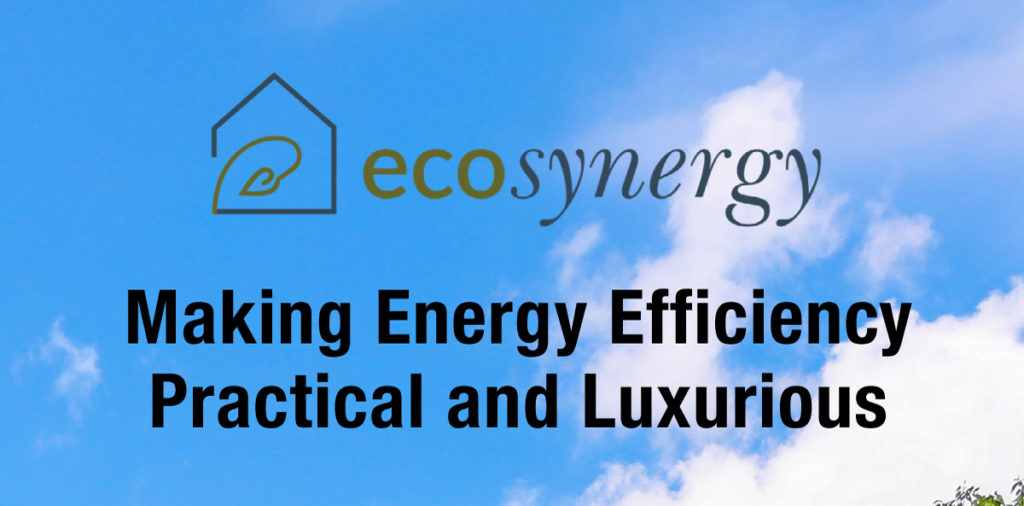 Making Energy Efficiency Practical and Luxurious
Ecosynergy helps clients reach energy performance goals by offering quality energy performance services and consultations. Ecosynergy is also an installer of AeroBarrier, which is a cutting-edge envelope sealing technology that is fully customizable to a client's project. As champions of net zero energy, Ecosynergy works with clients to assure that practical needs and comfort needs always remain in balance. Such a balance fosters long-term success and longevity of design. 
Amelie Caron, Principal of Ecosynergy, founded the company in 2009 and then incorporated it in 2015. Caron finds that her life leading to the foundation of Ecosynergy was fast-paced and gave her a passion for the intersections of buildings and behaviors—both human and material.
"My first mentor was listed in the home inspectors' section of the yellow pages," tells Caron. "He was an energy efficiency nerd. When trained in Quebec, I had the opportunity to troubleshoot houses that were old. They were built very differently. I continued doing professional development and courses. I ran into a program overseas. Everything happened quickly, but I fell in love with housing work. Buildings behave like living things, but people do not see that. I find it fascinating to understand how a building functions. There is a human behavior tied to it."
This fascination, along with prior experience, led to the beginnings of Ecosynergy. Caron details the changing energy codes, which helped formulate the direction of the company.
Caron describes, "Ecosynergy was born in net zero energy. We were part of the first teams to work on the EQuilibrium™ program that came out around 2008. It was a pilot project funded by the government of Canada to see the feasibility of net zero energy in residential. I had the opportunity to work on a couple of the initial homes in Edmonton. That was our niche market."
In 2018, Ecosynergy agreed to a dealership to install AeroBarrier. Caron found it a natural move to join different Home Builders Associations to promote and offer the new product to the industry. By providing an innovative solution to clients, Caron found a way to fill a need in the market. Meeting this need shifted the orientation of the company.
"I found that there seemed to be a fear in the residential building sector about how builders were going to get to those targets in such a short time frame. I felt that the industry needed guidance and help. We took the knowledge we had–and still have—and we are working with production and custom builders that are doing the best they can to reach those targets." says Caron.
Ecosynergy offers their services and products to any client that wants to meet their goals, whether it is a homebuilder or an architect. Caron notes that the clientele portfolio is diverse, and they are always looking to help clients to formulate new strategies and designs to achieve peak efficiency.
The company's diverse portfolio and clientele point to the quality of service that Ecosynergy provides. Caron finds that the way in which the team approaches clients is what sets this company apart.
"We are personable, and we have the ability of explaining things that are scientific in ways that everyone can understand. No one feels like they are asking silly questions. We have to allow flow of communication," notes Caron.
However, the attention to human behavior also seems to give Ecosynergy a unique touch. In fact, its ability to see a need to balance comfort and practicality is what gives this company a unique perspective.
Caron outlines, "When we help design a building, we always think about the human factors. You can have a net zero energy building that is uncomfortable. The reason why builders get complaints is because there is a comfort or discomfort trigger. Most times, there is a comfort challenge. If we can design buildings that are energy efficient and comfortable, then we have a better shot at building longevity in high performance."
Ecosynergy doesn't just build relationships with people: it builds relationships between people and buildings by securing together the needs of both. That relationship extends to its pride in providing and installing AeroBarrier.
Offering AeroBarrier was a sound decision because it was a product that fit in the wheelhouse of Ecosynergy's services. It was a product that eased human labor and simplified construction processes. It made structures more energy efficient while also making construction processes more efficient.
"We are already experts in air-tightness, so AeroBarrier was a great transition," reflects Caron. "When we use AeroBarrier on a project, it eases our simulation world because we can almost guarantee a leakage rate. There is a little more on-site handholding to make sure targets are met. The product is done by physics. It's not meant to replace the human labor, but it is meant to refine it. It is easy and simple."
The culture at Ecosynergy also considers human behavior by creating an environment where ideas and suggestions are valued. By having a group that is honest, vocal, and transparent, the company builds on its collective strengths.
"Ideas and suggestions or challenges are all discussed as a group, but it's not a hierarchy. That means I surround myself with people that see my blind spots. We have a small group, but it is all built on trust, honesty, and an expectation to speak up. If we don't speak up, then we cannot see the problems. That is the kind of culture we are putting together," Caron describes.
The same kind of open and honest communication is also expected of the clients with whom they work. It is this kind of communication and comfort in asking questions that fosters success.
"All we want is everyone to succeed. We want to make something practical and buildable. I see it as a real team effort. I see them not as clients but as partners and that is the relationship I like to build," adds Caron.
The organic growth and success that Ecosynergy has seen since 2009 is mirrored in Caron's attitude towards the future of the company.
Caron projects, "We want to grow. In the next couple of years if we could be a group of eight to ten, that would be a nice size. I do believe in organic growth. I am grateful for my network of people. I think the market will dictate how big we get. I am not fixed on a number, but we want to grow, and we have to grow."
Ecosynergy has clearly marked a path of exceptionalism in energy performance services, and they will continue to evolve to meet the demands of the industry while retaining the balance between practicality, efficiency, and comfort.
For more on Ecosynergy, their services, their team, and their projects visit– https://www.ecosynergy.ca/
For more information on AeroBarrier, visit https://www.aerobarrier.net