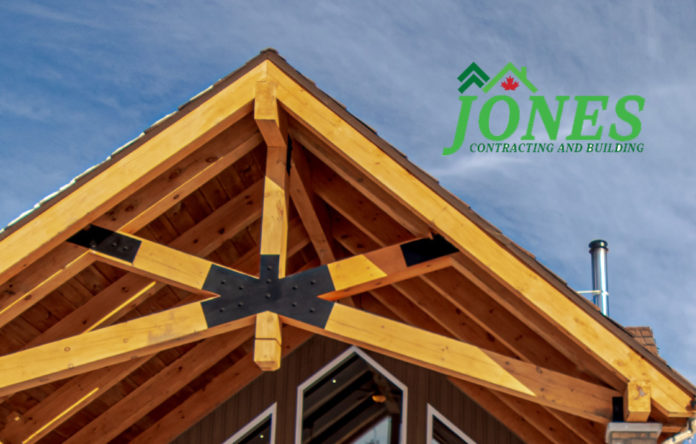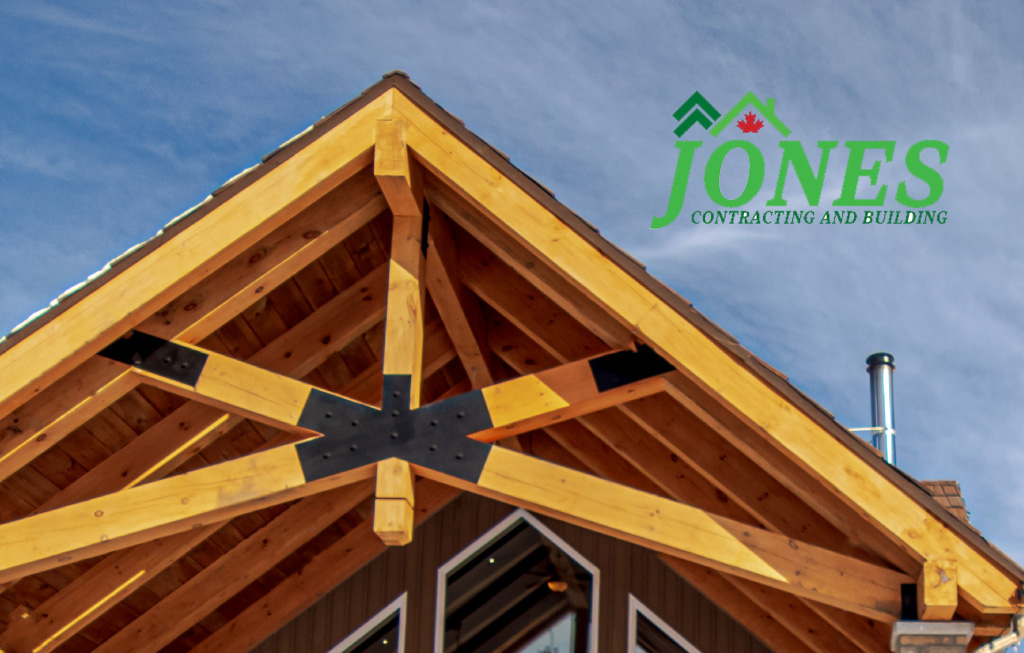 To Be The Most Sought After & Respected
Jones Contracting and Building is a Lanark County builder specializing in custom residential, commercial, agricultural and timbercraft construction. As a locally owned-and-operated business, they take pride in providing their region with superior workmanship and reliable service.
"In a region teeming with exceptional builders, we have to raise our personal standard and values to stand out amongst the rest," says Nathan Jones, founder and president of the company. "We truly care about our reputation in the community. That's everything to us. We do everything in our power to exceed the quality expected of us, because we're here to stay."
Nathan has personally been in the construction industry since he was in high school. Right out of high school he pursued an apprenticeship where he worked for a general contractor for roughly eight years, before deciding to strike out on his own. He formed Jones Contracting and Building Service in June 2017 – initially with just himself, one truck, and one employee, with the intent to create a company like no other.
"I decided I wanted to go out on my own to do what I enjoyed most – build dream homes," he recalls. "I wanted to set a really high standard for the company and raise the bar with local team members who take pride in their workmanship and their trade."
At first, Jones Contracting took on general carpentry work, renovations, decks, and additions. They quickly built a reputation for their ingenuity, innovation and dedication to quality and in less than a year they were contracted to build their first custom home. From there, the company grew rapidly. In 2019, they tripled their operation with the completion of several custom homes as well as a vast amount of unique additions and renovations, and they employed nine full-time employees. By the time 2020 rolled around, they had doubled their team and began branching out into commercial and agricultural work as well.
Currently, Jones Contracting and Building Service has 20 dedicated team members, and their services are wide-ranging. Despite their passion for custom homes, they often take on smaller, distinctive projects as well. Their fleet has expanded to include a wide variety of heavy equipment as well as multiple boom lifts to facilitate greater efficiency and safer work methods. They frequently take on mid-to-high end custom homes and cottages where they feel exceeding the building standard should be expected. Those same values extend into their expansion to commercial and agricultural projects.
According to Nathan, both kinds of clients are drawn to Jones Contracting and Building due to the depth of their capabilities.
"We offer a complete service," he explains. "Our team has incredible depth and years of experience to back it up. I'm proud to say that each team member upholds our core values and vision on which this company was founded".
Another reason that clients choose Jones Contracting and Building, Nathan believes, is their standard of customer service. While every company claims to have the "best service", Nathan knows what great service means to him, and lets clients know the high level they can expect.
"We believe all clients deserve the communication and accountability that should be expected of a home builder," he says. "And we're here to guide our clients through this milestone experience."
At the same time, Jones Contracting and Building is always focused on quality. With a true passion for timbercraft, millwork and finish work, clients are continually delighted with the ingenuity and creativity of their team.
In general, Nathan states, "We build homes so we don't have to fix them in 20 years. We build homes that stand the test of time."
The company backs up that statement with warranty packages that are greater than even Tarion mandates.
"We don't expect clients to just take our word for it," Nathan says. "We put it in writing. We make sure clients know they can count on us for the long haul."
Commercial clients, meanwhile, tend to be driven by price and scheduling. Jones Contracting and Building meets their needs by delivering projects on budget and in a timely manner.
"Most people feel that time and money are the most important variables when it comes to work in the commercial sector," Nathan explains. "It's not that we don't deliver commercial clients high-end quality – they expect that too – but we know the questions they have to ask themselves. Questions like, 'Is this going to add value to my business?' and 'What is the expected timeframe?'"
In order to provide the right answers to those questions, Jones Contracting and Building puts together comprehensive schedules for each project, and they do everything in their power to make sure those timelines are achieved. As the company grows, Nathan maintains the high level of quality and service by regularly speaking with each client himself through each stage of the build, while trusting in his crew supervisors to tackle daily issues and keep the projects moving smoothly forward. By utilizing innovative software systems, he can accomplish this.
"It's a lot of pre-planning and a lot of communication," Nathan says. "But we make sure everyone knows exactly what's expected of them at all times. That's how we stay on track."
The Team
Despite the challenges of the current pandemic, Jones Contracting and Building's team has never been stronger and more dedicated to the mission of the company.
"Founding our core values together as a group was a start, but maintaining that discipline really speaks to the level of professionalism and integrity from each team member," states Nathan.
When it comes to their subcontractors and suppliers, Jones Contracting and Building has many relationships that pre-date the company.
"We have a very close-knit set of subcontractors," Nathan says. "We call them extended team members. We're very loyal to the people we use, and we don't shop around just to get the best price. We like to use the same subcontractors over and over."
"Because we have such good working relationships, I believe we can achieve better timelines, quality and efficiency," he explains. "And we know there's going to be a high level of quality. We know what they're capable of and they know we're not going to accept anything less."
Currently, Jones Contracting and Building is working with those partners on several new, beautiful, residential custom homes within Lanark County. They are also in the midst of a commercial garage, a log cabin retrofit, and several renovations and additions of various sizes and scopes, as well as a very unique project, which involves transforming a barn into a custom home – all of which they are excited about. The company is proud of that diverse output, and Nathan says they hope to stay diverse moving forward.
In fact, Nathan says they want to expand their diversity. In addition to doing custom homes and commercial work for clients, he also wants to eventually broaden his vision to include offering full spec homes on building lots. He believes that is another market that could benefit from his approach to quality.
At the same time, even as the company grows and diversifies, Nathan says that Jones Contracting and Building will continue to do what they have always done – deliver custom projects to clients who demand quality. That's what Nathan founded the company to do, and though his vision has since expanded, his passion for the sector has never dimmed.
"With a keen interest in development and producing high end homes, we want to be the most sought after and respected custom builder in our region," Nathan concludes. "That is our formal vision statement."
For more on Jones Contracting and Building including their vision, range of services, and past projects – and to get in touch with Nathan and his team – visit https://jonescbs.ca/