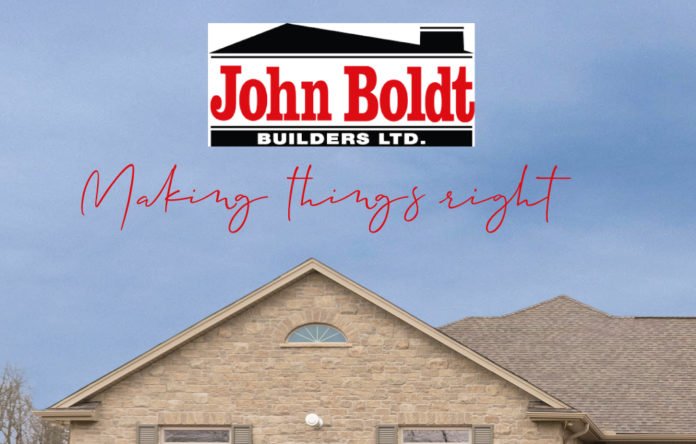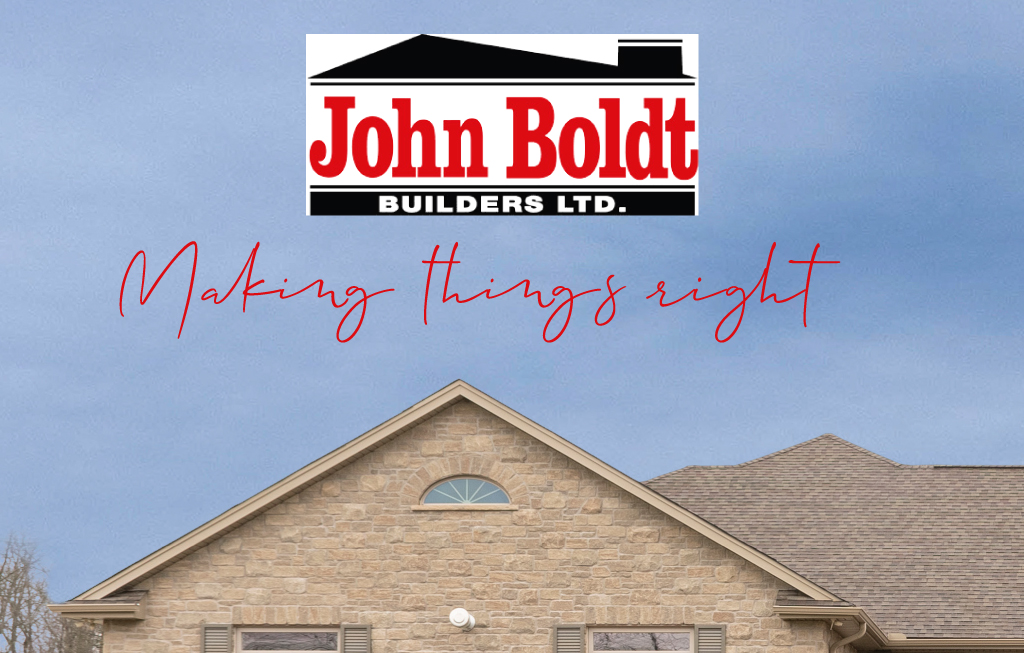 Making things right
John Boldt Builders is a custom homebuilding company with more than 50 years' experience delivering individually-designed high-quality homes in Ontario's Niagara region. Since forming in 1966, they have built and maintained a reputation for providing customers with individual attention, superior craftsmanship, and finished products that realize their dreams.
"We're known for making things right and putting the client first," says Dan Duerrstein. "I believe we're seen as one of the most reliable and trustworthy builders in Niagara. That's the reason we're still here."
Dan Duerrstein is the son-in-law of founder John Boldt, and he has been responsible for overseeing all of the company's projects and day-to-day operations for more than 30 years. He has been an integral part of the company since 1985, and he takes pride in continuing the successful traditions upon which the company was founded.
John, meanwhile, remains involved in the drafting aspects of the company. Together with Dan, they offer clients an unrivalled wealth of experience in dream home building. That experience is also shared by the majority of the company's subcontractors and suppliers. Most of the 'John Boldt Builders' extended team has been working together for decades. According to Dan, that history of teamwork and proven results is the company's main point of difference:
"Clients can depend on us," Dan says. "We have over 50 years of history that proves that."
Over the course of that long history, the company has also carefully refined and optimized their offering. As a result of that process, they have come up with a '15 Year Quality, Price and Completion Guarantee' – which is unduplicated in the Niagara region, and which they believe addresses all the common concerns that buyers have about new homes.
"In developing that guarantee, we looked into people's most common complaints about new homes and new home builders in general," Dan recalls. "The number one complaint was about quality. People told horror stories about choosing builders based on the quality of their model homes, but then when they had their homes built, they didn't look the same."
"The second complaint was about price," he continues. "Everybody believes their new home is going to cost a whole lot more than their builder will tell them. They believe everything is going to be charged as 'extra.'"
"The third complaint was about completion," he says. "We heard a lot of horror stories about homes not being finished when the builder said they were going to be finished."
In composing their 15 Year Guarantee, John Boldt Builders sought to address all three of those complaints, and put all potential clients' minds at ease. As part of that guarantee, they: extend the Ontario government's Tarion new home warranty that protects customers for up to seven years by law to 15 years; they guarantee in writing the contracted price of the new home, protecting clients from changing materials and labour costs; and they set a completion date upon signing the contract, which stipulates that if they fail to meet their deadline, they pay clients $250 for every day their home is overdue.
"So we stand behind our product," Dan says. "When it comes to quality, we've more than doubled the industry warranty standard."
"When it comes to pricing, we take responsibility for any price increases," he adds. "For example, if we sign a contract, and then the price of materials changes, we don't call our clients up and say 'I'm sorry, but you're going to owe us another $20,000 at the end because the price of lumber went up.' We take responsibility."
"And we take responsibility when it comes to completion dates," he says. "If we tell someone 'You're moving in on August 30th so your kids can start school in September,' then we stand by that. If we don't meet that date, we're paying $250 a day. That gives us a lot of reason to hurry up and get it done, and it gives the clients assurance that we're not lying to them or stringing them along."
So that guarantee ensures an extreme level of honesty, both up-front and throughout the process – and that honesty is another of the company's main points of difference. But the list goes on. Dan says that clients are also put at ease by the company's commitment to "taking care of everything." As an example, he cites a recent project in the country, where they tore an existing house down and built a brand new one in its place.
"We went in, we got the hydro disconnected, we got the gas disconnected, we got the demolition permit, we got the building permit – we did it all," he says. "That's what we do. We deal with all the little things that need to get done."
"Our clients don't have to concern themselves with the incidentals," he adds. "We take care of everything."
Dan also takes care of a lot of the process personally, especially where the client is concerned. When they have a question or want to change something, they always deal with him directly. They don't have to go through a receptionist or a site supervisor and hope that he gets the message. There's no confusion over who is in charge or responsible. He oversees all the projects individually, interfaces with all the clients, and provides all the pricing.
"I give all the clients individual attention," he says. "I believe they appreciate that. I believe it takes the stress out of the process, because they never feel confused or in the dark. If they need something, they know they can reach out to me directly and I'll take care of them."
That stress-eliminating ability – combined with all the aforementioned points of difference – has translated into a long history of repeat work and referrals. In Dan's time with the company, he's worked with one family on three different projects. In another instance, he did two separate jobs for one client, and then another for that client's parents.
"That's how we get most of our work," Dan says. "It's from people recommending us to their friends and family. It's from people walking through their friend's new home and asking 'Who was your builder?' That's how we've built and maintained our reputation."
The best job possible
These days, the majority of John Boldt Builders' work is new custom homes, primarily bungalows. Their projects can range in value anywhere from $220 per square foot to $450 per square foot, depending on the means and ambitions of the client. Those clients are mainly second or third-time homebuyers, and are usually designing and building the homes they will retire in.
To make sure they are building homes that will best meet the expectations of those discerning clients, the company presents them early on with their '138 Point Checklist' – a list of questions that helps them understand as best they can the client's wants and needs, and helps them create a product that ticks all their boxes effectively.
"That may seem like a lot of questions, but we want to do the best job possible," Dan says. "For us, the most important thing is a satisfied client."
Currently, the company is working to satisfy clients on a series of semi-detached homes in Chippawa – which is outside the norm for the business, as semis are usually rentals, and not the kind of forever homes that the company specializes in. The clients on these projects wanted something higher quality and longer-lasting than the standard semi-detached housing product, however, and those are qualities that John Boldt Builders is known for delivering.
In addition, John Boldt Builders is set to work on an upcoming subdivision in Virgil, a community just south-west of Niagara-on-the-Lake. The company has a strong relationship with the developer there, and their team is excited to get to work in the coming year.
Beyond that, Dan says they are just excited to keep doing what they have been doing for more than 50 years – taking care of their clients and making homes that realize their dreams. For more on John Boldt Builders, their story, their proven process, and their past projects – and to get in touch with Dan and the rest of the team – visit https://johnboldtbuilders.com/