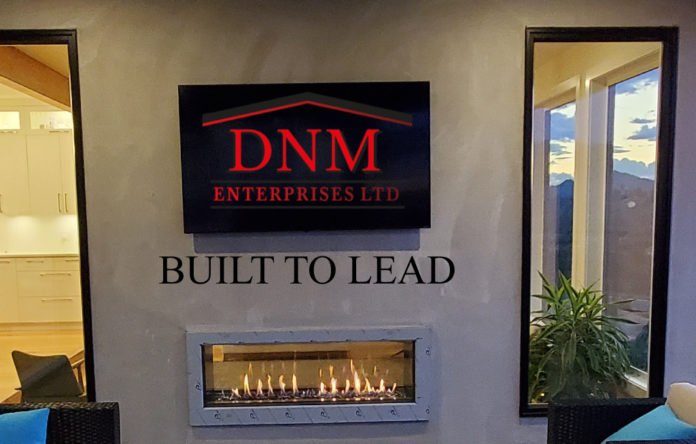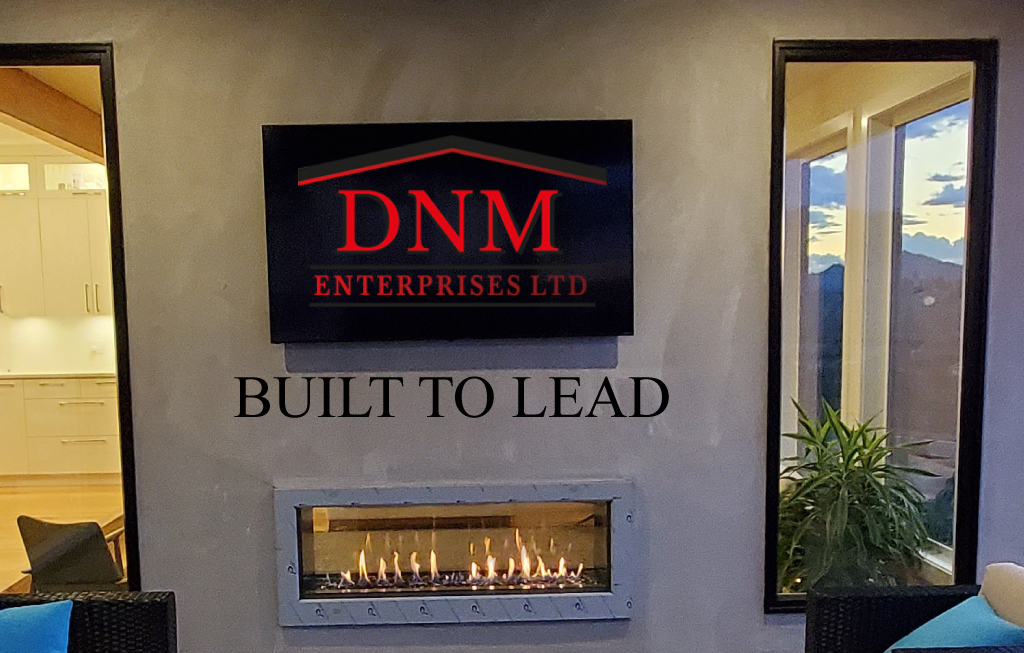 Built to lead
DNM Enterprises is a full service construction management and general contracting company based out of Kamloops, British Columbia. Led by founder and President Derek Moroz – and backed by team of industry-leading supervisors, trades, and suppliers – they are a company built to provide the best outcomes for every project, no matter the size, challenge, or industry. They ensure those outcomes by developing innovative and cost-effective solutions, by going the extra mile on and off the job site, and by working hard to deliver every project on time and on budget.
"We have built a belief that putting in the extra effort makes every project more successful," Derek says. "That's what we do. We check every detail and consider every option. We put in the hours and we do it right."
Derek began his career as a graduate of the Trades Program, from Kamloops' own Thompson Rivers University. After working in residential construction for two years, he struck out on his own, founding DNM Enterprises in 2004. He was initially the company's sole employee, and he started off doing small renovations, but his vision was always to do higher-end projects – not just homes, but also commercial and civil jobs. His goal was to bring the same personal service and attention to detail to any client in the region that valued those qualities.
As the years progressed, DNM Enterprises grew and changed quickly, and Derek's vision was soon realized.
"As time has gone on, the company has evolved quite a bit," Derek recalls. "And I think it's still evolving every single year – and maybe even more often than that. We're constantly sitting down and discussing where we want to go and what we see as being a viable market."
These days, the company sees a number of markets as viable, and they believe that diversity is one of their key strengths. In the residential sector, for instance, they are always working on at least one spec home, which ensures they can keep a direct team of supervisors and carpenters working at all times. DNM Enterprises also has a strong reputation in Kamloops and the surrounding areas for their custom home work, and they still regularly take on those projects when likeminded clients call them up.
In past years, that custom work was the majority of the company's portfolio, but in recent years they have made deeper inroads in the commercial and civil industries. They are often engaged in commercial tenant improvements, commercial new work, and civil ground work. Derek says that DNM's "size, structure, and fleet of equipment" is particularly suited to those kinds of jobs.
In all sectors, the company's work can range in value, but Derek says "the sky's the limit."
"Our residential houses are typically valued at $850,000 to $1 million, while our commercial projects typically start around $1 million and can push $4 million – but we're not opposed to going higher than that," he explains. "We have the capability to do more. We have the talent and the experience. We just need the opportunity."
No matter the size or scope of the project, however – and no matter the sector they are working in – Derek believes that clients choose DNM Enterprises for their personal service.
"What it comes down to, what we've found out, is that customer service is the answer," he says. "People want to spend their money and get efficient service in return. When they call, they want someone to answer. When they send an email, they don't want to wait a week to hear back. When they want to make or discuss a change, they want it to happen fast. Everybody wants information quickly."
DNM Enterprises offers that rapid responsiveness. They are able to able to do that because, one, they have made it a priority among their staff, and two, they utilise the construction technology and software that makes it simple. Among their residential clients, Derek says that ease of communication is particularly appreciated.
Derek says that commercial clients ultimately want the same things. That may not be the conventional industry wisdom, he admits, but he believes the conventions need updating.
"The old adage about commercial work is that clients don't care as much about quality, they just want the job done fast," he says. "But we're starting to find that those clients want more of a boutique builder. They want quality. They want customer service. They want personal, one-on-one time with the owners."
"Maybe that's not everyone," he adds. "But we're finding that our customers want that, and they are getting that with us."
As a result of that personal service, DNM Enterprises has been highly successful at earning customer loyalty. In the residential sector, they have generated most of their work through referrals and word of mouth, and they have done multiple renovations for the same clients. On the commercial side, meanwhile, they have gotten even more repeat work – for one particular client, are currently on their fourth consecutive job.
"I think that's because of our customer service," Derek reiterates. "We stand out quite heavily in that department."
Derek also credits the customer loyalty to DNM's history of delivering on time, as well as on-or-under budget. He credits that consistency, in turn, to the company's use of technology. For example, they have software that tracks all of their budgeting and planning, that collates all of their daily reports, and that that information it immediately accessible to every member of the team.
"Any information on any aspect of a build is available to all our guys through an app on their phone or tablets," Derek says. "They can look at current plans, at change orders, pricing changes, selection lists for the finishes of the building. They can see it all. Information is relayed quickly and accurately. Nothing is lost in translation."
Customers have their own access to the company's software, either through an app or online. They can use it to make requests for information, to make change orders, to review progress reports, and generally stay up to date on the project's timeline.
"They have all the information on their build at their fingerprints, any time anywhere," Derek says. "That really helps, especially for customers who are not local. That technology has made a huge difference for us, and made the process more comfortable on all sides."
DNM Enterprises also utilises the latest technology in their civil equipment – the same technology that the really big players use, but that in past years was too expensive for smaller players like DNM to adopt. Technology costs have decreased in recent years, however, and DNM has taken advantage.
"Staying up to date has allowed us to build better, more accurately, and more cost effectively," Derek says.
At the same time, he adds that it wouldn't matter how modern their technology was if they didn't have qualified and driven people using it. According to Derek, the "real driver" of the company's success is their team. He says their contribution "can't be overvalued."
"Our quality stems from having the right people in the right places," he says. "We have a technology program that helps, but it wouldn't matter without the right staff."
"None of what we do could be accomplished without a great team. We have a team that cares about each project and that works hard at making sure that what the client dreams of is what's realized on the ground."
DNM's direct staff typically numbers around 20 people, many of whom have been with the business a long time. When Derek praises the company's team, he's talking about them, but he's also talking about their roster of subcontractors and trades.
"We work really well together," he says. "They understand that we expect the absolute best quality. In return, they know we're going to give them a lot of work. We stick with the same guys' essentially project o project. Those are relationships that have taken some time to build, and for trust to develop both ways. Now that those relationships are in place, our projects are more successful."
The absolute best
DNM Enterprises' consistent quality has not only been recognized by clients, and has not only been rewarded with customer loyalty. Industry bodies, such as the Canadian Home Builders Association (CHBA), have also started to take notice.
Most recently, the company was recognized at the 2020 CHBA Keystone Awards, which showcase the leading homebuilders across the interior of British Columbia. At that recent event, DNM Enterprises won the category for 'Best Single Family Detached Home $500,000 to $750,000.'
"That means a lot," Derek says. "When people put projects forward in those kinds of competitions, they're putting their best foot forward. They're not putting in their average house. They're not putting in projects they think are okay. They put in their absolute best. So for us to come into a category with such beautiful homes, to compete with the best of the best, and to go up on stage and grab that award – it means a huge amount to us."
The award-winning home was actually Derek's own home, which he conceived and built from the ground-up with his family in mind. He says that adds even more meaning to the award win.
Though Derek was involved in the design from the very conception, the actual plans were drawn by Chris McNeil of Motivo Design Group, a local designer and design company that DNM frequently works with on their residential projects.
"His style and our style jibe really well," Derek says. "We start chatting, the ideas start flowing, and by the end a really amazing product always comes out."
On Derek's own homes, one challenge was his own high expectations – he says he's worked on so many interesting homes with so many cool finishes, and he wasn't going to let the opportunity pass without realizing as many of them as he could for himself.
Another challenge, Derek adds, was his relatively large family – he's married with four kids, and his wife wanted bedrooms for all four kids, and she wanted them all on the same floor.
"Those were our biggest challenges," he says. "But I think we came out with an absolutely gorgeous house that suits our family really well. In every single room, there's something head-turning, there's a detail that really stands out."
As examples, he cites the 20-foot ceiling in the foyer, and the heavy timber stairwell leading upstairs –"right off the hop," he says, "people are almost in awe of the whole thing."
The living room, meanwhile, is sunken – an older style that's coming back – with a multi-sided fireplace connecting it to the deck outside, enabling seamless indoor-outdoor living. Out on that (covered) deck, there's an outdoor kitchen, a mounted TV, and a full living area.
"We love the house," Derek says. "If we had to do it again, we'd build the exact same one in a heartbeat."
Moving forward, that's the kind of glowing feedback DNM Enterprises wants to continue earning from clients. They also want to keep their clients and project diverse, and for the next two to three years at least, they will – they currently have a pipeline that long that includes custom homes, spec houses, commercial offices, and multi-family and mixed use developments.
According to Derek, DNM's work in the multi-family and mixed use sector is particularly exciting, because he sees those as the future of Kamloops.
"People are condensing more into the downtown core," he explains. "They want more urban lifestyles. They want to be able to walk home from work to their building, for their building to have all the necessary amenities in it, and they want their building to be within walking distance of all the fun stuff downtown. Those are some of the projects we have coming. That's very exciting to us."
For more on DNM Enterprises, their process, and their complete range of residential, commercial and civil services – and to get in touch with Derek and his team – visit http://dnmenterprises.ca/