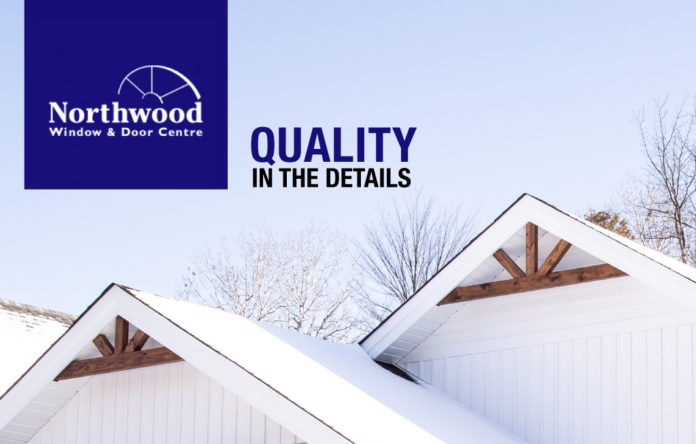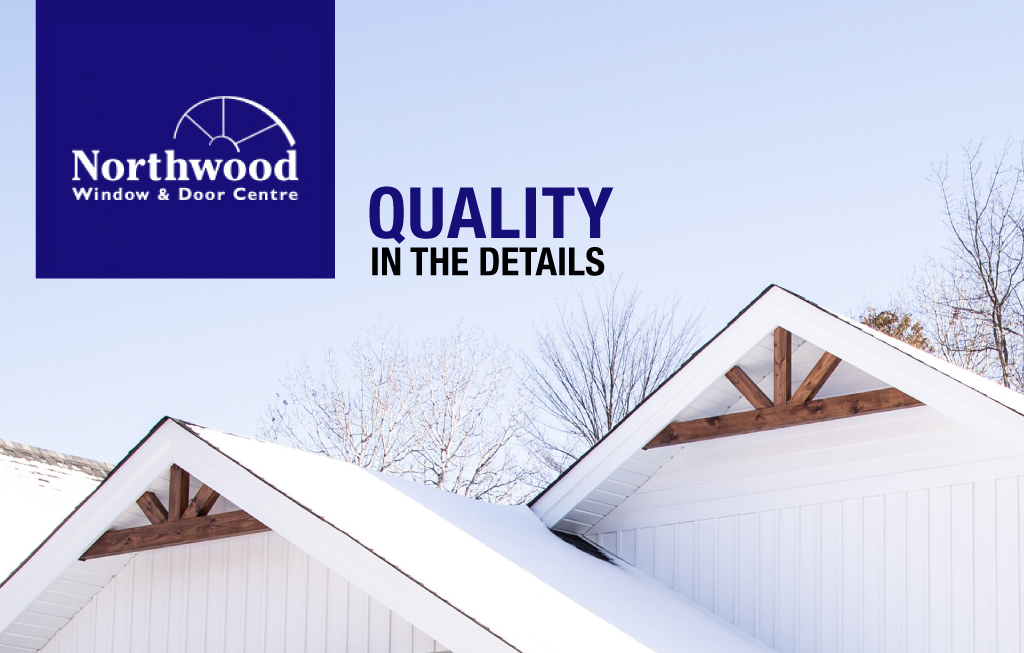 Quality in the details
For over 20 years, Northwood Window & Door Centre has been North Bay's most reliable source for professional window and door sales and installation. Throughout their history, they have built an unrivalled local reputation for fast and reliable service and for the quality of their products. They have worked closely with both homebuilders and homeowners, providing them with solutions that are both efficient and cost-effective. They have made it their mission to meet local needs immediately" and to ensure "full client satisfaction is achieved."
That's according to Andrew Walton, the second-generation owner of the company. He took over in 2012, when his mother and father Ray and Wendy Walton retired. Ray and Wendy had previously purchased the business in 1998, and together had carefully grown it for 14 years, before handing it off to Andrew and his brother Adam.
These days, Andrew is the owner and operator of the business, and works as the main estimator for the company, while Adam is the installation and service manager. Both are committed to continuing their parent's legacy of building lasting relationships with customers and providing the best quality and service possible.
"It's about taking care of the client," Andrew says. "That may sound corny, but that's what my parents were all about, and that's what we're all about today."
Andrew, for his part, grew up around Northwood Window & Door Centre. He started working there during evenings and summers in high school, and he joined full time after college, working first as an installation assistant, then as a service technician. Over the course of his career, he has witnessed the company's growth from one crew to seven. Since taking over eight years ago he has overseen a number of technological updates and modernizations, which have greatly improved the company's accuracy and the customer's experience.
Today, the company works within a roughly 100 kilometre radius of North Bay – or an hour-and-a-half drive from their office on Lakeshore Drive, in other words. The majority of their work is renovations on behalf of individual homeowners, but they also occasionally take on new construction projects for homebuilders. Their specialty is customizing their products to fit the specific requirements of specific homes.
According to Andrew, the company has been so successful in that arena – and has lasted so long in North Bay – because of their customer service.
"It all comes down to taking care of the client," he reiterates. "I don't believe the customer is always right, but I believe we always have to put ourselves in their place. We always have to act like it's our own home we're working on, and we always have to treat them like we would want to be treated."
"So we're focused on understand their needs, filling them properly, and then servicing the heck out of them after," he adds.
As part of 'servicing the heck' out of their clients, Northwood gives a five-year labour warranty on every product they provide. They also have a full time service technician on staff, and they do their own servicing promptly as possible – many other windows and door places, on the other hand, will leave that to the manufacturer.
"If we can do it, we do it ourselves in order to speed up the process," Andrew says. "Here in Northern Ontario, not a lot of manufacturers want to venture up here to do service. If they do come, they'll maybe come twice a year. We want to get to our clients a lot faster than that."
Taking care of clients also means finding them the right product to begin with. That's why Andrew and his team ask a lot of questions early on, so they have the best understanding possible of why the client has approached them.
"Our tagline is 'quality in the details,'" he says. "So we make sure we understand the details. We pepper our clients with questions. We figure out if they are coming to us because they have a leak, or because something was damaged, or because they just want to change something cosmetically. Once we've assessed the situation and figured out the core of what the problem is, we can come up with the proper solution for it."
"By doing that, we often save our clients a ton of money," he adds. "A lot of the clients come in thinking they want something, but it's not what they really need; it's not really going to help their situation. We're able to educate and advise them, and find them a solution that's actually going to solve their problem."
As an example, Andrew says clients often come to him when the weather is turning thinking they need a new door, because ice is forming on their existing one. After asking some questions, he discovers what they really need is a little bit of weather stripping. A new door could cost $3,000, while some weather stripping might only cost $150. In that case, giving the right advice means less money for Northwood, but Andrew – like his parents before him – believes that a client's trust is more valuable.
"We're honest about what they need," he says. "We want to build a relationship that's going to last. That's how we've built our business – on referrals and repeat clients. That's why we have families that we're on our fifth or sixth project with."
That honesty is a major point of difference for Northwood. Another point of difference, Andrew adds, is the company's embrace of environmental sustainability and energy-efficient products. As part of that, they encourage their clients not to replace their windows until they need to, and when they do need to they recommend longer lasting products. They also recycle whatever they can – when they are replacing a window, they do the best they can to remove it in one piece and if it's not rotten they attempt to give it away so it doesn't end up in a landfill.
Also part of that focus is using energy-efficient products. In particular, Andrew cites their partnership with Stage Windows & Doors – a Vaughan-based company with a similar lifetime of experience in the industry, and a similarly deep understanding of how window and door systems work and function for both homeowners and businesses.
Stage windows are triple-glazed, and can make homes more comfortable year round. They are designed with energy efficiency in mind, featuring Low-E coating on glass designed to absorb free heat from the sun on the exterior, and block unwanted heat and UV rays on the interior. Stage windows and doors are also manufactured to withstand the North Bay climate, which can be varied and unpredictable.
"We're in a weird spot here," Andrew says, in regards the weather. "There's very high humidity with the lakes, we get a lot of wind loading, but we also get cold weather. It's a strange mix. As a result, we've had a lot of products fail that we were told would never fail. So we've had to be smart in terms of what products we use."
Over the years, he explains that the company has successfully identified the suppliers and products that can meet the challenges of the North Bay climate – such as Smart Windows & Doors – and they have formed relationships with those companies that have lasted decades.
The right people
Currently, Andrew says the team at Northwood Window & Door Centre are as busy as they have ever been. They were slowed temporarily by the pandemic, but even when they were shut down in the early days, demand for their product remained high. When they opened up again, Andrew says "construction went crazy."
"I think part of it's because everyone was working from home and stuck in their house, so they were sitting around noticing everything that was wrong with their house, and they wanted to fix it."
In addition, a lot of people have recently moved to Northern Ontario from Southern Ontario, which further boosted the local economy. Northwood has benefitted from that trend as well.
"We've been slammed," Andrew says. "We've been beyond slammed. Our struggle has been keeping up with demand."
Moving forward, he says that's the company's main goal – keeping up. In order to do that, he expects the company to grow. That means adding staff, which can be challenging, because they only want to bring on the right people – which is people with the right qualities, Andrew explains, and not necessarily the right experience.
"We like to take individuals that don't have a lot of construction experience and build them up," he says. "Our best installer has been with us for 20 years now. He started off just as a helper, and now he's amazing."
"It's about finding the right personalities," he adds. "We look for people who have an eye for detail, who are willing to take their time, and who are willing to do the professional things they need to do, like clean up afterwards. If they can do that, we can teach them how to do the rest."
"So that's our focus," Andrew concludes. "We want to find those people, develop them, and we want to keep doing what we're good at. We want to keep finding our clients the products they need and we want to keep building relationships that last."
For more on Northwood Window & Door Centre, their products, and their service – and to get in touch with Andrew and the rest of the team – visit https://northwoodwindows.com/