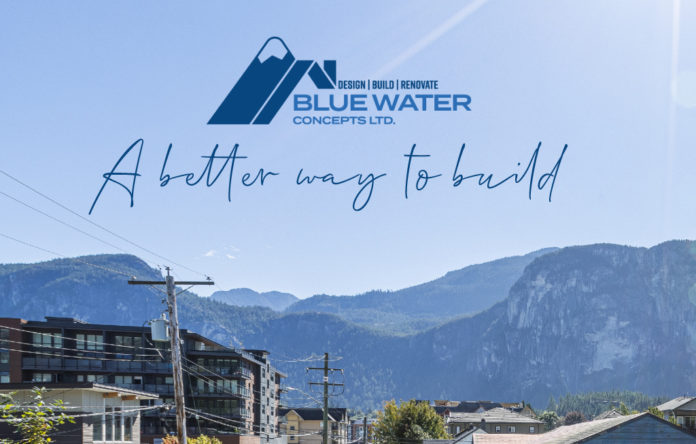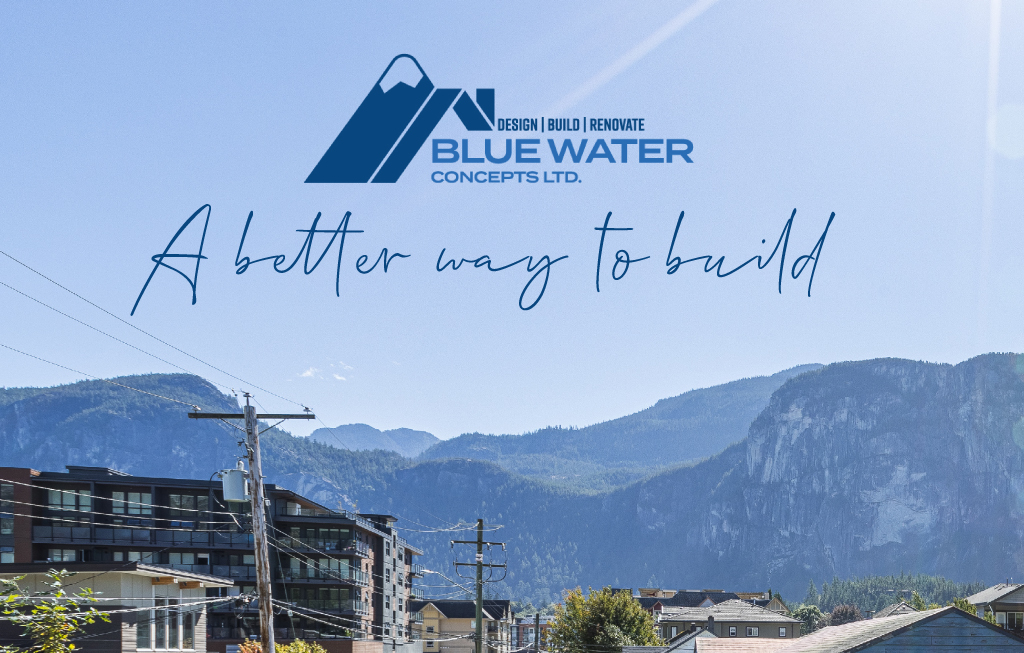 A better way to build
Blue Water Concepts is a Squamish, BC-based homebuilder with a vision for building things better. Their goal is to create ultra-energy-efficient homes, and to deliver them to the highest standards possible through innovative designs and professional thinking. With every project, they want to design, build, or renovate their way to a living space that improves their clients' lives – they want their clients to be happier and healthier in their homes, and they want to provide an outcome and experience that facilitates that happiness.
"We take pride in a job well done, and nothing says a job well done like a satisfied client," says Mike Van Capelle, founder and owner of the company. "We do everything we can to make sure that's what happens every time."
Mike was born into the world of construction and renovation, working with his father in the family business as soon as he was able. It's from his father, Garry Van Capelle, that he inherited the values that shape his building philosophy to this day – values including honesty, accountability, innovation, passion, and professionalism.
Armed with those values, Mike officially pursed a career in building right out of high school. He attended the three year Construction Engineering and Architecture program at Niagara College of Arts and Technology in Welland, Ontario. He then went on to work as a timber framer and draftsman for a timber framing company in BC. From there, he spent time working as both a designer and general contractor while running his own renovation business. Finally, roughly six years ago, he moved to Squamish and started the company that would become Blue Water Concepts.
Shortly after arriving, Mike was approached by a client who was introduced in passive house technology. He didn't know much at the time, but he looked into it, and quickly came to believe it was the future of residential building. In 2016, he completed his Passive House Designer/Consultant Certification – one of the industry's most stringent building certifications for overall energy efficiency. Since then, Blue Water Concepts has strived to design and build increasingly-efficient homes and renovations. Recently, that effort culminated in the completion of Squamish's first certified Passive House.
"We try to implement as many Passive House principals into our new buildings as possible," Mike says. "We don't build any code minimum projects at all."
Today, Blue Water Concepts employs 21 people, including a full-time design team. All of their work to date has been client-driven, with roughly 75 per cent of their work designed in house, while 25 per cent is designed by external architects. They dabble in commercial work, but they mainly focus on high-end new construction and major renovations. Their projects have ranged in value anywhere from $75,000 to $2 million, with an average value of roughly $600,000.
Mike believes that all of the company's clients, no matter their budget, choose Blue Water Concepts for the depth of their service.
"There's no one in our town, no one in our market here in the Sea-to-Sky, that's doing what we do," he says. "We are the only true design-and-build company. We are the only ones that provide all the advantages of working with a designer that is also a general contractor."
At Blue Water Concepts, Mike explains that they take care of the client right from the first meeting all the way through the end. They design their own structural and architectural drawings and then handle the whole construction process from start-to-finish. They draw the plans, obtain the permits, then build from the plans themselves – they provide a "seamless construction process that is truly unique," Mike says.
"We can translate your dreams onto paper and into reality, lending insight that only a designer and general contractor working together can. We combine the two areas of expertise to facilitate the overall experience and reduce the stress and headache that can come when dealing with the wrong people."
Blue Water Concepts also employs a professional estimator in-house, and when they give their clients a budget they stick to it. They also use CoConstruct project management software, which gives clients constant access to the budget, so they know at all times exactly where their money is going and why. That accuracy and transparency are other points of difference, according to Mike.
The result of those differences, Mike adds, is consistent customer satisfaction – which then translates to referrals and repeat business. Every new Blue Water client fills out an intake form that asks where the client heard of Blue Water, so the company knows for sure that more than 90 per cent of their work comes from friends and family of past clients. Prior to COVID, the company never even did any marketing – they successfully relied solely on word of mouth to keep them busy.
Mike also credits that word of mouth to the company's consistent quality. They ensure that quality by assigning a specific Project Manager to every project, someone who is not on the tools and whose sole focus is making sure the project is progressing smoothly and that all work is being done to a high standard. If the project was designed in-house, that Project Manager is also involved right from the design stage – as are the project's lead carpenters, and even certain sub-trades. That ensures that everyone involved has an in-depth understanding of the project and how it's supposed to progress.
"That's especially important for the kind of homes we're doing, which are incredibly energy-efficient," Mike explains. "Every detail needs to be worked out if you're going to build an airtight building."
"So we map out where all our services are going to go," he continues. "We know where electrical is going to go, where plumbing is going to go, we figure out all penetrations – and we get everybody on board with that. It's a collaborative team approach. We're not just hiring people as we go and setting them loose. Everything's planned ahead. Everybody knows where they're supposed to be, when they're supposed to be there, and what they're supposed to be doing."
Everyone on site – including the subcontractors and trades – can also be trusted to deliver a high standard of workmanship, Mike adds. He explains that those partners have been vetted for quality and most of them he's been working with for a long time.
"We work with a very select group of people," he says. "We know who we hire to work on our site is a direct representation of us, and we take that seriously. Over the last six years, we've learned who's worth working with and who's not, and we've formed some very close relationships."
"We're very close," he adds. "Before COVID, we'd do team culture events once a month, and it wasn't unusual for our drywall crew to stop by, or our painters, or our electrical contractors – the list goes on. We consider them part of our team. We know how important they are.
An emphasis on efficiency
Recently, as previously mentioned, Blue Water Concepts wrapped up construction on Squamish's first certified Passive House. Mike and his team are particularly proud of the results they achieved there – especially the ACH rating they achieved.
According to Mike, that project had a final blower door test of 0.19 ACH (air changes per hour, as in the number of times in an hour that a home refreshes its entire volume of air). Conventionally built homes tend to average a rate of 4 to 10, while Energy Star homes can rate around 2.5. The Passive House benchmark is under 0.6 ACH. At that rating, no condensation will form within wall or roof cavities, which keeps air quality strong and the home and its inhabitants healthy.
So the home is well insulated and energy-efficient – but at the same time, it has a thoughtful and effective HRV (heat recovery ventilation) system that is constantly filtering and refreshing the air, so that it never feels stale.
"Every single person who has been in there has commented on how beautiful it is, but also how comfortable it is," Mike says. "They like that it never feels stuffy."
"They also like that it's silent," he says. "It has triple pane windows and the walls have high R-values, so once all the doors and windows are closed, you really can't hear anything outside. It has a very peaceful atmosphere."
"One person we brought through was so impressed," Mike recalls. "He said it was like the first time he walked into an Apple store and the first time he sat in a Tesla. He's going to hire us to do a design and build on a Passive House coming up; he's just looking for a lot. He said there's absolutely no way he's going to build any house that's not a Passive House after experiencing that."
Going into the process, the clients on that home were similarly passionate about energy efficiency. Right from the start, Mike says they wanted to build a certified Passive House specifically – "that was always quite important to them," he recalls.
The main challenge, he adds, was the client's shifting circumstances. The project was originally meant to be their dream home, a place for them to eventually retire, but the scope changed when one of them got a job offer on the east coast.
"That was about halfway into the design process," Mike recalls. "So the project ended up shrinking in budget, and the design had to change to match up with what they were going to use the building for. Now it was going to be a rental, with the potential for them to move into it in the future."
"So we scaled it back, we scaled the budget back, but we still retained the idea of it," he says. "It was still going to be a Passive-certified building."
Blue Water Concepts ended up doing the full design-and-build of the project – though Mike is quick to credit 'MIZU Passive House Consulting,' a firm they hired to assist them, since it was their first attempt at Passive House certification. He says their contribution was important and that the team at Blue Water learned a lot. Having gone through that process with MIZU, he believes the company is ready to take on any Passive House project that comes their way.
Moving forward, he emphasises that's Blue Water's main interest – they want to build extremely efficient homes, ideally Passive-certified homes, or at least homes built to the BC Energy Step Code level 5.
The company also wants to keep doing major renovations, Mike adds, as there will be plenty of local opportunity in that sector.
"Squamish has a lot of old houses aging out of their lifespan, and there's a younger demographic moving up from the city and buying up these places," he explains. "So there are a lot of renovations that are being done – and we enjoy doing them, they're like a puzzle, they are fun to work out. I grew up doing them and my team is really good at them."
As far as growth is concerned, Mike believes that Blue Water is about as big as the Squamish market can handle, but that there's potentially opportunity to branch out to Whistler and West Vancouver. He says that the company is interested in pursuing those opportunities, but that growth is not the priority.
"We don't want to be doing hundreds of projects a year," he says. "We want to be doing projects where the client puts an emphasis on efficiency and quality, and they want a builder who can build those homes properly."
For more on Blue Water Concepts, their construction services, building philosophy, and past projects – and to get in touch with Mike and his team – visit https://bluewaterconcepts.ca/