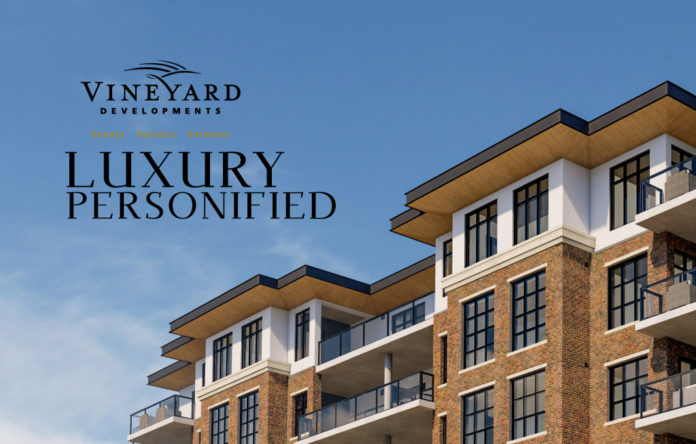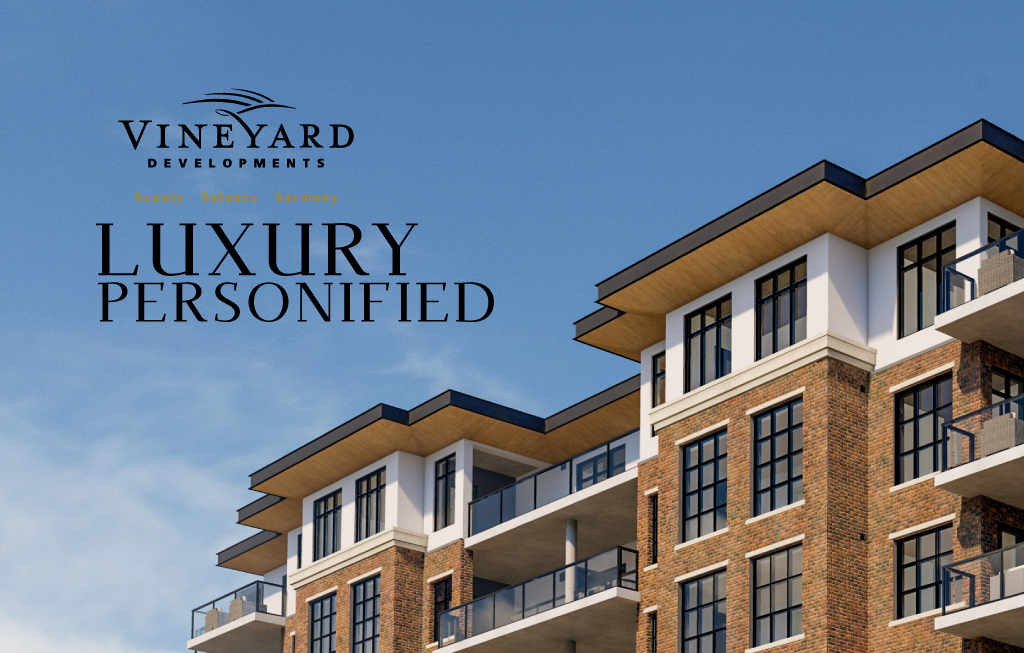 Luxury personified
Vineyard Developments is an award-winning custom builder, designer, and now developer based in Kelowna, BC. For more than 19 years, their expert team, led by CEO and Director Craig Mohr, has been delivering contemporary homes that stand the test of time. Over those years, Craig and his team have delivered projects of all shapes, sizes, and styles, with a focus on high-end custom homes. Recently, however, they have decided to scale up and apply their high-quality craftsmanship and attention to detail to larger projects, particularly multi-residential developments of their own.
The best example of the company's new focus is the recently launched 450 Parc – a six-storey luxury condominium development in Kelowna South.
Located in the heart of the highly-desirable Pandosy Village, 450 Parc "personifies the future of luxury living," according to Craig. The building, designed by the award-winning Zeidler Architects, is a "one of a kind architectural masterpiece;" the units are private, hugely spacious, uniquely-furnished, and highly-secure; and the neighborhood is known for its wealth of unique restaurants, cafes and boutiques, as well as its "quiet charm."
Those factors combine to make 450 Parc "one of the most desirable living spaces in the entire valley," Craig describes.
The project was initially inspired by Craig's parents, who for a long time wanted to downsize from a single-residential home to a condominium townhouse, but still wanted something spacious, and customizable, and high-end. They spent several years looking for a product that suited, but they consistently came up short in their search. Craig's father – a developer himself – even considered creating such a project for himself, but couldn't find land that suited the scale of his vision.
"They actually gave up at one point," Craig recalls. "They just couldn't find a location that suited the type of product they wanted to build."
Craig also discovered that several friends of his parents had the same needs and wants, but also had the same trouble finding a solution. He decided to take on the challenge himself. Not long after, he was approached by a realtor with the land that would become 450 Parc. He found that it ticked all the boxes his parents and their friends had been talking about.
"It was destiny," Craig says. "I saw my dad look so hard, and I heard his friends talk over and over about their needs and wants and how hard it was finding something that fit their parameters – so I jumped on buying the property. It was exactly what they were looking for."
From there, Craig engaged Zeidler Architects out of Calgary, he gave them a long list of features and elements that were important to his vision – "basically, I copied everything my parents and their friends had talked about" – and he then worked with them closely throughout the entire design process.
"I was very involved with the design from day one. I had a real vision of what I wanted to bring to the market, who I wanted to sell to, and what was really important to that segment," he says.
One of the important things was the building had to be concrete and boutique in its motiff size. Another important thing was flexibility – the clients Craig had in mind wanted to customize, "to put their fingerprint on their unit." Clients also wanted a lot of space, a lot of storage, and two parking stalls – "those were all very important to them."
"They wanted to be in a luxury condominium but they didn't want it to feel like an apartment building," Craig says, "They wanted a lot of privacy and a lot of outdoor living space."
"With that in mind, we designed a totally different style of condominium. We have units that range from approximately 1350 to 2250 square feet. There is a ton of customization they can do throughout the entire space and privacy was heavily focused on."
"And one of the key things we did was we eliminated all hallway space," he adds. "We basically took single family homes and we stacked them on top of each other."
Within 450 Parc, there are four units per floor on the first four floors, two units per floor on floors five and six, and two elevator cores which split the units. So when residents come up the elevator, they exit into a private lobby space that only they and their neighbor can access. This set-up has many advantages over a more traditional condo product, Craig explains:
"The elevator times are really quick, and then when you get to your floor, you enter into a really bright private lobby space that just you and your direct neighbor have access to," Craig explains. "You're not smelling your neighbor's smells or hearing your neighbor's noise. You're not walking down a dark hallway to get to your front entrance. And then when you open your front entrance, there's plenty of natural light."
Every single unit at 450 Parc also benefits from views of the neighboring Abbott Park – another "really unique detail of the development," Craig says, "something different than anyone else has got on the market here in the Okanagan."
"That's really where the value lies," he adds. "It's such an extremely unique development. It's a low-rise concrete constructed building; there's a ton of flexibility as to how you fit and finish your unit; you have a very small manageable strata with like-minded homeowners; there's oversized private outdoor living space; and there's no communal hallway space."
"Plus, I really do think we have the best location in Kelowna," he says.
Something totally different
Craig has been working in the construction industry virtually all his life. His father, grandfather, and even great grandfather were all builders before him. Craig's summers and weekends were spent working with his father in his younger years. After graduating high school, Craig initially pursued a different career, but the familial draw to construction eventually pulled him back in.
Before following in the family tradition, however, Craig worked several years in retail sales, before earning a Bachelor of Business Administration from the Northern Alberta Institute of Technology (NAIT). From there, he moved around, working with a heavy truck dealer in Kelowna, followed by a company that leased and sold concrete forms in Vancouver, and then on a drilling rig back in Alberta. After that experience, he decided to return to the place – Kelowna – and the industry – construction – where he was most satisfied. With his father's assistance, he formed Vineyard Developments in 2002.
The company's first development contract was a 35-unit townhouse development that was originally owned being developed by the First Lutheran church, in order to fund a neighboring church-school expansion. Craig's father was part of the church's building committee, and had even recommended the land, and when it came time to build and sell the townhouse development, he was put in charge. He brought Craig on board, and together they handled the whole process – from the layout and design, through to the pricing and marketing, all the way through to the sales and construction.
"It was very much a sink or swim scenario," Craig recalls. "If I was going to do it, I had to do it all. I had to prove that I could handle it."
Fortunately, that's exactly what Craig did – he worked seven days a week for almost three years, selling on the weekends and building on the weekdays, and the project was a resounding success.
"I knew I had found something that I was meant to do and that I was passionate about," he says.
Following that first successful project, Craig initially pursued other development opportunities, but market conditions such as the recession of 2008 forced him to switch gears and focus on building custom homes for clients. Fortunately, again, he proved just as capable in that arena, and Vineyard Developments quickly earned a reputation for their personal service and high quality homes. Roughly 19 years later, that reputation is now backed by a long list of industry awards, and an even longer list of glowing testimonials and client reviews.
Craig credit's the company's many years of success to his dedication to his craft, as well as his passion for design:
"Almost all of the products I've built I've personally designed alongside my clients," he says. "And when you design a product from the ground up with your clients on your own, there's a certain level of commitment there – there's something different that happens with builders, versus when a client brings them a set of plans that someone else has designed for them. It's not quite the same. It's a different level of emotion."
"I put so much love and attention into each design," he adds. "And I want to execute them to the best of my abilities. I think that's why I have been able to consistently deliver such a good product, and I feel the awards reflect that."
Delivering custom homes of Vineyard Developments' calibre, however, is highly time-consuming. Craig recently decided to return to the company's roots of multi-family development in order to free up some of that time, so he can better take advantage of all the lifestyle opportunities Kelowna has to offer. He still wants to deliver the same level of quality, and he still wants to contribute the same level of attention and detail, but he wants to do it at a larger scale.
In fact, 450 Parc was specifically created to offer buyers a higher calibre of condominium than was previously available on the market. According to Craig, most condos in Kelowna are "solidly built and moderately priced." He says there is definitely a market for those products, but that there is also another market that is being neglected.
"There's very little in the way of upscale luxury condominiums here," he says. "So I knew there was a segment of the market that wasn't being serviced. They are the original Baby Boomers who moved out here 15 to 20 years ago, and are now in their late 60s and early 70s."
"The challenge they are having is that they want to be in a condominium for the lock-and-leave and more maintenance-free lifestyle, but they don't want to give up the customization, the luxury and the privacy they have in their current custom home. There are very few developers in Kelowna putting up bigger condominium units that cater to their demographic."
Vineyard Developments, however, is especially suited to fill that niche due to their history. They have over a decade of experience working on high-end custom homes and servicing those clients accordingly.
"We have a very strong understanding of what those clients desire and need and want," he says. "We know where the money needs to be spent and where it doesn't. We know how to market to that segment, and we know how to service that segment. Most developers don't have that background. They want to stay in the larger bread and butter segment of the market."
As a result, Craig says that 450 Parc does not have a lot of competition at the moment. It is Kelowna's only upcoming luxury six-storey condo development built entirely of concrete and steel. It's a "totally different product, a totally different price point, and a totally different customer and a small strata."
"That was important to me," Craig says. "I wanted to bring something totally different to the market."
Moving forward, Vineyard Developments aims to continue to deliver that difference. They especially want to keep doing it in the multi-residential sector, which Craig says is his true passion.
"I love assembling a property," he says. "I love figuring out what the market needs, what I want to design, how I want to design it, the price point it needs to be at, how to construct it, putting together a marketing package, selling the units – that's where my passion and my skills and abilities lie. I want to spend most of my time and attention focusing on that."
"And it's really important to me to bring something exceptionally unique to the marketplace," he concludes. "I don't want to be competing against four or five other developers who are building a similar type of product at a similar type of price point. I want to put together a product for a segment of the market that's not being well-serviced, for a group of people that have exquisite taste and want the 'wow' factor."
For more on Vineyard Developments and their capabilities as a builder – and to get in touch with Craig and his team – visit https://www.vineyardcustomhomes.ca/
For more on 450 Parc specifically – and to sign up and receive more information – visit https://www.450parc.ca/